This post brought to you by DairyPure Milk. The content and opinions expressed below are that of A Mom's Take.
Have you ever had custard? If not, there is no reason to wait any longer to try it! You'll find it has nearly the texture and taste of pudding while instead delivering something that feels gourmet. Like this No Bake Vanilla Custard recipe. It's so easy to whip together and tastes amazing!
No Bake Vanilla Custard
Prep Time:
10 minutes
Total Time:
30 minutes
Ingredients:
2 cups DairyPure whole milk
2 tablespoons cornstarch
1/2 cup sugar
4 egg yolks
1 tsp vanilla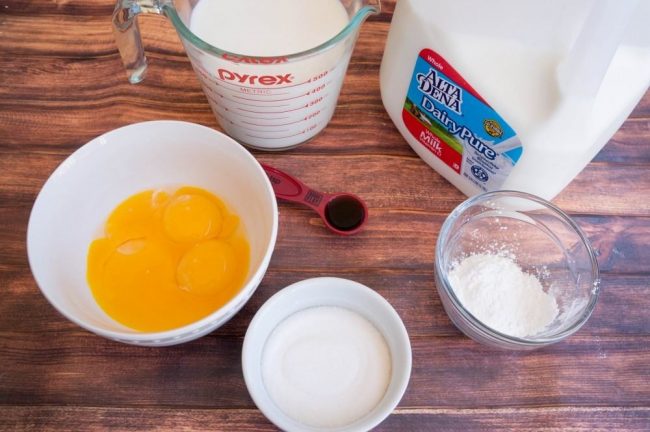 Directions:
Combine DairyPure milk, sugar, and cornstarch in a saucepan on the stove-top at a medium heat. Continue to whisk, making sure to scrap the bottom of the pan, so the cornstarch doesn't burn, allowing the milk to scald.
Slowly add in egg yolks while whisking. Continue to heat the mixture another 2-3 minutes, until it begins to thicken. Do not boil!
Remove from heat. Add vanilla, mixing it in until combined.
Pour into individual serving dishes or ramekins. Set in the fridge and allow to cool for at least 20 minutes. Garnish with fresh fruit and a sprinkle of powdered sugar, if desired, and serve.
This decadent dessert is so incredibly easy to make, you'll wonder why you've never made it before! It looks and tastes impressive for when you are preparing a dessert for guests, when really it's a quick and easy recipes to create with just 5 basic ingredients.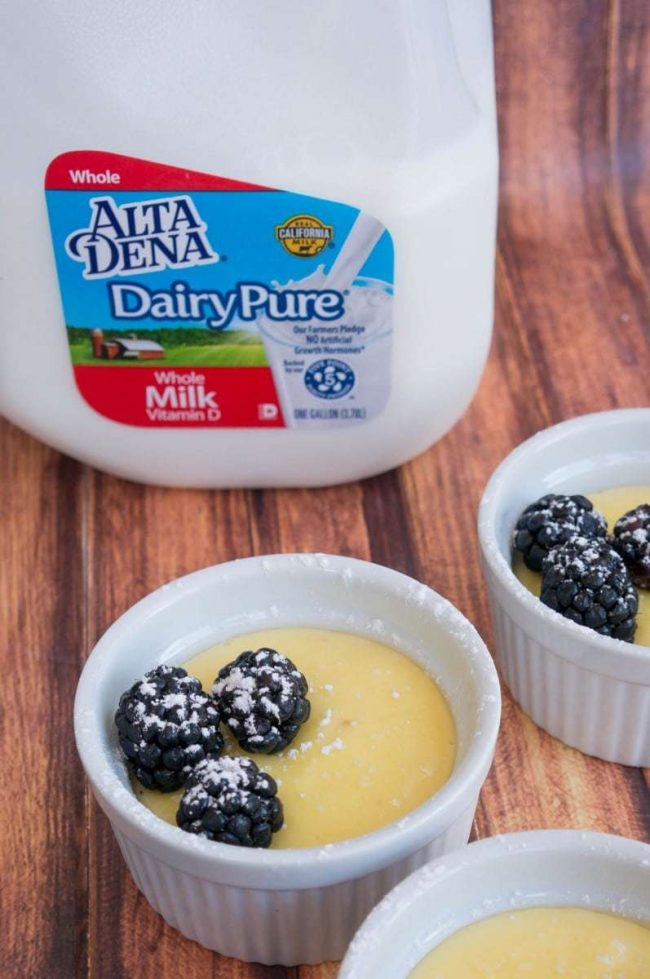 The ingredient that really makes the difference in this delicious vanilla custard is the whole milk. DairyPure milk is a trusted brand for quality because of their 5 Point Purity Promise. Through the promise, you'll be able to trust in a milk that no only tastes delicious but is made with quality and integrity in mind. Their promise states:
No artificial growth hormones *"No significant difference has been shown between milk derived from cows treated with the artificial growth hormone rbST and non-rbST-treated cows."
All milk is tested for antibiotics
Continuously quality tested to ensure purity
Only from cows fed a healthy diet
Cold shipped fresh from your local dairy
Head over to find DairyPure Recipe inspiration on Pinterest. You can also connect with DairyPure on Facebook.
When you are preparing a dessert that uses just five everyday ingredients, each ingredient you use matters. Using DairyPure whole milk in this recipe gives a rich, wholesome addition to the dessert that I loved! I couldn't stop licking my spoon! Visit their website to Learn more about DairyPure milk!