Part of our yearly Christmas traditions is spending Christmas Eve singing carols together as an extended family. Years and years ago, my mom made each member of our family a printable Christmas Songbook.
It was perfect to have a book for each family member so we could sign along and participate. Over the years, we've slowly lost our books and we've also realized which songs our family always skips past.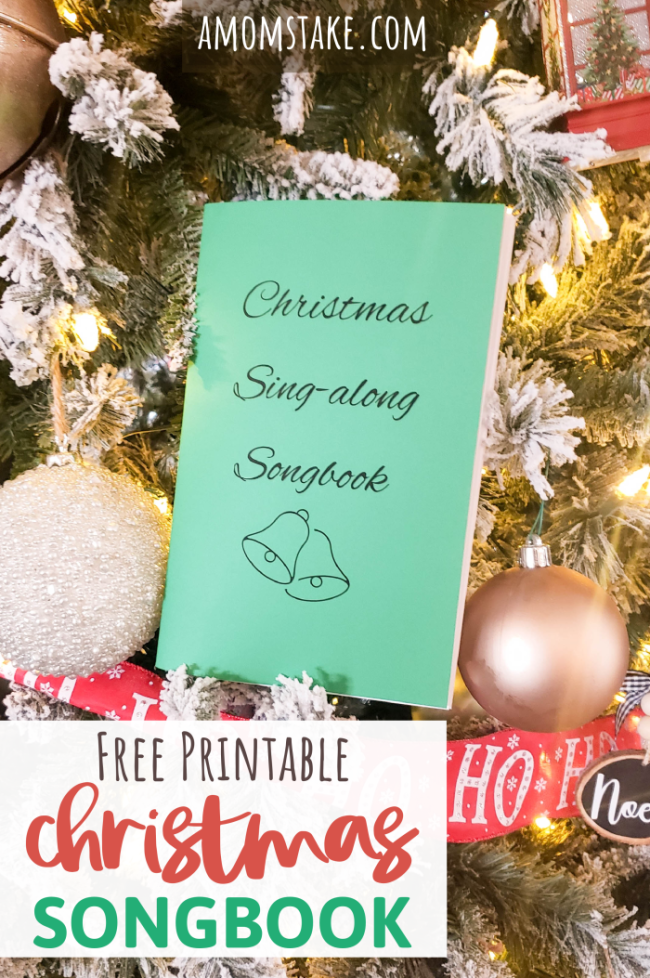 Affiliate links are included below. All opinions are my own.
I decided it was time to create my own free pdf printable Christmas Songbook! That way, I would always have a copy of the book easy to print when we inevitably lose our copies or for when our family grows in size.
Unfortunately, I couldn't find free Christmas sheet music to use, but I actually prefer just the popular Christmas songs lyrics.
Christmas Songbook Song List
This songbook includes 36 Christmas songs broken down into three categories so you can easily find the songs you want for your group: kids favorites, songs of the season, and Christ centered carols.
The 12 Kids favorite songs coordinate with a smaller Christmas Songs for Kids songbook I created last year with the same page numbers. The kids Christmas songbook has coloring images on most the pages and keeps kids interested and involved.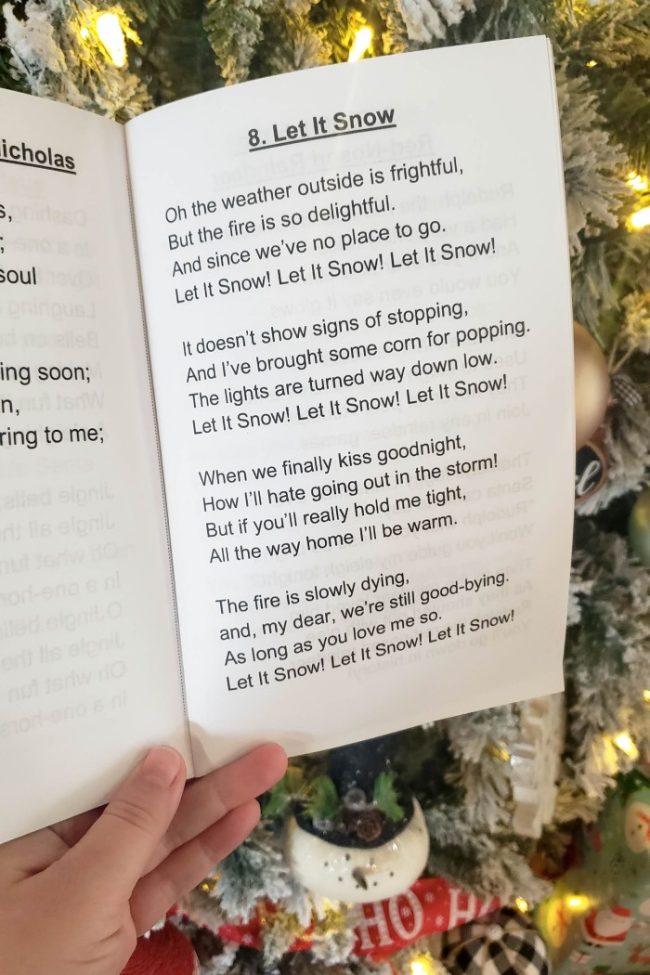 Kids Favorites
Away in a Manger
Deck the Halls
Frosty the Snowman
Here Comes Santa Claus
I Saw Mommy Kissing Santa Claus
Jingle Bells
Jolly Old Saint Nicholas
Let It Snow
Rudolph the Red-Nosed Reindeer
Santa Claus is Coming to Town
The Twelve Days of Christmas
Up on the Housetop
Songs of the Season
A Holly Jolly Christmas
Feliz Navidad
Grandma Got Ranover by a Reindeer
Have Yourself a Merry Little Christmas
I Heard the Bells on Christmas Day
It's Beginning to look a lot like Christmas
It's the Most Wonderful Time of the Year
Silver Bells
The Christmas Song
We Wish You a Merry Christmas
Christ Centered Carols
Angels We Have Heard on High
Do You Hear What I Hear?
God Rest Ye Merry Gentlemen
Hark! The Herald Angels Sing
It Came Upon a Midnight Clear
Joy to the World
Little Drummer Boy
O Come All Ye Faithful
O Holy Night
O Little Town of Bethlehem
Silent Night
The First Noel
We Three Kings
What Child is This
How to Print & Assemble the Christmas Songbook
The free printable songbook is set up to easily print front to back. If you are able to print both pages front to back with your printer, just open the document and it's ready to print! Place a sheet of colored cardstock at the top of your paper tray to print your cover with that stronger paper.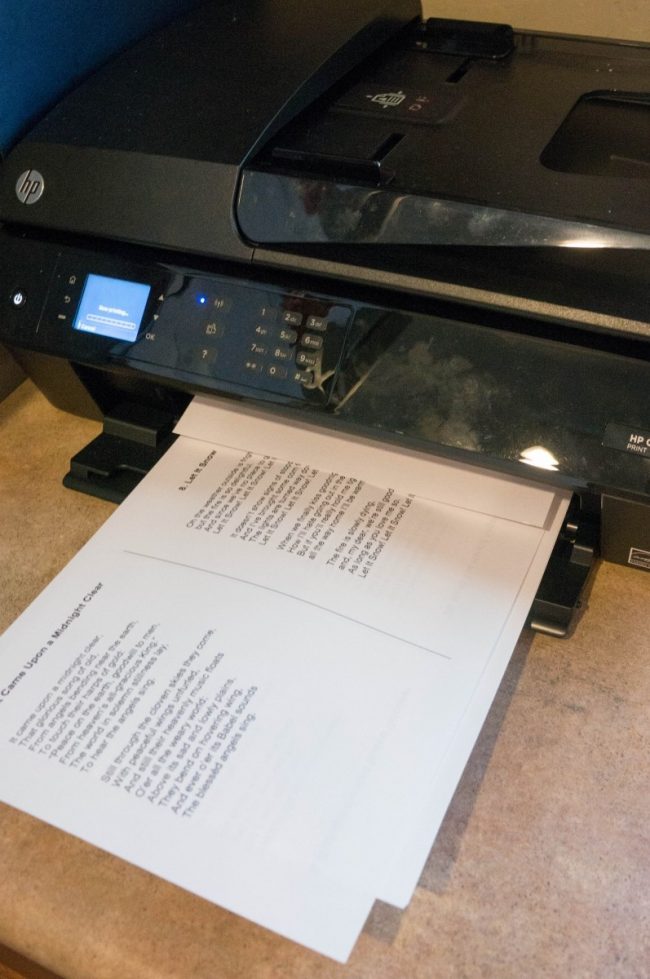 If you can't print front to back, print all the odd pages, then reload your printer tray with the printed pages paying attention to which side and direction your printer prints from.
Print the even pages, allowing them to print to the back of your odd pages.
After your pages have printed, leave them in the order they print, and quickly flip through to ensure your pages are still in the correct order.
Then, just stack all the pages, crease down the center, and use a long neck stapler to reach the center.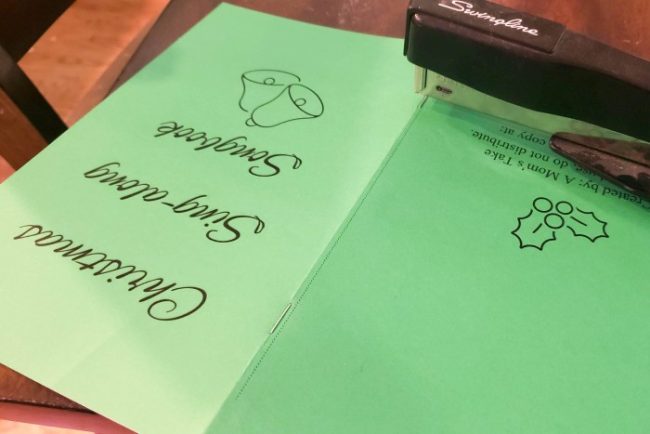 Continue below to grab the free printable songbooks!
My Printing Secret Weapon!
Do you ever fret about printing out projects like this? I love using HP Instant Ink, which is an ink subscription plan. It makes it no big deal to print out 10 copies of the 20-page songbook for each of my family members to have a copy.
In fact, I just printed another 10 copies of our new large format updated version!
I'm never out of ink because as soon as my cartridge starts to run low, my printer automatically alerts the Instant Ink service through the connected web services and a new cartridge gets mailed out to me. One important note is this service does require a compatible HP printer to join.
Start with a FREE month of printer ink to try out Instant Ink! 4 years later and I STILL love and recommend Instant Ink!
Our Most Popular Christmas
Content You'll Love
We have loved sharing our PDF Christmas songbook with so many families over the years! This post continues to be one of our most popular pages during the holidays.
But we have other printables that are just as valuable that I know your family will love! Take the time to visit some of our other top-visited Christmas content while you're here!
Free Christmas Printables: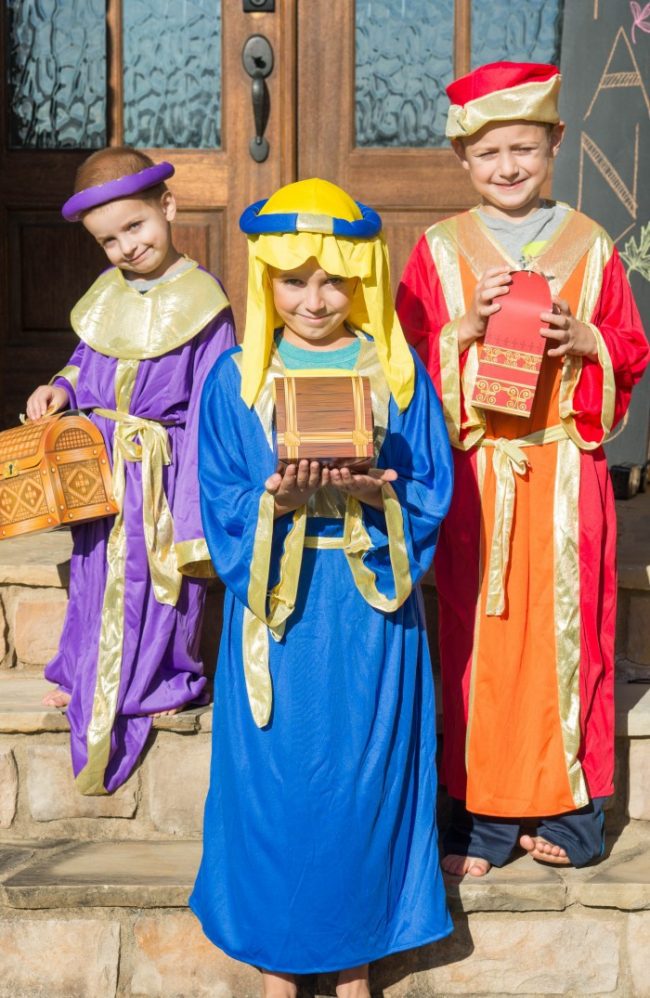 Christmas DIY & Gifts:
Top Christmas Recipes:
Printable Christmas Sing-Along Songbook PDF
This free Christmas music hymn book is available for personal use. The file is not to be shared in any way. If you want to share this songbook – just send your friends and family to our post for them to grab their own copy of the pdf files.
This helps to protect our copywrite and ensure they have all the pertinent information that goes along with this free download file. You can print limited copies for your own personal use such as in small group caroling settings.
Just click on the link below to save or print your preferred copy of this free PDF printable Christmas songbook!
Christmas Songbook Condensed
NEW! Updated in December 2021, we now have an improved version with few pages — condensed down to 16 page (8 double-sided pages). It still includes all the same songs, but with improved formatting.
This option will be best if you're limited in your ability to print or simply need to conserve paper or ink such as when making a ton of copies.
This version uses size 14 font in general throughout the file, with some variation as needed. Notice the font size and spacing differences between the two pictures to decide which one is right for you!
*Opens in a new tab, make sure you have any pop-up blockers turned off!
NEW! Large Print Christmas Songbook!
We've also created a brand new large format version with 22 pages (11 double-sided pages). The bigger font option is perfect for kids, seniors, and visually impaired. But it's also just really nice to utilize when singing carols in low lighting!
Both copies still perfectly coordinate with or original printable songbook, so you can keep older copies and use the newer and improved formatting when expanding your collection.
The large print version uses size 18 font or larger for most songs. A few have size 16 font when they just wouldn't fit larger. You can compare the font sizes with this picture and the one above when trying to decide which one to print!
*Opens in a new tab, make sure you have any pop-up blockers turned off!
Kids Coloring Christmas Songbook
We also have another free printable, our Kids songbook, which includes just the first 12 songs of the adult songbook. For kids with short attention spans you can start with the fun kid songs, then continue through the rest of the songbook.
The kids songbook even has coloring spots on the pages to keep them entertained. Head over here to grab that printable songbook.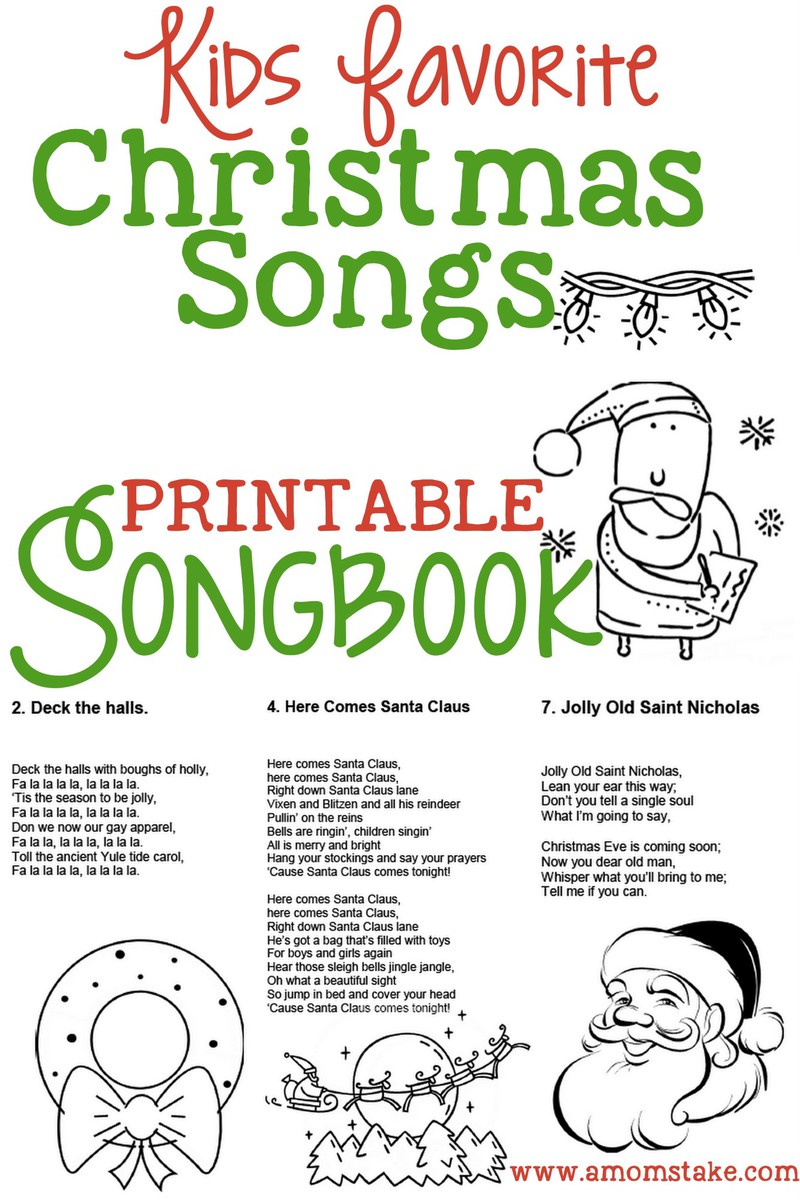 How many Christmas Songbook copies will your family need?