Every year on Christmas Eve, we gather together as a family and often our extended family as well and sing Christmas carols!! It is one of my favorite holiday traditions! To help get the kids involved this year and joining in on the fun, I have created this free printable Christmas Songs for Kids songbook!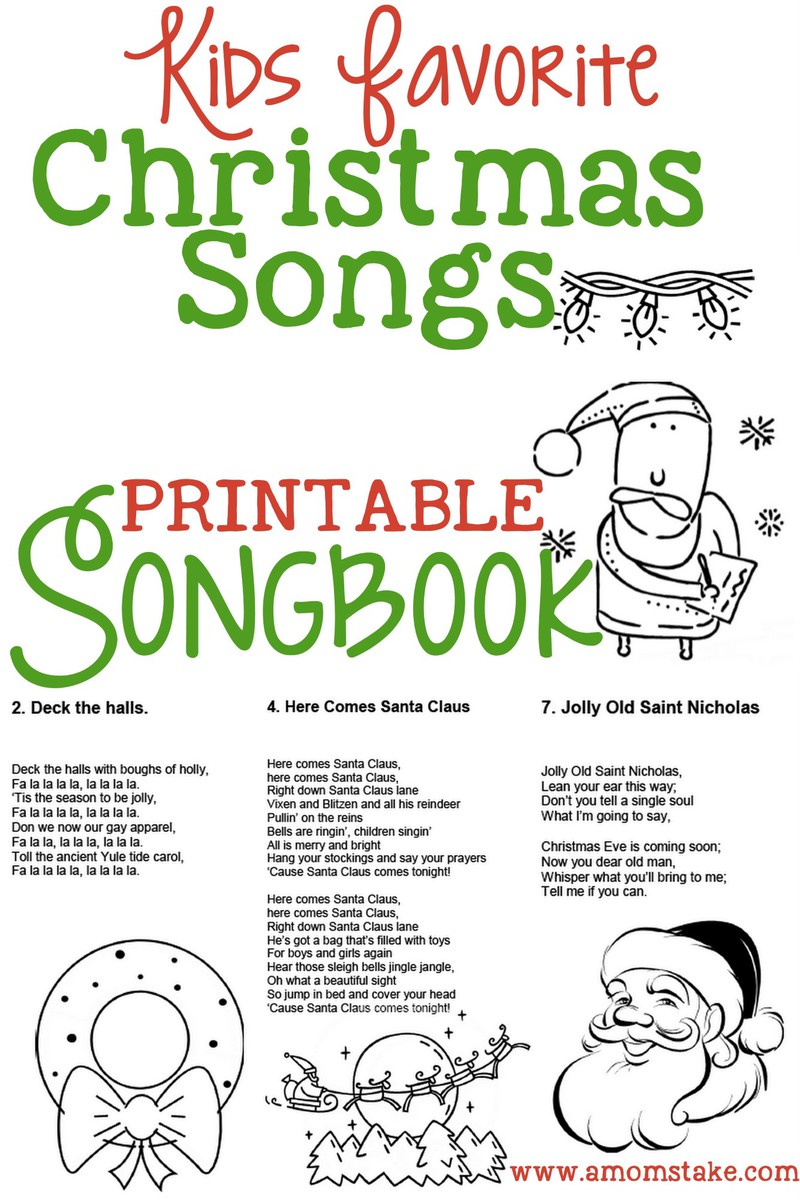 Kids Christmas Songbook Song List
The Christmas Songs for Kids songbook includes these 12 classic Christmas songs:
Away in a Manger
Feliz Navidad
Frosty the Snowman
Here Comes Santa Claus
I Saw Mommy Kissing Santa Claus
Jingle Bells
Jolly Old Saint Nicholas
Let It Snow
Rudolph the Red-Nosed Reindeer
Santa Claus is Coming to Town
The Twelve Days of Christmas
Up on the Housetop
In addition to the lyrics of the songs, to help pre-readers feel included and make singing time more interactive for those still learning the songs, this songbook has coloring pages throughout that help them point out the songs and pick their favorite.
How to Assemble Your Songbook

1. Start by downloading the Christmas Songs for Kids Songbook using the link below.
2. Print out your booklet. See the printer helps. I recommend using one piece of cardstock for the cover if you plan to use the booklet year after year.
Printer With Double Sided Option
After you hit print and the dialog box opens up, change your settings to allow double sided printing. If you don't see it on the main box, click "properties".
You will want to select to flip over the "short" side, if it asks you which direction. You should be able to print the entire songbook and just pick up the pile, fold the stack of pages in half on the line, and you'll be just about done! All of the pages should print in order.
Printer without Double Sided Option
If you don't have a double sided printer, you can set the printer to print as many copies of the book as you need printing just a single page at a time (for example, telling to to print 3 copies of page 8).
Then, load in your already printed side and hit print again for the next page in sequence allowing the printer to print onto the back of your already printed paper. This may take a little bit of trial and error to figure out how your printer pulls the paper and prints.
Or, simply hit print and dab a bit of a glue stick around the outer edge of every page and press them together. This will give you thicker pages which may hold up a bit longer.
3. After you have printed your booklet, use a long reach stapler to staple your booklet together at the fold. If you don't have a stapler long enough to reach, staple through all pages from the front of the booklet close to the fold.
Printable Christmas Songbook for Kids PDF
With that, all you need left is the printable! Just click on the link below to download or save our Kids Christmas Sing-Along Songbook! I hope it brings you as many fun times and fond memories as it has for our family. Each page has a little image they can color right along with, too! So it's an activity and Christmas songbook in one!
This songbook is perfect for going out caroling with the kids or singing Christmas songs together on Christmas Eve. That's one of our traditions, right along side our Christmas Nativity Skit we do each year. That's another printable you'll WANT to have!!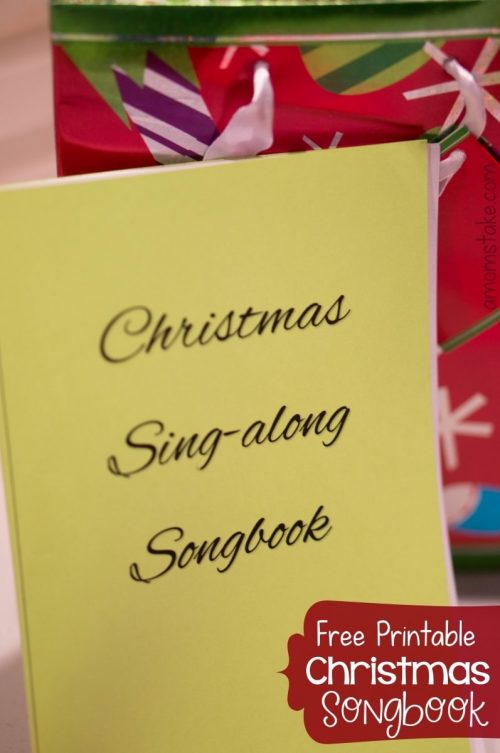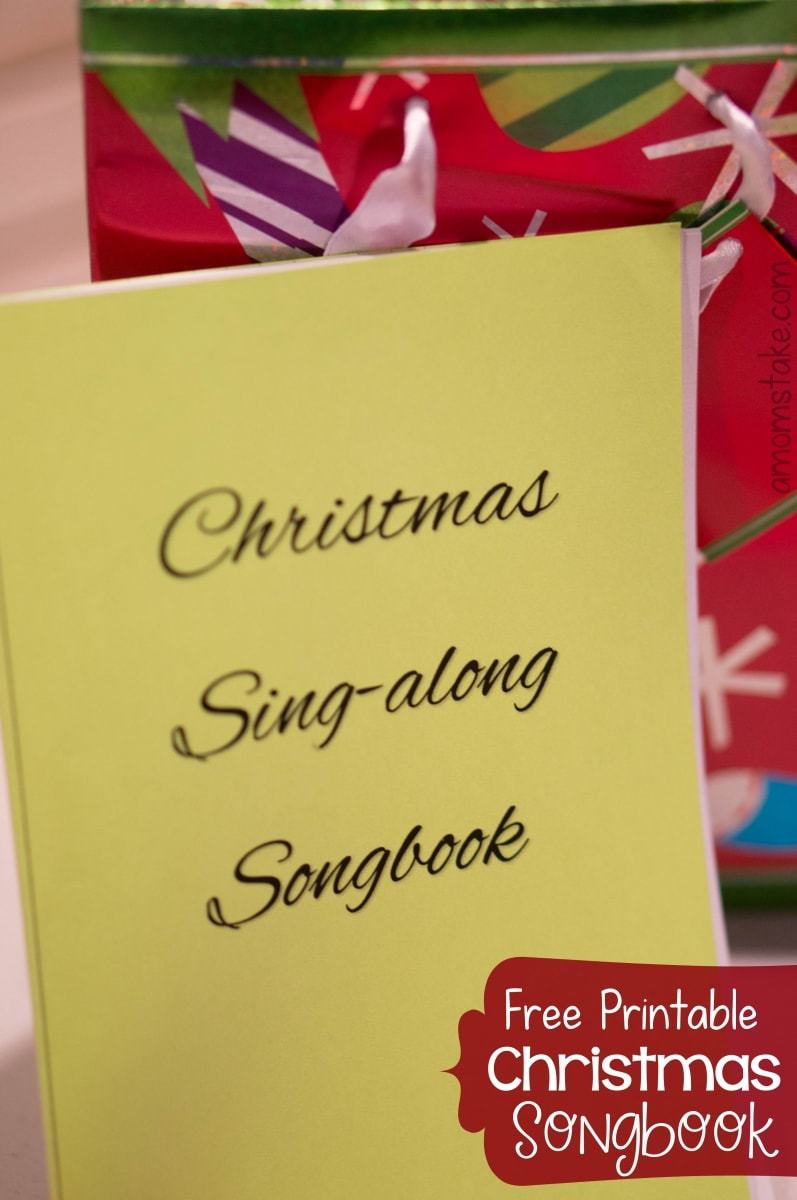 Want a copy of the coordinating adult Christmas songbook? Head over and grab the Christmas Sing-along Songbook free printable, too! The page numbers line up with both songbooks so you can start with the kid songs, and move on to other carols when the kids lose interest.
I hope you enjoy this Christmas Songs for Kids songbook as my as my boys have been enjoying theirs! We can't wait to put them to use with their cousins in this Christmas Eve!
What is your children's favorite Christmas song?