I really enjoy creating unique printable valentine cards for my boys. I have so much fun brainstorming ideas and catchy phrasing and how to incorporate unique elements into their valentines.
This year, I was putting away a set of mini juice boxes that we always keep on hand for my diabetic son who needs them for blood sugar lows. I was inspired by their size and knew they'd be a perfect valentine's day classroom gift! This cute berry juice box valentine printable cards freebie was born!
Berry Juice Box Valentine
You'll need:
Pack of 4oz or 8oz juice boxes
Cardstock
Washi tape
Start by picking up some juice boxes from your favorite grocery. I really adore the size of the mini 4oz juice boxes, but I made two sizes of printables, so you can use either the mini juice boxes or a full sized 8oz juice box. Look for them near the Capri Suns and similar pouch drinks, but way up on the top shelf for the mini boxes. Try to find a "Berry" flavor, but you can also do a fruit punch or mixed berry variety and it would still fit these valentine printable cards card well.
Print out this cute printable valentine card by clicking on either of the links below, depending on what size you need. The PDF will open in a new tab and you can save or print out your cards. I recommend printing them out on cardstock so they aren't flimsy.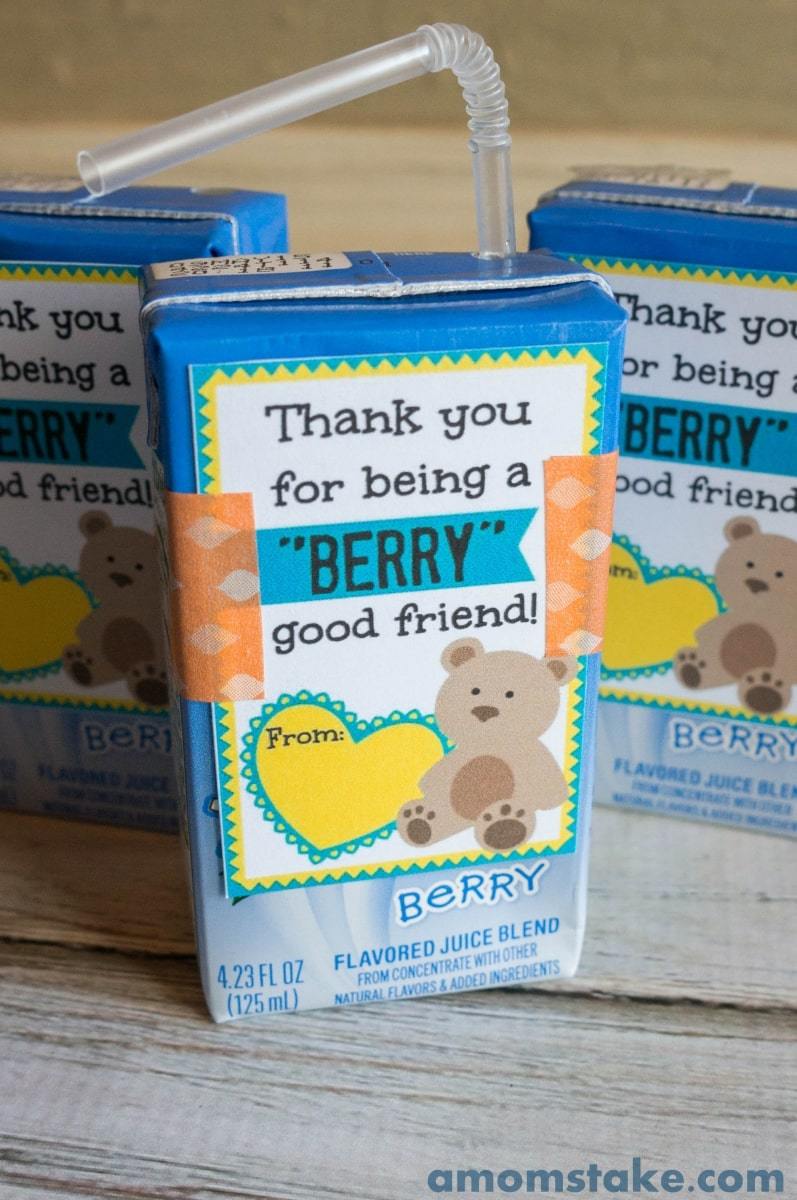 Cut out each of the cards. This is really fast and easy with a paper cutter, or just grab a pair of scissors. When they're all cut out, have your child sign their name inside the yellow heart box. Then, tape the berry valentine printable cards to the front of the juice boxes with a small piece of washi tape on each side. The washi tape adds a really cute pop of color and will pull off easily without ruining the valentine card or juice box. Tape the cards to the back of the juice box where there is no straw.
Of course, don't open the straw. We just opened ours to test out the valentine and it helped show what we were covering with the printable for the pictures. My 2 year old would vouch for these being the best valentines yet and my preschooler will love taking this to his church class this year to pass out since Valentine's day falls on a Sunday.