I love finding Holiday gifts for my husband and father. However, with each new Holiday, I often find myself racking my brain trying to come up with meaningful gifts. Whether you're shopping for a brother, in-law, friend, cousin, son, grandpa, or uncle, these gifts are perfect for the men in your life.
We received a variety of samples and/or compensation for this post. All opinions are our own.
Great Gifts for Guys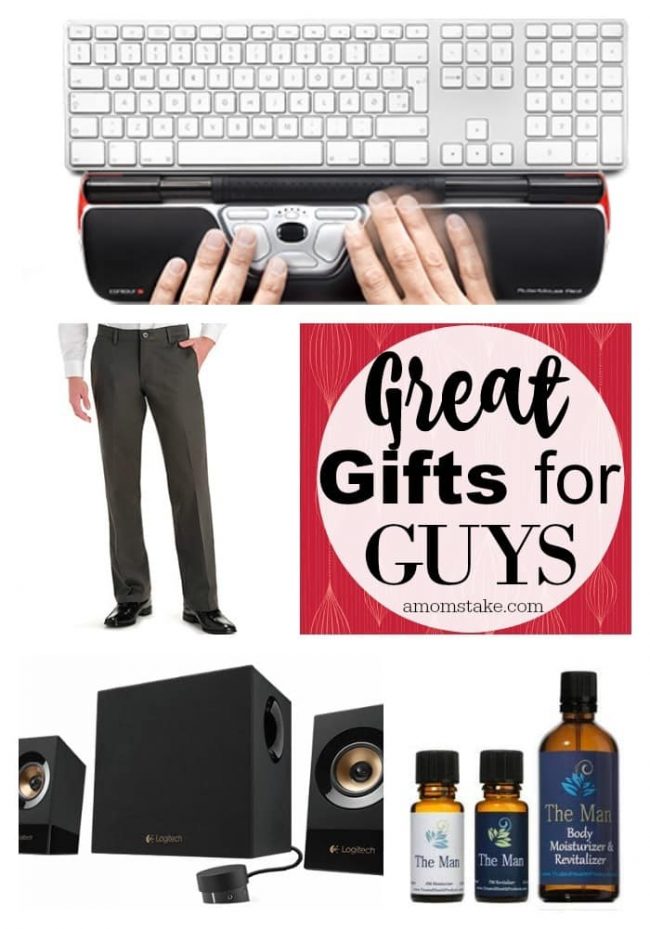 Tech & Gear
Transform his tech time – whether it be for work, video games, or an endless queue of prank videos – with a PC Speaker system that can fill the room. Logitech Z533 Multimedia Speaker System includes a right and left speaker, subwoofer, and a control pod that puts the power, volume and headphone jack in easy reach. This PC speaker system has a total of 120-watts peak power and rich, dynamic bass sounds from the front-facing subwoofer that let you experience, not just listen, to your music. The Z533 Multimedia Speakers System is available on Logitech's website for $99.99, orders over $49 ship for free.
Fast-forward his productivity with an integrated RollerMouse that will allow him to keep his hands on the keyboard, and still reach the mouse! The Roller Mouse by Coutour Design has a mouse bar that can slide or scroll by stretching your thumb just past the space bar to the rollerbar. As you glide the rollerbar right or left or spin the bar, the mouse moves accordingly with pinpoint accuracy and speed. Need to click? No problem! All you need is a gentle press down on the rollerbar and you will be able to click like your traditional mouse. The RollerMouse also helps reduce strain and improve posture by keeping his hands where they should be placed on the keyboard and with a built in wrist rest to help avoid discomfort while he works. You can try a RollerMouse for free with their 30-day no risk trial to experience the difference first hand.
Every active man needs a way to track his activity. The Fenix 3 Sapphire GPS Watch from Garmin is the best of the best. It has a stainless steel band and sapphire lens to guard it against even the toughest conditions. This watch is a regular activity tracker, a GPS fitness watch, a smart watch, plus it looks good! With feature sets for fitness training plus feature sets for outdoor navigation, Fenix 3 is ready for any training activity and competition. My husband uses his Outdoor navigation features like 3-axis compass, altimeter and barometer and TracBack® feature all the time. Paired with a heart rate monitor you can utilize the VO2 max and recovery advisor features. Stay connected while you are on the move with Smart notifications² you can receive emails, texts and alerts right on your watch, even if you're on the trail.
Technology is part of our everyday lives and our devices have to be protected, but what about protecting ourselves from our devices? Pong Cases do both for you! Pong cases contain Built-in Antenna Technology that pairs with your iPhone 6 Plus / 6s Plus right when you put it on. This redirection reduces your exposure to mobile device radiation by up to five times below the FCC Specific Absorption Rate (SAR) limit without compromising your device's ability to communicate. Plus, they offer protection from 4′ drops and are drop tested to U.S. Military specifications. In addition to all of that, they look really awesome, I get compliments on mine all the time. They offer cases for your iPhone (including the 6s and 6s Plus), iPad, Samsung and more. Protect your device with Pong.
Let him rock out like his golden days with Guitar Hero Live. He'll be able to "strum" along with a variety of hit tunes with live concert recordings you can play along with. Popular artists include Weezer, Queen, System of a Down, Carrie Underwood and more! The guitar controller was newly updated with a 6-button design that makes it easier to play, harder to master, and plays more like a real guitar. The new Guitar Hero Live game is available on all the platforms! Pick up your copy for XBOX ONE or 360, Playstation 4 or 3, or on the Wii U. No console? You can play Guitar Hero Live on your apple devices! Grab a copy of Guitar Hero Live at your favorite local retailer including Target, Walmart, Amazon and other major retailers.
For His Health
My husband is a dentist and the first things on his Christmas list are the Philips Sonicare DiamondClean Power Toothbrush and AirFloss Pro. The DiamondClean Power Toothbrush combines style and function into a beautiful package. With 44% more bristles than the standard ProResults brush head this brush provides superior plaque removal and whiter teeth. It has five brushing modes: Clean, White, Polish, Gum Care, and Sensitive. It comes with a unique charging glass that lets you leave it resting in the glass to charge, plus it doubles for mouth rinsing. It also comes with a portable charging case that can be plugged into the wall or USB on your laptop to charge. The AirFloss Pro is just as effective as string floss but helps inconsistent flossers get healthier gums in just two weeks. You can get a deeper clean between your teeth in just 60 seconds a day!
Many of our loved ones face a medical condition like diabetes, high blood pressure or simple conditions that use finger pricks with a lancing device to test a small blood sample. Genteel Lancing Device takes away the pain of traditional lancing by using a shallow depth of penetration from the lancet and uses vibration and vacuum pressure to draw up a drop of blood without discomfort. Genteel is easy to use and can be used anywhere on the body from thighs and forearms to palms and fingers and just about anywhere else. This lets those fingertips heal and makes the testing much more pleasant overall. Visit the Genteel website to watch their helpful videos to learn more about how their process works or to order your Genteel lancing device!
Looking for a gift as unique as he is? The Man skincare products can be personalized with his name on the label for a truly unique gift! The product would read "John is The Man" (filled in with their own first name or nickname based on your customization). The Man Facial line comes with an A.M. and P.M. face oil serum that is made with a rare combination of fruit, nut, and plant extracts to renew his skin without any chemicals, parabens, preservatives, GMOs, or other additives. Together they can help reduce the appearance of aging and begin to firm and tone the appearance of his skin. Add The Man Body Moisturizer and Revitalize to give the same benefits to the rest of his body. The Man Body product can also help reduce the appearance of age spots, discoloration, blemish, and spider veins. Plus, it can double as a deodorant! Visit Trusted Health Products on Facebook to learn more.
Something Personalized
Help remind the special man in your life of his favorite people, places, or pets with art from Photo Slabs. Crafted on a canvas of maple, birch, or aluminum, Photo Slabs allows you to choose your material, upload your photos, and create a beautiful custom photo. Pictures printed on wood and metal? How cool is that? Measuring 1.5″ thick, each photo comes complete with hardware, ready to hang. Whether he chooses to display his print in his office or at home, Photo Slabs are one-of-a-kind. Photo Slabs truly are a gift that the entire family can enjoy.
If cooking is something the man in your life loves, then RawSpiceBar has to be on your shopping list this year. This monthly subscription box sources high quality, unique spices & flavors from around the world. These spice blends are perfectly portioned, freshly ground and expertly blended for authentic flavor. All you have to do is add fresh ingredients and follow their Kitchen-tested recipes to introduce you to a new regional cuisine right in your own home. All RawSpiceBar spice blends are freshly ground just days before shipping direct to your mailbox. What a tasty surprise every month! RawSpiceBar is a really affordable gift that keeps on giving with a subscription.
The Great Outdoors Man
The ultimate tripod for the outdoor and adventure-seeker, gift him a Pakpod! This new innovative tripod was just funded on Kickstarter. The Pakpod is ultra compact and lightweight weighing less than a pound. It's made from durable materials, similar to what is used on bike and ski helmets for strength. Turn a single knob and all three legs will extend in asymmetrical positions. Then, turn down the stakes to secure your tripod wherever you go – in the sand, snow, dirt, grass – you name it. It's even waterproof and freeze-proof! This tripod can support a DSLR, up to 11 lbs retracted or 5.5 lbs with the legs fully extended. Pakpod with stakes bundle is a perfect set to pick as it includes their eco-green safe stakes that are durable while being safe to use with kids.
Make cooking while camping fast and easy with the efficient Coleman HyperFlame FyreCommander 3-in-1 Stove. With the new HyperFlame technology, water boils twice as fast so you can get the meal prepared quicker. This Coleman burner features a stair-stepping design and includes a wind-blocking pan to allow the oxygen to be more regulated, and less affected by the wind, to give a more efficient and precise cooking. He will love the telescoping legs, Instastart ignition that lights the stove with the push of a button without a match, shelves for storage once camp is setup, removable griddle top for flexibility, and an impressive total of 24,000 BTUs! When the trip is done, fold it down to a compact, easy-to-store stove with soft-touch handles and a latching lid that made it a cinch to carry and pack home. It doesn't get any better than the Coleman HyperFlame FyreCommander 3-in-1 Stove.
Help him to be prepared for emergencies to appease any worries from that internal instinct and need to provide. Valley Food Storage offers a wide assortment of emergency products, water supplies, and food storage products to prepare for the unexpected. You can pick from individual items, choose a monthly bundle, or build your own kit. Their options include baked potato soup, chicken a la king, pasta primavera, biscuit and scone mix, apple cinnamon pancakes, and much more. Valley Food Storage even offers gluten-free and dairy-free products for those dietary restricted family members. These easy-to-prepare kits are also perfect for campign and hunting trips, for your outdoors man. You can give Valley Food Storage a try with a free sample (just pay shipping) or get started on your food storage today.
Whether he loves to travel, camp, hike, hit the gym, or participate in outdoor sports, he'll love a PackTowl Personal Towls Set. These innovative towels are compact and light weight so he can pack them along wherever he goes. Use it to dry off, the PackTowl can absorb up to 4 times its weight! Then wring out the towel and use it over and over in the same trip. The antimicrobial treatment will help to reduce odor retention and extend the life of your towel. Need something extra lightweight for a backpacking trip where weight matters? Go for their Ultralite towels at just 3.1 oz for a full sized towel! PackTowls are easy to care for – just toss them in the washing machine and tumble dry or hang to dry.
Style Picks for Him
He will love the style and function of the Swrve Two Tone Milwaukee ES Hooded Jacket. This popular jacked was recently named as one of the top 8 All-Weather Jackets to have this fall by Outside magazine! It offers a wind- and water-resistant softshell jacket complete with a hood to keep you dry and comfortable no matter the weather. It's designed with bike-friendly features in mind for the urban man like a dropped tail, four-way stretch, reflective details, and pit zips. Pair with the jacket Swrve's new Cotton/Modal Henley which uses a fabric derive from Beechwood Trees that gives this top the ability to naturally insulate and cool the body as well as wick away moisture and sweat all while staying breathable. That makes it a perfect top for someone with an active lifestyle.
Shopping for the special man in your life, you will never go wrong buying him a new pair of pants. Whether he enjoys cargo pants, slacks, or jeans, Lee Jeans has you covered. Available in a variety of fits such as straight, pleated, jogger, and more, there are pants perfect for every man. A few of my personal favorites include The Comfort Fit Flat Front Straight Fit Pants and The 5 Pocket Flat Front Pant. I love their stylish and dressy appearance. For something a little more casual, I'd go with the The Modern Series Slim Tapered Leg Jean. This Holiday season, be sure to visit Lee Jeans and browse their large section of jeans, pants, shirts, jackets, and belts.
Give him a trendy belt that fits to perfection! Mission Belts have a perfect fit with adjustments every 1/4″, unlike traditional belts with the holes spaced an inch apart. That means, he can get the fit he needs, no matter how he might fluctuate. Since there are no holes, the belt won't show the wear of being pulled at one spot. Mission Belts feature an easy on / easy off design with a release lever that keeps the belt in place and ready to slip off when needed. Mission Belt uses real, quality leather for their belts or pick from a trendy nylon belt to fit the latest fashion. Switch and swap your buckles and belts to get the perfect look for each outfit. Mission Belt offers easy 3-belt gift sets to give him the variety he'll need to match each of his outfits.