This easy No-Bake Snowball Cookies recipe brings a sweet taste of summer to your holiday festivities. These Hawaiian inspired cookies are so festive and fun with a coconut flake topping and yummy pineapple center.
Today's easy Snowball Cookies recipe is a really special one for me. It is one of the only recipes I have passed down from my great-grandma Ruth on my mom's side of the family.
This one is a special treat I only got to enjoy a few times during my childhood, whenever we would road trip for Christmas to visit my mom's side of the family.
This is a sponsored post written by me on behalf of Food Lion. All opinions are 100% mine.
I absolutely love pineapple and coconut flavors, so these cookies have always been a favorite! Plus, they are so festive and fun looking, that they just feel like the ultimate Christmas cookie!
Easy No-Bake Snowball Cookies
When it came time for our annual baking traditions of making sugar cookies, chocolate freezer pies, cherry rolls, and of course these easy no-bake snowball cookies, I turned to my local Food Lion.
Whether you love to bake from scratch or want to simply add your own finishing touches to mostly finished baked goods and main dishes – Food Lion has everything you need for the holidays!
I like to make ahead some Snowball Cookies and other holiday treats so I have something on hand for those unexpected visitors and out of town guests that come to visit!
My grandma's snowball cookies can even be frozen — so you can make a double batch before the busy holiday season starts and simply thaw and serve or send some home in a goody bag with your guests.
Other favorites we love to have on hand for the holiday is hot cocoa and peppermint ice cream — just in case! Food Lion has a selection of Limited Time Originals including Holiday Spice Pancake Mix, Peppermint Hot Cocoa, Gingerbread Sandwich Cookies, and even a Holiday Cookie Tin to simplify the holidays even more!
How to Make Snowball Cookies
Start by taking the extra time to strain your pineapple really well. Don't skip this step, or your mix will be hard to work with. If you pour the crushed pineapple into a bowl, and still see extra juice, you can pour the extra pineapple juice out off the edge of the bowl.
Next, you will want to combine your sugar, butter, and nuts with your pineapple.
That's all the mixing you'll need – now it's time to assemble! Take a small spoonful of your pineapple mixture and scoop it onto the flat side of one Nilla wafer cookie.
Next, you'll place another Nilla cookie on top. Then, add another layer of pineapple mixture and another cookie. It should look like: cookie, mixture, cookie, mixture, cookie.
I tend to make all the layered cookies step first, then move onto the next step. But you can do all the steps together before moving onto the next cookie.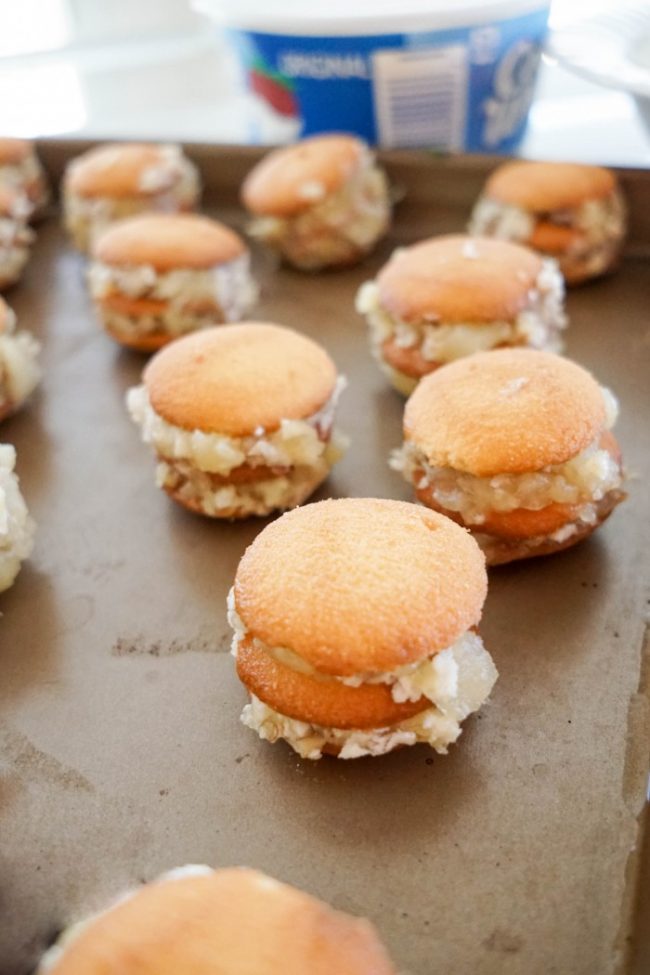 To turn these layered cookies into snowballs, you'll coat the outside edges and top with whipped topping. You can make your own or use a store bought version, but it will need to be thawed, not frozen.
Then, just sprinkle shredded coconut all around the sides and top to give the cookies a fluffly snowball look!
When they're all assembled, you'll store the cookies in the fridge overnight to help the layers firm up, which will make them easier to eat, not so messy!
Frequently Asked Questions about Making Snowball Cookies
Q: Can I use diced pineapple, sliced pineapple, or fresh pineapple in Snowball Cookies?
A: You can use fresh pineapple or any variety of canned pineapple, but you'll need to mash it to fine crushed pineapple or use a food processor to create crushed pineapple. You'll need fine pineapple to fit between the cookie layers.
Q: How do I strain the pineapple?
A: A mesh strainer works best! Simply press the crushed pineapple against the mesh strainer. The better you strain the pineapple before getting started, the easier it will be to work with your mix.
Q: How should I store snowball cookies?
A: Store the snowball cookies in the fridge. You can also freeze the cookies, and allow them to thaw overnight before serving, if you to store some of the cookies for a later date.
No-Bake Snowball Cookies Recipe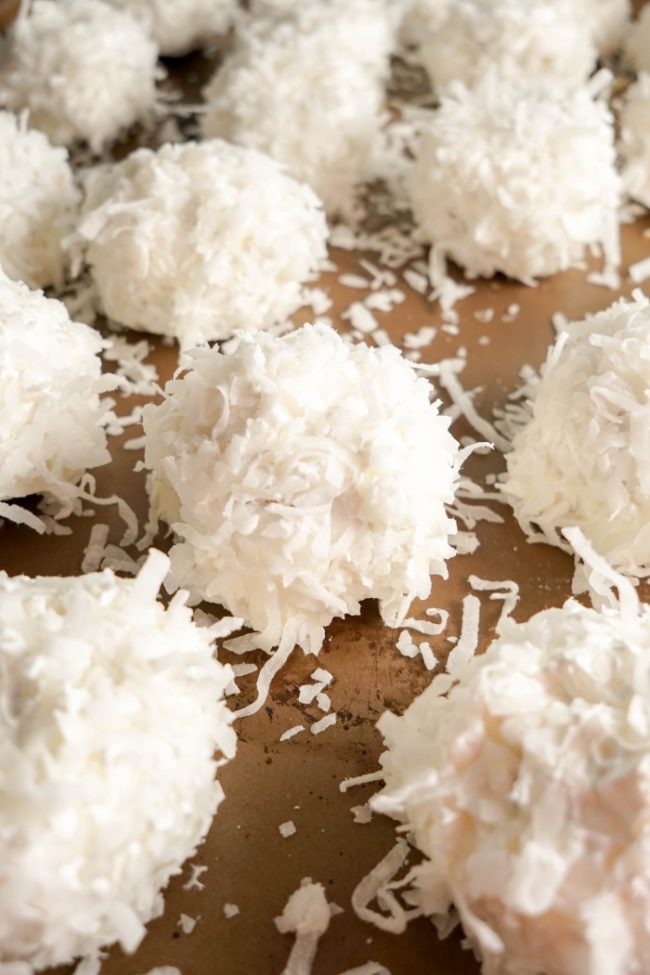 Yield: 24 cookies
No-Bake Snowball Cookies Recipe
Sweet Hawaiian inspired Snowball Cookies! These easy no-bake cookies are fun for the holiday season and delicious in summer, too.
Ingredients
1 cup sugar
1/2 cup butter (1 stick), softened
1 20-oz can crushed pineapple, well drained
1/2 cup pecans, finely chopped (optional)
1 package Nilla wafers
1 container whipped topping
1 package shredded coconut
Instructions
Strain your pineapple really well. Don't skip this step, or your mix will be hard to work with.
Beat together sugar, butter, pineapple, and nuts.
Spoon a small scoop of pineapple mixture on top of one Nilla wafer cookie. Top with another cookie and another layer of mixture, then add a third cookie on top.
Coat layered cookies with whipped topping, and sprinkle coconut all along the outside of the cookie.
Store in the refrigerator overnight, then serve. Keep Snowball cookies stored in the fridge when not being enjoyed.
Nutrition Information:
Yield:
24
Serving Size:
1
Amount Per Serving:
Calories:

113
Total Fat:

7g
Saturated Fat:

4g
Trans Fat:

0g
Unsaturated Fat:

3g
Cholesterol:

10mg
Sodium:

42mg
Carbohydrates:

14g
Fiber:

1g
Sugar:

13g
Protein:

0g
If you tried these Easy Snowball Cookies and loved them, let us know in the comments!