The new year presents us with a time to set up new goals and resolutions and try to change or improve things about ourselves we'd like to do better. While we can set new goals any time of the year, the new year is the perfect time to ditch the excuses and set meaningful goals and aspirations for the year ahead of you.
Often, the goals we set can seem unattainable or too big that they are out of reach. This guide will share 12 resolutions that you can easily keep during the new year ahead and make changes that will make a big impact!
We received a variety of samples in exchange for this post. All opinions are our own.
New Year, New You
12 Resolutions You Can Actually Keep
1. Read Together More Often
It sounds like the perfect resolution, to read together more often. We've always got that looming stack of books we keep meaning to read. Make this the year you start off on the right foot, and complete this resolution goal with ease!
We love Audible and their unique Audible Original titles, like some of the ones shared below. As an Audible member you get to select 2 free Audible Original titles each month from each month's featured titles.
Take advantage of all the time you spend together in the car going from school and appointments to after school activities and even those fun evening out to enjoy a story for the whole family.
Here are some of our top picks for starting the new year of listens off right:
2. Take Time to Focus On Your Hobbies
The only way you'll ever make time for your hobbies is by adding it to your calendar and making it a priority! This year, I'm planning on spending more time with quiet and reflective activities, for me that will be puzzles.
January is National Puzzle Month, and what a fun time to pick up this favorite pastime again to add your own quiet time by yourself or with friends and loved ones. Ravensburger offers high quality puzzles to help you take time for yourself.
Ravensburger's Guinness World Records puzzle, "Memorable Disney Moments" is the largest retail puzzle made to date! It has over 40,000 pieces with 10 individual puzzles each featuring a favorite Disney movie. This recent post on 6 little-known facts about the history of jigsaw puzzles, shares how it took the puzzle creators over 1,000 hours to create the puzzle digital render and cutting tool!
3. Setup Healthy Routines for Better Sleep and Energy
New year resolutions often include the desire for healthier habits including goals like going to bed earlier, exercising more, or even not hitting the snooze button every morning. The light in our homes can make such a powerful impact on these, and other, goals we may for the new year!
With Philips Hue, you can make your home and your lights work best for you with settings to dim the light in the evening to help you settle in for the night and relax. Then, set up a morning routine to gently wake up you — before your alarm!
Then turn up the focus with Philips Hue lighting to help you concentrate, energize, or read with the simple tap of a button! These different light settings can help you stay on task, enjoy more good books this year, or be a step in the right direction for a new year's exercise routine!
4. Organize What You Love
For whatever you love to do most, Thirty-One has clever storage and organizing solutions to help keep everything tidy. If you sew, knit, crochet, stamp, quilt, draw – etc, find the storage solution that's just right for your needs with Thirty-One Gifts.
You can save big with the limited-time January specials perfect for getting organized! Pick up to 2 items with special pricing up to 40% off! Choices include the popular Double Duty Caddy, Fold N' File, Get Creative Caddy and more!
Check out some of my favorite Organizing Picks:
5. Cut Down on Cleaning Time
I'll take any shortcut I can get when it comes to cleaning up the home. We spend so much time each week and throughout the year on cleaning up our homes and making our spaces comfortable. Now, a new shortcut is available that will combine two of your most frequent cleaning tasks into one — sweeping and mopping.
Karcher has a new Hard Floor Cleaner that's an award winner making it finally possible to both vacuum and mop in one pass across your floor. The spinning mop roller is automatically moistened and picks up dirt while it mops all at the same time.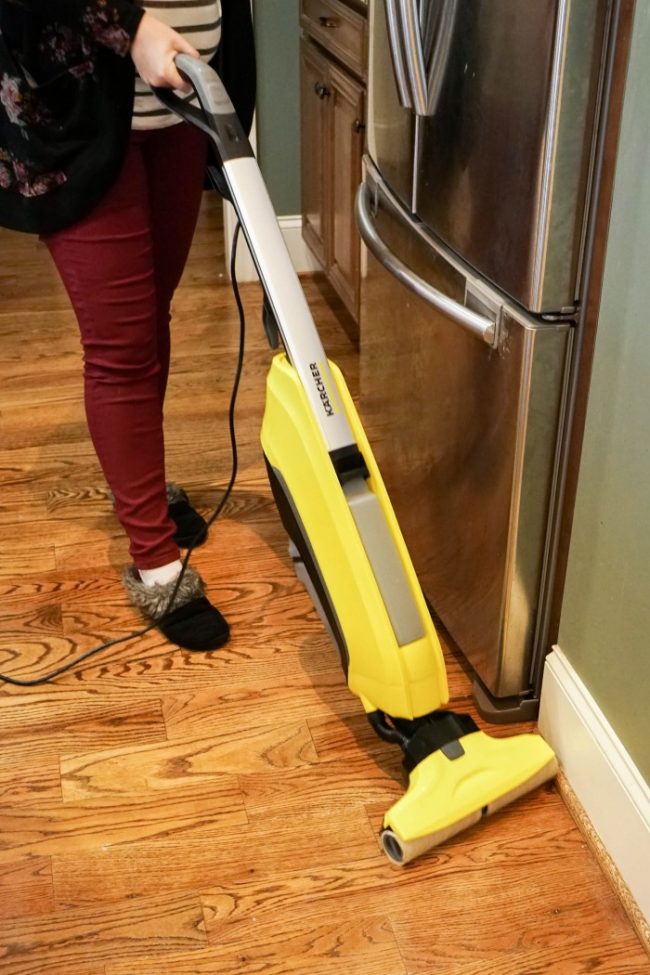 The flexible head of the Karcher Hard Floor Cleaner makes it a cinch to clean under furniture and around objects. It can be used on all standard hard floor surfaces including wood, stone, and plastic flooring.
6. Spend More Time Outdoors
Bring the latest craze that's both fun and gets you to where you need to go into your own home with a Razor Electric Scooter. There are options for both kids and adults, including the E Prime Electric Scooter designed to take adults and teens (ages 14+ and up to max weight of 176 lbs) for a quick ride.
Razor electric scooters use a kick-start and a thumb-activated paddle that jump starts the scooter and off you'll go. They have options to fit the age, budget, and features needed.
7. Keep Your Home Smelling Clean and Fresh
Making your home smell warm and welcoming, clean and fresh is easy with Natural Air Oils. Their 100% natural oils are made from combining essential oils and other natural ingredients, no synthetics included. You can add a subtle or bold scent, making it just right for your home.
Don't be afraid to make your home smell uniquely your own by making the perfect combinations of natural fragrances. Add a drop of coconut or a few drops of cinnamon, for example, with your favorite scent to create a unique combination each time.
Natural Air Oils has really affordable options for diffusers and an assortment of fragrances to spruce up your home all year long with ease.
8. Prioritize Self-Care and Attention
Skip all the additives in your body care products this year with the quality natural care products from LATHER. Their entire product care line includes no synthetic fragrance, colors, parabens, sulfates, mineral oil, and are not tested on animals.
You can find a variety of products for your face, hair, body, and overall wellness at LATHER. From body moisturizers and washes to healing muscle ease to calm your stresses you can find something to soothe any worries away this year.
Try these favorite LATHER products:
9. Enjoy More Peace and Quiet
The perfect solution for a noisy home is headphones for all! Set up your children with an mp3 player or let them use their favorite device and drown out the constant noise with headphones designed specifically for kids.
LilGadgets has the best selection of kid-friendly headphones designed with important volume limited to protect their hearing, but not limit the performance when you need it most in noisy places like on the airplane or even near a vacuum! With LilGadgets headphones, they'll be protected with 93 db volume limiting in addition to passive noise reduction that brings exterior noise even lower.
Another favorite feature is the smart SharePort that lets children connect their headphones into another pair of LilGadgets headphones to both listen to the same device with no extra splitter or cables needed. This also easily solves the problem of too short of cords so each child can sit comfortably while they listen.
10. Update Your Period Care
Genial Day offers a more natural approach to your period without any toxin, heavy metals, or chlorine in their pads. They are a perfect option for sensitive skin and pH balanced. You can also find bamboo wet wipes for easy clean-up and a menstrual cup that is made from Medical Grade TPE that is free from silicone, latex, BPA, and phthalates.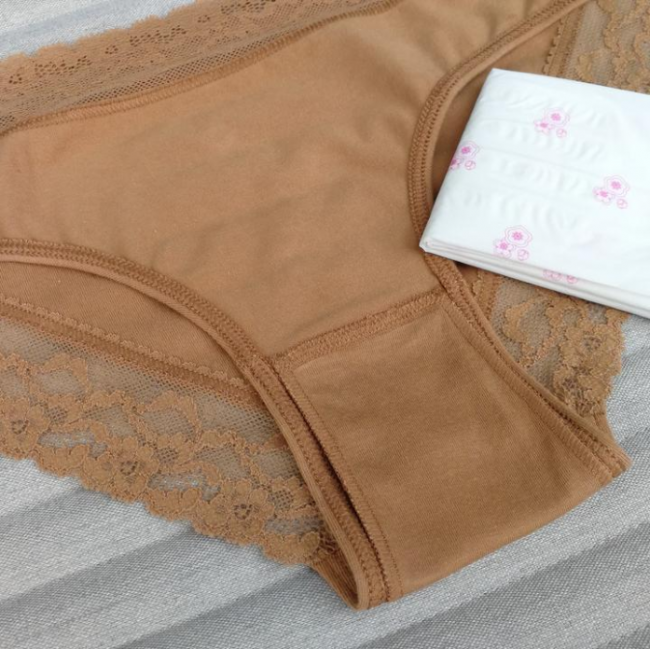 Don't forget to upgrade your underwear with Genial Day's line that are designed with improved hygiene in mind. All ofo their underwear are made with 100% organic cotton and elastane and then are coated with silver ion finish to help protect from bacteria leaving you less prone to irritation and protects against unpleasant odor leaving you feeling fresher!
11. Create a Comfortable and Warm Space
Your home can be comfortable and accommodate kids without being tacky! Ditch those outdated puzzle piece foam squares and introduce Comfort Design Mats into your home!
Their stylish foam floor mats look like an expensive designer rug in style but offer the perfect cushioned area for playtime, workouts, and relaxation. They'll bring the cozy back into your space without sacrificing style. Best of all, they are waterproof and easy to clean!
Choose from 11 stylish Comfort Design Mats designs including a garden floral that would be gorgeous in a nursery and a botanical garden that would be great in a playroom or your even your front room! Pick out a nice neutral for an office space or exercise room.
12. Be Healthier, Wherever You May Go
We do what we can to protect ourselves, and our loved ones, from toxins and pollutants, and now there's a new way to do even more to clean the air we breathe while on the go.
Atem Car is an easy-to-install portable air filter that can clean and filter the air you breathe while you travel. It uses a HyperHEPA Plus filter to absorb odors and gases to rid the air you breathe from common pollutants and unwanted odors.
Inside the cabin of our cars we can be exposed to a wide variety of toxic fumes and gases that can be harmful to us, including Sulfur Dioxide, Benzene, Soot, Formaldehyde, PM2.5, bacteria, pollen, VOC and Nitrogen Dixide. The research shows that your vehicle can expose you to as many as 275 chemicals at any given time!
Which of these helpful products will inspire a new year resolution you would be happy to keep?