We have been working for the past 6 weeks on our budget bathroom remodel for our Master Bathroom. It had been completely neglected and is the last room in the house to have any changes made to it other then swapping out the really basic shower head. It completely lacked any style. If you've been following along, you've seen our Pinterest inspiration board that we used to collect our small bathroom design ideas to transform our space as well as installing our Delta faucets in our bathroom and how easy that process was. Now, we've finally pulled together all the pieces and jazzed up our bathroom. So, here's the big reveal!
Bathroom Remodel!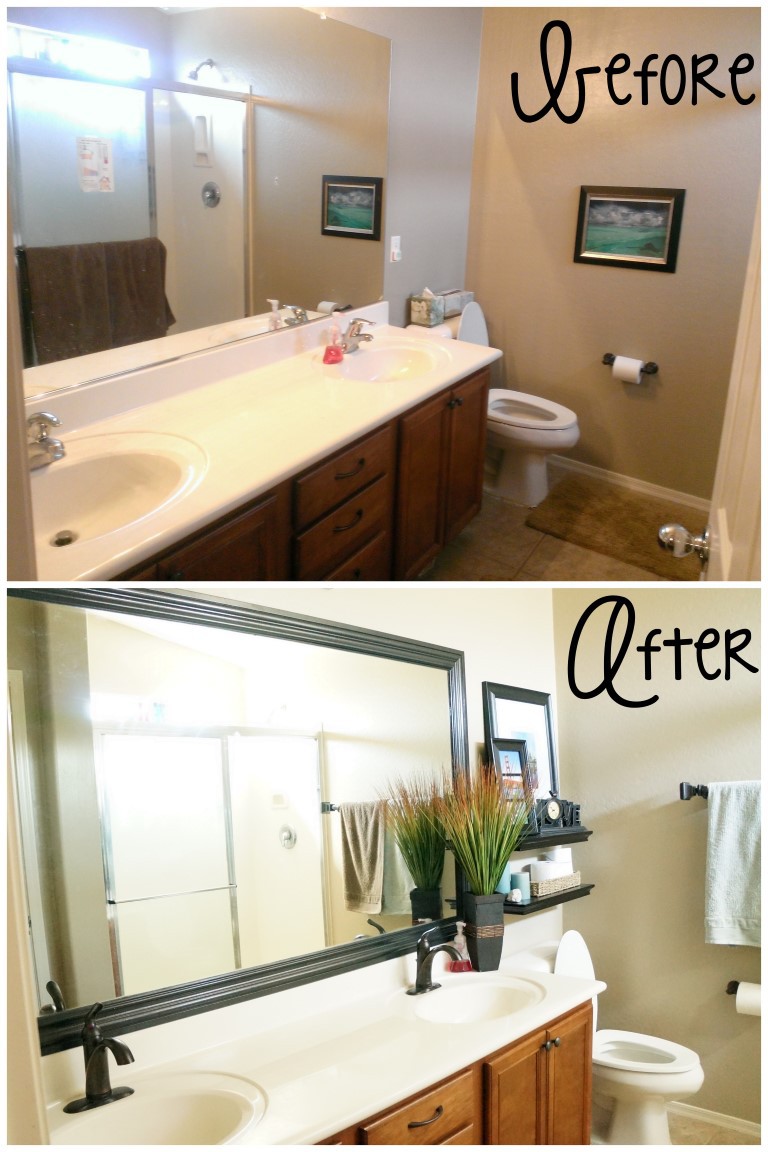 As you can very plainly see, our extremely plain and ordinary bathroom went from boring to "WOW" with just a few very easy simple changes. I was absolutely blown away by how easy and simple most of the changes we made were and what a massive impact they had in our bathroom. I always feel completely surprised when I look back now at our before picture because I'm so used to our bathroom mirror being framed now and I can't even imagine ever going back to a very boring builder installed mirror.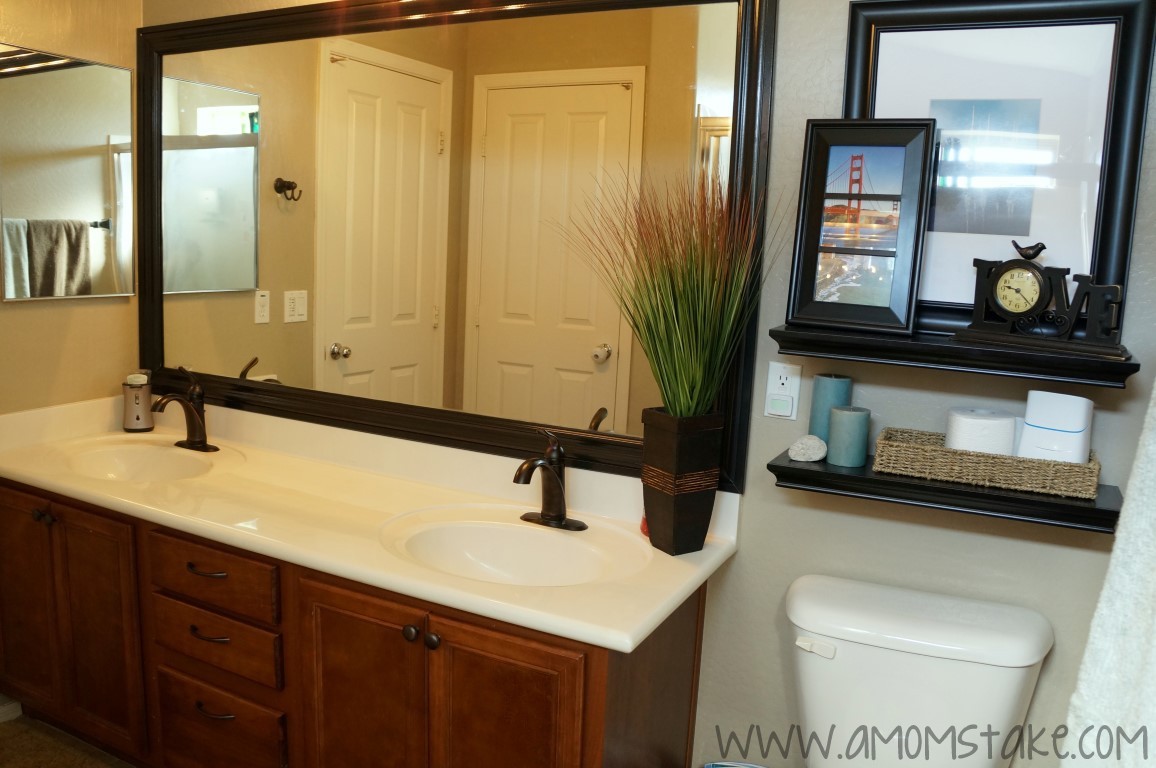 The first change we made, that got the whole ball rolling, was installing new touch and sensor activated faucets by Delta Faucet. Scroll on back up and see how incredibly plain our previous faucets were. The new faucets give us that professional polished look. They really pop on our white countertop. After we had the faucets installed, the only "big" job left was framing the mirror. We set out for supplies, cut our molding right there at the store, and grabbed a can of spray paint and silicone to mount the framing. The project went way quicker then I expected and turned out so awesome! In fact, the mirror project inspired us for the next change which made a huge difference in the room.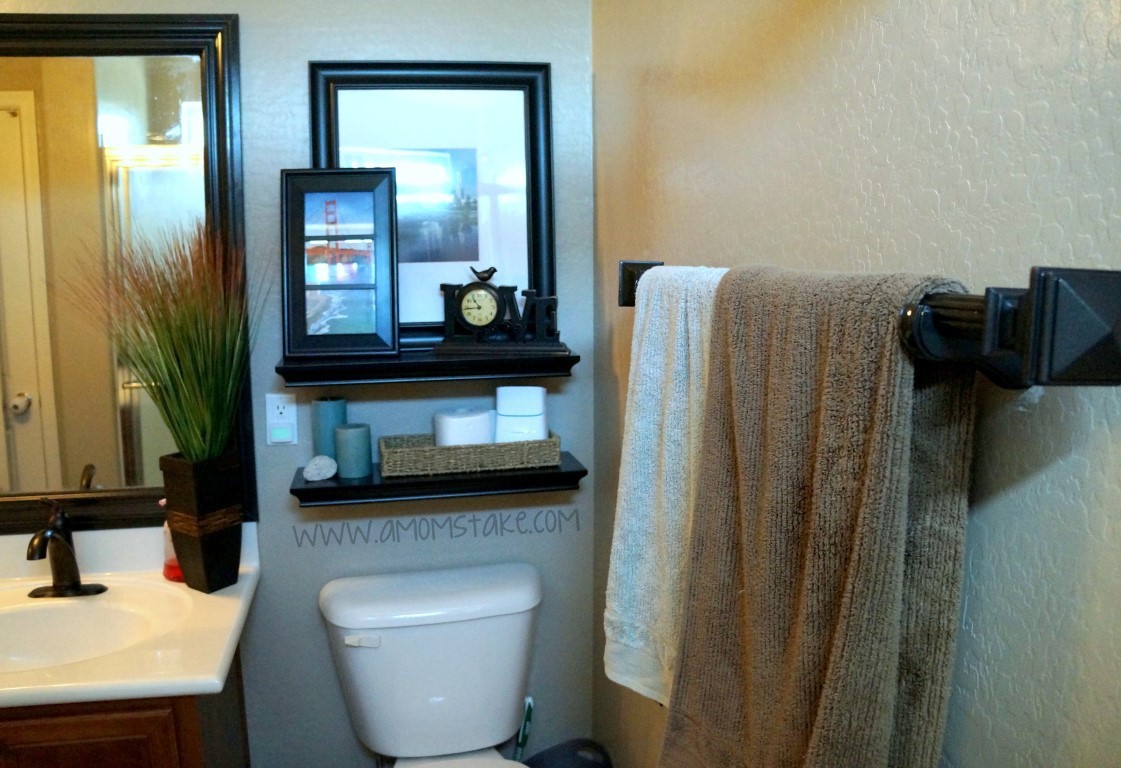 We had a leftover wood curtain rod from when we installed curtain rods in our Master Bedroom makeover. We were trying to find a towel rod that would look good in the bathroom and not look wimpy and lame compared to our other accents that really stood out. My husband had the great idea that we spray paint the curtain rod to match and mount it to the wall for our towel rack. It looks so awesome there and we were even able to have a longer towel rod that fit the space better! We added a couple of wall mounted shelves for a bit of storage and decor and some awesome frames and the room was complete!
Small Bathroom Design Ideas
Layer! Create interest and dimension by layering elements like picture frames stacked on top of each other or several shelves on a single wall.
Add Texture – Create a warm feeling and depth by adding items with different texture. Our space has glass, wood, pumice stones, soft waxy candles, and warm woven baskets along with other elements.
Think Big – Using big elements in the right way can make your space feel larger. Keep your mirror as big as you can. Framing your mirror can help it to stand out and add depth and interest to the room. Large picture frames can make the walls feel like they are larger than they are.
Add Storage – Use the spaces around you for storage. We used one of our shelves for storage while still keeping it looking classy. A homemade curtain rod for your towels gives extra storage and the designer feel. Baskets can store things and still keep them sightly.
We have absolutely loved the change that our new faucets have inspired! Not only for beautiful look and finish of the faucets themselves or because of all the extra changes around the bathroom but because these faucets are amazing!! They have changed the way we use the sinks in our bathroom.
I love being able to touch or have the faucet sense my movements when I need the faucet to turn on. The sensor inside is really smart, it won't react to my toothbrush being placed under the sensor as it isn't based on infrared or motion but instead sense or uses the electric energy that is stored up in our bodies. This means you get a really smart and responsive faucet that knows when it's you and when it's not. The touch and sensing capabilities have made it so much easier to wash our hands, brush our teeth, get ready in the mornings, and many other tasks.
We send the kids to our bathroom usually once a day to wash their hands after playing in the sand box, eating with their hands, or whatever other mess they were into that day. What typically would be a task I needed to help them with so they didn't get the bathroom messy on their way to the faucet is now simple and easy for them to clean their hands without any extra messes!
Delta Touch2O Technology for your kitchen and bathroom is precisely in tune with your every touch. Take the quiz to learn which faucet style best describes you at deltafaucet.com
What are your best small bathroom ideas?
Disclosure: Compensation was provided by Delta via Glam Media. The opinions expressed herein are those of the author and are not indicative of the opinions or positions of Delta. Keywords: Small bathroom design ideas, small bathroom ideas, budget bathroom remodel