The Crayola product, gift card, information, and additional gift pack have been provided by Crayola in exchange for this post. All opinions are my own.
Every year we make the grandparents a gift featuring our kids hand prints. In the past we have done ornaments or decor items but both grandmas expressed how sad they were to take the items down each year. This year I was determined to find a cute way for them to have something to remind them of the kids throughout the year. We live far away so it is fun to give them a gift that reminds them of the kids all year. We made our own handprint art based one each of the seasons.
Crayola has a ton of fun products to make these projects easy to tackle with little ones, here is everything you need to complete this project for someone you love this year!
4 canvases in your chosen size, some paper or cardstock, and various Crayola Art products. You also need some sponge brushes, Mod Podge and a black fine point Sharpie or permanant marker.
Start off by letting your kids get abstract! My kids are small so finger paints and water colors were perfect for them. These sheets will be used later on for your fall leaves and spring flowers. The Crayola Slick Stix would be perfect for this as well. These sheets will need plenty of time to dry so make sure you start with them!
Next you want to paint your canvases three with grass, one with snow. I used the finger paints for this as well and they dried super fast! Next let your kids get dirty by using the finger paints to paint their hand and forearm. Press these onto the canvas to make your trees.
Next I let my kids loose with some q-tips to create leaves and snowflakes. I think this would be so cute to use their finger prints instead but my toddlers were not enjoying being dirty. Of course they would hate it when it is allowed right? Next use their thumb prints to create the bodies for your birds on your summer square and their fists to create the bodies of your snowman on your winter one.
If your kids are older they can help finish the rest, but at my house this is when I took over. I quickly, and I mean fast these do not need to be perfect, cut a whole bunch of leaves and flowers from the papers your kids started by painting. I then used the Mod Podge to glue these to my trees.
Then go back to all of your canvases and use your Sharpie or permanent marker to add some detail lines, again this is quick and not perfect. It really adds a ton to the finished products! Make sure you add wings and faces on those cute thumbprint birds! Also, use your Crayola Glitter Glue to add some sparkle and shine to your winter panel. Once everything was dry I added a coat of Mod Podge to ALL the canvases to seal them.

Tie up your cute stack of art with a tag that says "No matter the season, know that I love you!" This is the perfect gift for grandparents, dad or moms office, anyone who needs a quick reminded of how much they are loved!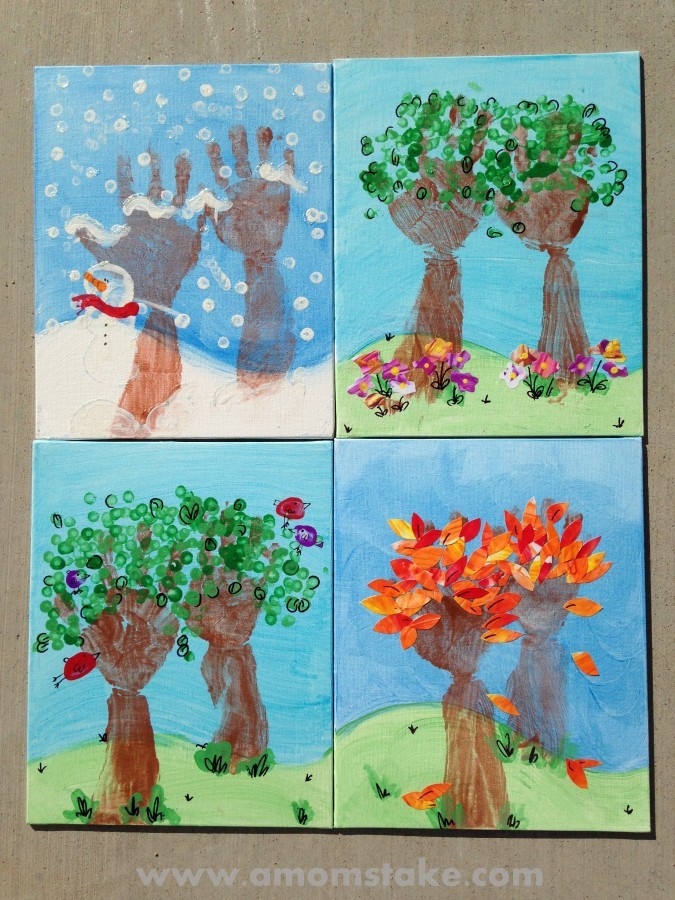 There you have it, a Handprint Tree for each season!
Have you ever made Handprint art?