Looking for an amazing Halloween treat recipe to share that will wow and impress with very little effort required? You've found it! This recipe is so easy! Just start with a basic brownie box mix, make a few simple swaps for a richer brownie, and swirl with a yummy colored cream cheese mixture for Halloween Cream Cheese Swirled Brownies that will pop!
Halloween Cream Cheese Swirled Brownies
Ingredients:
1 box brownie mix
2-4 eggs (depending on your box mix)
Butter (quantity dependent on your mix)
Milk (quantity dependent on your mix)
8 oz softened cream cheese
Food coloring
Directions:
Prepare brownie mix, following box directions. Add 1 extra egg. Replace water with milk and replace oil for melted butter.
In a separate bowl mix cream cheese 1 egg and food color until smooth and desired color.
Pour brownie mix in a greased pan. I love my Pyrex pans for this, they are so easy to use, and to clean! Plus, the sets that come with the lid make storing the brownies so easy once they're done so they stay fresh and delicious!
Pyrex Easy Grab 6-piece Bakeware Set
Add spoonfuls of cream cheese mixture.
Use a butter knife to swirl batters together. Pull knife thru batter until desired look is achieved.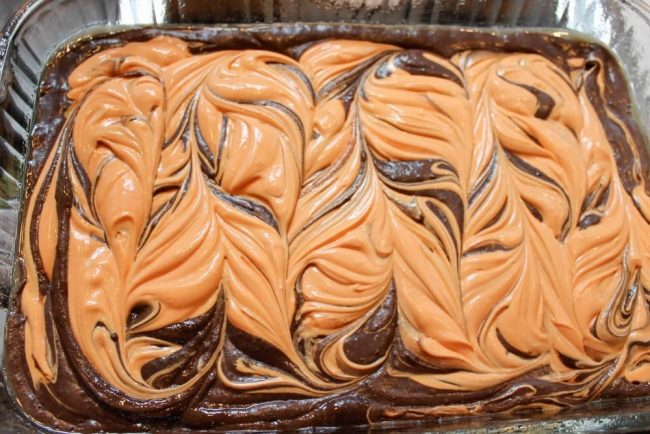 Bake per box directions or until knife stuck in center comes out clean. Let cool before cutting.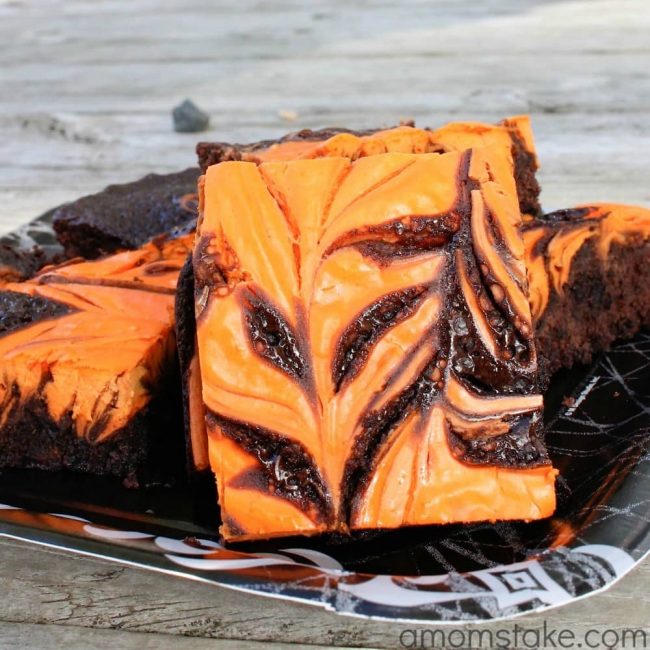 I dare you to take a bite, and then be able to resist gobbling down the rest of the tray! The bright orange against the dark brownie brownies is a perfect contrast for these Halloween goodies! With the swirled cream cheese they are decadent and moist, too!
Now, just think of the possibilities! You can swap out other colors to mix up your own combination for other holidays!
Pop over next for another fun Halloween recipe, a perfect dinner for anytime in the month of October: Halloween Ghost Skillet Pizza!