This post was sponsored by Lowe's as part of an Influencer Activation for Influence Central and all opinions expressed in my post are my own.
You pull out your holiday decorations, all neatly stored in their tubs. Somehow, your pile seems much smaller than you remember packing away. You're small stash doesn't hold much promise for the grand designs you daydreamed for sprucing up your home for the upcoming holidays.
I faced that problem this year. With moving into a larger home just a couple of days before Christmas last year (we obviously skipped decorating) I realized it was time to get ready for the holidays and to do it right.
I had an idea in my head immediately. I wanted to create a wood welcome sign, but it needed to be multi-purpose and be able to take me through the seasons and year round without having to pull it out and put it back away again each year. That's when I knew I wanted to do a chalkboard welcome sign.

DIY Chalkboard Welcome Sign
Supplies:
1x12x6 Unfinished board – That's 1″ thick by 12″ wide and 6′ long. You can adjust these measurements to fit your available space choosing an 8″ or 10″ wide board if you have a small door step.
Quart of Chalkboard paint
Additional paint color of choice or stain for the back/sides
Small foam rollers and handle
Directions:
We started our search to update our space for Halloween with a trip to Lowe's. They have lots of fun decorations for the seasons and our whole crew got caught up in the aisles checking out each of the decorations. We grabbed a few fun items from the Halloween decorations section, then headed over to the paint and wood aisles to gather our supplies. You'll get to see the other fun decorations we picked out in the finished pictures.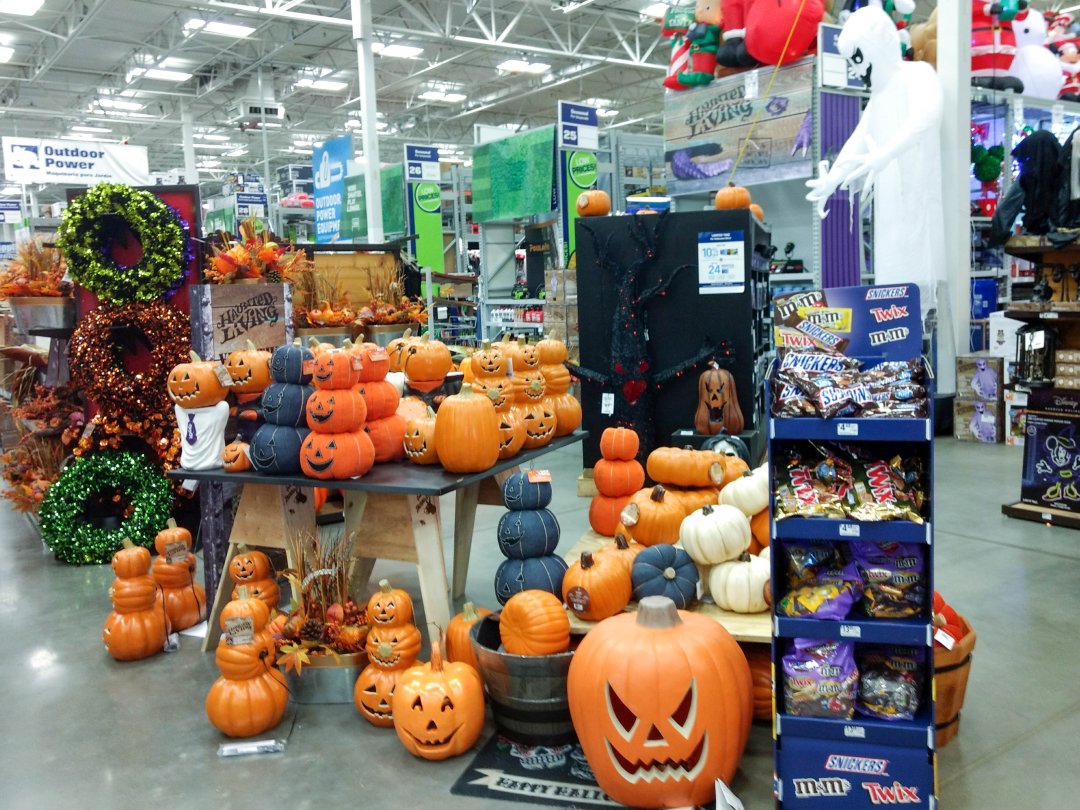 Grab a small quart size tub of chalkboard paint. Don't forget a stirring stick or two and a small sized roller and handle while you're in that aisle.
Now, it's time to head over to the wood aisle and decide on the right size board for your space. We went with 1″ by 12″ by 6′ long.
When you get everything home, start by painting or staining your one side first and be sure to paint the 1″ sides of the board all the way around and your molding pieces as well all in the same color. Allow to dry, and apply a second coat if needed.
You can then paint the chalkboard paint onto just the single front side of the board. Be careful not to bleed any of the paint over the edges. Follow the directions on the packaging for the chalkboard paint drying time and you'll want to do two coats.
You can make your welcome sign double sided by making the backside have a permanent "Welcome" so it is a cinch to flip it when the holiday season is over and be ready until the next holiday comes around.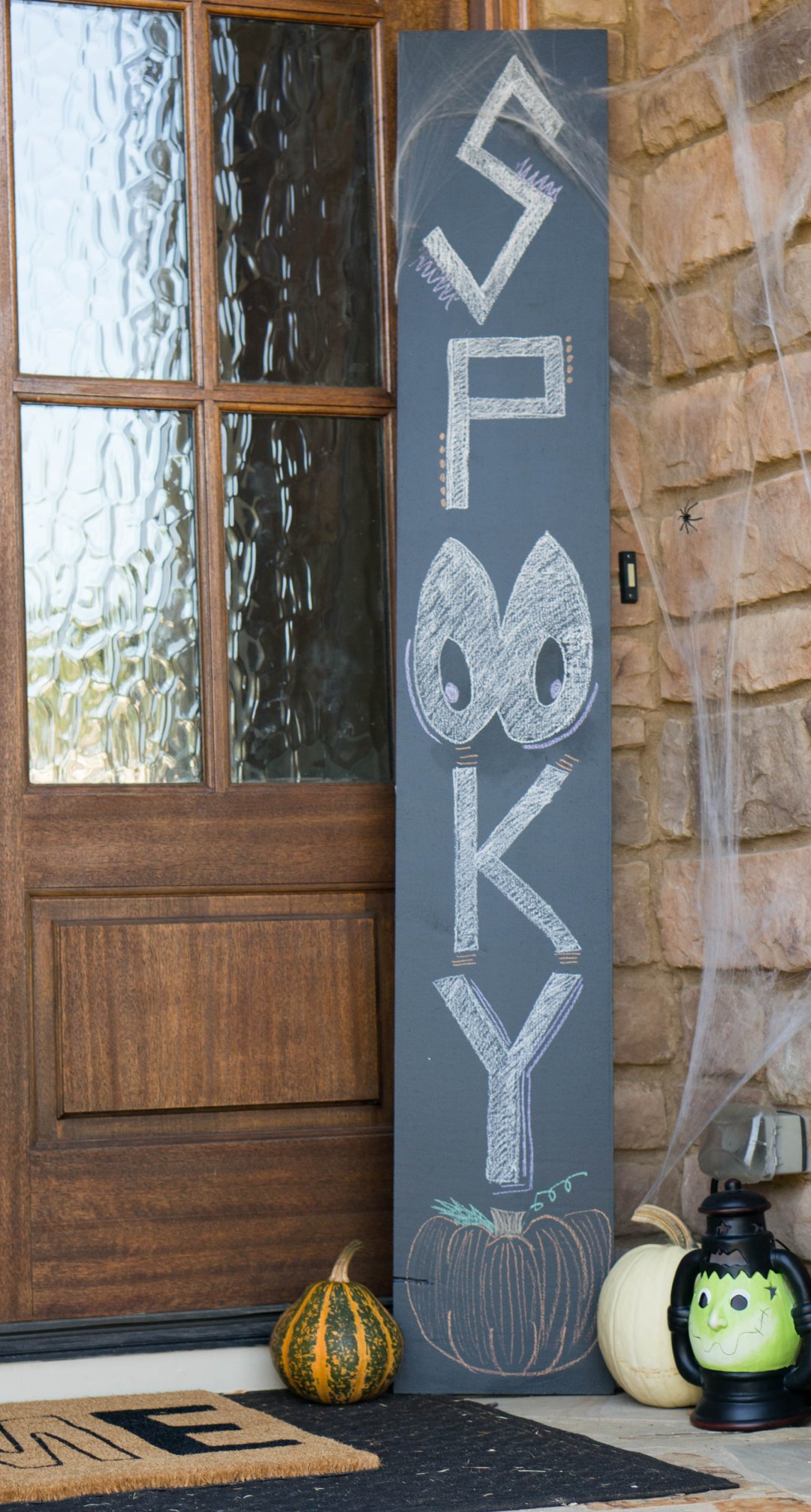 Some sayings we considered for the Holiday sign included:
Happy Haunting
Trick or Treat
Happy Halloween
A decorative Halloween scene
Welcome (with a pumpkin for the letter "o")
It's Fall y'all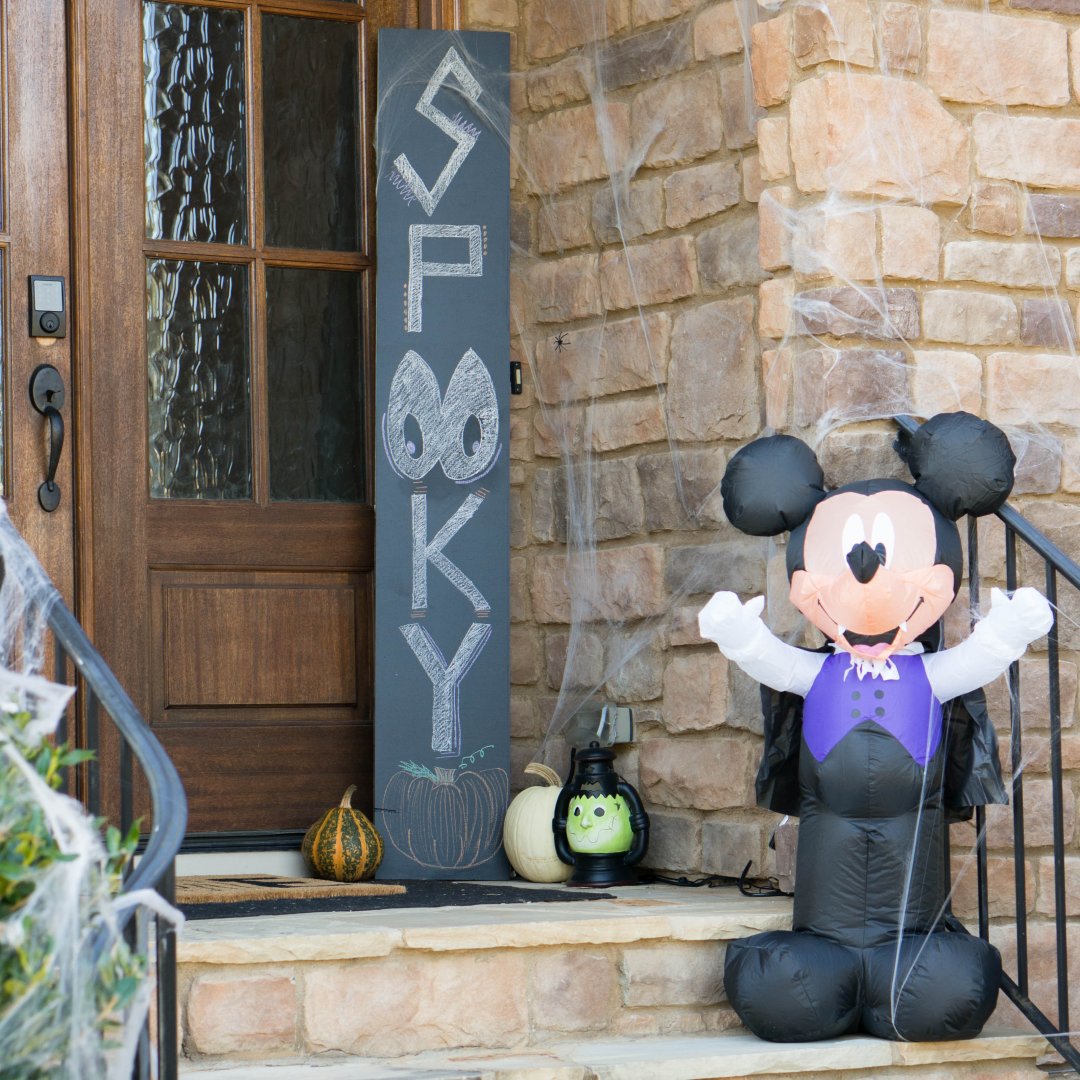 Finishing Touches to our Front Porch
The DIY Holiday Sign is center stage and makes such a statement on our front porch entryway. We ended up using chalk to write "Spooky" on our welcome sign and a few fun details like a pair of eyes for the double "oo" vowels in Spooky.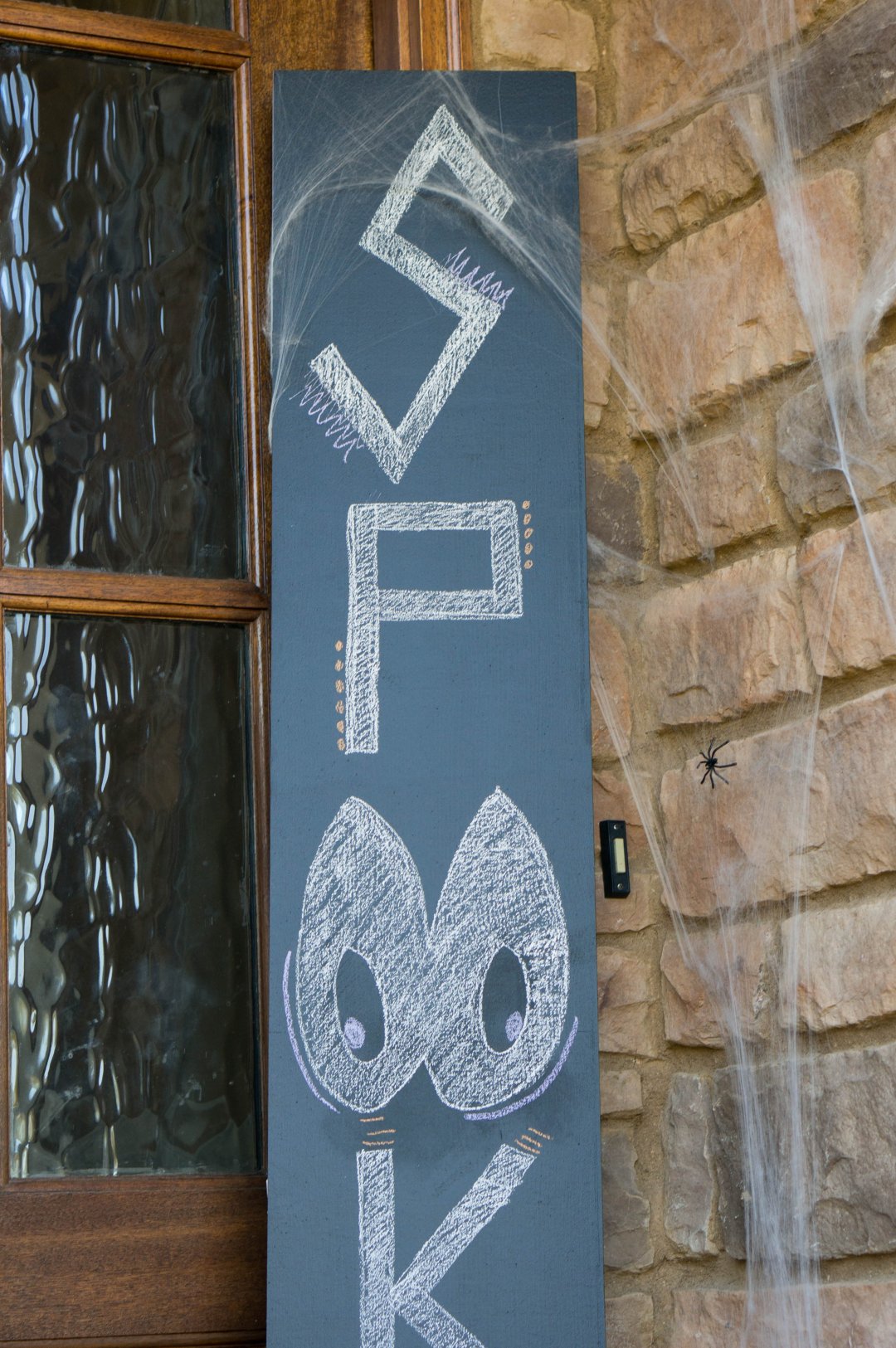 We added fake Spider Webs all around our framed stone entry way and nearby bushes which is a really affordable way to add to your decor.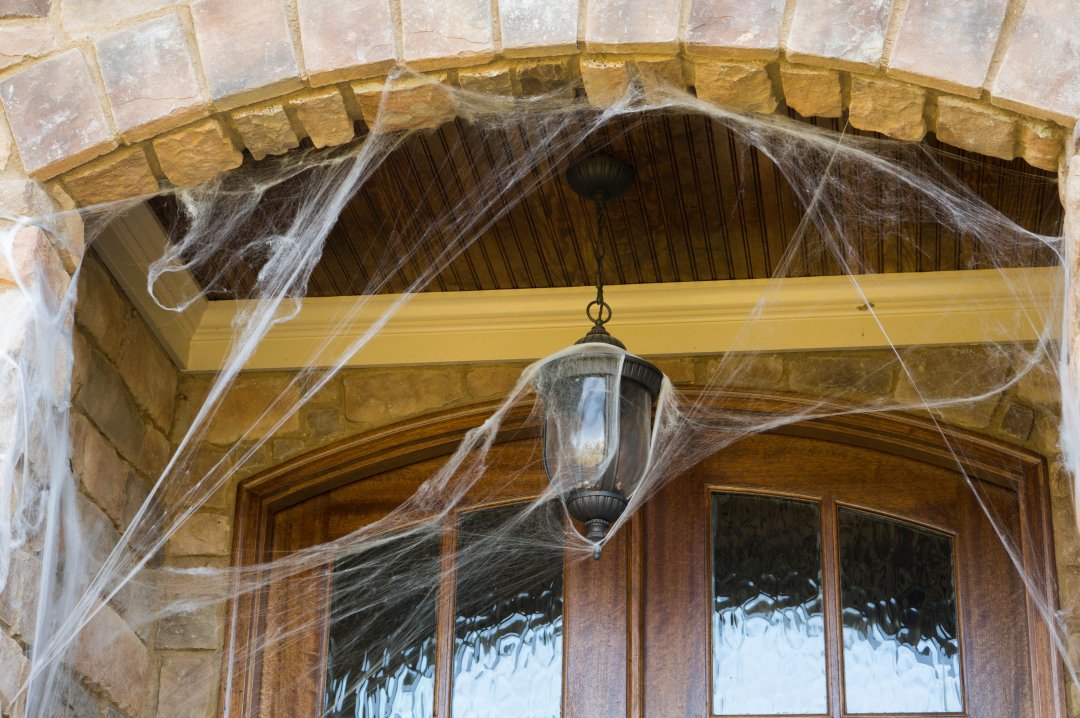 Then we added special lighting that really makes the space magical when the lights go out. First, the Gemmy Whirl-A-Motion Spiders light projector. It cast an array of colorful spiders that crawl all over our doorway.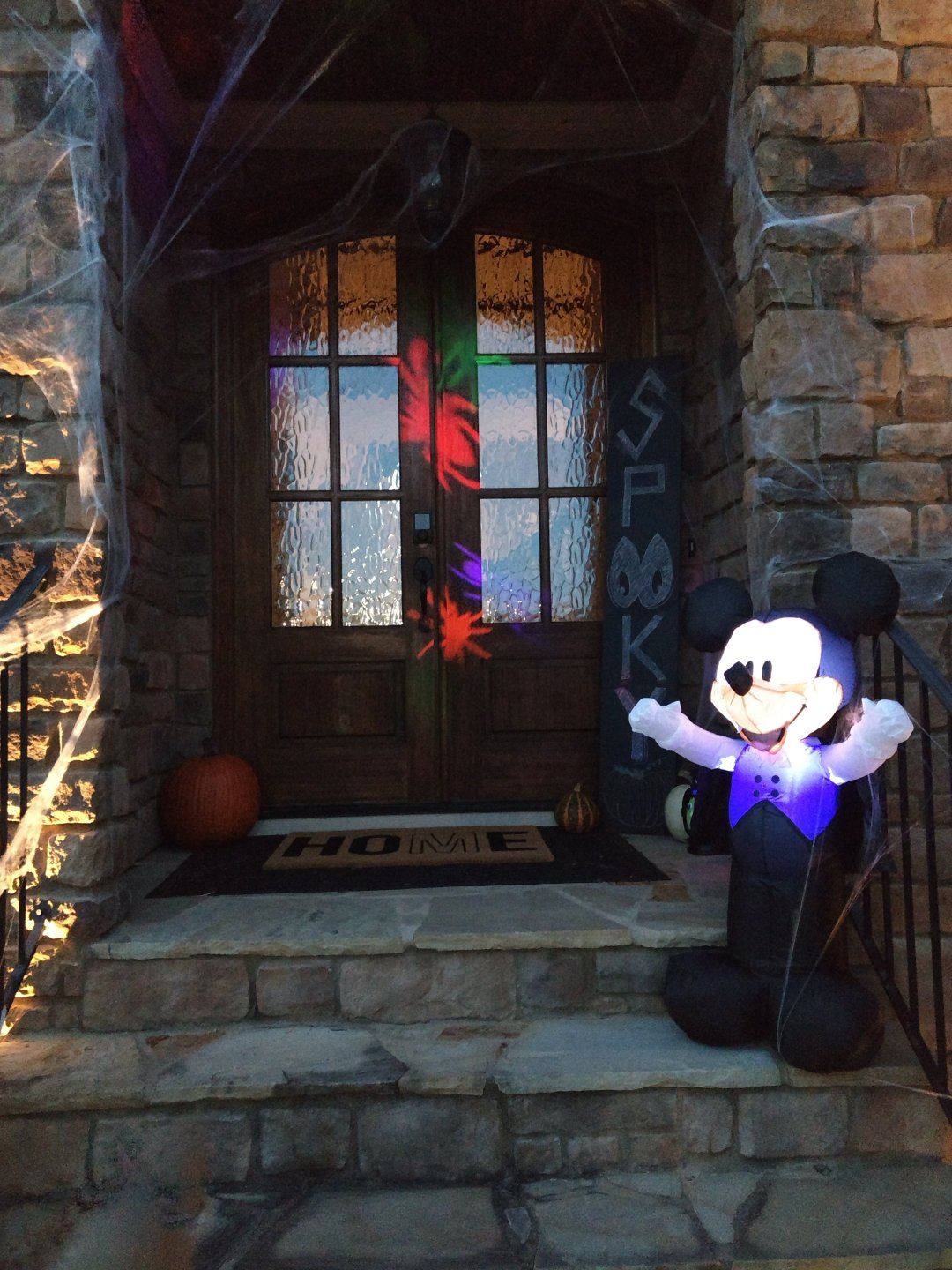 We also added a Gemmy Silhouette Projection Multi-Function Light Projector to cast a design onto our big front window. This one is really cool because it comes with 6 different designs as slides so you can change up your decoration each year or a few times during the season.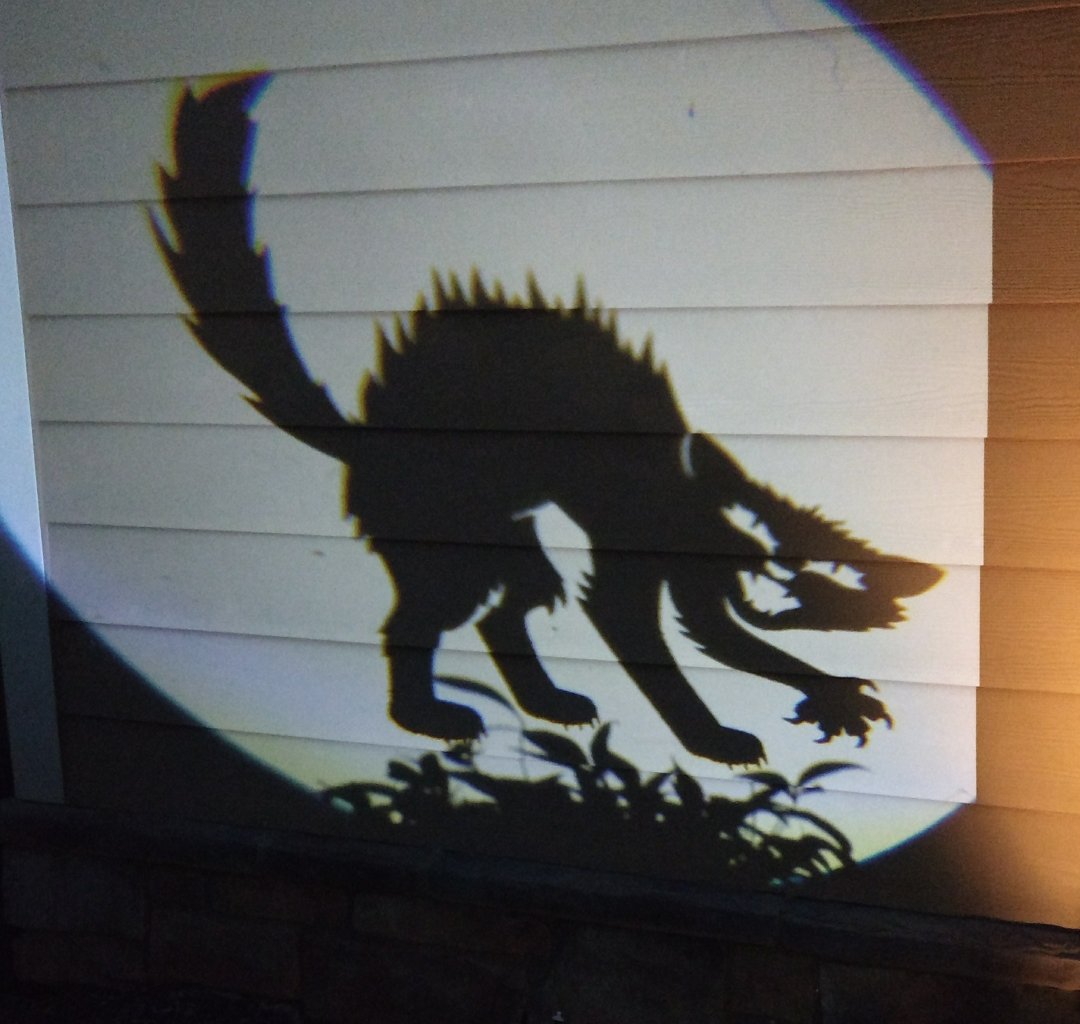 Since lighting is everything we added two Gemmy Fire and Ice Spotlight Projector Lights in Red/Yellow and Purple/Orange over our garage. These lights are so cool because they work in most standard outlets. You just screw them in place of the current light bulb and you're done!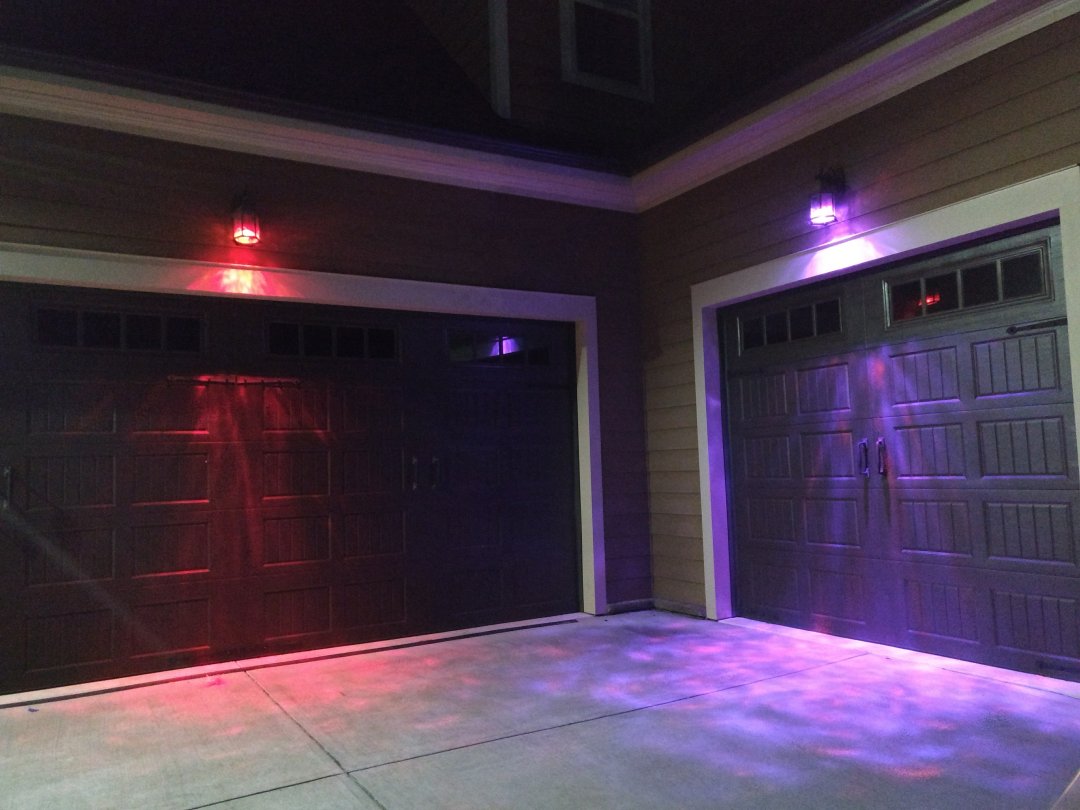 My boys favorite touch was the Disney Mickey & Friends Lighted Mickey Mouse Halloween Inflatable. He makes our whole display playful and fun, rather than scary.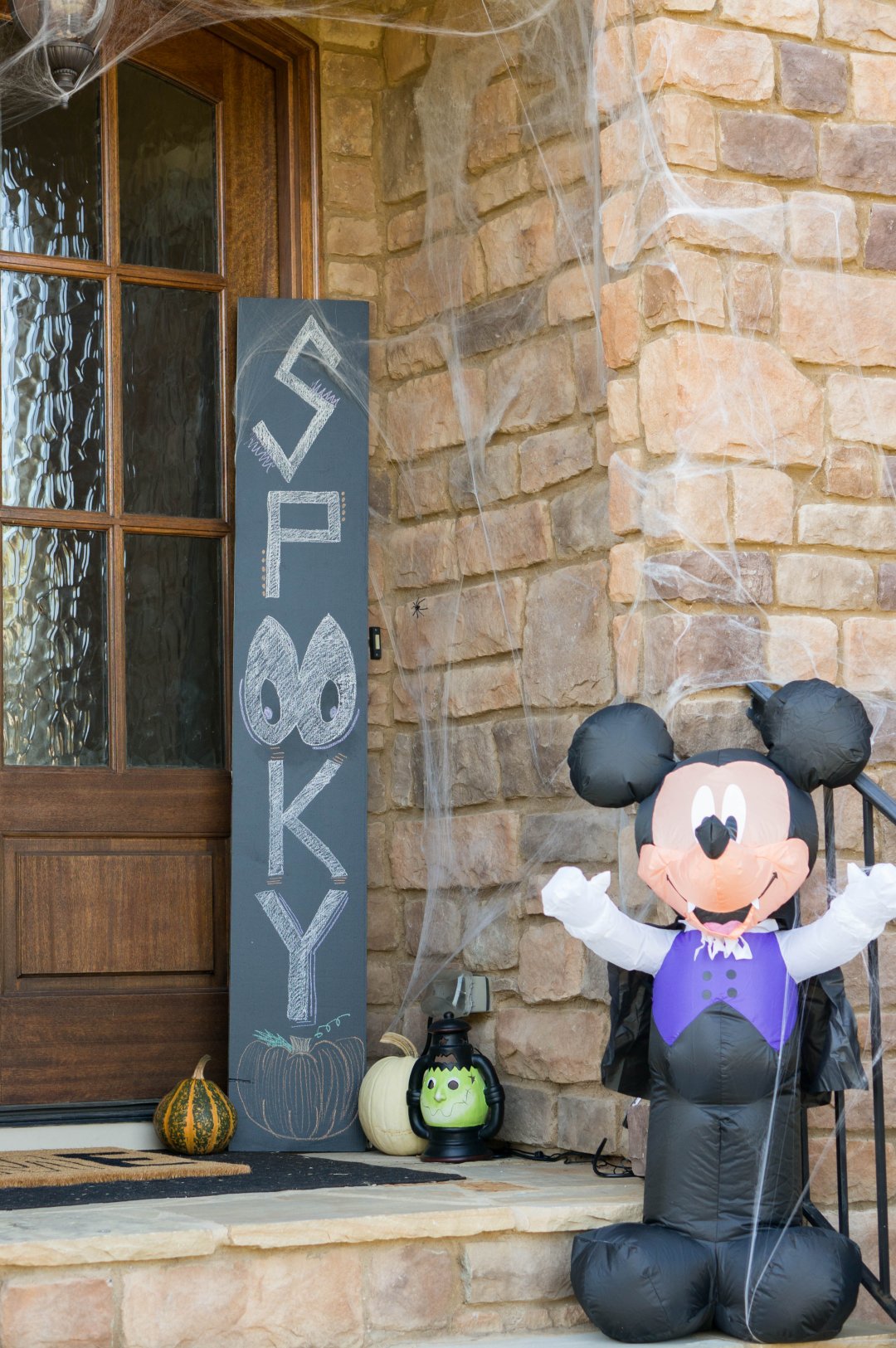 One of my favorite items I found at Lowe's was this absolutely adorable Holiday Living Pre-Lit Frankenstein Lantern. He lights up in a array of colors that he rotates through.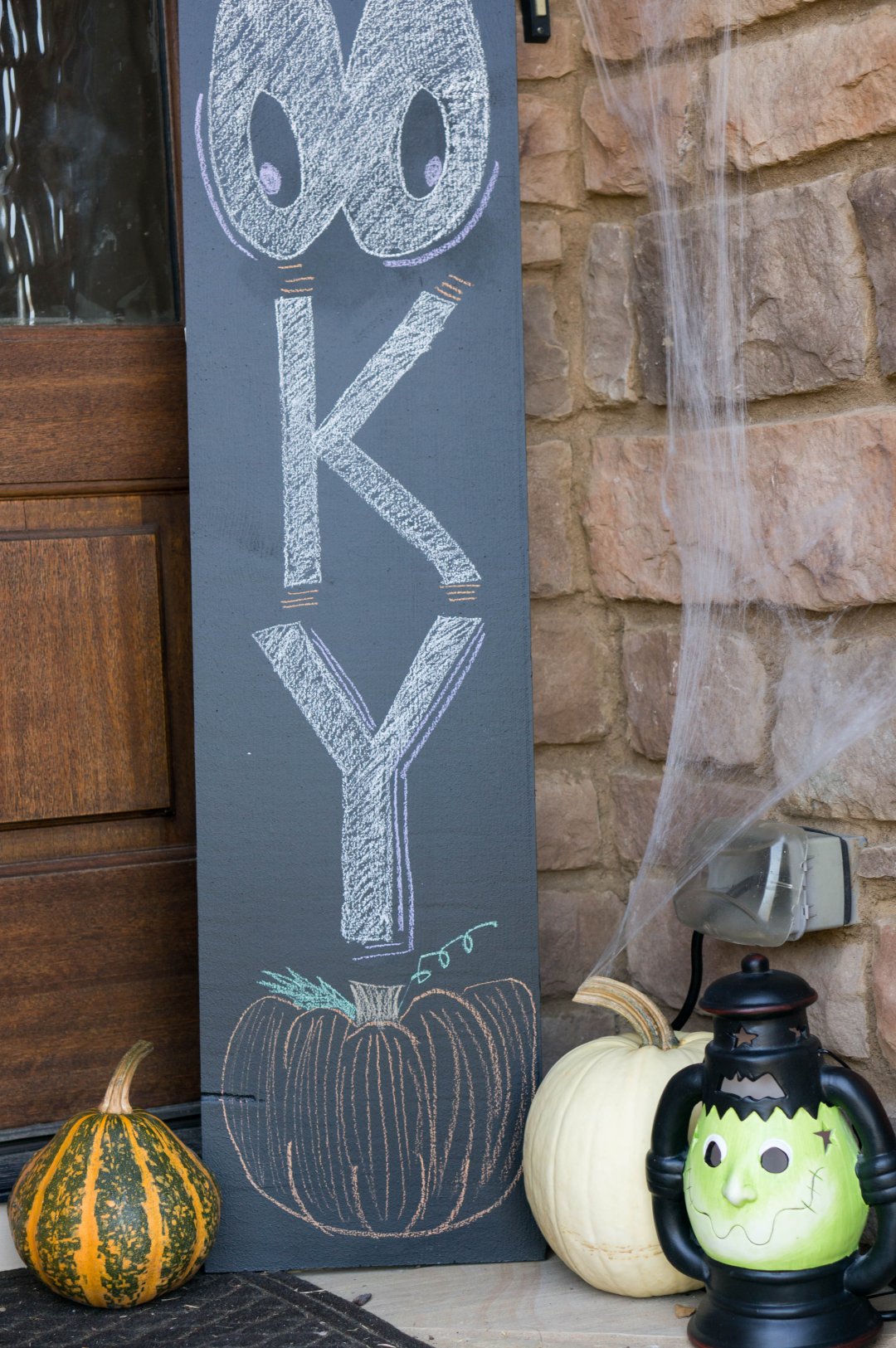 As a perfect finishing touch, we added a thick coir "home" mat layered on top of our large and thin mat that adds extra texture and warmth to the doorway.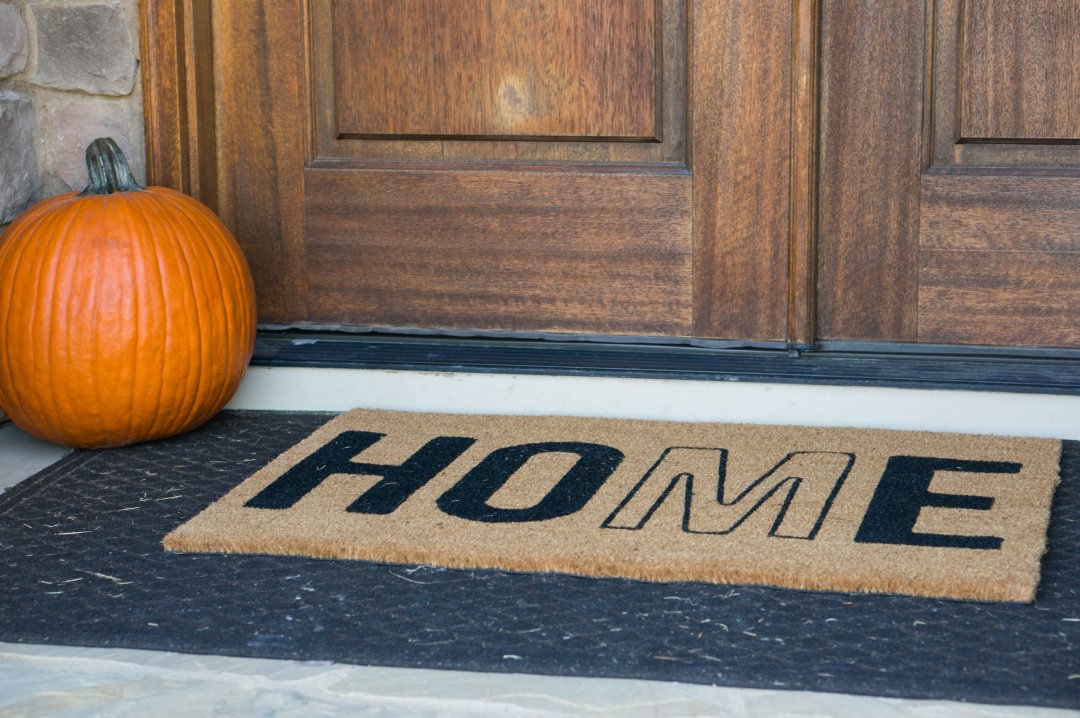 Then of course, we added some much needed pumpkins and our entry way was ready to welcome trick or treat guests in a few weeks! The Orange Extra-Large Carving Pumpkin we will carve when it's closer to Halloween so he's ready for the festivities. We will leave the white and Autumn Couleur Variety Pumpkin as is for decoration.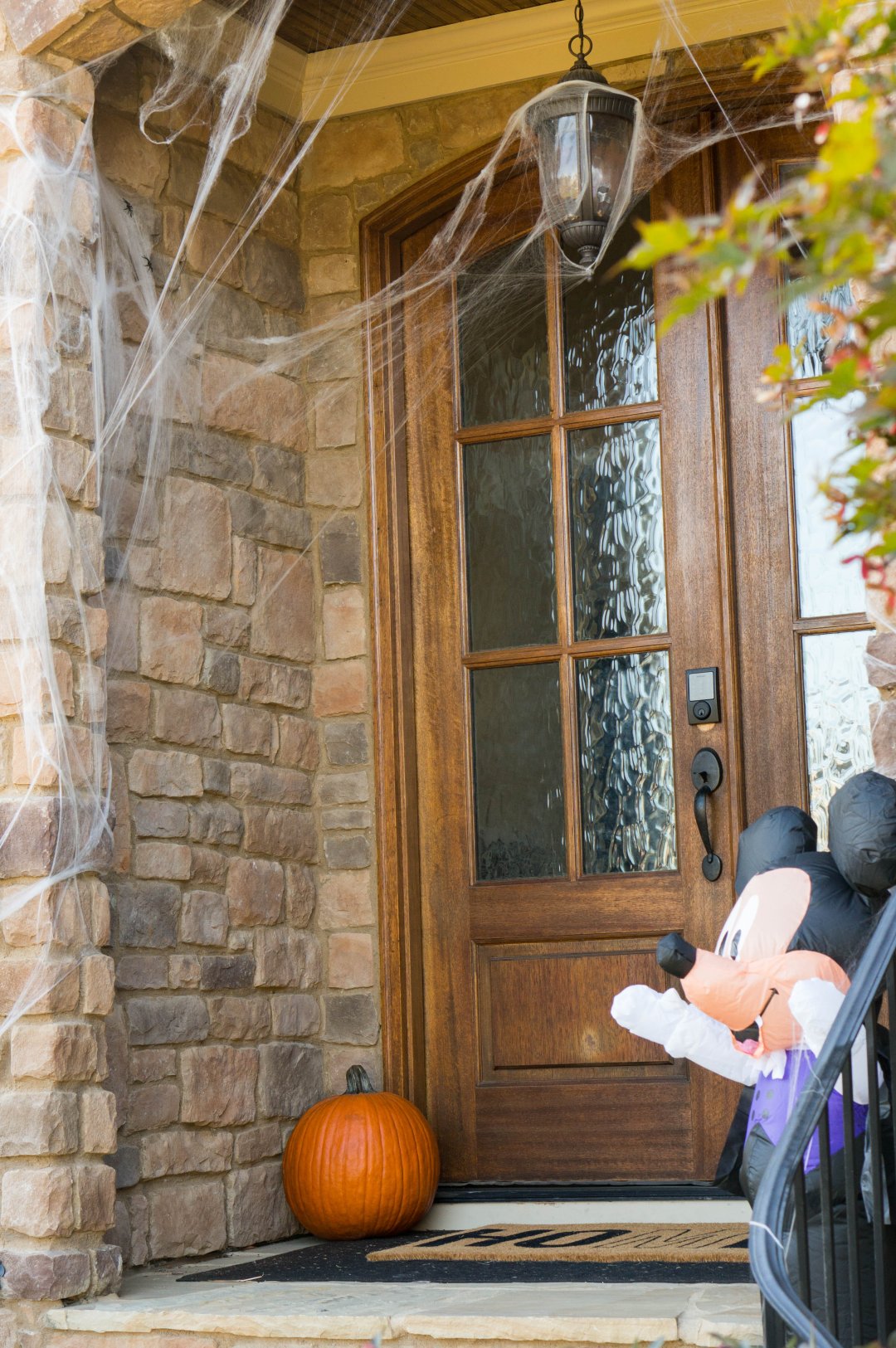 How are you getting your space ready for the holidays?