This post is in partnership with Graco. I am a #GenerationGraco brand ambassador. All opinions are my own.
Did you know rear-facing is the safest spot for your baby or toddler in the car? The American Academy of Pediatrics recommends your child be faced in a rear-facing car seat until they are 2 or have reached the height and weight limits of their car seat. Your child can extend rear-facing, as long as they fit within the height, weight, and other requirements for your car seat.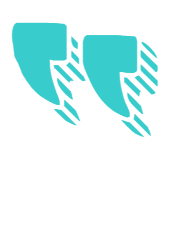 "A rear-facing child safety seat does a better job of supporting the head, neck and spine of infants and toddlers in a crash, because it distributes the force of the collision over the entire body," Dr. Durbin said.
New research has found children are safer in rear-facing car seats. A 2007 study in the journal Injury Prevention showed that children under age 2 are 75 percent less likely to die or be severely injured in a crash if they are riding rear-facing.
— From AAP.org article, APP Updates Recommendation on Car Seats
It is clear that your child is safer rear-facing, for as long as they can, and these quick tips can help parents extend rear-facing with ease until your family decided it is the right time to switch to a forward facing 5-point harness car seat.
5 Tips to Help Parents Extend Rear-Facing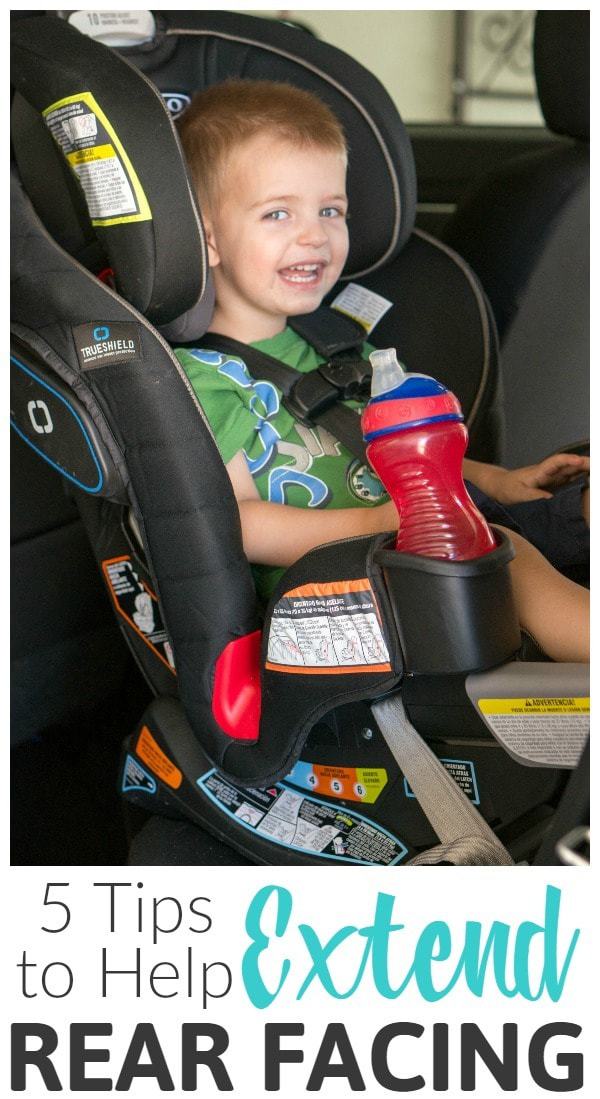 1. Don't turn them forward facing – It may seem obvious that if you want your child to sit rear-facing, you should keep their car seat rear-facing. However, it is your job to remind grandparents, babysitters, and friends that may take your little one for a ride that they still sit rear-facing. Switching your child forward facing, even once, can make your child decide they want to sit the way everyone else is sitting. Often, there is little complaint about rear-facing until they realize they might have a say or another option.
2. Choose a higher weight-limit car seat – There are many car seats that can support your child rear-facing much longer than a traditional infant car seat. A 3-in-1 design can be a cost effective choice to go from the infant stage, to rear-facing as a toddler or young child, and then to forward facing when the time is right. Pay attention to the car seats weight and height limits and choose one with higher limits to keep your child comfortable and safe rear-facing for as long as possible.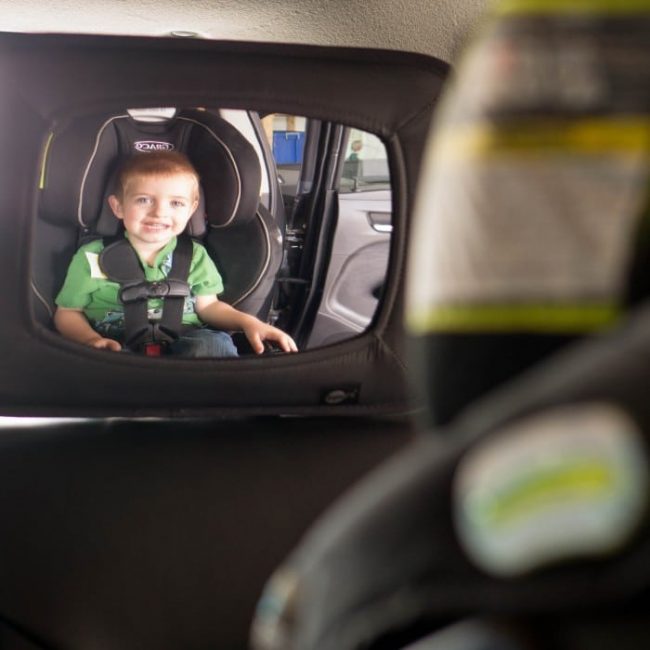 3. Use a baby mirror – A car mirror designed for infants is great for your older rear-facing children, too. It can let you see what your toddler is up to (like did they fall asleep just minute before pulling up to your home) and let you hold a conversation with your early preschool-aged child rear-facing.
4. Talk it up! – The words we use have a powerful affect on our experiences. Instead of talking negatively about a rear-facing seat or pointing out to your child that they might be uncomfortable rear-facing, talk about their seat like it is special! Children are flexible and unless your child tells you they are uncomfortable or fusses and cries in pain, chances are they are not. With other children in the car, it's easy to point out how special your youngest is for getting to stay rear-facing. Only your rear-facing child gets an exclusive view out the back window and a more reclined angle for napping.
5. Extended fit car seat – Graco has brought a huge innovation to rear-facing car seats with the Extend2Fit 3-in1 Car Seat featuring TrueShield Technology feature! Now, your rear-facing tot can enjoy up to an extra 5″ of legroom with an adjustable 4-position extension panel. This eliminates a lot of the concern about a cramped, uncomfortable child.
My 2.5 year old, in the picture above, is sitting in a Graco Extend2Fit 3-in-1 Car Seat featuring TrueShield Technology and the extension isn't even all the way out. It gives him a lot more room to kick and play.
See this part here? That's the TrueShield Technology that is on both upper side of the car seat. This feature provides an advanced side impact protection. It acts like a shield to keep your child safe in the event of a side impact accident and gives extra protection from their head to their hips.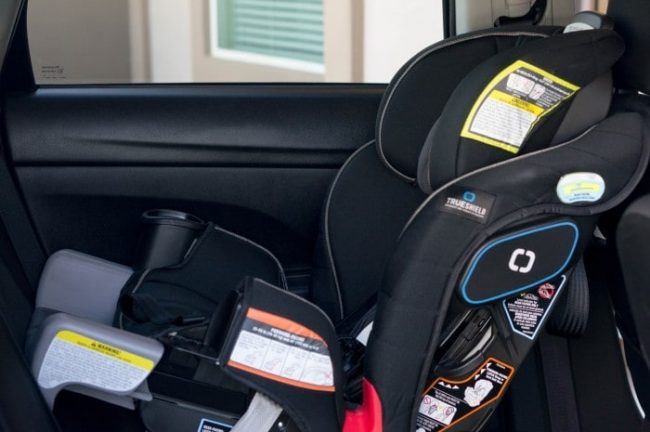 There are so many features in this one smart car seat, including thecapacity to seat your child rear-facing up to 50 lbs! Check out all the features:
You can find
Graco® Extend2Fit™ 3-in-1 Convertible Car Seat featuring TrueShield Technology
on Graco's website.
Graco makes it so easy on my family to feel confident keeping my 2.5 year old son rear-facing. The Extend2Fit 3-in1 Car Seat gives him tons of space and he still has lots of room to grow into his seat. I really appreciate that when he has reached the upper limits for rear-facing, we will be able to turn the car seat around and keep using his seat to transition him up to the next stage.
I have been depending on Graco products since bring my first little one home from the hospital in his Graco infant car seat. It's been wonderful watching my children grow up through their different stages, especially now with my little one most likely to be my last, and having Graco there by our side through it all.
Do you know someone who needs these tips? Pin this post to share or save this post for later.