It's hard to find a good balance between screen time and play time with kids nowadays. The older kids get, the harder Christmas shopping seems to become. That's why we created this list of fantastic Christmas favorites!
There is bound to be something here that every boy in your life will absolutely love. No matter if your boy is into, video games or board games, hands-on toys or outside play. Check out this year's hottest items and surprise him Christmas morning with something awesome!
We received a variety of samples and/or compensation in exchange for inclusion in this post. Affiliate links are used in this post. All opinions are our own.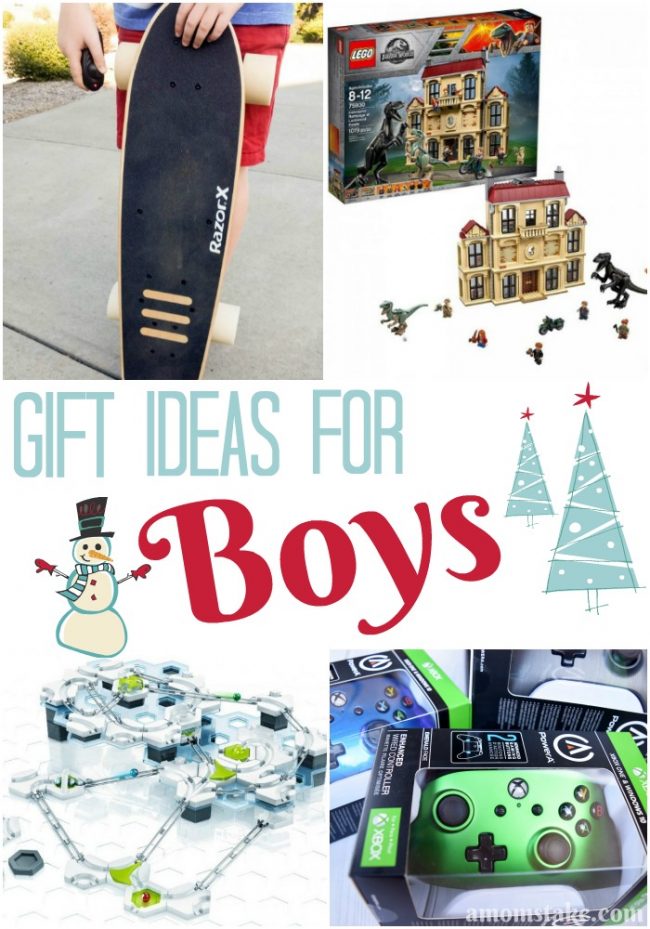 Favorite Holiday Gift Ideas for Boys
1. RazorX Cruiser Electric Skateboard – Give them the thrill and excitement of this RazorX Cruiser electric skateboard that will get them active and outdoors. The skateboard deck is 29.7″ in length and made with a quality 5-ply maple decking to last. They'll quickly be the talk of the neighborhood.
RazorX Cruiser – Use the handheld controller and a kick start to power up this skateboard and reach speeds of up to 10 mph. You'll be able to use the RazorX Cruiser as both a regular skateboard and active the electric rear-wheel, when needed.
RazorX Longboard – For those that prefer a longer board, the RazorX Longboard electric skateboard is a perfect choice. With a length of 37.5″ and a bamboo deck you'll be ready to carve and skate.
2. GraviTrax Marble Run – Ravensburger – Bring home the fun of GraviTrax by Ravensburger that lets you built your own unique track designs each time. The pieces combine in a variety of ways Start with the Starter Kit or add-on exciting trick pieces to add to the thrill.
GraviTrax Starter Set – Includes over 100 pieces including everything you need to get started with 6 balls, height tiles, tracks, curves, and junctions and more to add variety and interest.
GraviTrax Add-ons – Add more excitement with special add-on accessories like the GraviTrax Looping Accessory that sends the marbles speeding through a loop-the-loop. Increase speed along the marble run with a GraviTrax Hammer expansion.
3. Bitsbox Coding Subscription Gift – Ignite their interest in apps and coding with this engaging series of coding projects with Bitsbox that will get them started, and keep them hooked! There are fun and easy projects that build on their skills each month to teach them to code in a way they'll be interested in.
Deluxe Bitsbox Subscription – Subscribe for a monthly, 3-month subscription, or annual subscription to bring coding fun to your child each month! The Deluxe Bitsbox subscription includes app projects each month plus bonus items like a toy, stickers, and trading cards!
Bitsbox: Levels 1, 2 & 3 – If you can't wait, you can instead order the first 3-months of the basic subscription combined into a starter kit with lots of coding lessons (over 25 projects!) and an included binder to keep everything organized.
4. Exciting Jurassic World Themed Toys – With the new Jurassic World: Fallen Kingdom movie by Universal recently out, this year's top themed toys are all about Jurassic World! Your children will enjoy all the fun dino-themed products featuring your favorite movie scenes just waiting to be re-enacted!
Favorite picks for Universal's line of Jurassic World toys include:
5. Family Friendly Board Games by Pressman Toy – Board games are a perfect way to bring the family together for fun, wholesome time spent together! Pressman Toy has been offering classic games and licensed game titles since 1922! They are a part of the larger international toy and game distributor, Goliath Games, that is the third largest game manufacturer in North America!
Through both Pressman Toys and Goliath Games, you can find a whole range of fun and exciting games that can entertain the kids or involve the whole family in a fun game night during winter break.
Check out these fun game titles, and many more, from Pressman Toy:
Ship of Treasure
Harry Potter Tri-Wizard Maze
Dance Charades
Hydro Strike
Diary of a Wimpy Kid: 10-Second Challenge
Kids Know Best
6. Gaming Remotes for the family Console- I don't know what it is about boys and video games, but they love them. With all the playing that happens, they go through their remotes often. For the Console gamer in your family, PowerA has a wide variety of gaming remotes and headsets. From wireless to wired their selection covers all of the new gaming consoles. PowerA has a large selection of colors and designs so each kid can have a design or color that's just theirs.
Wireless Remotes – PowerA remotes come ready to play with batteries. The new enhanced wireless remotes have Advanced Gaming Buttons with button mapping. They easily connect via Bluetooth Wireless and have integrated motion control for a more authentic gaming experience. But best of all, they come with a 2-year warranty.
Wired Remotes – Everything you love about the PowerA wireless remotes without having to replace batteries. Also with the advanced gaming buttons. The dual rumble motors add to the authentic gaming experience. A 3.5mm Stereo headset jack for easy connectivity of gaming headsets. A removable 9.8 ft USB cable to make storing easier and also the 2-year warranty.
7. SIY Slime Kit: Is there anything that boys love more than slime? Well, what if I told you that Craft City just came out with kits that help your kids make their own slime? That's right, Craft City's DIY Slime Kit with Karina Garcia helps your kids make their own slime.
DIY Slime Kit: This kit comes with everything you need to make awesome, customized slime. You can choose the color of the slime and texture of the slime. This Craft City DIY Slime Kit allows you to make your slime crunchy, glow-in-the-dark, or sparkly slime. So many fun possibilities in one kit!
Other Slime Products: Craft City also offers a variety of other slimy fun with their Slimy Soda, Super Slime, Galactic Slime, Glitter Slime, and Slime Bundles.
8. Discovery Science Kits- Science exists all around us in the way things interact together. Get kids exploring the world around them and learning science in a fun way with a Discovery Science Kits for kids. If they're into rocks and gems, chemistry or geospace, grab them a fun science kit from Discovery. Available online or at Michael's.
Galactic Fizzing Dig- Kids can excavate and unearth 6 different real Gemstones in this kit. Equipt with a wooden mallet, magnifying glass, and a wooden chisel.
Extreme Chemistry- Includes all they need to conduct 40 different experiments. They can create slime, crystal sculptures, things that foam, glow and much more.
Extreme Chemistry Lab- Everything kids need to do over 20 experiments. From Glow worms to color changing chemistry, fizzing eruptions and more. This 8 piece chemistry set will keep them busy for hours.
9. National Geographic– The interesting fact-filled magazines we knew as kids are now in better than ever books by National Geographic. Teach kids about the world around them with colorful pictures, interactive, and interesting facts. With Eight new titles, you're sure to find something they love. Like the following two.
10. Monster Mayhem – Boys are going crazy for all the fun toys that they watch on Monster Mayhem on TV that they can now play with at home! There's such a variety of toys, from figures and playsets to inflatable gear that allows everyone to be in on the fun!
Massive Moon Battle Ball – This massive moon ball inflates to 5 feet so you can compete just like on the show! It also comes with 2 targets to get your Massive Monster game one!
Bash Armor – Power up like the powerfully pungent Macho Cheese to join the battle for planet Earth! The inflatable Head Gear and fists will let your guy battle RobRo just like in the MMM Arena
Massive Monster Figure – Towering at 16" this figure will be the perfect addition to your Monster Mayhem collection
11. Stomp Rockets – Is there anything that boys love more than running, stomping, and watching something shoot into the air? Stomp Rockets are truly one-of-a-kind. Run, stomp, and watch your rocket fly up into the air! These rockets are 100 % kid powered, super easy to put together, and don't require any batteries! There are a variety of different Stomp Rockets perfect for any kiddo!
Ultra LED: Launches rockets up to 200 feet into the air. Includes 4 rockets, can play with 2-3 kids. For ages 6 and up.
Stomp Rocket Extreme Rocket: Launches rockets up to 400 feet into the air. Includes 6 high performance stomp rockets. For ages 9 and up.
Stomp Rocket Jr. Glow: Includes 4 stomp rockets. Launches 100 feet into the air. Perfect for kids ages 3 and up!
12. Action Figures and more from Playmates – Your little man will transform into some of their favorite heroes the fantastic toys from Playmates. They might join the Teenage Mutant Ninja Turtles on an epic pizza journey, or transform into aliens with Ben10! Hours of pretend fun are in their near future with some of these great toys under the tree this year.
Ben10 – Now you can launch your favorite Ben10 Alien heroes right from the Omnitrix, ready for battle!
Alien Creation Chamber – With Ben10's Alien creation chamber, you can make all the alien creations he does from his Omnitrix
Turtle Tank – Donnie has rolled out his latest invention – the road hoggin', villain-bustin' turtle tank!
What gifts are topping your boys wish lists this year?