CLICK HERE TO SAVE THIS IMAGE TO PINTEREST!
One of my favorite ways to use my supply of fresh fruits and berries is homemade muffins! The star of the show is always this sour cream blueberry muffins recipe that my sister gave me a few years back.
If you love the taste of these blueberry muffins with sour cream, then your taste buds will be in heaven over our Pumpkin Muffins!
Affiliate links are used in this post.
SOUR CREAM BLUEBERRY MUFFINS
The weather is perfect right now, and my attitude is always more positive and optimistic around this time of year. Right now, all kinds of fruits and berries are going on sale! I always stock up while I can when the prices are low and freeze for future months when they'll be a little pricier.
The prep time on this recipe is minimal and the payoff is amazing. If you've never made a homemade muffin recipe before, you are most definitely in the right place starting with this blueberry muffin recipe, as sour cream adds such a great taste and texture! Once you've had these warm, soft sour cream blueberry muffins right out of the oven, you'll never turn back.
At first when I got this recipe from my sister, I was like…sour cream? Really? But she ensured me that it just makes the muffins super light and moist.
I have started using the recipe as a base for all other muffin recipes and just adding different fruits such as blackberries, raspberries, hazelnuts, or chocolate chips to change it up. It's kind of like how when you make banana bread and fold in the mashed bananas for that scrumptious moist texture.
And if the sour cream isn't blended all the way, it's like you've found a hidden pocket of amazing! No need to split your muffin in half and spread butter on it because it's already perfectly accompanied by creamy deliciousness.
If you want to make the blueberry sour cream muffins ahead of time (like weeks ahead of time), just freeze the batter in the paper liners and put them in a bag once solid.
When you are ready to use them, put the frozen batter cups in a muffin tin and let thaw in the fridge overnight, then bake! Super easy and saves time on those busy mornings when you still want something other than a bowl of cereal to eat.
FAQS ABOUT BLUEBERRY SOUR CREAM MUFFINS:
Q: What makes this blueberry sour cream muffins so moist?
A: It's the power of the sour cream!
Q: Can you freeze this sour cream blueberry muffins for later?
A: Absolutely. If you can't eat them within a couple days of making them, it's best for freeze them for later use!
Q: Can you use frozen blueberries for this recipe?
A: Be careful using frozen because it can cause the recipe to have too much liquid.
IF YOU LOVE THESE EASY SOUR CREAM BLUEBERRY MUFFINS, SPEND A FEW MINUTES TO SEE THESE OTHER BREAKFAST RECIPES THAT WILL BE AN AMAZING PART OF YOUR RECIPE COLLECTION!
CONNECT WITH A MOM'S TAKE ON YOUR FAVORITE SOCIAL CHANNEL FOR MORE RECIPES!
You can find us on:
Instagram | Facebook | Pinterest | YouTube | Twitter
SOUR CREAM BLUEBERRY MUFFINS
Click below to print/save this recipe or pin it to bookmark
Yield: 24 mins
Sour Cream Blueberry Muffins
Ingredients
2 cups unbleached all-purpose flour
⅔ cup sugar
1½ tablespoons baking powder
½ teaspoon salt
2 large eggs
1 cup milk
6 tablespoons butter, melted
1 teaspoon vanilla extract
1½ cups organic blueberries, fresh
2 tbs. all-purpose flour
½ cup sour cream
Instructions
Preheat oven to 400 degrees. Grease a muffin tin or line it with paper or silicone baking cups.
Combine flour, sugar, baking powder, and salt in a large bowl using a whisk.
Combine eggs, milk, butter, and vanilla in another bowl using a whisk.
Stir the wet ingredients into the dry ingredients.
Then in a bowl, toss the blueberries with the two tablespoons of flour. Fold the blueberries and sour cream into the batter with a spatula. Fill muffin cups ⅔ of the way with batter. Sprinkle tops with sugar. Bake for 15 minutes.
Nutrition Information:
Yield:
12
Serving Size:
2
Amount Per Serving:
Calories:

228
Total Fat:

9g
Saturated Fat:

5g
Trans Fat:

0g
Unsaturated Fat:

3g
Cholesterol:

54mg
Sodium:

343mg
Carbohydrates:

33g
Fiber:

1g
Sugar:

13g
Protein:

4g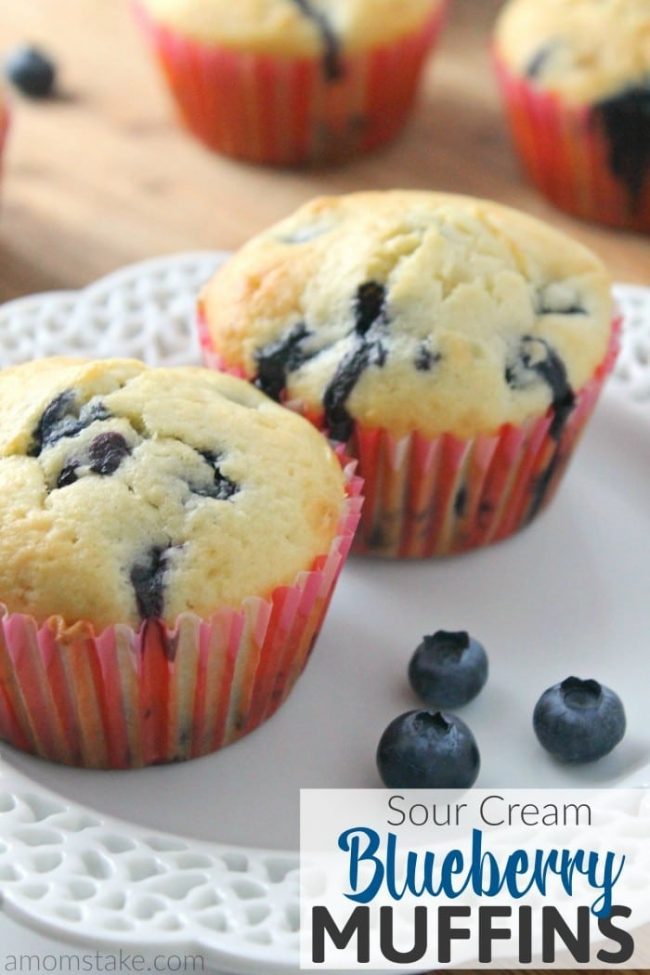 Have you ever had Blueberry Muffins with sour cream mixed in?