This is a sponsored post on behalf of Shell, in which I was compensated. All opinions are my own.
If you're a mom of any children older than a toddler, chances are you spend a lot of time in the car! From preschool and school carpool lines to errands and after school activities there's always somewhere to shuttle the family off to. When you have lots of kids, that usually means your family trips become road trips to cut down on the expense, too. No matter why you're in the car, these ingenious tricks will help all moms on-the-go to stay organized and sane while chauffeuring your kids from here to there.
5 Ingenious Car Tricks for Moms On-the-Go
1. Keep a trash in the car – A trash bag in the car can be incredibly helpful for keeping trash up off the floor and out of cup holders. In most cars, it's easy to loop a plastic grocery sack or a reusable grocery bag between the two front passenger seat armrests. Slide the handle openings over each of the armrests and pull the grocery bag all the way to the back of the armrests so it's out of the way and hanging within reach for most of the passengers. Get in the habit of having the kids collect their trash before they get out of the car to place it in the car trash bag or an outside can, if there's one nearby.
2. Books are a mom's best friend – With all the kids in close proximity, it is easy for fighting to ensue. Reading is an incredible tactic for evading the drama and fights that could otherwise ensue. If you're kids aren't big readers, look for a quiet activity book to keep them busy and entertained so they don't feel the need to pester their siblings.
3. Clip a decorated clip on your visor for each child – Keeping the car under control while you're driving can be a challenge, and it's important for you to stay focused on the road, rather than the backseat. Discipline tactics like timeout, groundings, loss of privilege, or other methods can be difficult to carry out and often don't provide that immediate response to get your child's attention. An easy in-car tactic is to decorate a simple clip to represent each of your children.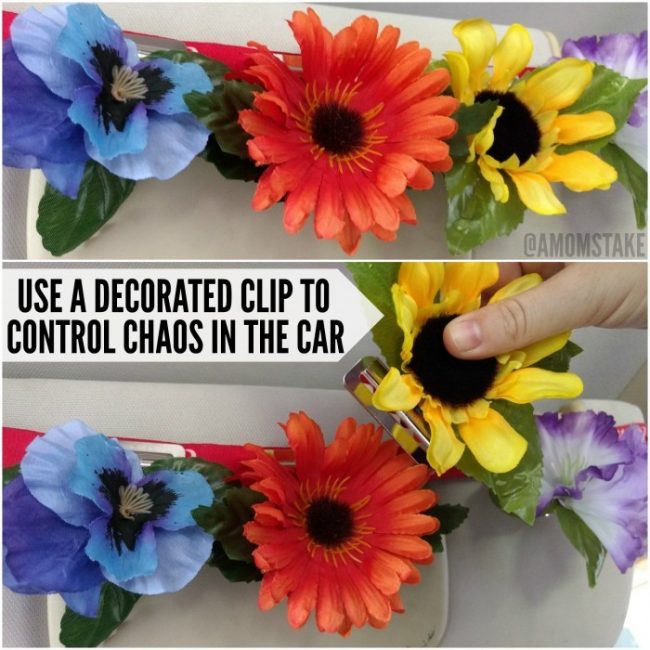 Clip them to your visor or string an elastic ribbon around your visor and clip them to the ribbon if your visor is too thick. You can visibly move the clips as an indicator to your children of a warning. Or remove the clip completely if they've used up their warning. If you stick to the strategy, it will quickly become an effective tactic to keep the kids listening to your instructions.
4. Store extras in a trunk organizer to be ready for anything – Keep extra supplies organized and tucked away neatly in your trunk so you'll always have whatever you may need. Some of the thing we keep in our trunk or underfloor storage include:
Blankets
Extra clothes
Diapers
Baby wipes (even if you don't have a baby)
Snacks
Water bottles
First aid kit
Flashlight
Toys and books
Towel
Frisbee or a ball
The blanket help when the weather turns cold and double as an impromptu sitting area for a play date at the park. I like to keep a few extra toys and books to swap out what my boys are using when they get bored while keeping minimal items in their personal space. Baby wipes can help with so many things like cleaning dirty hands and faces or wiping up a mess. Snacks, water, and a first aid kit are essentials in case an emergency arises or your car breaks down.
5. Don't wait to fuel up – There's one stop that squeezes its way onto your list at the worst possible time. I can't tell you how many times I've climbed into the car already rushing and a few minutes late only to realize my gas light was on. When you're always on-the-go, it's important to fuel up at every opportunity you get.
Avoid waiting until your tank is near empty because it is certain to be at the most inopportune time. I stop whenever I'm nearby a station without a rush to get to the next appointment or scheduled event and while my toddler is happy or napping. It's a great excuse to keep him napping just those few extra minutes, before our next stop.
Fuel Savings for the Mom On-the-Go
Fueling up while you're already out on the town and avoiding those last-minute stops can also save you money.
When you are in the car a lot, your fuel expenses quickly add up. Any savings you can find can make a big difference to your monthly budget. Shell and the Fuel Rewards program is bringing you savings that can really add up! When you join the Fuel Rewards program, you'll be able to save 5c/gal every time you fuel up (up to 20 gallons per visit) at participating Shell gas stations during their Instant Gold Status promotion.
For a limited time, from the time you join through the end of 2017, you will automatically be upgraded to Gold Status and can easily keep your Gold Status savings after the year is over by making 6 or more qualifying purchases (of 5 gallons or more) during a 3-month window. Your Gold Status will renew for an additional 3-months for each benefit periods that you qualify.
Save even more when you refer your friends to join the Fuel Rewards program. Just send your referral link to friends and family so they can also score Instant Gold Status with the Fuel Rewards program. The first time your referral uses the program by earning a reward or using their card at a participating Shell station after registering using your referral link, you'll instantly earn 25c/gal (up to 20 gal). Best of all, there is no limit to how many friend you can invite or how many times you can earn this additional savings at the pump! Head over today to join the Fuel Rewards program at Shell to start racking in the savings and #StayGolden.
Extra Car Tricks by Age
For young kids:
Take off kids' shoes and put them by the car door. If you skip this step, they're likely going to kick off their shoes anyways, and they'll be buried in the back row impossible to reach.
Have pre-portioned snacks ready to hand out in a moment's notice, and within easy reach.
Pack water and other drinks, and put them right behind the center console so they are really easy to grab. A small soft-sided cooler can help keep the drinks cold.
Don't over pack toys and activities. A few small toys they love will be better than a big assortment – that will turn into something to throw.
Pack extra changes of clothes, for the unexpected, for each child in one bag easy to access in the trunk.
For older kids:
Let them fill one gallon zipper bag with whatever they want to bring for the trip. That could include colored pencils, paper and stickers, books, small toys, or a handheld electronic device. Limiting what they bring along and letting them help choose what they want will make clean-up easier.
Warn your children if toys/books are out of their bag or specific spot in the car when you stop, it's yours for the rest of the trip.
Prepare a brown paper lunch sack with snacks, drinks, even a few small treats. They can choose when to eat their different goodies inside throughout the drive, but that's all they get. This makes it super easy to ward off the "I'm hungry" chimes and lets them take some of the responsibility. The lunch sack will double as their trash container. Any empty wrappers go back in the lunch sack and into the trash once all their snacks are gone.
Headphones can be a worthwhile investment for older kids. Let them connect to their gaming system, music player, smartphone or device and keep the car quiet and calm without all the conflicting noises.
What are your tricks and tips for on-the-go?
*RESTRICTIONS APPLY. TO QUALIFY FOR THE GOLD/SILVER STATUS OFFERS, YOU MUST BE A FUEL REWARDS® MEMBER AND SWIPE YOUR FUEL REWARDS® CARD OR ENTER YOUR ALT ID WHEN YOU FUEL AT A PARTICIPATING SHELL STATION. WITH GOLD STATUS, YOU WILL RECEIVE 5¢/GAL IN FUEL REWARDS® SAVINGS ON EVERY FILL-UP. THE 5¢/GAL REWARD FOR GOLD STATUS WILL BE COMBINED WITH OTHER REWARDS IN YOUR FUEL REWARDS® ACCOUNT. IF YOU ARE AN EXISTING FUEL REWARDS® MEMBER, YOU WILL RECEIVE GOLD STATUS FROM 6/5/2017 THROUGH 12/31/17, THE "EXISTING MEMBER INTRODUCTORY PERIOD". IF YOU ARE A NEW FUEL REWARDS® MEMBER, YOU WILL RECEIVE GOLD STATUS FOR THE INITIAL MONTH YOU JOIN THROUGH THE LAST DAY OF THE MONTH, 6 FULL CALENDAR MONTHS LATER, THE "NEW MEMBER INTRODUCTORY PERIOD". THE LAST 3 MONTHS OF THE EXISTING MEMBER INTRODUCTORY PERIOD OR THE NEW MEMBER INTRODUCTORY PERIOD (COLLECTIVELY THE "INTRODUCTORY PERIOD") IS THE "QUALIFICATION PERIOD". YOU WILL RETAIN YOUR GOLD STATUS DURING THE QUALIFICATION PERIOD, BUT YOU MUST MAKE 6 QUALIFYING FUEL PURCHASES TO QUALIFY FOR GOLD STATUS FOR THE NEXT 3 MONTHS, THE "BENEFIT PERIOD". DURING THE BENEFIT PERIOD, YOU MUST CONTINUE TO MAKE 6 QUALIFYING FUEL PURCHASES TO MAINTAIN YOUR GOLD STATUS FOR THE NEXT 3-MONTH BENEFIT PERIOD. A QUALIFYING FUEL PURCHASE IS ANY FUEL PURCHASE AT A PARTICIPATING SHELL STATION IN WHICH YOU SWIPE YOUR FUEL REWARDS® CARD OR ENTER YOUR ALT ID AND FILL UP WITH AT LEAST 5-GALLONS OF ANY GRADE OF FUEL. FOR EXAMPLE, IF YOU ARE A NEW FUEL REWARDS® MEMBER AND REGISTER ON 6/15/2017, YOU WILL RECEIVE GOLD STATUS THROUGH THE NEW MEMBER INTRODUCTORY PERIOD (I.E., 12/31/2017). YOU WILL NEED TO FILL UP WITH AT LEAST 5 GALLONS OF FUEL AT LEAST 6 TIMES DURING THE QUALIFICATION PERIOD (I.E., 10/1/2017 AND 12/31/2017) TO MAINTAIN GOLD STATUS DURING THE BENEFIT PERIOD (I.E., FROM 1/1/2018 TO 3/31/2018). THEREAFTER, IF YOU CONTINUE TO FILL UP WITH AT LEAST 5 GALLONS OF FUEL AT LEAST 6 TIMES DURING THE SUCCESSIVE 3 CONSECUTIVE MONTH BENEFIT PERIODS, YOU WILL RETAIN YOUR GOLD STATUS. IF YOU DO NOT MAINTAIN YOUR GOLD STATUS, YOU WILL RECEIVE SILVER STATUS. WITH SILVER STATUS, YOU WILL RECEIVE 3¢/GAL IN FUEL REWARDS® SAVINGS. THE 3¢/GAL REWARD FOR SILVER STATUS WILL BE COMBINED WITH OTHER REWARDS IN YOUR FUEL REWARDS® ACCOUNT. REDEEM FUEL REWARDS® SAVINGS WITH YOUR FUEL REWARDS® CARD OR ALT ID AT PARTICIPATING SHELL STATIONS. FUEL REWARDS® SAVINGS ARE LIMITED TO 20 GALLONS OF FUEL PER PURCHASE, PER VEHICLE, OR FRAUD LIMITS PLACED BY SHELL AND/OR LIMITS PLACED ON YOUR FINANCIAL CARD BY YOUR FINANCIAL INSTITUTION, EACH OF WHICH MAY BE LOWER. FUEL REWARDS® SAVINGS MUST BE REDEEMED IN A SINGLE TRANSACTION. ONCE YOU BEGIN TO DISPENSE FUEL USING YOUR FUEL REWARDS® SAVINGS, YOU MUST DISPENSE TO THE 20-GALLON LIMIT OR YOU FORFEIT ANY REMAINING DISCOUNTED GALLONS OF FUEL. FOR EXAMPLE, IF YOU ONLY PUMP FIFTEEN (15) GALLONS OF FUEL, YOU WOULD ABANDON THE REMAINING FIVE (5) GALLONS OF DISCOUNTED FUEL. IF YOU HAVE A REWARDS BALANCE GREATER THAN THE CURRENT PER-GALLON PRICE OF FUEL, THE PRICE WILL ROLL DOWN TO THE MAXIMUM CAPABILITY OF THE FUEL EQUIPMENT, AND YOUR REMAINING REWARDS WILL BE SAVED FOR A FUTURE FUEL PURCHASE. DISPENSER MAY REQUIRE A PRICE OF UP TO 10.9¢/GAL. IT MAY NOT BE POSSIBLE TO COMBINE MULTIPLE DISCOUNTS AND/OR REWARDS IN A SINGLE TRANSACTION. FOR PURCHASES OF $75 OR MORE, PLEASE GO INSIDE TO PAY. UNBRANDED DIESEL AND ALTERNATIVE FUELS MAY NOT BE ELIGIBLE. THE FUEL REWARDS® PROGRAM IS OWNED AND OPERATED BY EXCENTUS CORPORATION. OFFER MAY BE MODIFIED OR DISCONTINUED AT ANY TIME WITHOUT NOTICE. NOT VALID WHERE PROHIBITED BY LAW. PLEASE SEE FUELREWARDS.COM FOR COMPLETE FUEL REWARDS® PROGRAM DETAILS AND TERMS AND CONDITIONS. OTHER RESTRICTIONS MAY APPLY. ALL TRADEMARKS ARE THE PROPERTY OF THEIR RESPECTIVE OWNERS. TO LEARN MORE, VISIT FUELREWARDS.COM/GOLD OR CALL (888) 603-0473.
This is a sponsored conversation written by me on behalf of Shell. The opinions and text are all mine.