The holidays are wonderful for spending more time together as a family with the kids home from school and with relatives in town visit. With all the hustle and bustle and extra bodies around the home, though, some of your household supplies will be on short supply if you don't prepare. A fun way to get ready for guests to arrive is to put together an easy welcome basket to greet your guests with!
Use this as a starting point to create your own perfect welcome baskets. Pick out a budget – like maybe $20 – and then plan to let your guests pillage your welcome basket to keep anything they may need on their visit.
I received compensation for this post. All opinions are my own.
Welcome Basket Contents:
Flip flops or slippers, depending on the weather
Lotion
Chapstick
Blu-ray or a good book/magazine
Notepad and pen
Snacks
Water bottles
Toiletries they may need (soap, shampoo, razor, q-tip, finger nail clippers, toothbrush, toothpaste, etc)
Sunscreen
Toilet paper (no one likes to ask where to find this!)
I assembled an easy welcome basket to keep in our guest bedroom and added fun printable tags I created to personalize the basket and help my visitors to easily see that they were welcome to the goodies inside.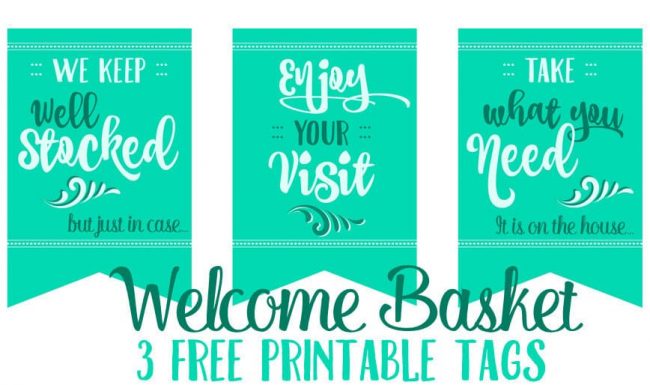 Click Here to: Download 3 Free Printable Tags
One essential item we added to the basket was an extra roll of toilet paper. I don't know if you've ever visited someone's home and had to ask the horrifying question of where they keep the extra rolls. We always keep several extra rolls of toilet paper, but when you have extra family or friends in the home, you'll go through your supply faster than you usually do and may not think to check the stash.
Two things can help to keep your bathroom fully stocked:
1. Stock an extra roll (or pack) of toilet paper in the guest bedroom so your guests can easily restock if you fall behind, without embarrassment.
2. Choose Charmin Ultra Mega Roll through the holidays. It's a longer lasting roll which will help you meet the extra depend and not have to fret over an empty tube.
We took a side-by-side challenge to compare Charmin Ultra Mega Roll to an unlabeled competitor toilet paper brand to help us see the difference first hand. Both rolls started out pretty close in size, but the Charmin roll far outlasted the competitor. Just 2 squares of Charmin took at least 8 of the tissue paper thin sheets of the competitor to come close to the thickness, and the softness could never compare.
With Charmin Ultra Mega Roll you can use up to 4x less, compared to the leading 1000 sheet brand of toilet paper (based on average usage), which equals savings and less stress through the holidays. Because each sheet is more absorbent, you'll need less and save more!
Stock up on Charmin Ultra Mega Roll this holiday season and don't forget to add a roll to the welcome basket for your guests!