I read an alarming fact the other day. It stated that by 4th grade, almost half of children no longer have an interest in reading books outside of the classroom. The statistics suggest that the one thing that changes by 4th grade is that parents are no longer reading aloud to their children. It's really easy to see how that switch could take place. By 4th grade your children are likely confident independent readers, they no longer need your help. But that doesn't mean we should stop reading aloud together as a family. It makes me smile whenever I catch moments like these, my boys cuddled up on the couch together reading aloud.
This is a sponsored conversation written by me on behalf of Audible. The opinions and text are all mine. Affiliate links are included below.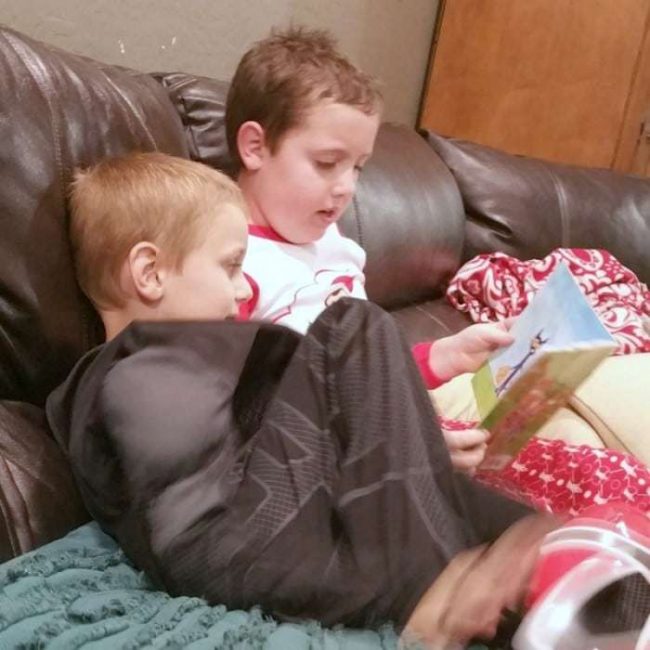 I really appreciate what How to Raise a Reader teaches, "For a child, the more time spent with a parent reading aloud increases his or her level of attachment, enhances a sense of security, and imparts the knowledge that their parent feels they are worthwhile people with whom to spend time." Reading together can be a powerful tool to keep your family close. We read together as a family as often as we can. Whether that's snuggled up all squished onto my big king sized mattress, or reading to our kids at night as we tuck them into bed. We even pop-in audio books whenever we are on the go. It gets us laughing together and imagining together – my kids love retelling their favorite parts of the stories we read.
To inspire your family to get reading aloud, here are some of our top favorite read aloud titles we've shared as a family and loved! Some we've read by book, some we've listened to on the road, and many we've read several times over both in a book and by audiobook!
15 Best Read Aloud Books for Families
My Father's Dragon
The Hobbit
Chronicles of Narnia
Magic Tree House
Charlie and the Chocolate Factory
Mouse on a Motorcycle
The Giver
Charlotte's Web
The Wonderful Wizard of Oz
Stuart Little
Harry Potter
Chronicles of Narnia
Amelia Bedelia
Keep in mind, I'm raising a family of all boys. There are a few favorites I would absolutely add for those moms of girls – like Little Women, Anne of Green Gables, and Little House on the Prairie!
We are in the middle of reading a beautiful illustrated version of Alice's Adventures in Wonderland, and then we're planning to listen to it on audiobook. Both ways of listening to stories brings out different elements and my kids love listening to stories they've heard before because they can predict what's coming next and it's comforting to them.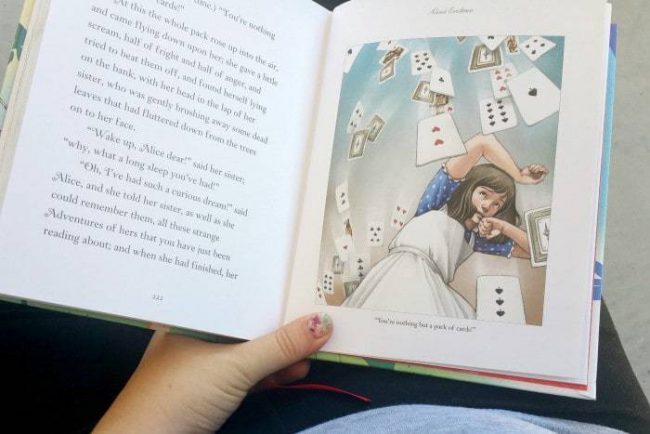 We love the Audible app for listening to Audiobooks. It's seamlessly connected within my Amazon account so adding a new audiobook is easy. We've listened to our stories aloud through our Amazon Echo that plays a story for us while we cook dinner together, work on a puzzle, or while we're busy building forts in the family room. We can pickup right where we left off by connecting our smartphone to our car and playing the story through the Audible app. Perfect for our summer road trips!
My boys very favorite story to listen to over and over again is the Diary of a Wimpy Kid series, especially Hard Luck and The Long Haul. They're funny stories that all of my boys can relate to – even my husband and I end up cracking up during the story, especially with the background of our boys laughter. Even though they know what's coming next, they're excited to hear again their favorite parts. Audible has stories for everyone – young and old.
Free 30-day Audible Trial!
We tried Audible with a free trial almost a year ago, and loved the free books we picked with our trial. We just subscribed again at the start of summer to add new books to our library of titles for our summer adventures. Grab one of these classics, or your family's own favorite read aloud, with a free 30-day trial! You'll get to select an audiobook of your choice with thousands of titles to choose from!
I believe everyone has a reader inside of them, it truly just takes that special book that pulls them into a world different then their own where they can become completely engrossed in a character, story, and setting. Audio books are a wonderful way to get reluctant readers pulled into a story, or even to just sneak in storytime as a family as you head to and from appointments and activities.