It seems like there is always a need to send a small gift, a thank you to someone who went out of their way for you, a teacher, a co-worker, a friend having a hard day, etc., and this is the perfect gift to give! It is super easy to make, and always looks amazing, and really…who wouldn't appreciate a candy bar bouquet? I sure wouldn't turn one down!
You can find everything you need at your local dollar store for about $5 (depending on how much of a variety in chocolate you want).
Here's what you'll need:
Fun-Size Candy Bars (at least 12)
Glass Jar
Floral Foam
Tissue Paper
Wooden Skewers (usually found in the cooking utensil aisle)
Packing Tape
Ribbon/tag/stickers for embellishing the vase
Here's what you'll do:
Cut off the corners or sides of the floral foam to make it fit within your vase.
Wrap the floral foam in the tissue paper (you don't have to stay with just white tissue paper, bright colors look amazing too!) and slide it down to the bottom of the vase. Make sure that all of the floral foam is completely covered – the green foam doesn't look too pretty, but you'll need it to stabilize your candy bars.
Use the packing tape to secure the wooden skewers to the candy bars. Make sure you secure the flat end of the skewers to each candy bar so the pointed end will stick into the floral foam. You'll want to have your packing tape go over the top of the skewer to add some stability and stop your candy bars from swiveling on the skewer.
Once you have your candy bars taped, you can place them into the foam just like arranging flowers. Tie a cute ribbon around the vase or add a fun tag expressing your thoughts/gratitude and you have a fantastic candy bar bouquet!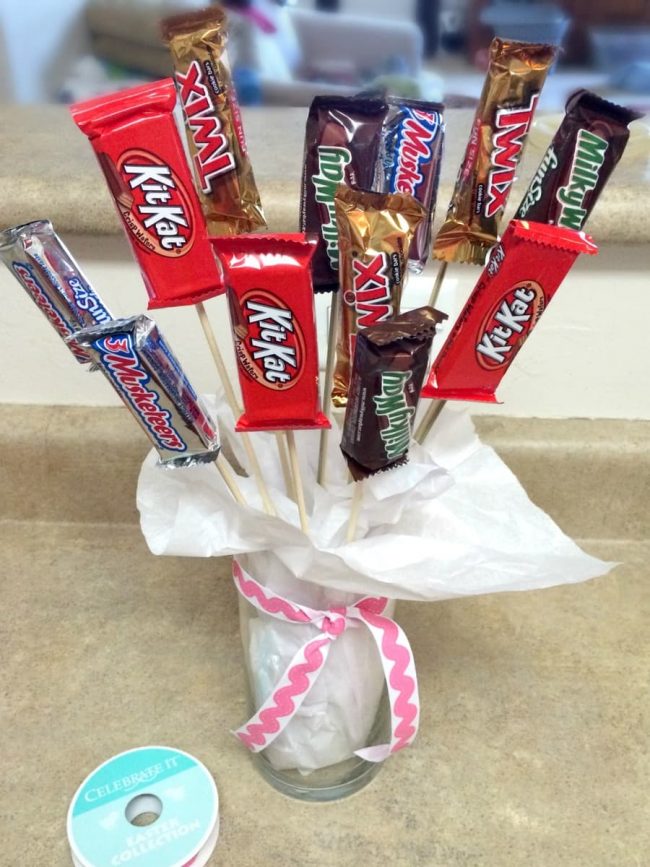 My kids love to bring these candy bar bouquets to their teachers throughout the year, or bring them as a gift at a birthday party along with money or a gift card. My favorite has been to give them to a friend when they need a little cheering up. They are so easy to make, and pretty inexpensive.