Halloween is such a fun holiday! It gives you the excuse to be creative and have fun with your children. One really easy way to bring in the fun of the holidays into your home is by serving themed dinners that will surprise and delight your kiddos! This Halloween Ghost Skillet Pizza is super easy to make and turns out adorable (and yummy!)
Halloween Ghost Skillet Pizza
Ingredients:
4 slices fresh mozzarella cheese
½ cup of pizza sauce
Black olives
1 slice of Cheddar cheese
Pizza dough
Directions:
Preheat oven to 500 degrees.
Oil your cast iron skillet and place pizza dough inside. Cover with saran wrap and let sit while oven is preheating, about 20 minutes.
Spread the dough out on the bottom of the pan. Place in preheated oven for 5 minutes.
Meanwhile, Use the cookie cutters to cut ghost shapes into the slices of cheese. Slice thin olives for eyes. After 5 minutes top pizza with sauce, shaped cheese and olives.
Bake for an additional 10-15 minutes. Remove from oven Let cool and enjoy!
Turn this Halloween Skillet pizza into a family activity by letting your kids help. You can slice the cheese off the block and then hand it over to your children to let them take charge of the cookie cutters and create the ghosts.
Your children can also help press the dough into the pan, add the sauce, and put on all your toppings, too, as long as you are careful about not letting them touch the skillet.
Letting the kids help prepare dinner gives you a fun activity to do together and gives you a chance to talk, play, and laugh with each other.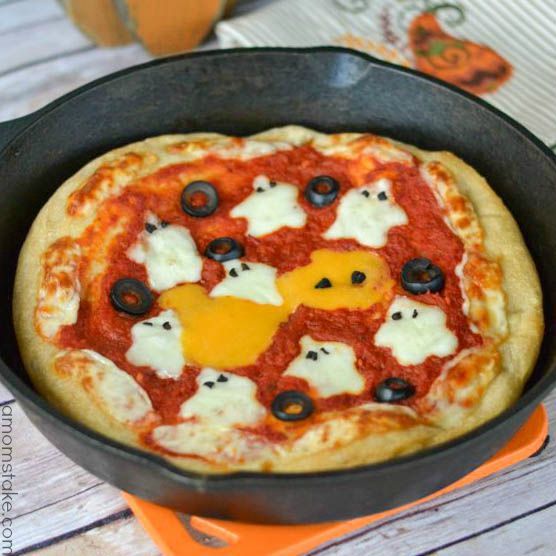 Keep up the fun of Halloween with our other awesome Halloween ideas and recipes!! Including these super yummy, and easy, Cream Cheese Swirl Brownies. Head over for the recipe now.