I'm not going to lie, I used to DREAD dinner time. Among the chaos of figuring out what I wanted to cook, looking after my two small children, trying not to burn the food, and getting the table ready to go, mealtime used to be extremely stressful. However, after practicing these 3 ways to simplify mealtime, I now look forward to spending time with my family around the dinner table.
This is post is sponsored by Blue Apron. All opinions are my own.
3 Ways to Simplify Mealtime
1. Designate a time. Choose a specific time each evening that your family will sit down together at the dinner table. With this time in mind, allow yourself plenty of time for the food to cook. Having a set schedule each night truly makes all of the difference.
2. Make it a family affair. Delegate your mealtime tasks to other members of the family. Allow your children to take turns helping cook the meal, set the table, do the dishes, etc. Not only does this help speed things up, but spending quality time together as a family sure makes things more enjoyable. Even though my son is just three, he LOVES to sit on the counter and help me make dinner. I wouldn't trade this one-on-one time with him for anything.
3. Plan Your Menu Using Blue Apron. Nothing makes mealtime easier than having your meals planned for you. That's right, using Blue Apron's online service, you can select healthy chef-designed recipes and all ingredients are shipped right to your doorstep. Blue Apron's perfectly packaged ingredient proportions cuts out weekly grocery shopping and wasted food. With a large selection of recipes all prepared in under 40 minutes, mealtime has never been easier – or more delicious!
Blue Apron has truly simplified mealtime for my family. I love that my entire family can enjoy healthy and delicious meals in the comfort of our own home without having to think ahead of weekly menus or scheduling trips to the grocery store. Everything from Blue Apron extremely fresh and tasty.
This last week, my son couldn't wait to help me in the kitchen preparing Blue Apron's Rigatoni Puttanesca. Using farm-fresh ingredients such as eggplant, cherry tomatoes, and oregano, our Riatoni Puttanesca was ready to eat in less than 30 minutes.
As you can see, our family give Blue Apron two thumbs up! I can't wait to try other recipes such as Thai Green Coconut Curry, Seared Steak and Roasted Potatoes, and Pork Ramen.
Want to receive 2 free Blue Apron meals? Simply click on this Blue Apron link and the first 50 customers will receive 2 free Blue Apron meals with their Blue Apron order. Make your mealtime easier with Blue Apron.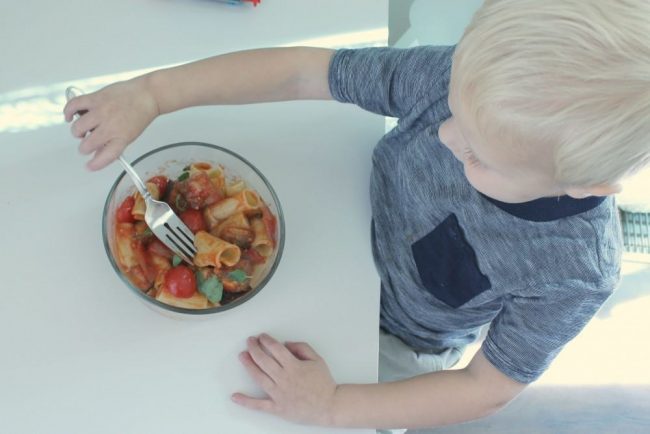 How do you simplify mealtime at your home?