I'm in love with anything burlap! It just has such a great texture that it makes anything interesting. I found a really cool green burlap bag at the 99¢ store and started brainstorming a fun St. Patrick's day DIY project!
I have a lot of Irish nationality, in fact my grandpa's grandpa came over from Ireland – Jacobus Patricus McGuinness. Seriously, can it get anymore Irish than that?
Because of my roots, I've always liked the fun saying, "Kiss Me, I'm Irish". I took that line for a spin in this fun burlap bag project and printable I created.
Kiss Me, I'm Irish – DIY Burlap Bag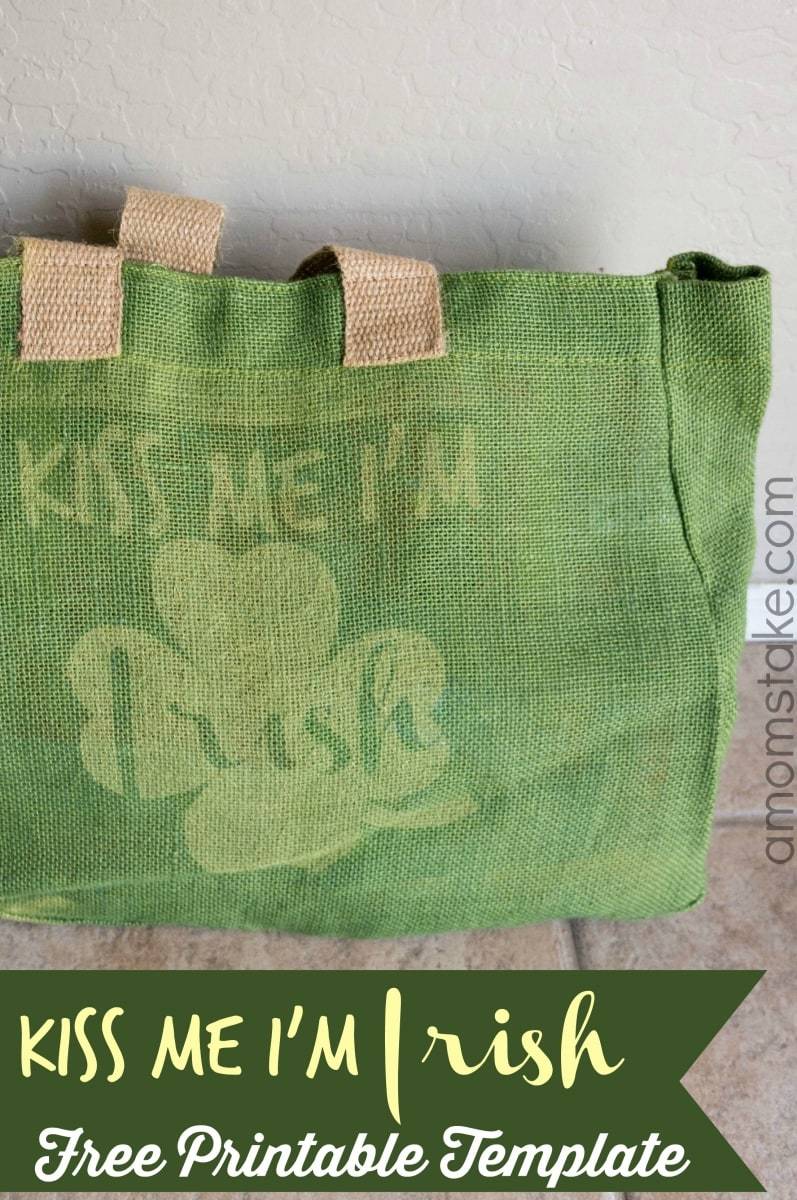 You'll need:
Burlap Bag (I found mine at the 99¢ Only Store)
Cricut or similar vinyl cutter to print a template
Spray paint
Printable Kiss Me I'm Irish Template
Start by saving and copy of my Kiss Me I'm Irish printable template. Just click on this link or the image below to open up the full size image and then right click the image and choose to save it to your computer.
You can then upload this image file into your Cricut Explore software or other vinyl cutting program. You could also print it on image transfer paper (using a reverse image) and iron on the image onto a shirt or canvas tote bag.
Once your vinyl is cut, weed out the excess vinyl and then apply the outer vinyl image directly onto your burlap bag. It's a great idea to center your design in the middle of a 12×12 piece of vinyl so you have a protected edge built in. I didn't think to move mind, so I used scrap pieces of cardboard to protect the edges of the rest of my bag when painting.
Spray paint with your choice of color. White, yellow or a different shade of green would all work well. I wanted my design to be subtle, but still visible, so I chose a light green to layer on top of my dark green burlap. I really love the look!
Allow the spray paint to dry and then remove the vinyl template and your bag is ready to use! Because I already had the vinyl on hand (any color works as it is just being used to create a template) and used leftover spray paint – the whole project cost me just over a dollar with tax for the burlap bag. Even if you bought all the supplies, your project would cost you around $5 completed!
I'm going to load up the bag with coloring books, hot wheels cars, and other quiet toys for us to tote to church each week. It'd also be great as a reusable grocery tote or whatever else you might want to use it for!
Here are 14 more fun
St. Patrick's Day Ideas!
For more amazing St. Patrick's Day ideas, check out some blog posts from a few of my favorite bloggers:
What fun projects do you have in works for St. Patrick's Day?