Is there anything cuter than airplane valentines? I think not! All the boys will go crazy for this one! Grab our free printable of a darling "You Make My Heart Soar" valentine cards and attach foam airplanes for a cute, cheap, and simple Valentine's day card everyone will love! We love sharing valentine cards printable ideas, and this one is so darling!
Affiliate links are used in this post.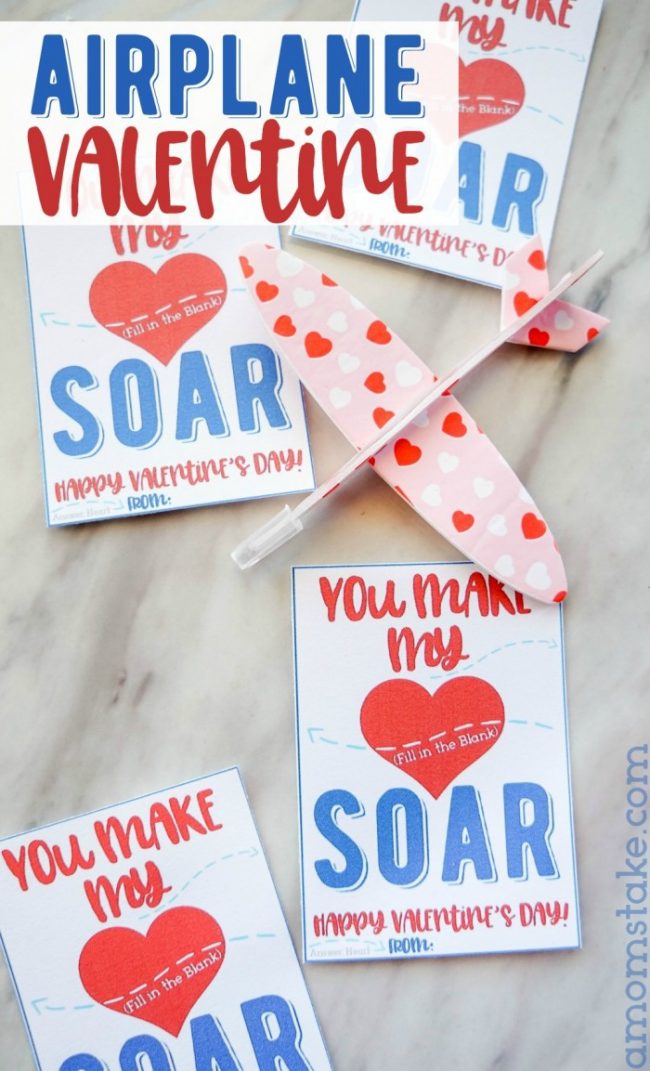 Airplane Valentines
Supplies:
I have a houseful of all boys, so I'm always looking for ways to make Valentine's Day cards that will interest them, but still be oh-so-cute and perfect for this pink & red holiday. This year, it's all about the airplanes!
Each year, I've made different homemade valentines that they've taken to pass out at school, so if you're looking for even more cute ideas be sure to pop over to some of our other popular valentine cards. They are all printable and easy to make, and most are candy-free options!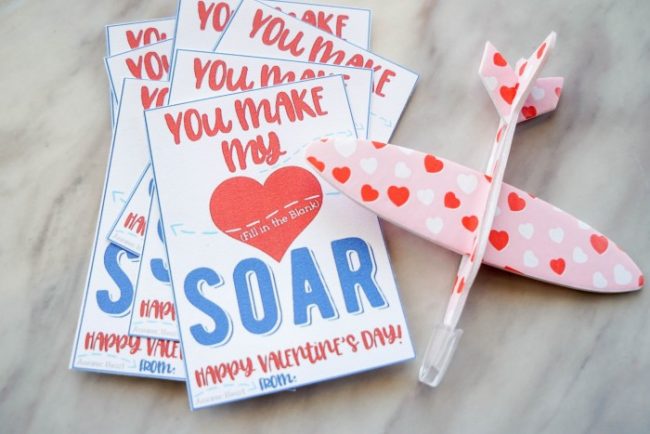 This year's airplane valentine's day card reads…
You Make My
_ _ _ _ _
SOAR
Happy Valentine's Day!
There's a cute spot for a fill-in-the-blank puzzle, neatly disguised in the heart design so it's easy to guess, but adds another fun aspect to the card. Kids surprisingly like easy, simple to solve puzzles best!
All you have to do in print out the airplane valentines on cardstock.
Each sheet will make enough for 8 valentine cards to pass out. So in most cases you'll only need 3-4 sheets of cardstock to make enough valentine's day cards for the whole class.
You then attach a mini foam airplane. We used this really cute airplanes set which has 48 gliders for a steal!
You can first assemble the airplane and tape it to the back of the card using a piece of washi tape. You'll want to use washi tape as it will keep from ripping the airplane or card when they pull it off. This option works best if you are planning valentines for a preschool or young kids as they will otherwise need assistance putting their foam flyer together.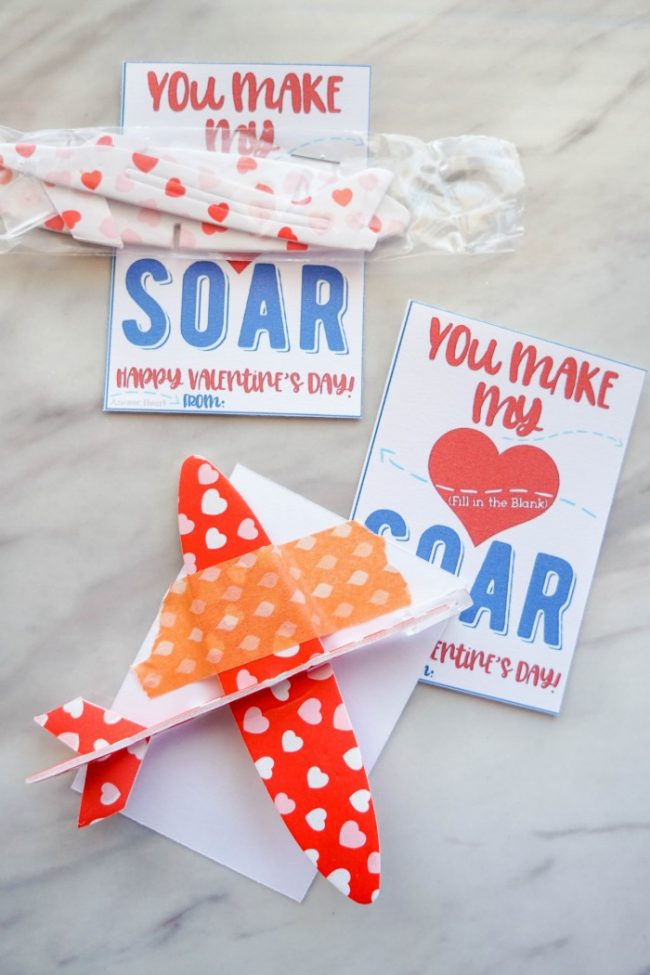 Another option is to simply staple the foam flier still in it's plastic wrap. This is a good idea for older kids that would like assembling and in classroom settings with a lot of kids.
Either way works great and results in an excited, and happy, kiddo who just can't wait to fly the airplane!
Free Printable Airplane Valentine Cards
We're sharing this darling airplanes valentine printable completely free! To download the printable, just click the link below to open up the printable PDF formatted with 8 valentine's day cards per page!
Now all that's left to do is shop for the essentials to get started!

Loved these valentines cards? Save this post!