I used to love Valentine's Day when I was a kid. The teachers always had us making fun Valentine-themed crafts all week and specialized mailboxes to put our Valentine's we received in. Then, on Valentine's Day, usually at the end of the day, we would have a little party. There would be treats and then we would get to pass out the Valentine's we had made to all the kids in the class.
This post is sponsored by Wonderful Halos Mandarin Oranges. All opinions are my own.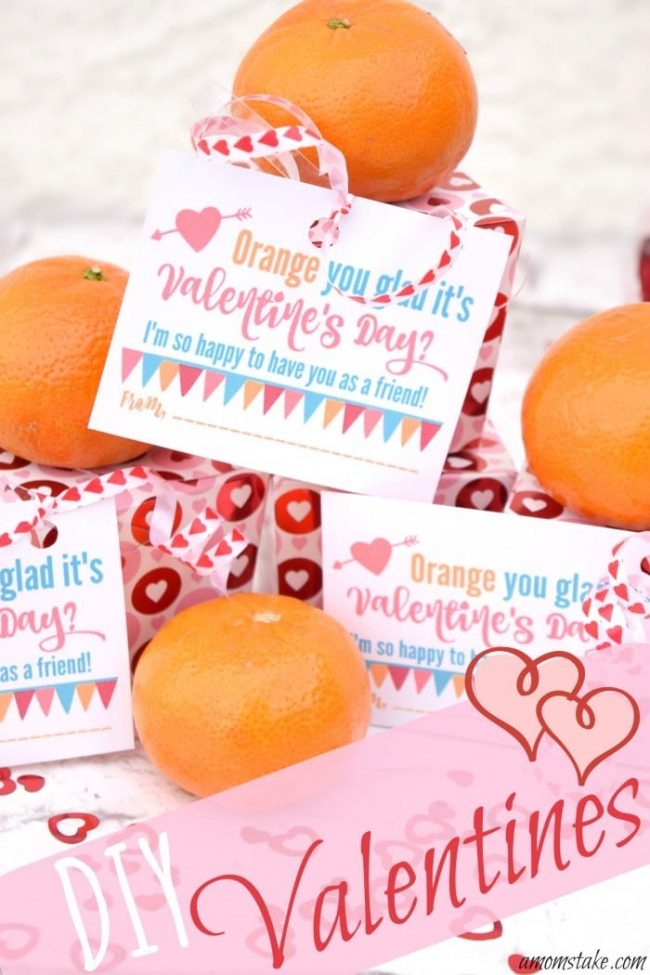 Some Valentine's were just cutely colored cards with catchy sayings on them. Others were accompanied by a toy, sticker or a treat. I remember going through my pile of cards and finding the ones from my friends. I would read them and giggle at the funny sayings. Then, I would separate all the treats and trinkets and make a pile of the stash I had gotten.
Now that I have kids, we enjoy making Valentine's for their classes together. Some years, when I'm feeling on top of my life, (which is hardly ever) we get a little creative with our Valentine's. One year we even made cute Minion ones.
This year, we're getting creative again and a little healthier with these cute "Orange you glad it's Valentine's Day" using Wonderful Halos Mandarin oranges. To make your life easier, I've even included the Free Orange-Valentine-Printable!
Orange You Glad it's Valentine's Day? Valentines
Steps:
1. Go buy a bag or box of these cute mini Wonderful Halos Mandarin Oranges.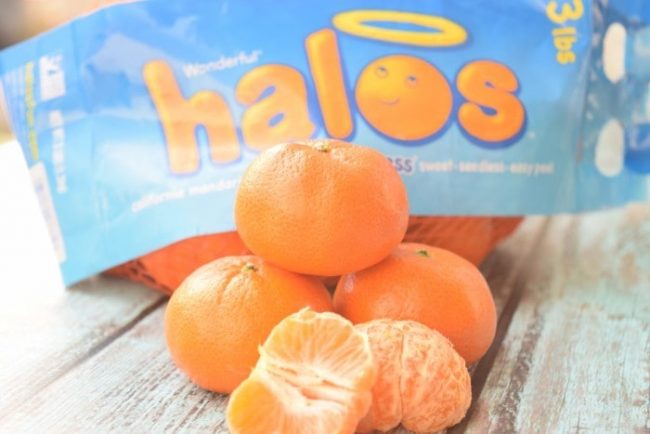 2. Print off the Valentine printable Cards sheet and cut into individual cards.
3. Get a treat bag or box to put the Halos in. These treat boxes I grabbed at my local dollar store. They came 8 boxes to a pack. 3 or 4 packs should be enough for a class size. If not, I feel bad for the teachers at your school and they should look into hiring more.
4. Put a Halo orange in one of the boxes, you can fill the rest of the box with tissue paper, confetti, or even some candy if you would like. Or just leave it with the Halo only.
5. Attach the Valentine card to the gift box or bag using some ribbon or tape. Whatever strikes your fancy. (Or whatever you have handy last minute when you're assembling the Valentines the night before. Don't lie. We know it. No judgment here.)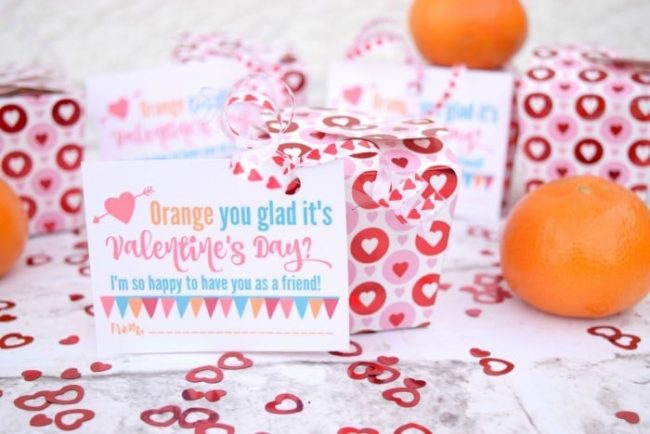 Voile! A super cute Valentine for your kids to hand out to their friends. You even look like the mom who has it all together. The mom all the other moms are jealous of. Congratulations!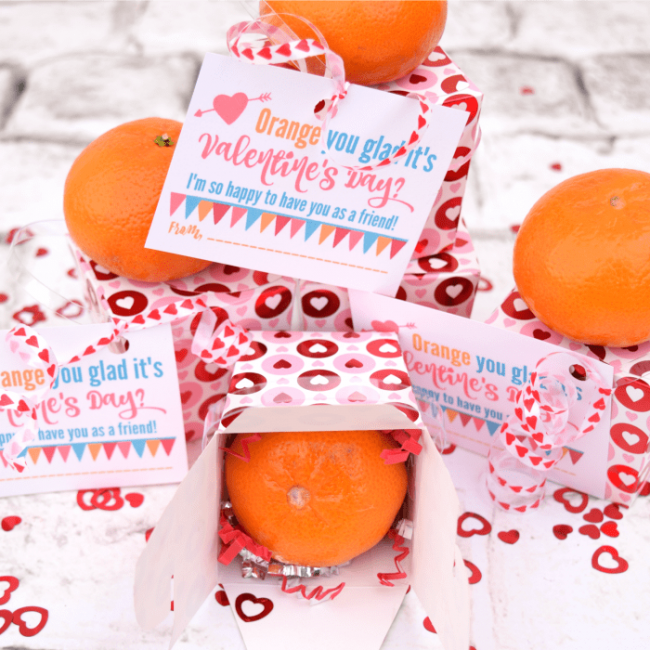 If you're looking for a super cute and easy, original Valentine idea for your kids, we've got you covered. With all the rules about what you can and can't bring to school anymore, make everyone happy with a healthier choice than the candy.
Wonderful Halos Mandarin Oranges are packed full of vitamin C. They are just the right size for a kid-sized snack and so easy to peel, that you won't need to help them. Plus, they taste so sweet, the kids won't even miss the candy… maybe.
What do you do for your kid's Valentine parties?