I received a gift card to purchase recipe supplies and to thank me for my time in exchange for this post. All opinions are my own.
Do you already have plans for dinner tonight? If not, beware – just viewing this Italian marinara sauce recipe will most likely make you want to change tonight's dinner plan! In our home, we love pasta! It's the most requested meal my boys ask for whenever we ask them what they want for dinner. While we love pasta, canned spaghetti sauce just isn't for us. We want to enjoy an authentic tasting sauce that's just as good by itself as it is paired with our noodles or side of bread.
How to Make Marinara Sauce
There was a time when I was afraid to make my own sauce. I didn't even know where to begin. Thankfully, we have a co-worker who was willing to share his recipe with us and pull us from that shameful state. Now, we would never go back to anything else. Marinara sauce is surprisingly easy to make, so if you've been wondering how to make marinara sauce, read on!
To get started, saute diced yellow onions in a tablespoon of olive oil along with a dash of salt, pepper, and crushed red pepper. (Warning, if you don't like heat, you might avoid the crushed red pepper or add it in later so it gives off less heat).
When your onions are soft and translucent, add in your garlic and continue to saute for about a minute. Then, add in your canned San Marzano tomatoes and tomato sauce. Toss in your additional herbs and spices and stir them together.
That's it, that's all you needed to do. Now, just let your sauce simmer on low for 60 minutes. You can let it sit longer for a richer flavor. Remember to stir occasionally. If you want to reduce the acidity of your sauce, toss a full peeled carrot in the last 10 minutes or so.
When your belly starts growling from the yummy smell of your homemade Italian marinara sauce recipe cooking, it's time to start your noodles. You can sneak in extra veggies with Ronco Pasta's Hidden Veggie Thin Spaghetti noodles that don't look or taste different to your kids, but give you that extra something for your meal.
Italian Marinara Sauce Recipe
You can save or print this marinara sauce recipe to easily reference later.

Homemade Marinara Sauce Recipe
Enjoy this hearty marinara sauce with a little bit of spice and a warm rich flavor that comes together for the perfect homemade spaghetti recipe.
Author:
Janel at A Mom's Take
Ingredients:
1 medium yellow onion, diced
1 tbls olive oil
3 cloves garlic, minced
1 can of San Marzano whole, peeled tomatoes
1 can tomato sauce
Seaonings: salt, pepper, crushed red pepper, oregano, basil
2 boxes Ronco Hidden Veggies Spaghetti Noodles
Directions:
Saute your diced yellow onion in 1 tbls olive oil along with ½ tsp salt, ½ tsp pepper, and ¼ tsp crushed red pepper.
When the onions are soft and translucent, add three minced cloves of garlic and saute for one minute.
Add in your can of San Marzano tomatoes and can of tomato sauce. Add in 1 tsp dried oregano, 1 tsp fresh or dried basil, ½ tsp salt, ½ tsp pepper.
Simmer for 60 minutes, or longer for a richer flavor, Stirring occasionally.
Before your sauce is ready, prepare your Ronco Spaghetti noodles per package direction.
Is there still a question of what's for dinner tonight? Just in case, let me remind you want you want to make… spaghetti topped with homemade marinara sauce served with a salad and side of bread – perfect! It's the perfect meal that takes like home.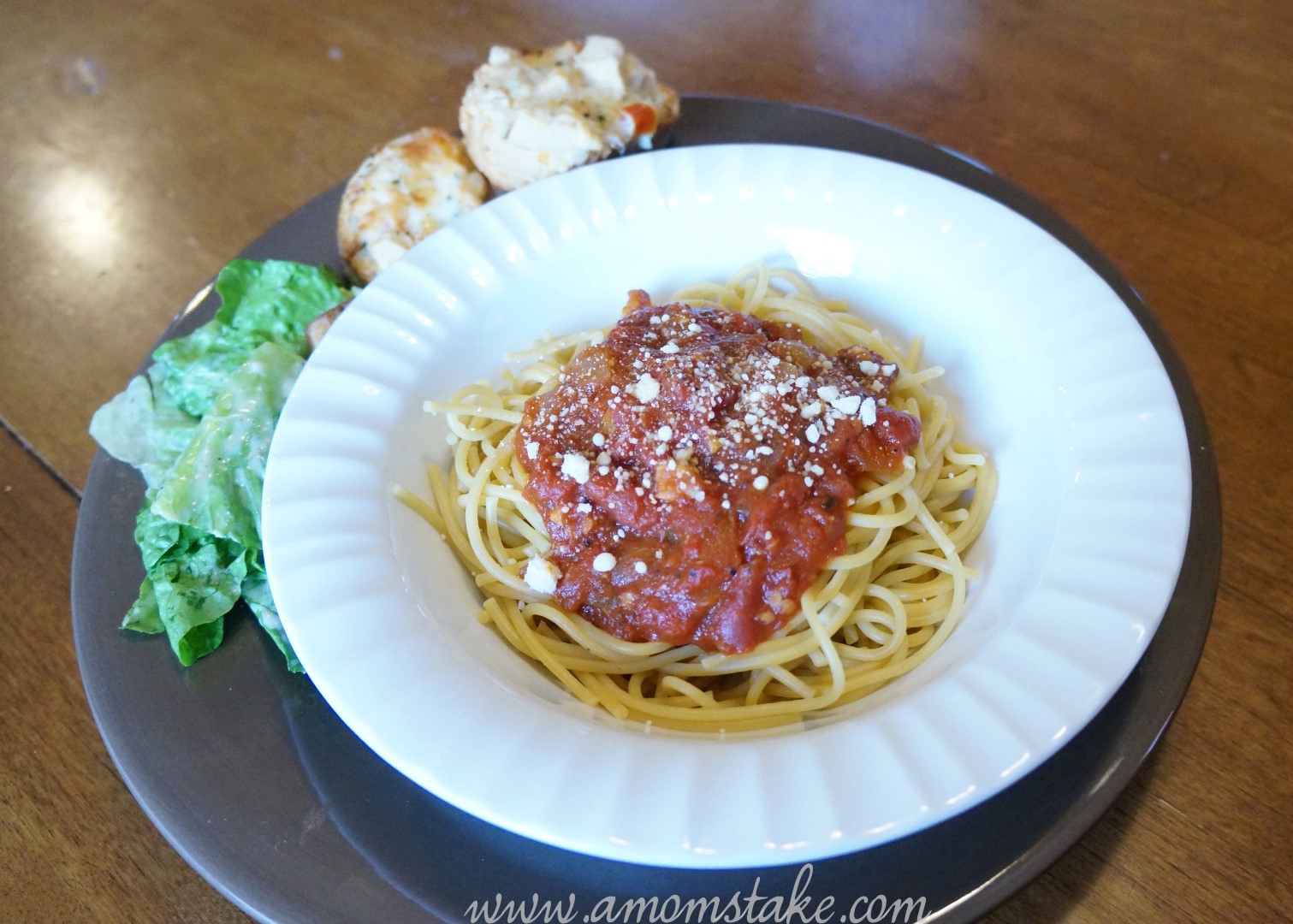 Another fantastic taste of home is our Hearty Sausage Lasagna recipe!
Have you ever made your own marinara sauce?