Whenever I hear other moms talking about their children struggling to want to read, I am totally confused! I have a deep love of reading and I'm obsessed with kids' books, so it's always been very important to me.
I think there are several things I've done that have encouraged my children to also spend time reading early on which has created their own deep love for reading.
I caught my 8-year-old reading all morning and praised him for reading and asked if he wanted a snack. He's enthusiastic reply was, "Yes, I'd love a snack! Two things I love: reading and eating!" And off he went happily curled up on the couch to keep on reading.
This post is sponsored by Amazon. All opinions are our own.
Before diving into the 8 ways I've found successful for getting my kids excited about reading, I want to highlight one thing that has helped me as a mother when engaging my kids on this topic: Amazon's Prime Book Box!
Prime Book Box for Kids
Amazon Prime has simplified book subscription services with an easier than ever way to subscribe, have some choice in the selections, and pause whenever you need to!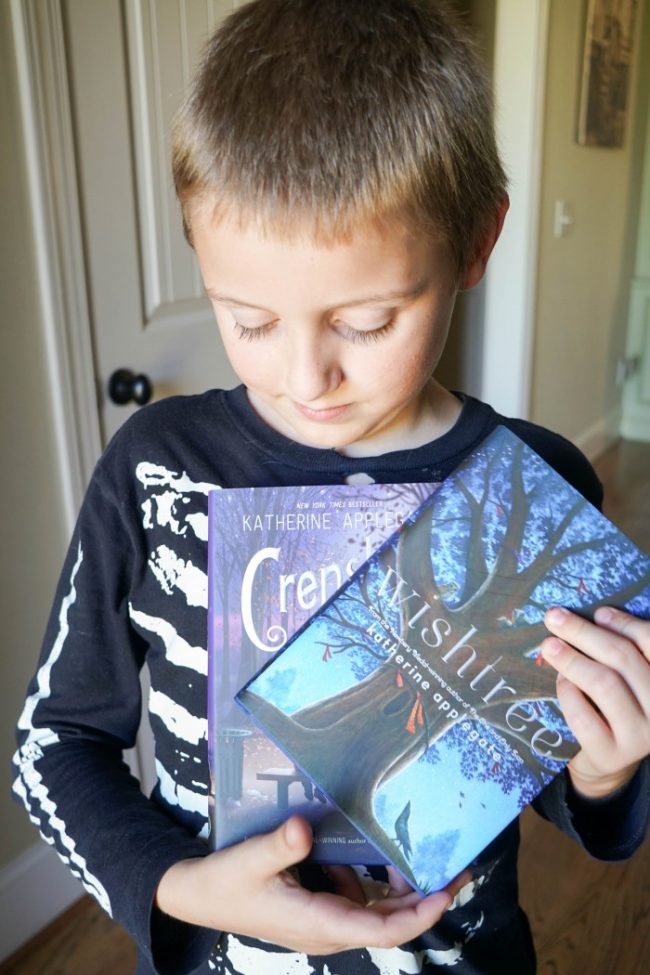 Prime Book Box is a fabulous way to find amazing new books your kids will love. Plus, when they come right to your doorstep the kids will be so excited to check out what special package has arrive just for them!
I love the convenience and flexibility of Prime Box Box. My family can easily set up a schedule for our book box that works for our lifestyle–adjusting how often the box arrives at our door, every 1, 2, or 3 months.
Here are some of my favorite
features of Prime Book Box:
4 board books or 2 hardcover books ages baby to 12.
Prime Book Box includes either 4 board books or 2 hardcover books with titles that are age appropriate for the subscription you select.
With board books for the youngest readers and then moving up to picture books, early chapter books, and then well loved chapter books for the oldest subscription.
I love that the subscription focuses on books that will last! Paperback books are often destroyed in my home. The covers and the pages all see a lot of wear in all the paperback books we own. I definitely prefer hardcover books for my rough boys!
Curated choices, with easy swaps
The subscription starts with selections picked for your reader, and then with 4 alternate selections available. This allows you to customize your book selections, if you prefer to, but without overwhelming endless options!
I tend to overthink every decision and pour over reviews, ratings, and the synopsis of books. So by limiting the selections to just the curated picks of the month I can still have some input, but without feeling completely overwhelmed.
It's super easy to swap your pre-selected books for the alternate selections and to find out more about the books and reviews, should you need any of that extra information.
If you don't have time, or the desire, to pick out and customize your box you can let each month be a surprise! The choice is up to you! Sometimes, I really love getting a surprise box because I discover something new I would not have picked for myself.
Pick your delivery date and Frequency
Subscription services are so much fun! It's always such a thrill to be expecting something fun to come in the mail. But a traditional subscription service can take a month (or sometimes even longer!) before you get your first box.
It's often painstakingly slow — luckily Amazon does things different! Prime Book Box ships out right away with FREE 2-day shipping. I loved how quickly the books arrived.
You can select how often you want a new Prime Book Box. Do you want new books every month? Or maybe once a quarter works better for you? You can even skip a box with the click of a button, no complicated steps, so you'll only get new books when you're ready for them.
A cinch to cancel, no extra hoops!
The most frustrating thing to me about subscription services is trying to cancel! If you didn't love the box, just wanted to try it, or simply don't want to put your money towards that subscription any given month, it shouldn't be such a struggle to cancel a subscription!
With Amazon's Prime Book Box cancelling is so easy! You'll just visit your subscription page and hit "End Subscription." A pop-up confirmation box will appear to confirm that you'd like to end your Prime Book Box subscription. That's it! No yucky sales tactics begging you to stay or complicated hoops to jump through just to cancel.
This lets you subscribe for as long as it's a fit for you without any worries about making the best choices for your family. You can also resubscribe at any time, when you're ready for more books!
What to Expect From
Prime Book Box
The sign-up process for a new Prime Book Box subscription is a cinch!
Step 1: You'll start by selecting which aged Prime Book Box is best for your family with options for:
Baby-2: 4 board books
Ages 3-5: 2 hardcover picture books
Ages 6-8: 2 hardcover books, mix of picture books / chapter books
Ages 9-12: 2 hardcover chapter books
My boys are 4, 8, 10, and 12 and will snatch up any book I had their way. So, I selected the Prime Book Box for Ages 9-12 that would be appropriate for all 3 of my older boys since my 8 year old is an avid reader.
Step 2: Next, you'll provide your child's name, gender, birthdate, and reading level.
Step 3: Then, just choose how often you want to receive new books in the mail.
Step 4: After that, you'll be brought to the book selections page! Your child's box will be curated with book choices for the month. You can keep those selections or swap them out from other selections from that month's curation.
Our box came with Wishtree by Katherine Applegate and Pay Attention, Carter Jones by Gary D. Schmidt picked for us. I loved that I could see the selections up front and have a little say, while not being overwhelmed with endless options.
I went ahead and browsed the other curated options for the month and decided to swap in Crenshaw by Katherine Applegate. My boys all loved her other book, The One and Only Ivan, and the synopsis for both of her other titles were really intriguing!
Step 5: When you've finished selecting your books, you'll be brought to a confirmation page where you can confirm all the details for your book subscription.
The overview page covers your first Prime Book Box book titles, the delivery frequency, your reader's profile, and then you'll move on to selecting a shipping address and payment before confirming your new subscription.
The Prime Book Box subscription ships with Free Prime Two-Day shipping, so you won't have to impatiently wait for the gift to arrive!
Our Prime Book Box Experience
Our box arrived so fast and tucked inside were the two books I had selected from the curated options. The books were beautiful with colorful dust sleeves and gorgeous illustrations.
My boys were thrilled to see new books at our doorstep! It didn't take long before they were diving into the books and telling me all about the stories they were reading.
Here's a little bit more about the two books we received:
Crenshaw by Katherine ApplegateL
Jackson and his family have fallen on hard times. There's no more money for rent. And not much for food, either. His parents, his little sister, and their dog may have to live in their minivan. Again.
Crenshaw is a cat. He's large, he's outspoken, and he's imaginary. He has come back into Jackson's life to help him. But is an imaginary friend enough to save this family from losing everything?
Beloved author Katherine Applegate proves in unexpected ways that friends matter, whether real or imaginary.
Wishtree by Katherine Applegate
Red is an oak tree who is many rings old. Red is the neighborhood "wishtree"―people write their wishes on pieces of cloth and tie them to Red's branches. Along with a crow named Bongo and other animals who seek refuge in Red's hollows, this wishtree watches over the neighborhood. You might say Red has seen it all.

Until a new family moves in. Not everyone is welcoming, and Red's experience as a wishtree is more important than ever.

Funny, deep, warm, and nuanced, this is Katherine Applegate at her very best―writing from the heart, and from a completely unexpected point of view.
Pricing and Overall Thoughts
Prime Book Box costs $19.99 per box and customers save up to 40% off list price. I think Prime Book Box provides a good value for those that love books, want to encourage more reading in the home, and don't have the time or desire to scour reviews and find books themselves.
This subscription takes out all the guesswork and helps narrow down the options, while still giving you all the flexibility to pick books your children will enjoy and send them only when you're ready for new books!
New subscribers will save even more with 15% off your first Prime Book Box month! Since you'll be able to pick from the selections before you even check out, there's nothing to lose!
Head over to Amazon to learn more and see if a Prime Book Box is a good fit for your family.
Now, let's talk about the 8 tips and tricks I use to encourage my kids to get excited about reading!
8 Ways to Get Kids
Excited About Reading
1. Find Books Around Their Interests
The best thing you can do to encourage a love of reading is to get your child hooked on a book series that peaks their interest. It may take a little trial and error to find something they enjoy reading, but don't give up!
Look at their current interests – do they like sports, dragons, magic, playing detective, horses, history? Try to find books that are in the genre they like, such as fantasy or historical fiction or scary stories. Or, stick specifically to their topic of interest within any genre.
Plus, once you find an author your child loves, turn to other books by the author for more titles that are sure to be an instant favorite!
2. Keep LOTS of Books Around
One way to show that reading and books are important to your children is by keeping full bookshelves around just waiting to be discovered! I can't resist books, and feel they are worth every penny as an investment in my children's love of reading.
3. Praise Your Child for Reading
If you catch your child reading, whether prompted or unprompted, be sure to "catch" them in the act! Pour out praise and ask them questions.
That positive response and extra attention will get them even more excited about reading. I love hearing all about the adventure stories my boys are reading, since I often don't have time to read as much as I would like to.
I can see how much it stretches their imagination and logical thinking both in reading the stories and sharing about the grand adventures they have read about.
4. Reserve a Special Treat for Reading Time
Sometimes, you might need a little extra bribe to encourage reading. Disguise the bribe with a special treat reserved only for reading time! That might mean they get to choose a convenience pack of snacks like goldfish or pretzels in the novelty packaging.
It doesn't have to be too big of a reward, either. Just something little that will entice them! A tip is to reserve the special treat only for during reading time to make it even more special!
You could also do the same idea with non-food rewards, if you have dietary concerns or limitations. Maybe a special stuffed friend that only snuggles with them or a special hang out spot in the house they only get to use during reading (like mom and dad's bed!)
5. Set up a Comfy Reading Space
Create a space that encourages reading in their bedroom or playroom. One thing that really helped my boys spend more time reading, was creating a routine of reading in their beds at the end of the day to wind down. We installed wall lamps right by their headboard and put up little wall shelves for stashing their books nearby.
We also have a fun bean bag chair and lamp with cozy blankets, too. In their early days of reading, a comfy spot to call their own just for reading was really helpful! Now, my boys will read anywhere and anytime they can.
6. Model a Love of Reading
Being a parent is very busy, and even when we love to read, we often don't take the time out to read a good book. I know I don't read nearly as much as I would like to.
I do take time to read when I can and show my children that I love reading by showing an interest in books, toting books around with me, reading kindle books at their appointments, and listening to audiobooks.
Audible books have been a super convenient way for me to fit more reading into my day. they allow me to multitask enjoying a good book while doing some of the more mindless tasks of motherhood like dishes, laundry, and cleaning.
7. Read Together Out Loud
You can often hook a resistant reader with an engaging book you read aloud together. Before they love reading, it can be hard to get started with a book. But reading out loud a book together you can show them how exciting it can be to read.
This can help hook them on reading in general or on a new series. You may just hear them ask for the next book!
8. Let Them Stay Up "Late" to Read
One trick that works really well to help with your bedtime routine and encourage reading at the same time is letting the kids stay up reading, to a reasonable hour. My boys go to bed at 7pm but can read until 8:30pm or go right to sleep. They always choose reading!
We started with an extra half hour of reading after bedtime and rather than raising their bedtime as my boys have gotten older, instead we've increased their reading time!
What other tricks have you used to encourage a love of reading in your children? Also, don't forget to sign up for Prime Book Box!