Do you plan a family summer bucket list? We love to try new things each summer and push ourselves, and our children, to try something different.
This tradition helps us to make really memorable summer experiences together as a family that are so fun to look back on!
One of our summer bucket list items this year was to go to a ropes course! I wanted a place that my whole family could enjoy, from my youngest who's 4 and for us adults, too!
We got to experience TreeRunner Adventure Park, a local ropes course in the Raleigh / Durham area of North Carolina. Check out our family experience, and then keep reading for a fun summer printable for your own family bucket list!
This post is in partnership with TreeRunner Adventure Park. We received complimentary passes in exchange for this post. All opinions are our own.
What to Expect at
TreeRunner Adventure Park
Getting started at TreeRunner Adventure Park was so easy! We checked in about 10 minutes before our start time and there was no line or complicated process. Here's what you can expect during your visit:
1. Registration and Safety Waivers
The TreeRunner website is really easy to use to book the date, time, and type of pass you will need for your family. I was able to easily register for my family all in one shopping cart including passes for the adult course and one Junior Park pass.
After you have registered, you'll have an option to fill out the safety waivers online before your visit. This saves a bunch of time and it's really simple to fill in the forms after making a reservation online.
If you don't get to this before your visit, make sure you show up a little early to take care of your forms! TreeRunner recommends arriving 15 minutes before your scheduled time.
2. Harness and Safety Check
TreeRunner Adventure Park has a space to play while you wait! My husband and boys played a round of corn hole and just a few minutes later the staff was ready with our harnesses.
They walked us through each step of putting on our harness and making sure it was secure.
Then, we learned how to attach the Click-Its and zipline trolley to our harness. We each did this step on our own, with help as needed.
3. Watch a Demo on How to Use the Equipment
The next step is to watch the instructor as he works his way through ground school. He demonstrated how the Click-Its system works where one of the two attachments will always stay connected to the course.
The Click-Its are really neat technology that won't allow you to disconnect while on the course, allowing you to self navigate your way through the ropes course!
Our guide showed us the ladders, platforms, elements, and ziplines while explaining the rules of the park, like one person on an element or zipline at a time.
4. Practice Ground School Course
Now, it was our turn. There is a little learning curve to using Click-Its the first time. After a little trial and error, we worked our way through the course pretty easily and we were ready to start!
5. Climb the Rope Net to the Main Deck
TreeRunner Adventure Park starts off the challenge from the very beginning! To get to all of the different challenge courses, you'll have to first make your way up the rope net to reach the main deck.
Once up the rope net, you'll find branching paths where you can reach any of the 7 courses. I really liked how they all branched off this central platform. It made it so there wasn't a lot of navigating back through the woods to reach the next course.
6. Get Started with a Beginner Course
You'll have to pass a beginner course before your move onto a medium and then a expert course. It's a good idea to start with the beginner courses, anyways. They quickly move up in difficulty!
There are 3 Beginner Courses: Pink, Yellow, and Green.
Each course has different challenges and elements. Like platforms or tightropes to navigate across. On the beginner courses, none of the challenges are too difficult, but you can increase the challenge by trying not to hold onto the ropes and elements on your path!
7. Continue Having Fun Climbing!
After your first course, you can try another beginner course or keep moving up in challenge! There are 7 total challenge courses to try.
2 Medium Courses: Blue and Purple
2 Expert Courses: Black and Red
The expert courses are extra high and really difficult, too! If you're up for a challenge, you'll definitely find it!
Good to Know – A Family Friendly Park
TreeRunner Adventure Park is really accommodating and family friendly. They allow outside food and water and even have picnic tables scattered throughout the park to make it easy to host an event or pack along lunch, dinner, or snacks on your climbing day.
They also have water stations throughout the park, staying hydrated in the humidity the South is known for is so important! I really appreciated this, as it's easy to forget to bring your own water bottle. This also means you don't have to worry about your belongings.
One other thing I noticed is that non-climbers can still come and watch! The park is open to guests of those climbing and I thought that really created a welcoming environment where parents, grandparents, or friends can come along without needing to pay an admission fee if they don't plan to climb!
Our Experience at TreeRunner
My boys were so excited to try out TreeRunner! They've done a kids course in the past, but nothing like this! My oldest three boys were all old enough to participate in the full adult course!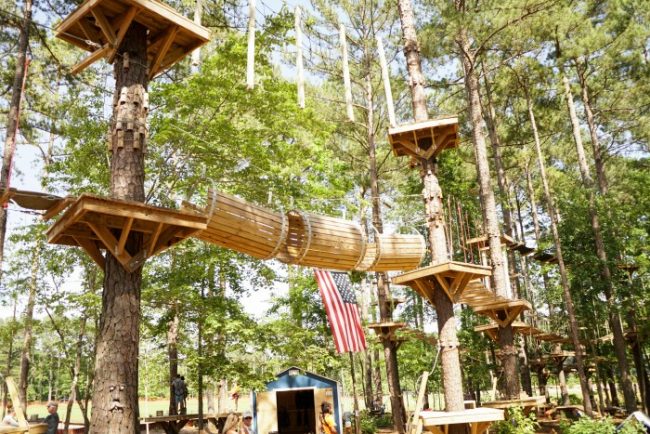 They were off right away with their dad while I went to the Junior Park with our youngest. My husband and I both took turns helping him through his course and working our way through the full course with our 8 year old.
My 10 and 12 year old boys were off working through the different courses together. It was really helpful that they could be independent on the course and they loved that they didn't have to stick close to mom or dad or wait around for their younger brothers.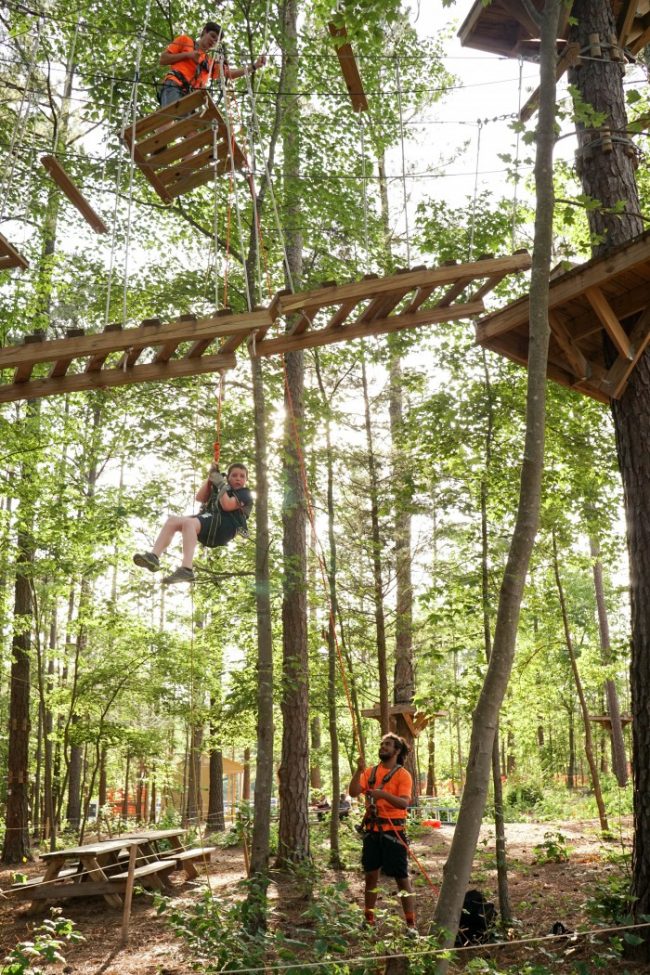 They made it through all of the courses (Red was closed) during our 3 hour visit. My oldest couldn't make it across one part of the black expert course and fell. The staff came and helped him back up and then lowered him down to the ground from that spot. He got a unique experience at the park!
Our 8 year old made it through 5 challenges while there, repeating purple which was his favorite! My husband and I alternated turns up on the rope course.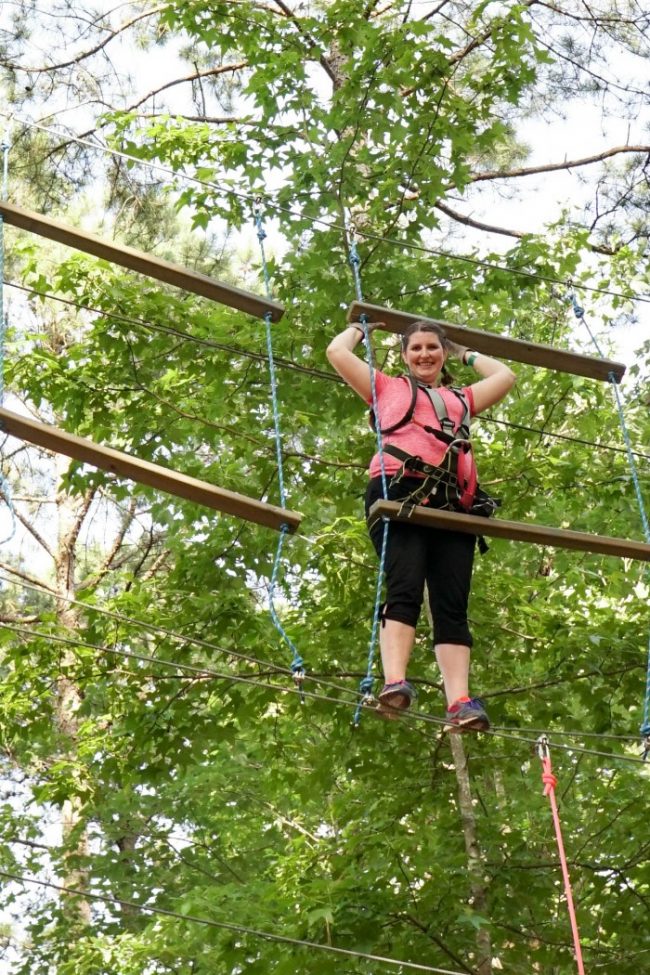 TreeRunner really gives you a generous amount of time to enjoy the park and try out all the courses. We were a pretty slow group, and went on a busy Saturday, and still made it through a bunch of the courses!
TreeRunner Junior Park
Our youngest son, who is 4.5 years old, was really nervous walking up to the woods! He looked up at the high platforms nestled up in the trees and declared, "I'm NOT doing that!!"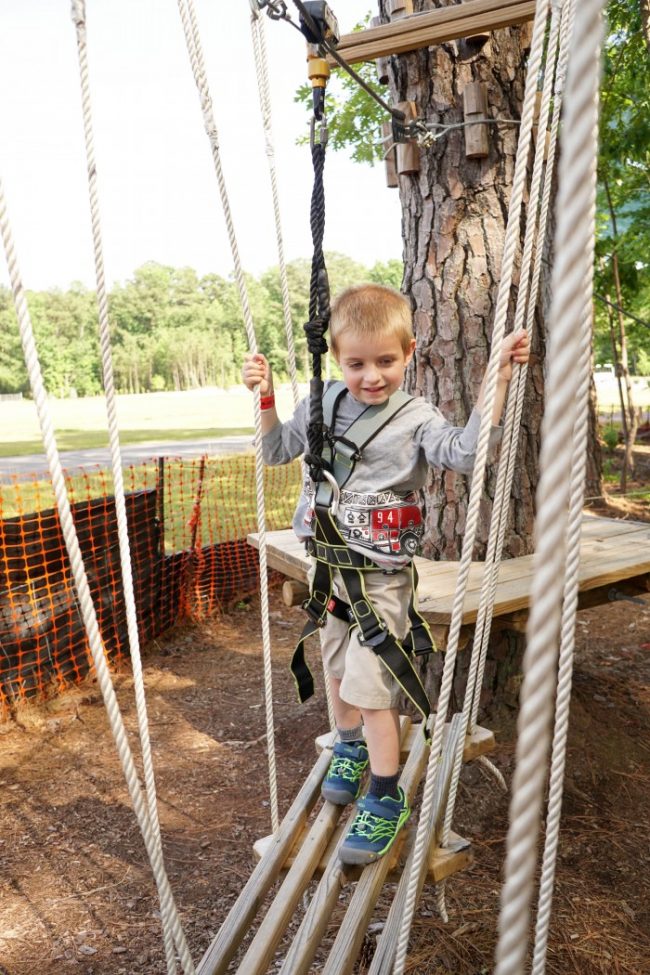 But as soon as he was hooked up in the Junior Park which is only for ages 4-7, he was hesitant but excited. Adults walk beside the course and can help, if needed. So with me by his side, he worked his way through the course.
Then, again and again and again! He probably went through the course about 10 times and had an absolute blast. By about the 3rd time through the course, he was no longer hesitant. He was wiggling the platforms side to side for more of a challenge and spinning his way through the zipline.
Overall Thoughts & Experience
We all had an absolute blast and it was a perfect summer experience we won't soon forget! My kids all loved climbing on the ropes course. They were eagerly asking when could we go back!
Of course, everyone's favorite part was the ziplines!! But my boys also really enjoyed the Purple Medium course that had a 'Tarzan" like swing across from one platform to another and a trust drop where you had to connect to a belay device and walk off a platform about 20' in the air!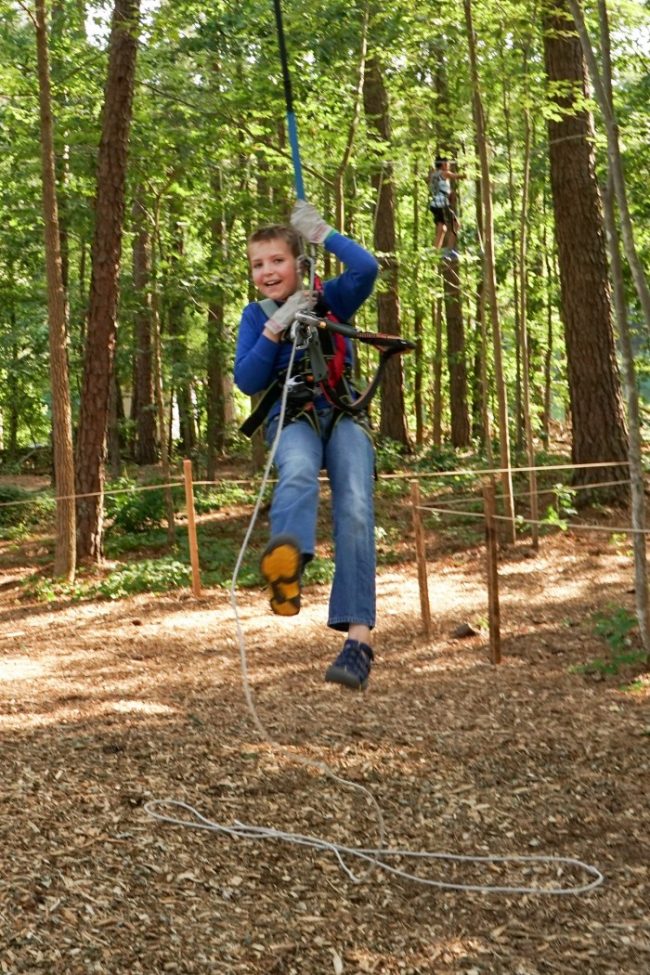 If you haven't been to a ropes course before, I highly recommend TreeRunner Adventure Park if you're local or visiting the Raleigh / Durham triangle area of North Carolina!
You can purchase a day pass or pick up a season pass to let you enjoy the fun all summer long!
Family Bucket List Ideas
Here's some fun summer activities that you might consider adding to your own family's bucket list! Add your additional ideas in the comments to add to this list for others! I'd love to hear what your family will be up to this summer.
I've listed out some ideas that might fit the cute little icons on each box, and to help you come up with a sort of system your family can use. But feel free to use any of these ideas on any of the tickets!
Bucket List #1 – Summer Food Favorites!
Favorite family restaurant
Homemade ice cream
Neighborhood barbecue
Learn a new recipe together
Drink out of a coconut
Go pick berries at a farm
Bucket List #2 – Outdoor Fun
Experience a ropes course like TreeRunner Adventure Park
Go on a hike
Make an obstacle course in the backyard
Run through the sprinklers
Go camping
Visit a local zoo
Bucket List #3 – Adventures
Go on a summer road trip
Spend an evening at the drive-in movies
Volunteer or do a service project
Go to summer camp
Take a day trip
Ride on a train
Bucket List #4 – Water Experiences
Trip to the Ocean
Visit a splash pad
Head out on a boat
Go to a water theme park
Take swimming lessons
Try kayaking
Summer Bucket List Printable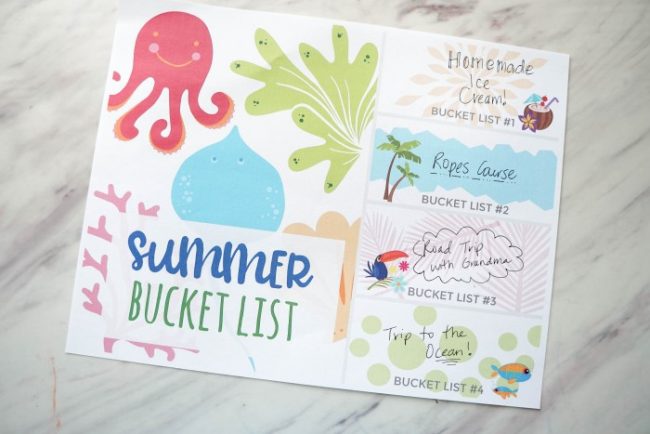 To help you kick start your own summer tradition of family bucket list experiences, I created this fun printable! I get overwhelmed with those big long lists. Instead, I plan for just 4 exciting outings for our summer break.
Click the Picture above or this link to open the Family Summer Bucket Printable! You can save the image and then print it on a regular 8.5×11 sheet of printer paper or cardstock!
You can even let the kids cut out the "coupons" when you've redeemed them and finished the fun summer activity you planned.
What's something new that your family is trying this summer?