Starting to introduce books early and making reading fun through games are just some of the tricks for teaching kids to read starting at a young age! When you make reading fun, and no longer a chore, you and your child can enjoy the learning process together. Try these tricks to make reading fun and help your child learn to read!
I received compensation for this post. All opinions are my own.
Get Talking!
Talking makes a big difference in your child's early reading skills. They learn to recognize sounds and break down words just from talking. You can use conversation to talk about the beginning letters of words like your name starts with an "A" and use "aaaaaahh" as you sound out their name.
Read to Them – Reading to your child and pointing out words as you go will help build their site word vocabulary and teach them early building blocks of reading like scanning the page from left to right and using the pictures as clues to the story. Let your young children help build the story while you read it by pointing out "a" and "I" words as you read and building upon that as you go teaching and introducing new words.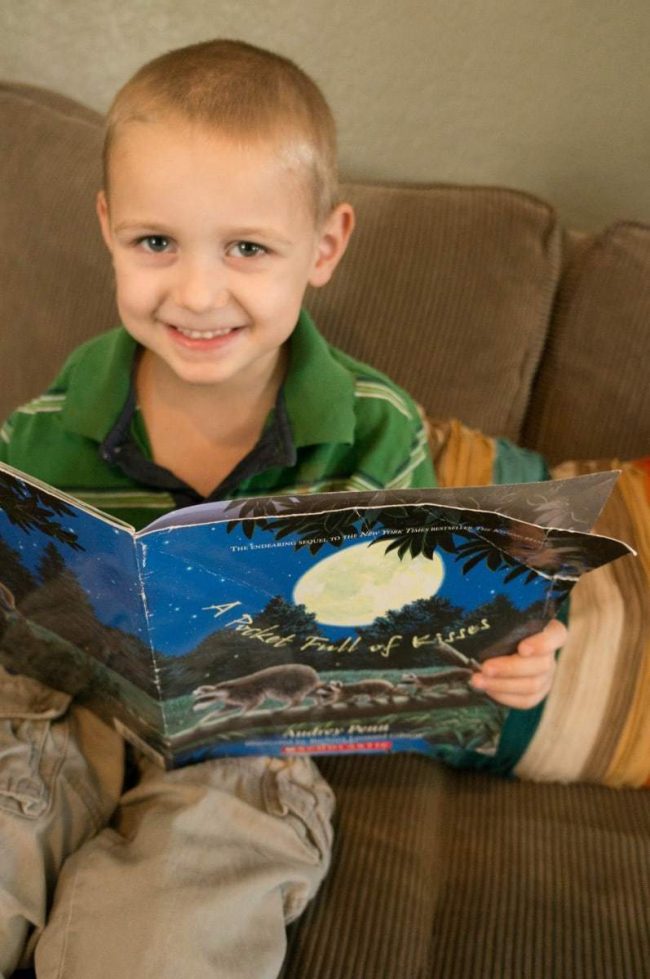 Use a Leveled Reading Set – We love our Very First Reading Set by Usborne Books & More as it takes out all the guess work of finding the right level and books for your child. Every book in the set builds upon the one before it. Plus, they're cute and funny stories that you read together as parent and child. That helps give my son the confidence boost he needs to not quit in the middle of the book, as some parts are for him to read and some are for me. We work our way through the leveled books together.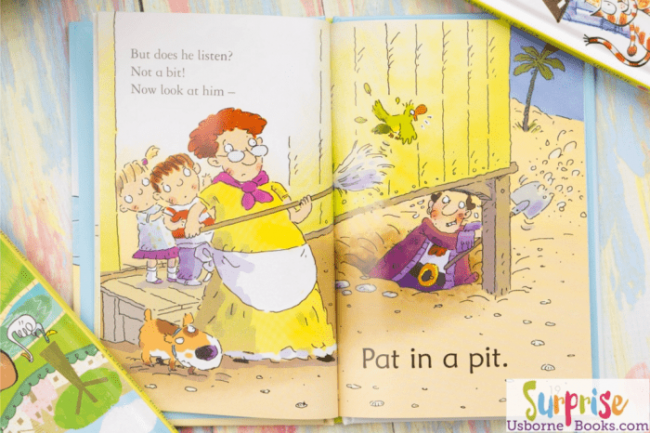 Photo Credit: Surprise Usborne Books
Play Games with Words – Playing makes learning effortless. We play rhyming games in the car while we drive as we point out things we see around us — "Car! Car rhymes with Tar!" Another easy game we like to play is laying out sight word flash cards and picking one and seeing if we can say the word correctly, then we get to keep the card. We add new words as we've mastered others and kids love the challenge.
Let Them Try – An important part of learning to read is letting them try. Don't be quick to interrupt as they sound out words and try to build sentences. When they have sounded out a word, you can repeat it back to them to reinforce the new word or help guide the correct sound, when needed. A few tricks we use is covering part of the word for compound sounds and using clues from the pictures to help us figure out what the word may be. That may feel like it's "cheating" but it actually really helps them to learn to recognize those words and associate them with the story.
When you're really ready to start teaching reading, you'll want a program to back you up. Rosetta Stone has been a go-to source for learning other languages for 20 years! Now, they've expanded to helping your kids learn their own language with the introduction of their Rosetta Stone Kids Reading program. The program is designed by education experts and made for kids age 3-7. It guides children through a self-paced interactive course to teach phonological awareness, phonics, vocabulary, fluency and comprehension.
My four year old loves playing the Rosetta Stone Kids Reading program. It doesn't feel like schoolwork to him at all. Instead, he just thinks he's playing games that are reinforcing those early skills such as sorting animal pictures or picking out which part of the story came first, middle, and last.
In just a few of the rhyming game levels, I saw a significant improvement in my son's ability to rhyme. It just seems to make it "click" for him and now he's rhyming for us everywhere we go! It is so neat to watch as our children learn and develop new skills and gain the confidence that they can do it!
When you're looking for a great start to early reading, give Rosetta Stone Kids Reading a try! They offer a
free 2-week trial
and then if it's a good fit for your kids and they love it as much as my son has, you can subscribe for a 3-month or 12-month subscription.
What are your tricks for teaching kids to read?