Welcoming a new baby into this world is such an exciting event. When I was expecting my first baby, I remember asking other mothers which mom and baby items I should purchase; with so many gadgets on the market, I didn't know where to start or which items to buy. Facing a similar situation? Check out our favorite new mom and baby must haves.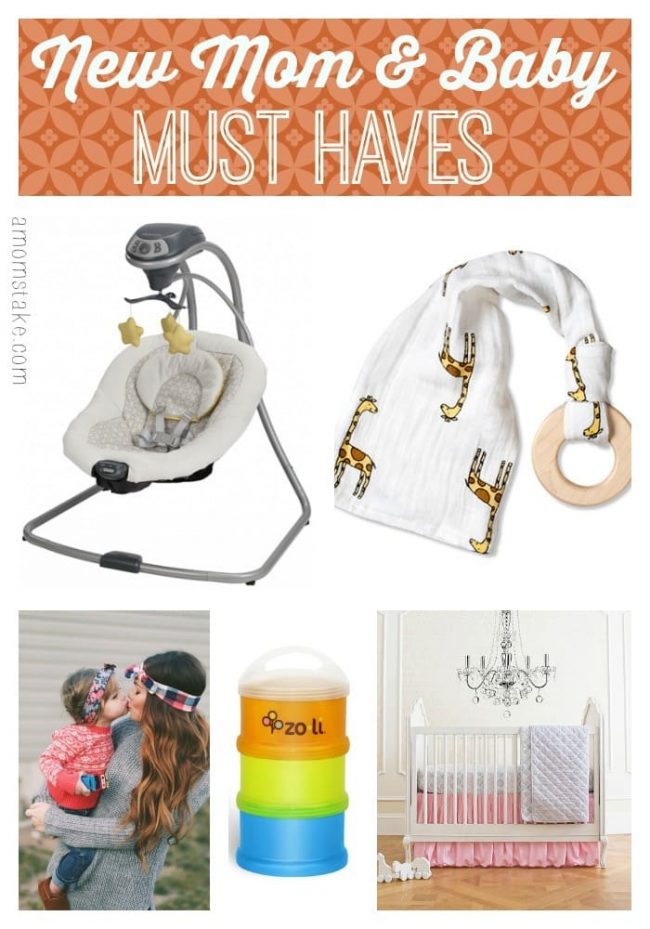 We received a variety of samples for inclusion in this feature. All opinions are our own.
For Mom
There's no reason why you should have to sacrifice comfort or fashion while you're pregnant. Thankfully, Loyal Hana provides stylish and comfortable clothes perfect for every mother-to-be. When I first became pregnant with my daughter, I searched high and low for the perfect maternity clothes; Loyal Hana's Alex in Grey maternity top instantly caught my eye. Not only does this light grey sweatshirt provide the perfect loose fit, but the striped front panel and back detail scream fashionista. My favorite part about this top is that I can wear it even when I'm not pregnant. The front zippers instantly transform this shirt into an amazing nursing top. Talk about fashion and function! Be sure to visit Loyal Hana and browse their large selection of maternity dresses, tops, and bottoms.
Carry all of your baby gear in style with a large purse style diaper bag that won't make you feel like you're toting around only gear for your tot. Kalencom's City Slick bag is a winner! It has tons of room with an open design that won't spill over and dump out your contents. I add a small tote bag inside the purse for diaper and clothes changes. Then, another smaller bag for my personal items like coupons, chapstick, checkbook and all the small stuff that usually gets buried at the bottom of the bag. With these two seperate totes inside, I can find everything I need in just seconds, without shuffling and scrambling to find that one item. Plus, I love the gorgeous details in the fabric, zipper pulls, and even the side metal details. Visit Kalencom's website to check out the seven available prints.
This is the must have item you didn't even know you needed, but you do! We all know that delivering a baby is rough on your body. Mama Strut is here to help you though that time! The Mama Strut is a wearable soft brace that is uniquely engineered to deliver heat/ice therapy to reduce birth pain, swelling and cramping from vaginal deliveries, c-sections and vaginal prolapse, while also supporting the back and abdomen with multi-directional adjustable compression. It holds ice/heat pouches for perineum, lower back and abdomen comfort. Hello, life saver! Who doesn't want to feel better faster after childbirth and I love that you can wear it right under your clothes! Check out more of its amazing features and pick one up here.
As a nursing mom, I am always in need of a nursing cover. I have tried so many and I am so head over heels for my new Covered Goods Multi Use Nursing Cover. Along with all the regular benefits of a nursing cover, this soft lightweight cover wraps around my entire body, making sure my back is covered as well as my front. No need to struggle with pulling and tugging on a blanket, or straps and buckles, it just slips easily over your head. It is lightweight and cool which is so important here in the desert. Not only can you you use this cover for nursing but you can wear it as a scarf and it also works as a carseat cover! I love only having one piece for all of these tasks, and I love the privacy it gives my baby in their car seat. Away from germs and overly friendly strangers! Talk about a versatile piece of baby gear! They have the cutest patterns from florals to camo to stripes. I get compliments on it everywhere I go! Grab one for yourself here.
Baby's Bedtime
My favorite part of having a newborn is all of the snuggles. There is nothing more calming than wrapping up my little girl in a soft plush blanket and cuddling with her while she drifts into a nice deep sleep. Aden + Anais' For the Birds Dream Blanket is my daughter's new favorite blanket. It's large area (47X47) is perfect for swaddling, tummy time, snuggling, and nursing. I've never gotten so much use from one blanket! Its 4 layer cotton muslin design keeps her warm during the night without making her too hot. Not only is Aden + Anais' Dream Blanket extremely soft to the touch, but the blanket gets softer with every wash. Aden + Anais' Dream Blankets ($49.95) truly are a must for every new mommy and baby.
Having a swing can be a complete sanity saver those first few crucial months. It was a night and day difference when we received a Graco Simple Sway Swing. My 2 month old was immediately in love with the swing and takes naps in his swing typically two or three times a day. On cranky, fussy evenings we carry him over to the swing, turn on the lullabies, and let him swing away and he calms down in minutes. The great thing about Graco's new Simple Sway Swing is you'll get a quality side-to-side motion infant swing that's slim in design and without all the extras you don't really need at an affordable price point under $100. It has a built-in 2 speed seat vibration to allow it to double as a bouncer and can be plugged in or used with batteries for flexibility. Look for the Simple Sway Swing in stores at Babies 'R' Us.
When you are always on the go, it's nice to have a familiar, safe and comfortable place for baby to play and sleep. The LulyBoo Baby Lounge is a stylish, lightweight baby bed that easy folds into a backpack. With a waterproof underpad and a washable cover, it's perfect for taking everywhere. The LulyBoo Baby Lounge also has a toy bar with two cute removable plush toys, that can be removed and switched out. The LulyBoo Baby Lounge is perfect to use at the park, it's canopy will keep baby safe from the sun. LulyBoo Baby Lounge is available at these online retailers.
When my babies are sleeping I always have to fight the urge to check on them. I watch our video monitor like a hawk and my husband always playfully teases me as I study it closely to make sure they are breathing. You would think that having three kids would make me relax, but no such luck! What does help me relax is my Snuza Hero portable baby monitor. The Snuza Hero easily clips onto babies diaper and monitors their movements. If no abdominal movement is detected at all for a period of 15 seconds, Hero will vibrate gently. Often this vibration is enough to rouse the baby, and Hero will revert to monitoring mode. After three incidents, the Rouse Warning will alert you to the fact that your baby's abdominal movements have stopped for 15 seconds on three occasions. If no further movement is detected for another 5 seconds, an alarm will sound to alert you. Talk about providing peace of mind! You can find Snuza monitors at these retailers.
Fashionable Finds
One of my favorite parts of having a little girl is dressing her in fun and stylish accessories. Every morning, I instantly become excited as I put together my daughter's outfit and pair it with her Golden Polka Dot accessories. Hand crafted to perfection from quality material, the Golden Polka Dot offers a wide variety of chic and stylish accessories: bows, turban headbands, bow ties, bandana bibs, boho bands, etc. I am truly smitten with my daughter's Golden Polka Dot headbands. I love the way the headbands' soft and fashionable fabric stays perfectly in place on my daughter's head without being too tight. Although I love all Golden Polka Dot products, some of my absolute favorites include the Double Gold Boho Band, The Golden Pin Dot Bow, and Peach Tribal Tie Headband. Be sure to dress your little one in absolute style with Golden Polka Dot's fashionable accessories.
When it comes to having a newborn I look for the softest, comfiest clothing items out there. One of my favorite places to check is LeTop. I love basic pieces that are simple and sweet. I instantly fell in love with their Baa Baa Baby Bodysuit with Footed pants. This 100% cotton outfit is thick and luxurious and has the cutest little sheep on it, it is machine washable which is vital in baby clothing. Paired with the matching hat, I feel like I am in newborn heaven! LeTop's quality can"t be beat. You can find this sweet set and so much more here.
When comes to footwear, nothing is more frustrating than a baby shoe that just won't stay on your babes tiny feet. I am in love with Freshly Picked moccasins. These little babies are the best baby shoes around. I am sure you have seen them popping up all over celebrity's baby feet, and everyone else's for that matter. We own several pairs ranging from baby sized clear up to a size 8 in toddler and my kids just adore them. Even my four-year-olds pair looks great after months of wear. Freshly Picked recently released their Crib Moccasins, a size 0 option for your newest of babies, and they are to die for. I knew I had to have some for our new baby immediately! They come in several different colors for both boys and girls as well as several neutral options. All of Freshly Picked soft-soled shoes are made with durable leather and are suitable for infants and toddlers alike. Pick from their huge selection of colors here. Photo from Freshly Picked Website.
Nursery Decor
When I found out that I was pregnant with a little girl, I immediately became excited to decorate her nursery. First and foremost, I wanted a rug that would make a statement. Browsing the internet, I immediately fell in love with Land of Nod's 100% cotton hand crafted Dark Grey Big Band Rug. The thick grey stripes perfectly compliment her pink and grey bedding and polka dot wall decals. Not to mention, I love the rug's design next to the contrasting pattern of her drapes. Available in colors such as yellow, red, and green, this rug is sure spruce up any nursery. Looking to make a statement in your child's room? Check out The Land of Nod's new line of area rugs. From The Land of Nod's Heart to Heart pattern to their Color Fusion design, there is a rug perfect for every bedroom.
I love finding unique pieces for my daughter's nursery. Because her nursery colors are pink, white, grey, and gold, I was absolutely delighted to come across Fantasy Fields' (by Teamson) Crackled Rose Table Lamp. This unique and stylish lamp dresses her nursery with class and elegance. The lamp shade's pink and gold trim flawlessly compliments the white and pink crackled paint design; the details on this lamp are incredible! Not only does Fantasy Fields create beautiful hand-crafted children's furniture, toys, decor, and storage pieces, but their workshop is safety and green compliant. What a relief to know that my baby's nursery decor is safe and toxic-free. To take advantage of Fantasy Fields chic and unique nursery decor, be sure to visit Target, Toys R Us, Kohl's, Amazon, and other select retailers.
When designing my daughter's nursery, I wanted to choose bedding that was feminine, chic, and would grow with her. Thankfully, I stumbled upon Summer Infant's Parisian Pink 4 Piece Bedding Set. This timeless set comes with 2 patterned sheets, a soft comforter perfect for keeping warm at night (or tummy time), and an adjustable crib skirt; that's right, the crib skirt can be adjusted to fit any height of the crib. Not to mention, this bedding set's upkeep is extremely simple thanks to its machine washable feature. I love everything about Summer Infant's Parisian Pink Bedding Set – the high quality soft material, fun sheet pattern, and crib skirt ruffles. With many other timeless bedding sets to choose from (Garden Gray, Frame Geo, and Nautical Navy), Summer Infant is a must when designing your child's nursery.
Infant Travels
Taking a new baby out in public can be quite stressful. As a new mother, I always worry about my baby catching germs from curious strangers poking their heads into my little one's car seat. However, I've found that by using my Itzy Ritzy car seat cover, not only is my baby better protected from germs, but she is shielded from the sunlight, rain, snow, and wind. I love everything about my Cozy Happens Infant Car Seat and Tummy Time Mat; the fun floral pattern, light weight and plush material, and reversible design (with minky fabric). Not to mention, I use this car seat cover as a nursing blanket, tummy time mat, and to help keep my daughter warm at night. With so many functional uses, Itzy Ritzy's Infant Car Seat and Tummy Time Mat is the perfect gift for any new mother.
Baby's Bath-time
Nothing smells better than a newborn baby after bath time. One of my favorite past times is bathing my two week old baby, lathering her little body with lotion, wrapping her up in a nice warm blanket, and snuggling with her until she falls asleep. Because her skin is so fragile and delicate, I want to make sure that she's using quality skincare products. Created by a dermatologist mother, Baby Pibu skincare products are crafted from high-quality, gentle, and clinically tested ingredients. Not only do I love the smell of Baby Pibu's Bathtime Wash and Baby Butter, but they are gentle enough for her delicate skin and leave her skin looking refreshed and hydrated. From sun protection to basic skincare products, Baby Pibu takes care of your child's skincare needs.
Mealtime Must-Haves
At my house, mealtime is a very beloved time of the day. Although my little toddler can be quite the picky eater, cool eating gadgets can get him to eat just about anything. That's why I LOVE ZoLi; these innovative feeding products make mealtime fun and exciting. ZoLi's BOT Sippy Cup is by far my son's favorite cup. The weighted ball at the end of the straw makes it so my son is always able to get the liquid in the cup no matter the cup's orientation – what a brilliant idea! Perfect for on-the-go, ZoLi's Sumo stack snacker allows me to pack multiple snacks in an airtight container without having to mix the snacks or worry about them spilling all over my diaper bag. Whether your baby is trying solid food for the first time or is a seasoned eater, your child will instantly fall in love with ZoLi's wide variety of unique eating, drinking, snacking, and storage products.
As a mother of two, I have really come to appreciate multi-functional baby products. That's one reason why I would highly recommend the new Bumbo Multi Seat to any new mother. Starting in early infancy, this Bumbo can be used as a floor seat to help your child learn how to sit up. Once your child becomes a little older, transform the new Bumbo Multi Seat into a feeding seat. As your little one becomes more independent, use this seat as a booster seat. With a three point harness and adjustable straps that attach to most 4 legged chairs, this seat is not only functional, but provides excellent safety features. We use this seat on a daily basis at our house! I love that I can use it to help my little four-month-old work on sitting up, but also use it as a booster seat at the dinner table for my 2 year old! Not to mention, it cleans like an absolute dream. It's soft, comfortable, and lightweight! Easily adjusted to fit children of all sizes, the Bumbo Multi Seat will truly grow with your children.
Teething and Play
Nothing is worse than watching your little baby suffer from teething pains. As a new mother, I remember many sleepless nights trying to console my teething son. It seemed that no matter what teething remedies I tried, he was still in pain. I only wish that I would have had Aden and Anais' Jungle Jam Teething Toy. Hand crafted from untreated US maple wood and a cotton muslin sleeve, this teething toy is designed to sooth sore gums. What a fun and unique way to calm a teething baby! I love everything about Aden and Anais' teething toy – the plush fabric, natural wood, and unique design. With many fun prints (elephant, flowers, and starburst) and wooden shapes, there is a teething toy perfect for every little baby.
Every baby needs something sweet and snuggly to cuddle up with. With my oldest it was a certain type of blanket, with my second it was a stuffed animal. She always wanted to rub the ears of her sweet toy between her fingers as she fell asleep or drove around in the car. With another sweet little one on the way ,I have a couple of options for them to snuggle up with until they find their favorite item. My favorite choice is this Hazel Village Organic Girl Fox Doll from Wild Dill. She is made of orange organic cotton and has a flannel texture. Her cute pajamas are removable and can be shared with other dolls in the collection. Wild Dill is a great one stop shop for everything baby. From toys to clothes to bath items, they have exactly what you are looking for and their products are organic, fair, and natural. Check them out here.
What is your favorite new mom and baby must-have?