I am an Outback Best Mates ambassador. I received compensation for this post. All opinions are my own. #OutbackBestMates
Do you have those days where you want a nice meal prepared for you but just don't want to go out and take up an hour or more dining at a restaurant? Or maybe you're dreaming of getting out, but don't have a babysitter on call? That's what makes Outback Curbside Take Away great! Being 8 months pregnant, I get lots of cravings and this time called for an Outback steak and sides! However, taking all the kids out didn't sound fun and so Curbside it was!
I thought I'd share my tried and true favorites (and a new favorite!) that are our go-to items to order at Outback!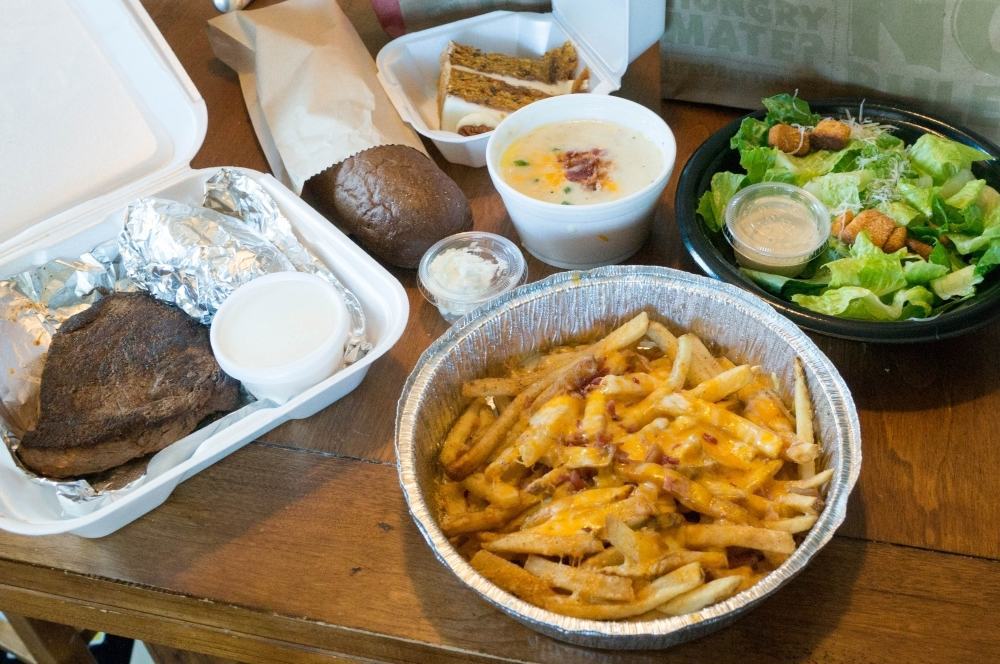 Without question, I always order the Outback special! Usually my husband and I will each order a 6 or 8 oz steak with sides, but since we were eating a bit early, I ordered the 11 oz steak and sides and we easily split the meal. This is my favorite entree because it's soooo good, and inexpensive too! The 6oz Sirloin with two sides is just $10.99 here in Arizona.
Part of the dining experience that I love is the complimentary bread and butter. Don't worry, curbside doesn't mean you have to miss out if that's one of your favorites, too. You are asked during checkout if you would like complimentary bread and silverware with your meal!
When we dine in it's nearly always for a date night, but since we would be enjoying our meal with our kids this time, we subbed out our tried and true favorite appetizer (the bloomin' onion) for an appetizer the kids would love. They downed the Aussie Cheese Fries, leaving none behind. The Bloomin' Onion is still my favorite and truly can't be beat, but the fries made a great substitute.
Finally, I planned to finish off the meal with Outback's amazing carrot cake. I fell in love with this dessert a few trips back and have ordered it every time since. Usually, dining out I'm way too stuffed for dessert. Well, that was true with my curbside meal, too. No worries though, I took a few bites and stuck the rest right in the fridge, saving it for later.
No matter what your Outback favorites are, you can score an extra 10% off your total ticket! Just print out this coupon that can only be found exclusively through one of the Outback Best Mates ambassador's posts good for 10% off your entire check now through September 30th.
What are your favorites at Outback?