My kids love art. They have since they were born and they all constantly have different projects going at different times. It is so fun, except when you accidentally throw away the toilet paper roll and they really needed it for something they were concocting in their mind! Earlier this year my kids got their own Kindle Fires for a trip we were taking and they became obsessed with the show Creative Galaxy, have you seen it?
I received compensation for this post. All ideas and opinions are my own.
Creative Galaxy, from Out of the Blue Enterprises (Super Why!, Daniel Tiger's Neighborhood), is a "make-along, create-along" animated art adventure series that celebrates creative thinking through crafts, story, music, and dance. Arty and his silly side-kick Epiphany, are always having fun on adventures as they travel around the galaxy to solve problems using many different forms of art. Each episode highlights a unique creative medium (painting, music, sculpting, cooking, etc.) to reinforce to kids that art is all around us in many different forms.
My kids get so excited after watching and always launch right into project mode. I love that Creative Galaxy sparks their imagination and encourages them to use their own creative ideas and the process of using creative arts to solve problems!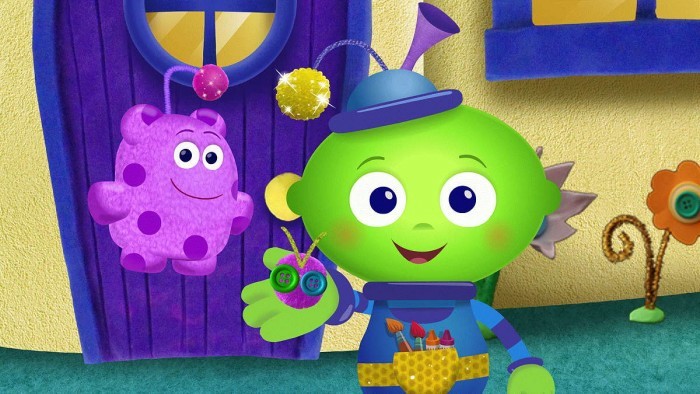 Well guess what!? Creative Galaxy's second season is kicking off with twice the fun. Season 2 features 11 brand-new, two-part episodes with 24 live action craft segments – and many famous friends! Brooke Shields, Jason Priestly, Samantha Bee, Lisa Loeb, Donovan Patton and Cloris Leachman are just some of celebrities who lend their voices to characters. Season two kicks off on September 16th!
The first season of Creative Galaxy is currently available for Prime members to stream and enjoy using the Amazon Video app for TVs, connected devices including Amazon Fire TV, and mobile devices, or online at Amazon.com/originals, at no additional cost to their membership. If you are not already a Prime member you can sign up for a free trial at www.amazon.com/prime
My kids could not be more excited to tune in on September 16th. After watching some of their favorite episodes this week, my son really wanted to create a little outer space of his own for his room. If you have an out of this world kid at your house, this project is for them!
Supplies you will need:
Marbled Paper Out of This World Mobile
Cardstock
Colored Chalk (we used our leftover tub of sidewalk chalk from summer)
Tub Of Water
Scissors
Hot Glue and/or Clear Tape
Paper Straws
Fishing Line or string
Butter Knife or Safe Scraping Tool
To make your paper: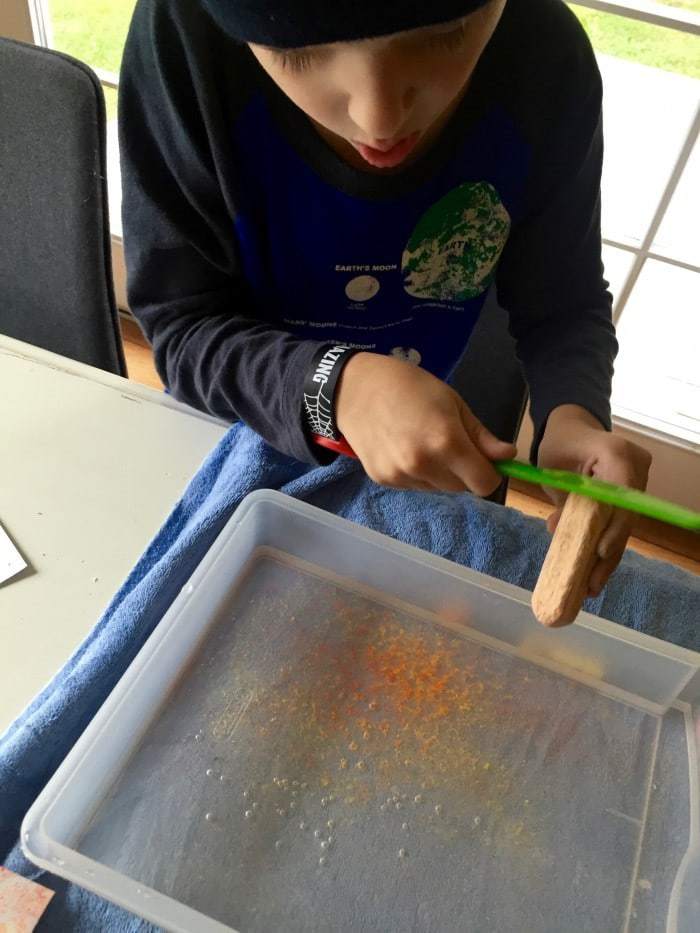 Scrape the sides of the chalk with the butter knife or a pair of scissors over your tub of water. Use as many colors as you want!
Lay your cardstock paper on the surface of the water. Do not submerge. The paper will pick up the chalk from the surface of the water.
Lay flat to dry.
Play around with different combinations of colors. You can try blowing on the surface of the water to swirl your designs. My kids had so much fun doing this all on their own. Their looks of surprise as they pulled their paper from the water were so fun!
After your paper has dried all the way, use scissors to cut Creative Galaxy inspired shapes from your papers. Planets, suns, stars, comets, my son even made an Arty! You can draw your shapes on the back or free hand your shapes. Whatever your little artist is most comfortable with! My toddlers cut out the basic shapes and I helped them by cutting out their more complex requests, like galaxies and stars!
Assemble Your Mobile:
Start by making a + with two paper straws. Wrap fishing line around in an x shape to hold the + in place. Hang additional straws from the main + to hang your shapes from. I just put some hot glue in the straw and let my son slide a piece of fishing line into the hole.
At first I was worried about it not hanging balanced, but it was pretty easy to balance out. Have your kids choose which shape hangs where based on their size, each side needs one big shape etc.
Hang from the ceiling to make any room out of this world! The colors are so cool in person, you have to try this fun art technique!
Do your kids enjoy Creative Galaxy? What is your child's favorite type of art?