I love the change of pace in the summer when the kids are out of school, and most of our sports teams and other engagements are on a break. We can relax a bit, go at a slower pace, and enjoy spending time together as a family.
I also love being able to cross off a few things from my to-do list like organizing a room, catching up on tech knowledge for my kiddos, and making sure our family hits all those health plans and appointments that fall by the wayside during the school year.
We've compiled a great list of things we are loving this summer while we spend time with our families, cross off our to-do lists, and focus on what our families' needs.
We received samples and/or compensation in exchange for this post. Affiliate links are used below. All opinions are our own.
Keep Kids Engaged This Summer
The perfect way to have fun together as a family is with a board games by Ravensburger! One of my favorite family game picks, Quest for El Dorado, has a brand new expansion available – Quest for El Dorado Heroes & Hexes. It adds a new layer of challenge and some fun new market items to choose from with curses that leap you forward in the game but at a price!
Another new title my family is so excited about is Jurassic Park Danger! We love anything with Dinosaurs and can't wait to battle each other with one player as the T. Rex and other dinosaurs trying to catch the humans!
Another fun way to fill your summer days is with classic games like Scotland Yard! Do your best as detectives trying to follow clues and trace the steps of Mr. X and capture him before the game ends! Find so many fun games to choose in Ravensburger's full line up of family and strategy games!
Save everyone's sanity and ears this summer with headphones from Puro Sound Labs. You can only listen to kid's songs and shows for so long. PuroQuiet headphones will save your sanity on long car rides or hot summer days cooped up in the house. Your kids will be able to listen to their songs, youtube, movies and more without bothering each other or you. Best of all, they won't be damaging their ears.
PuroQuiet headphones are volume limiting and noise-canceling. PuroQuiet has 22 hours of play time on a charge. They are durable and light-weight. The soft supple protein leather ear cushions and headband make wearing them for long periods of time comfortable. They fold flat for easy portability and fit in their included carrying case.
You can even grab yourself a pair to listen to studio-grade audio. They have a microphone for 2-way calling and with active noise cancellation, background noises are up to 22 dB quieter.
Give the kids something to do this summer to stay actively engaged and learning, all while having fun. I try to have things that don't revolve around a screen in the home for the kids to do during the summer. I buy them a few new toys or science sets to spend time on. Discovery Kids kits are the perfect summer fun kit. Discovery Kids has many different gem excavating, S.T.E.M, drawing, and building kits.
Discovery Kids Mindblown Solar Robot Creation Kit is perfect for inside summer days. You can make 12 different robots from 1 kit. Each robot moves and looks different. After building one, take it apart and try out building another. With a real working solar-powered engine too.
Discovery Mindblown Electronics Circuitry kit is hours of fun too. They can create over 125 unique experiments using the 9 different push-button modules. These kits are hours of imagination and building fun.
Puzzles can be a perfect indoor quiet activity for those long summer days! The Learning Journey offers a variety of puzzles for kids in different shapes, sizes, and piece count. For example, the My First Big Floor Puzzle is made up of 12 large puzzle pieces and colorful, fun scenes! This large puzzle is 18″ x 24″ when put together. Choose from farm, ocean, woodland, or jungle scenes.
For a harder challenge, try the 50-piece Jumbo Floor Puzzles with fun themes of construction, fairy tale castles, out in space, and more! They even have some learning themes like alphabet, colors and shapes, numbers, and states!
The Puzzle Doubles Glow in the Dark series will delight older children! They are 100-piece puzzles with a glow-in-the-dark scene that comes to life with the puzzle is complete!
Give them a comfortable area to sit and do quiet activities with The Big One. One of our favorite things to do in the summer is to go to the library and pick out new books to read. Inflatable chairs from The Big One are the perfect place for kids to sit and chill to read a good book. They can even be used for comfy TV watching or game playing.
When I was a teen, I dreamed about furnishing my first apartment with inflatable furniture. These stylish, inflatable chairs are making a comeback. Grab your kids an Inflatable Glitter and Pom chair to add a comfortable place to sit in their space. These chairs are full of glitter and Pom poms to add a fun, stylish touch.
The Big One's Holographic Inflatable chair is stylish fun also. Standing at 18″ high, they easily inflate and then can be deflated to make room when needed.
Sun, Surf, and Swim Essentials
Bring the fun with you to the pool with Swimways pool floats and toys. The adults can sit comfortably while the kids splash and play in the AquaLinx pool floats. Link the floating chairs together with the side cup holders so you can relax and chat and even stash your choice of drink.
There's nothing more fun that a water gun in the pool! The kids will be in heaven with these larger-than-life SwimWays Blow Up Blasters in 3 fun styles.
Bring along Marvel Avengers Dive Characters to up the fun playing in the pool. SwimWays offers everything from googles and swim training gear to toys and floats to help you get ready the water all summer long!
Summer is the best time to get outside and enjoy the warm weather and sunshine. If you're heading outdoors, grab some summer essentials from Clevermade. Whether you're heading to the beach, lake, pool or another sporting event, Clevermade has packable, storable summer fun necessities.
Keep the blazing sun off of you with the QuadraBrella. Its square design creates a shield for larger sun protection. The QuadraBrella even comes with a pivot hammer and tie downs to secure into the ground and protect on windy days.
Make sure to stay hydrated while you're out. Taking along drinks and snacks has never been easier with coolers from Clevermade. Their line of collapsable coolers keeps your important things cold, but then collapses and flattens to store out of the way when not needed.
Your whole family will appreciate sunglasses for the relentless summer sun. Rheos offers a line of floating sunglasses that make taking your shades with you to the pool and beach easier than ever!
Their 100% UV protected and polarized sunglasses are lightweight and comfortable. If you get pushed into the pool or your little one decided to rip their sunglasses off their face, they'll bob right up to the surface.
All Rheos sunglasses easily float in water and are covered by a lifetime guarantee. New this year is the addition of kids and baby floating sunglasses to outfit your entire family in their great shades. Choose from three styles that coordinate with the adult styles for matching mom + me sunglasses perfect for your summer.
Send the Kids Outside to Play
The kids will race to get outdoors with the fun of a Stomp Rocket awaiting them! This STEM toy can let kids experiment with principles of gravity, motion, force — all while stomping away all summer long launching soft rockets. This is a fun activity that doesn't need mom or dad's help, letting you sit back and watch as the kids play!
Stomp Rockets are a no-tech toy that are completely kid-powered. As they jump on the launch pad, the air will push through the tube launching the rockets high into the air! Try the Stomp Rocket Stunt Planes with cool airplane shaped rockets that can loop and flip.
Or, pick the Stomp Rocket Extreme to launch rockets up to 400 feet in the air! You can find Stomp Rocket toys in stores at Walmart, Kohls and online retailers including Amazon.
Is there anything more fun than playing summer night games? Gather the neighborhood and be prepared for a variety of fun outdoor glow-in-the-dark games from Starlux Games.
Putting a new twist on a classic, your family won't be able to get enough of Capture the Flag: REDUX. Equipped with reusable glow-in-the-dark bracelets, jail markers, territory lights, and flags, you're entire family will have a blast trying to capture the other team's flag without getting caught.
Starlux Games also offers a fun Glow Battle Game where you'll love fun glow-in-the-dark sword play. Thanks to Starlux Games, the whole family will enjoy moving, playing, and spending time together this summer.
Summer is made for adventures outdoors and with a Rumpl Blanket you'll be prepared to enjoy the outdoors even more. The Rumpl original puffy blankets are made from the same stuff as premium sleeping bags and down jackets. They are lightweight and easy to pack, but warm, comfortable, and versatile! The throw sized blanket is just 2.1 lbs and compresses down into a small stuff sack so it's easy to bring along.
Rumpl recently introduced their National Parks collection which has the most gorgeous prints including the Grand Canyon, Great Smoky Mountains, and other amazing National Parks!
Use the Original Puffy Blanket as a ground covering to sit out on the lawn at a concert or to cuddle up with near the firepit while roasting marshmallows or to stay warm and cozy in a hammock on your camping trips. No matter what adventure you're up to this summer, you'll want your Rumpl blanket nearby!
Summer's the season for sports and outdoor fun. If your kid is into sports, surprise them with a Kid's Sports Box from Sports Box Co. Who doesn't love getting packages in the mail? This subscription-based sports box is a fan favorite. Each box is tailored to your child and the sport that they are most passionate about.
Each Sports Box comes with different items tailored to your child and their favorite sport. My son's favorite sport is soccer. His box came with a signed copy of a book by Tim Howard. It also came with neat training tools like exercise bands and shoe carriers. There were also some healthy snacks and tips on how to be a better soccer player.
Every Sports Box comes with different items to keep it fun and interesting. This summer keep them excited about their favorite sport with a Sports Box full of fun stuff.
Summer Must-Haves for Parents
Don't let tech devices overrun your family's summer. TechDen is a smart solution that helps manage screen time, and keeps the devices charged, so you don't have to worry about a thing. It helps provide a more balanced summer schedule with time for tech without the frustrating battles!
The TechDen provides both the software to give your devices time limits and alerts and the hardware to provide an actual solution for keeping them out of sight, out of mind. The TechDen will unlock the device doors following a set schedule, letting the parents set parameters and limits to device time during the day.
One thing that's really cool, and unique, about TechDen is you can set up rewards and goals for returning their device on time, helping to reduce the struggle and praise their behaviors making getting off their device a more positive experience overall!
Protect your vehicle's interior from all your fun summer road trips and adventures with LUNNA products to protect the seats, floors, steering wheel and more in style! We added the Aztec Rubber Floor Mats to our car and they've already saved us from several spills – including ice cream that would have been a disaster! They are easy to hose off and help collect dirt, sand, and spills.
Your hands will be more comfortable all summer long with a designer Jet Black Steering Wheel Cover. It's so cute with alternating leather and soft, tufted material and Swarovski Crystal detailing that provides both function and style.
Finally, add some extra charm to your vehicle with the darling Queen Bee Bag Hook to hold your grocery bags, swim bag, kids bags, or your purse.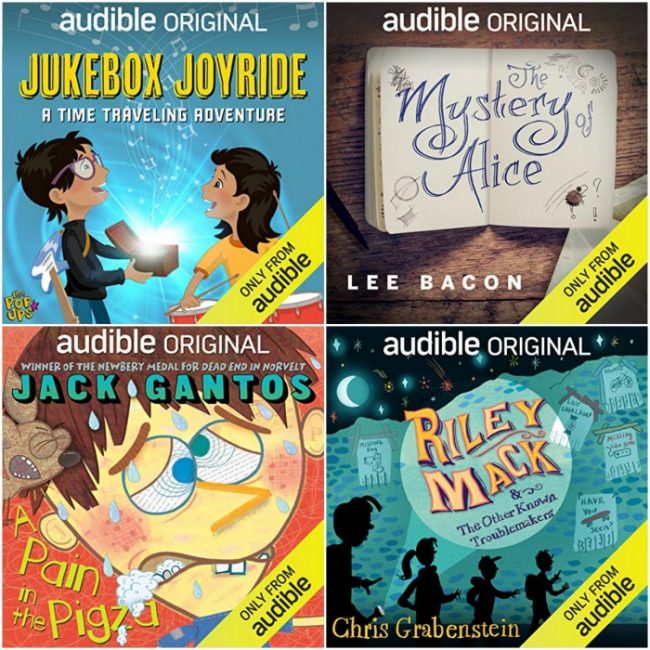 Take advantage of Audible for all your upcoming summer road trips and lazy afternoons as a family. We love listening to family-friendly audiobooks on our road trips or even as we're bustling around town.
With the Audible Windows app, I can easily add any purchased audiobooks right to my boys MP3 players. I often find them walking around the house with their headphones on listening to a new story! It's great for mom (less noise and chaos at home) and so good for the kids to get lost in a good book!
Some of our favorite family audiobooks for summer include: Jukebox Joyride which follows twin 12-year-olds as they travel back in time to amazing concerts from history! It's one of the free books choices for the selection of Audible Originals in June! The Mystery of Alice has drawn me and my boys in! I've been able to convince them to head outdoors and pick weeds with me while we listen, a win-win all around!
Try A Pain in the Pigza where Joey Pigza tries to save all the local dogs up for adoption! Your middle schoolers will enjoy the story of Riley Mack and the Other Known Troublemakers with bank robbers, bullies, and missing money!
Add these Zulay kitchen essentials that are perfect for your summer cooking needs. We love this dual purpose Metal Lemon Lime Squeezer. It gives so much of the yummy citrus juice so we can make yummy drinks, treats, and meals with our favorite citrus all summer (oh, lemonade!).
This set of flexible Plastic Cutting Boards can help you preparing for your BBQs with separate color and icons to keep your cutting boards specific to vegetables, beef, fish, and chicken.
You'll appreciate this Smooth Edge Can Opener for efficiently opening your cans — without a rough edge so they can be re-purposed for summer crafting! Plus, grab a Dough Blender for the perfect crusts for your favorite summer berry pies!
Summer Fashion
& Health Favorites
Little Skye Children's Boutique offers darling kids clothes with easy returns and free exchanges! This Kids Boutique is based in New Jersey with a local store there you can shop at or browse all their fun styles for boys and girls online. Your order ships free with any purchase of $49+.
Little Skye offers Cool Clothes for Boys like this fun Yporque Dab It Out Boys Tee. My boys are still all about the dab! Another favorite is the Mini Shatsu Shark Whale Surfer Tee. I love that the design had a "hidden" image with whales disguised as the waves, it's really cute and clever!
We paired that top with the Appaman Indigo Camo Camp Boys Shorts that will be comfy all summer long and with a cool camo print boys love! If you're looking for Kids trendy clothes for summer, look no further than Little Skye Children's Boutique.
Stay comfortable and active this summer, all while looking stylish, with activewear from Ellie. Don't just sit around all summer, get out and get active. Ellie is subscription-based activewear. Their clothes are designed for the girl who wants to be active, but also wants to look good and be comfortable doing it.
Ordering from Ellie is super easy. You pick out the style that you like and pick out your 3-piece outfit. Check the sizing chart and mark what sizes you'll need. Ellie will send your box with the outfits you like.
You can skip a month and cancel whenever you like. If something doesn't fit or feel right, you can exchange for no extra charge. As you get more pieces, you can mix and match to create new styles. Staying active and stylish all summer long is now easier than ever with a subscription box from Ellie.
Stay looking stylish while avoiding glare and added stress on the eyes with some Blue light filtering glasses from Pixel Eyewear. Computer glasses from Pixel Eyewear are specially designed to provide stylish protection from eye strain while spending time in front of the screen. Blue light from screens can cause damage to the retina.
Many people who work on computers all day report migraines, eye strain, dry eyes and fatigue. Pixel Eyewear is designed to filter out 95% of damaging blue light.
Glasses from Pixel reduce computer glare, block 100% UV light, resist scratches and smudges and much more. Stay looking stylish while protecting your eyesight with glasses from Pixel Eyewear.
Having the kids home all day can be really stressful. Go ahead and have some me time to unwind, chill and relax with health and well-being massagers from NAIPO. With NAIPO's wide selection of massagers, you can find the massager that's just right for your relaxation needs. If you're athletic and have strained muscles or sit at a desk and carry tension in your shoulders, NAIPO can help you relax, without breaking the bank on a misuse.
If you want to target a specific area or areas, NAIPO's TENS unit can work wonders. The TENS unit is a handheld full body massager. Stick the pads to the area you want to focus on and chose what therapy mode and intensity you would like. With 6 different modes including cupping and kneading, you can get just the right massage on feet, neck, back, legs, or anywhere that ails you.
One of the "in" devices for hardcore runners are Compression Leg Wraps. By compressing calves and feet, you can help to alleviate fatigue and pain. So grab a massager from NAIPO and try to get some relaxation in this summer.
Which of these is a favorite pick for this summer for your family?