If your children have ever played MagiQuest (or begged to!) you know how fun and exciting this game can be. To bring the fun to your own home this summer, I've created a free print-and-play MagiQuest game called Magic Adventure!
Magic Adventure:
Print-and-Play MagiQuest Game
At our recent family vacation to Great Wolf Lodge, my boys became obsessed with MagiQuest! It was all they wanted to spend their time doing.
When we got home, my 10 year old quickly set to work to make his own "MagiQuest" game with cardboard cutouts and a variety of patterns. It was cute, and clever, but was hard to follow and there, of course, wasn't any extended challenges or rules to follow.
I loved my son's creativity and knew I could expand on his idea to make a play-at-home game of MagiQuest for my boys! So, one Saturday I worked tirelessly creating this game – Magic Adventure!
I spent the entire day creating this with lots of time, effort, editing, and finding the perfect pictures. I hope you'll love and enjoy this game as much as our family has!
Without futher delay, let me introduce you to the Magic Adventure game which is a printable MagiQuest style game with hidden magical objects to find on quests and simple games to play with the help of a Game Master. Plus, of course, an epic battle with a dragon to complete at the very end!
How to Play Magic Adventure:
Print and assemble the Magic Adventure game following the following helpful guide:
Pages 2-5 Magic Adventure Guide Book – Print on a fun color or light tan/brown for a more authentic feeling adventure guide. Cut the printed pages in long columns and then in half again so you end up with a 16-page adventure guide. Use a hole punch to punch one corner or the side of the page and lace a thick string or piece of yarn through the hole to keep all the pages bound together and in order.
Pages 6-15 Hidden Objects & Game Items – I highly recommend printing out the game pieces in cardstock. These will see a lot of use and the cardstock can help keep them in great condition so they can be used again and again if the kids want to repurpose them or start over the adventure game again. Cut each of these items and objects out.
Pages 16-20 Game Master Guide – You can skip printing these pages and refer to the digitally or just print them on plain printer paper. These will just be for your reference in leading the couple of tests and the final battle. You will need to reference these pages, but won't necessarily need a printer version. If you do print them, cut the dragon page so you can display the dragon and keep aside for the Game Master.
Hide the Game Items:
It's best to use 3 distinct areas to hide objects, if possible. That may be 3 different rooms or include your main floor and an upstairs floor / basement. Try adding the outdoors or garage. You want the children to build in some exercise as they race back and forth through a variety of areas to find different objects.
Set aside the patterned cards (pages 14-15) as they will not be hidden and will be used in the final battle only. Roughly divide each of the objects from the different quests into equal piles. Then, hide the set of cards from each group in your decided areas. For example, I made 3 piles for upstairs, main floor, and basement. I shut the doors of any areas not part of the game setup. Then I just carried a pile with me as I went around each floor randomly hiding each object with a few from each of the quests.
Adventure Guide & Rules:
Hand your player or small group the Magic Adventure Guide Book. The game plays best for 1 player or a small group of 2-3 players working together. Since the adventurer will collect the items they find and use them in the battle, if you have more children they should take turns playing.
Remind the children that they will find clues and what to do in their guide book. For my younger children, I read the pages for them and helped give hints, as needed. Older children should be able to do all the quests on their own!
The Game Master (you or an older child) will need to help the adventurer on the 3 tests and the final battle. The last pages (16-20) of the printable have the instructions on what you'll do.
Print-and-Play
Magic Adventure Game
This Magic Adventure game is available for your own personal, non-commerical use. The files cannot be shared digitally in any form. If you'd like to share this game, please simply share a link to this post and they'll be able to grab a free printable copy!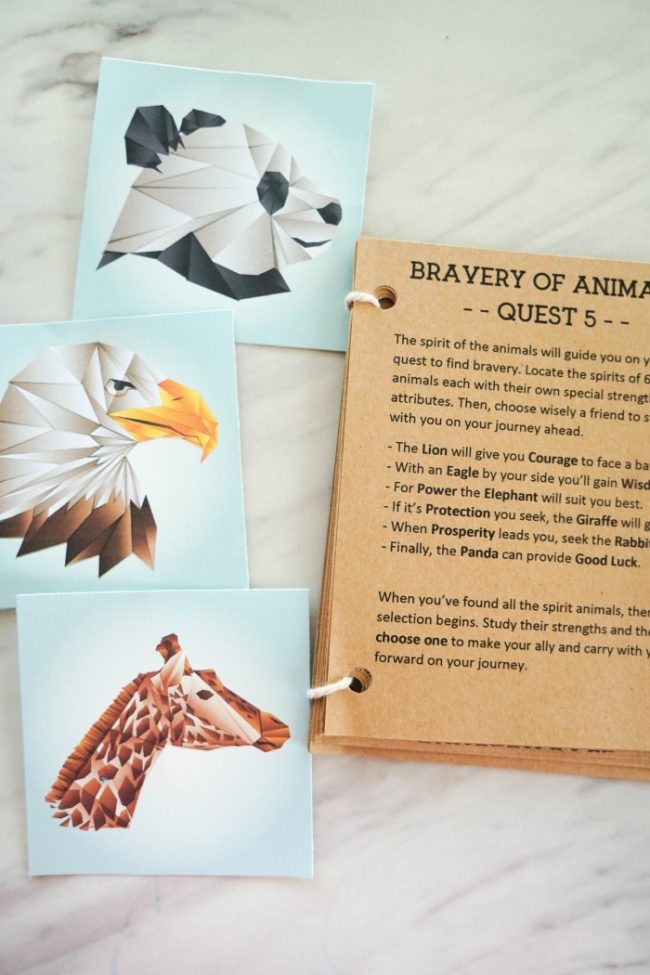 All of the images used within this printable are from a paid photo website. They cannot be used in any manner outside of the purpose designed and outlined here as part of this Magic Adventure game.
With that out of the way, you can grab a copy of Magic Adventure here!
When your family finishes the quest, we'd love your feedback! My boys are already begging for another MagiQuest adventure. If you have ideas for quests, skill tests, or a final battle let us know!