Kids grow up so fast and the years truly do fly by. I can hardly believe we are almost halfway through 2019 and already heading into summer break from school. It's crucial for our children's well-being and academic success that they receive regular eye exams and corrective eyewear, whenever needed.
It really helps to tie your annual eye exams to a certain occasion that happens every year, like the start or end of the school year!
Summer break is the perfect time to make an eye exam appointment. Your children won't have to miss any school and you'll be able to check on their eye health and have their new glasses ready in time for the first day of school.
In today's post, I'll share what you can expect at your child's eye exam and how to pick out glasses for kids, plus help you find a local eye doctor you can trust!

This post is sponsored by MyEyeDr. We received complimentary eye
exams and glasses in exchange for this post. All opinions are my own.
What to Expect at a Kids Eye Exam
You'll first check-in and fill out any necessary paperwork at your appointment. Your eye doctor will need important health information that may affect your eyes including medical history and any problems you've noticed with your vision.
From there, you'll take a few preliminary eye assessments that can check on the health of your eyes. These first few tests can measure how your eye focuses and responds to stimulus. Interestingly, at our MyEyeDr. they even took photos of our eyes that were so fascinating to see.
After the preliminary tests, you'll meet with a local optometrist that will use their expertise to talk about any problems with your eyes or vision.
He will have you read from an eye chart, look through a series of lenses to see what minor corrections work best and also assess the overall health of your eye.
The overall eye exam is quick, easy, and painless. It's also a great opportunity to talk through any concerns or questions you may have with a professional.
Our optometrist was very informative and helpful in addressing all our questions. He had over 25 years of experience in our area and I really appreciated how he explained each of my children's different eye care needs in easy to understand terms.
If you will need corrective lenses, you can then choose to look for frames at your eye exam appointment. The helpful staff will guide you in finding frames that compliment your face and fit your style.
Then, they can order the glasses for you with the right prescription and have them ready for pickup before you know it.
How to Pick Glasses for Kids
Helping your child pick out glasses doesn't have to be difficult. Just look for a section of kid-sized frames at your local MyEyeDr. practice. You can usually find some really fun and cute prints that will help ease the transition into glasses if this is the first pair for your child.
The most important thing to look for is the width of the frames overall. You want them to be sized just right so that the part of the glasses that goes over their temples and behind the ears does not bend inward or outward. They should go straight back from the front of the frame to behind the ear.
Let your child help pick out frames that they are excited about and are drawn towards. You want them to feel comfortable and confident in their new glasses.
You can help by pointing out frames to try and styles they might like. For my boys, they were drawn to camo and sporty styles that fit their personalities.
Look at the rim shape, next. It's amazing how two pairs that look similar can really transform when on their face. Do round frames give a softer look or does a square frame help define their features?
Don't hesitate to try on lots of different pairs. Then, narrow it down to 2-3 favorites and try them on in sequence to decide which style looks best!
When you've found the right glasses, the staff will help you place an order and go over pricing, insurance coverage and benefits, and can tell you when you might expect the glasses to be ready for pick-up.
Often, it takes somewhere around a week for your glasses to be ready. Ours were ready in just 4 days!
You child will also receive a glasses case, lens cleaner, and cleaning cloth. These are all important for keeping their new glasses in great condition.
At our MyEyeDr. appointment, the staff had a helpful mantra — If they're not on your face, they're in the case! It's a good standard to follow to help keep the glasses protected and free from scratches.
What Makes MyEyeDr. Different?
I got a chance to visit my local MyEyeDr. practice that is able to offer the benefits of a large network eye care provider with a small-town feel. They work with local Optometrists to make your eye care experience personalized, friendly, and dependable, while giving each individual practice access to features of a larger practice.
Here are some of the things that set MyEyeDr. apart from the competition.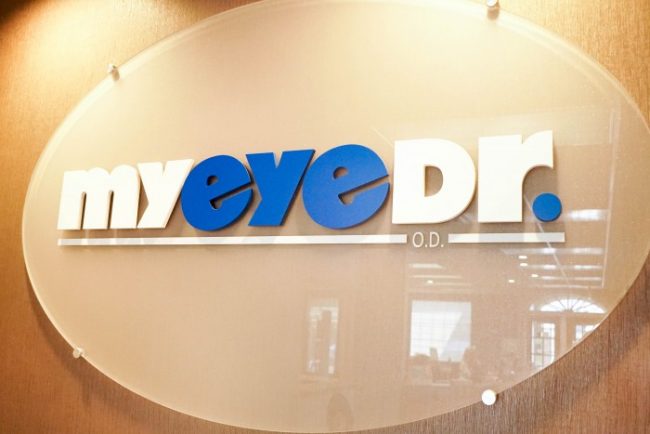 1. More Eye Care Options – A small optometrist practice won't be able to make the connections and partnerships with all the different frame providers that a larger practice can.
But by connecting as a network, they can offer a huge selection to choose from. You'll be able to choose from more than 200 frames under $200!
2. Without the "Chain" Feeling – No one likes feeling like they are being shuffled through an endless queue — just another number in a line. Since each of the MyEyeDr. locations use an eye doctor who lives locally and is part of the community they truly care about their patients.
The staff was very welcoming, friendly, and helpful throughout our visit. They remembered us when we came back to pick up our frames and we really felt like they cared about us as individuals, not just as another pair of glasses.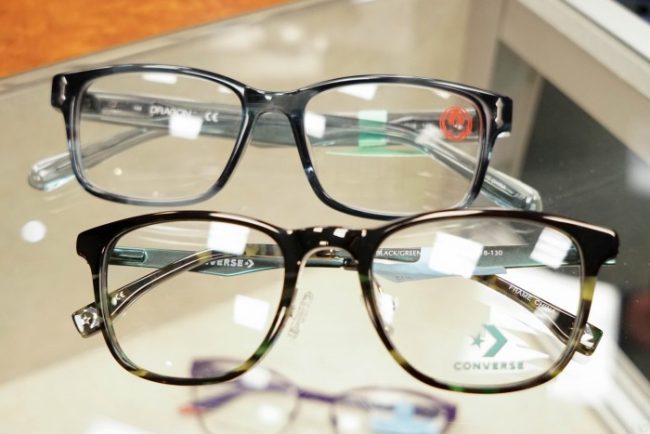 3. Accepts All Insurance Plans – Something unique about MyEyeDr. is that every location is able to accept all insurance plans! Whether you have coverage through your work, a private insurance pay, state-provided health insurance, or even a vision discount card like VSP you can trust that MyEyeDr. can work with your coverage!
They'll work to estimate your benefits and help you get the maximum savings for the frames you love.
4. Convenience, Coverage, and Care – There are hundreds of locations across the east coast and midwest with locations as far west as Arkansas and Louisiana.
MyEyeDr. first started in the Washington D.C. area and have spread from there with many locations to choose from in North Carolina, Maryland, Virginia, and other states across the eastern half of the United States. You can use their locations finders to search for an MyEyeDr. provider near you.
You can rely on MyEyeDr. to help you fix any problems with your glasses or replace them if a simple fix can't be found. My boys' new glasses are covered for 1 year with one free replacement, if needed! It's great to know I won't have to worry about their glasses for the upcoming school year.
At MyEyeDr., I found a really caring and warm practice that was quick and efficient and helping our family with glasses at the start of their summer break.
That's one less thing I will need to worry about with the back-to-school checklists come August! Head into your local MyEyeDr. location to help your family be prepared for the new school year ahead.