I received a Mohawk Homes rug in exchange for this post. All opinions are my own.
This past month, we moved my youngest who just turned one into my sons room to give my husband an office space. Since my husband works from home, he really need his own space and I felt like my "baby" was finally ready to share a room. Our rooms are small, but we are still making the space work for us. With our boys moving around rooms and changing up the space, we wanted to make some changes to make this small bedroom make sense for our toy young boys to share. The biggest change we made was adding a rug. Here's a look at the before: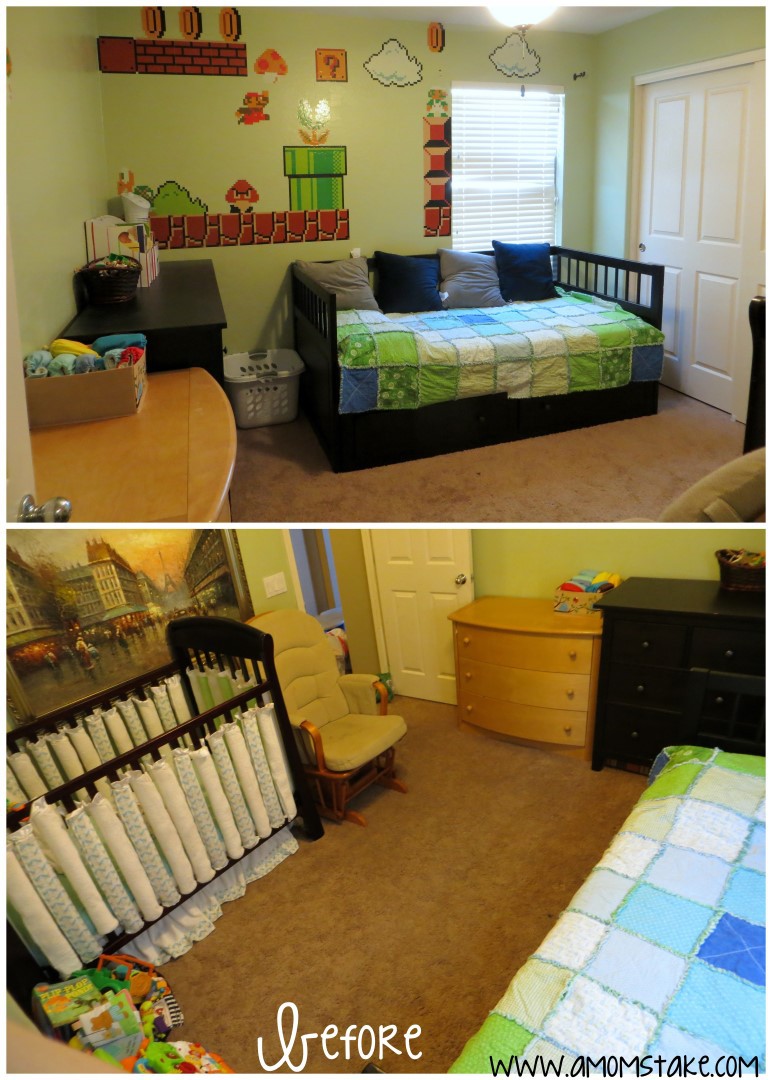 The first immediate change we made was to pull down the painting that didn't have a place in our boys room. Then, I felt we needed more space so it was time for the rocking chair to find a new place as well. We're letting my son's daybed double as a space to snuggle and read with my little ones with comfy pillows lining his backboard.
Ideas for Kids Bedrooms for Two
Here are some of our ideas to create a fun and inviting room that gives space for two kids, even in a small bedroom.
Use Color! Adding in fun pops of colors will make the space uniquely your kids bedrooms. Color will also break up the room to make it feel like it has several useable spaces giving you a bigger feeling room.
Define a space with a Fun Patterned Rug – We've added a big rug to give the room a playful feel that invites playtime in the room. It doubles as an activity in itself as well as encouragement to play and enjoy the room.
Homemade Rag Quilt for Texture – A homemade blanket, like a rag quilt, is a great way to add in texture, color, personality, and interests for each of the children sharing the room.
Decorate the Walls – When a room is shared by two kids, floor space is always going to be limited. Take advantage of the walls and do something fun with them! Make them interactive with train tracks glued to the wall or another favorite scene for more rooms to play and enjoy their space.
Multi-use furniture – Add in furniture that can serve more than one purpose. We choose a daybed that works as a "couch" space to allow seating in the room which makes it comfortable for even us adults to come in and sit with the boys while they play. The low dressers double as storage for their books and toys.
I really love the pop of color and fun this Mohawk Homes Rug adds to the room! It's a great quality rug with bright colors that really stand out and feel modern and up-to-date. The boys think the rug is fun for walking on the different colored squares, using them as walls and roads in their play, and just for rolling around on. I love having a rug because it protects the carpet and gives so much more color into the room.
Mohawk Home rugs are Still Made in the USA! Check out their YouTube video to find out more and get a really unique behind the scenes look at their manufacturing! You can find Mohawk Home rugs at a variety of retails including Home Depot, Lowes, Walmart, Target and many others.