I had a fun idea to create valentines for kids that had a removable photo prop built into the card. Once I made up the card, my little boys had a blast playing with the lips and mustache, they thought they were so fun!
This homemade valentine will let you give both a sweet card with sentiment and a fun photo prop they can use to pose for those valentine's day photos we mother's like to take and cherish of our children through all their big days!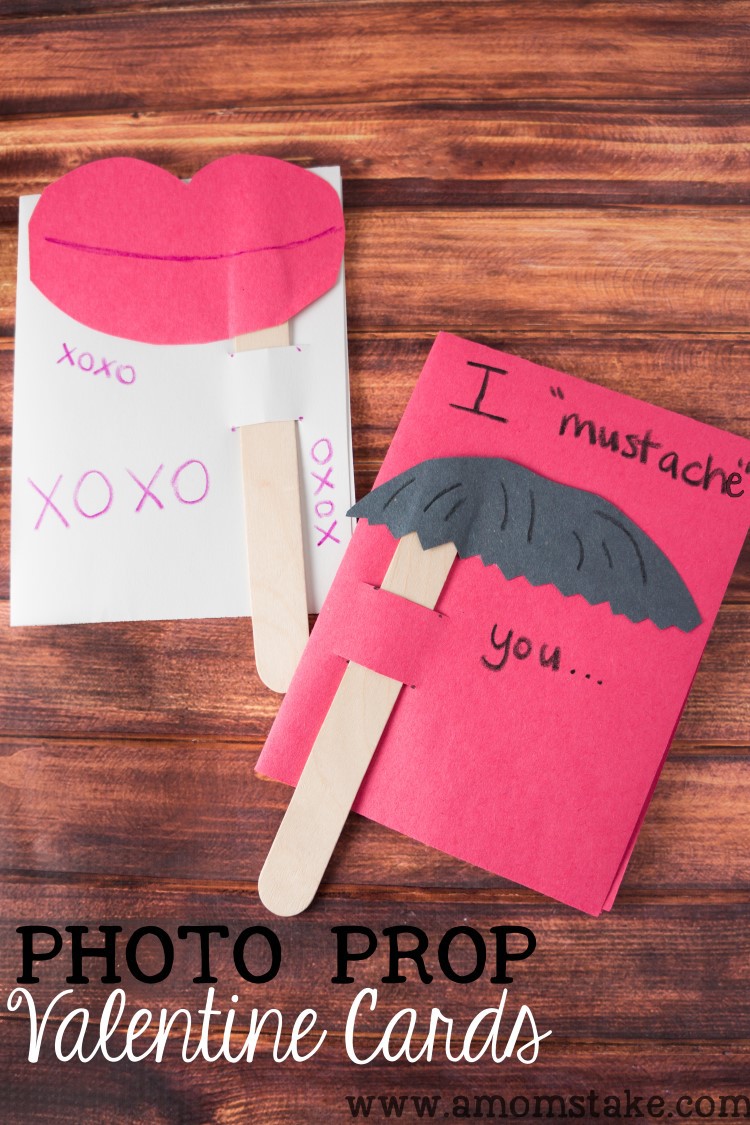 Supplies You'll Need:
Construction paper
Scissors
Crayons or other art medium
Tongue depressor (large popsicle sticks)
Tape or Glue
Directions:
Start by folding a single piece of construction paper in half hamburger style and then in half again also in hamburger style to make a standard size card that is strong enough to hold the tongue depressor.
Next, create your photo props such as a mustache, lips, hair bow, hat, or other creative ideas you may have. We did lips and mustaches to fit for boys and girls. Decorate your cut out props to give them more style and texture and help them to be recognizable as your intended prop. Warning, your little ones will probably want to play with the props, so have your camera ready!
Tape or glue the photo prop onto your tongue depressor. I just used two pieces of tape that went over the stick and prop holding them in place. Then, lay out your photo prop on top of your folded card and figure out where you want the prop to sit on the card. Draw two small dots about an inch apart on both the right and left side of where your stick lines on the card. Bend your card, without folding it to make a crease, and line up your scissors to cut from one dot to the other making a horizontal line. Repeat with the second set of dots. Then, you will be able to slide the tongue depressor right through the slot threading it behind the fist slit and back out the second which will keep the prop secure on your card.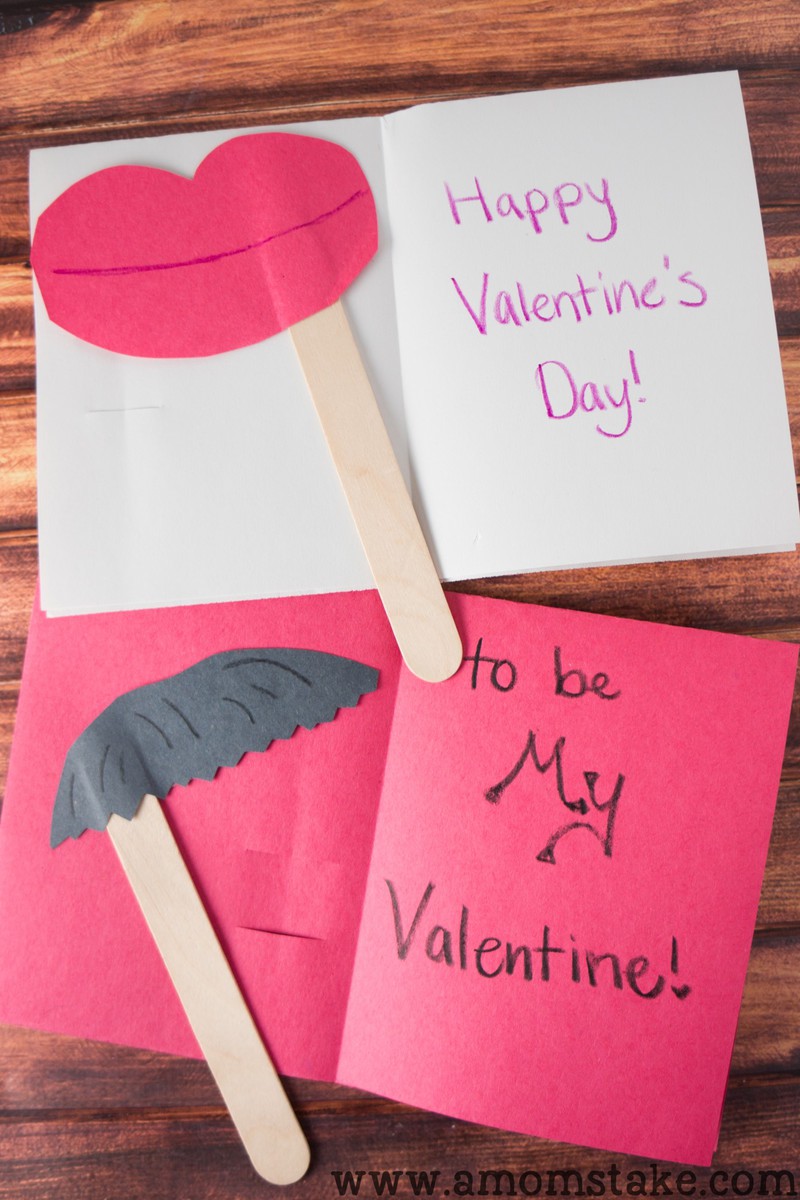 Finally, decorate the card with your own cute and catchy sayings and don't forget to sign the card! Your children can help decorate the cards and assemble them, too. They will love making their own homemade valentine's day cards!
Here's another cute ideas for a homemade valentines for kids using paint chips!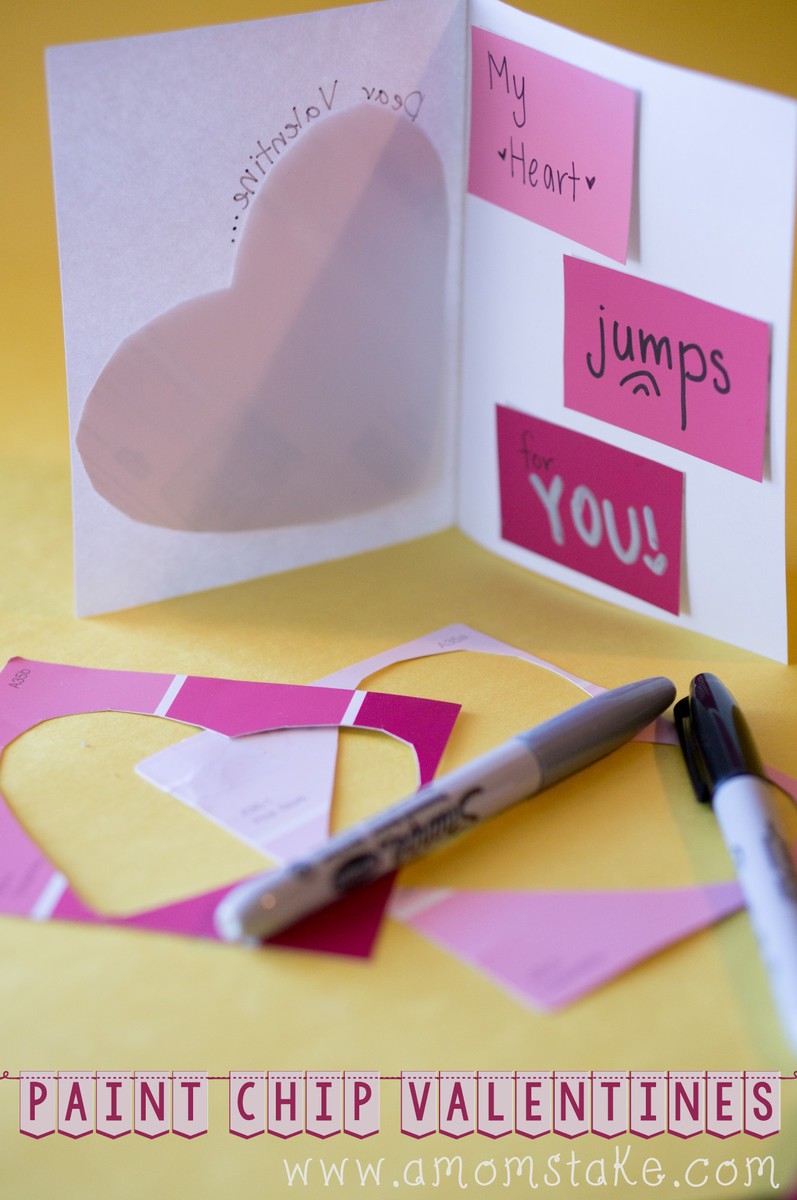 What kind of photo prop would you make for your Valentine cards?