I'm so excited to share this fun printable valentine I created! Three of my boys love to color – and especially color on color by number sheets. It is from their love that I was inspired to create my own color by number printable valentine for my younger son to pass out in his classroom this year.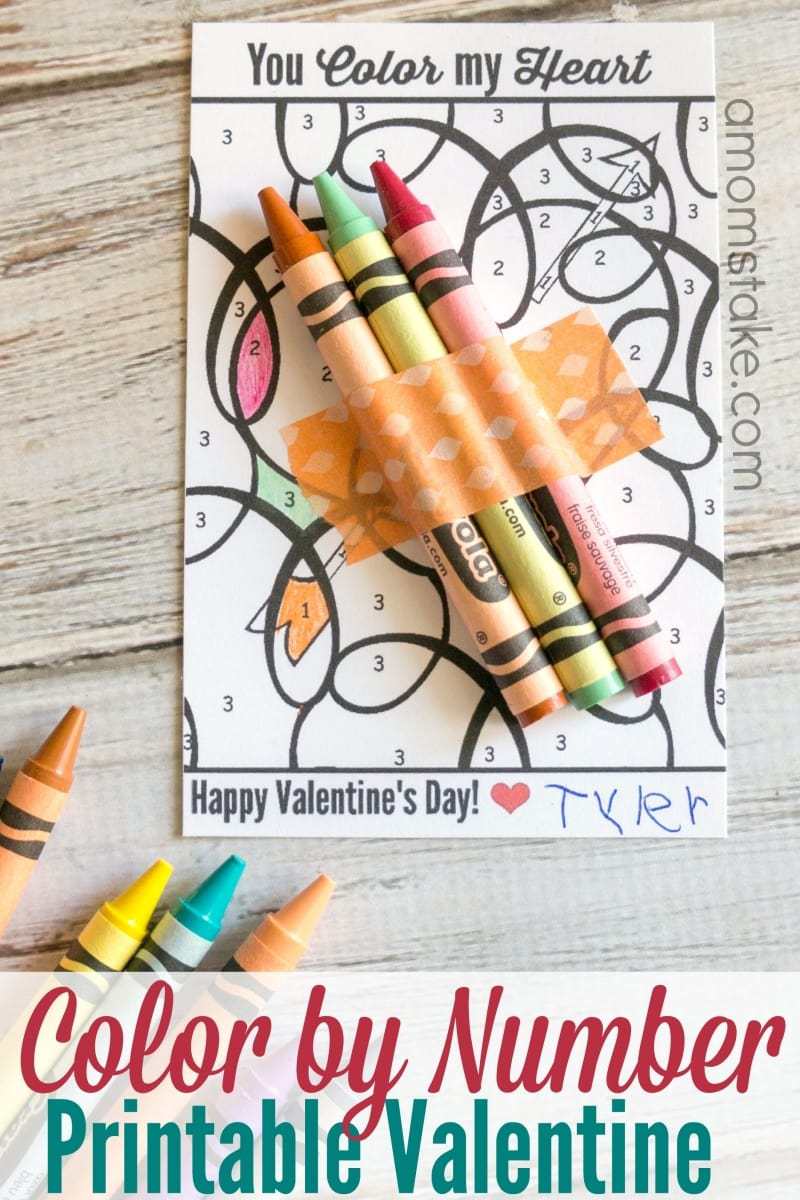 Supplies:
The bigger the box of crayons the better, as it will give you more color varieties to include. Grab a box of 98-ct crayons for around $5 and you've got enough for 32 classmates!
How to Make a
Color by Number Valentine!
Start by printing out the Color by Number printable valentine. It prints with 4 to a sheet. After you've printed how many valentine's you'll need for your child's classroom use a paper cutter to easily cut out the valentines or grab a pair of scissors.
Next, have your child help you pick out three colors per card and color one of each numbered space with one of each of the three crayons selected to give an easy guide of what color for the classmates to use. Make sure your child also signs each of the valentines at the bottom of the cards.
Use a small piece of washi tape to secure the three crayons to the front or back of each valentine. The washi tape will pull off easily without ripping off the cardstock. It may pull up a little bit of the ink, but not enough to detract from the valentine. If that will bother you, just tape the crayons to the back of the valentine.
My son was dying to try out the printable valentine himself, so once we were done assembling some for his classroom, I let him play with one! He took his outside to show his friends and got to coloring in the blanks. No explanation was needed, he knew immediately what to do.
The kids in your child's class will love this cute valentine, too. Grab the free printable valentine and start creating your classroom handouts today so you're ready come Valentine's Day!