This is a sponsored post written by me on behalf of Wrigley Jr. Company for IZEA. All opinions are 100% mine.
There are tons of cute homemade valentine cards ideas out there for our younger children's classrooms. Tweens and teens, however, are much harder to plan classroom valentines for.
This Valentine envelopes printable is cute, unique, and easy and perfect for your older kids! It combines a cute envelope valentine that can be wrapped around a pack of gum which the older kids will love to receive this Valentine's Day!
Heart Burst Printable Valentine Envelopes
You'll need:
Juicy Fruit® Starburst® Gum
Heart stickers
Cardstock or printer paper
Printer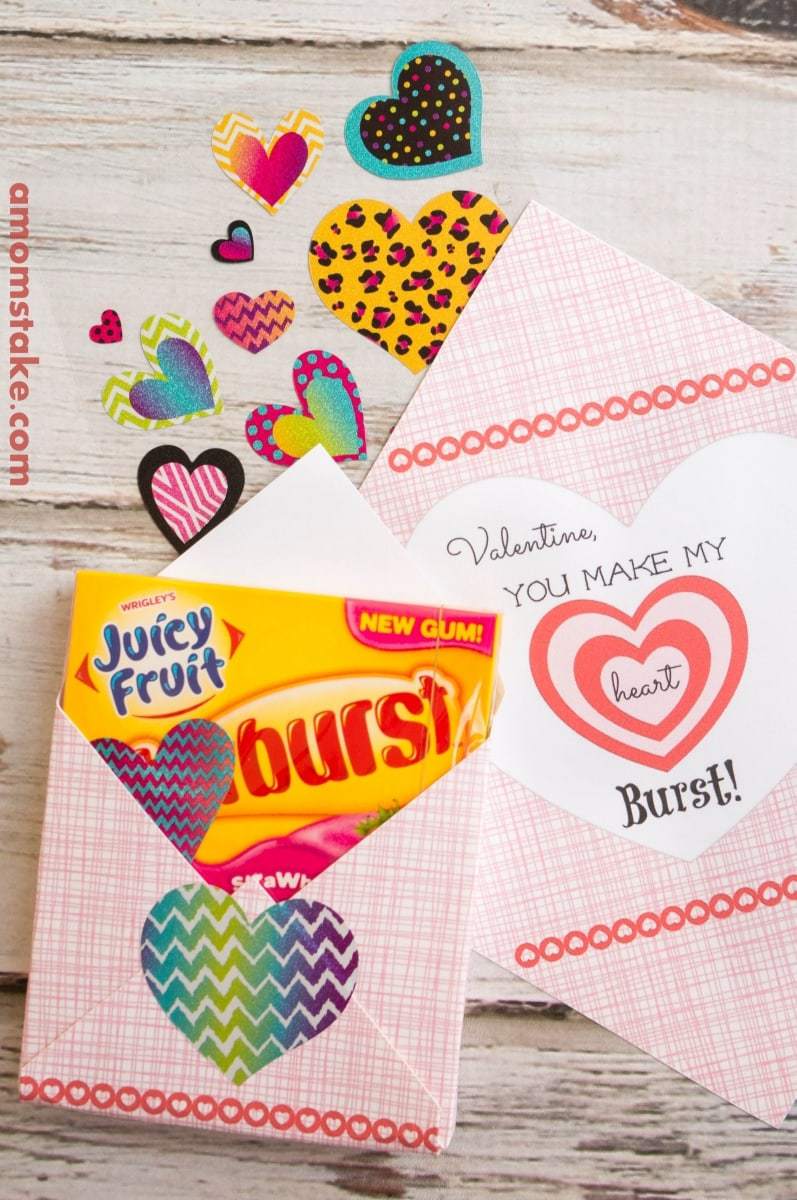 Begin by printing out the free Heart Burst Valentine envelope printable. It comes with 2 per sheet. You can print on regular printer paper or cardstock. I prefer the cardstock as it is thicker and feels more presentable, but the cardstock is a bit tougher to fold since it is thick. Use whichever paper format you prefer. You can grab the free Heart Burst printable by clicking on the link below. It will open up the PDF in a new tab where you can view, print, or save the file.
When you have the envelopes printed, cut out each square. Then, start by folding in the right and left edge with the design facing down towards the table. Fold each edge in until you are folding right at the small heart edging at the top and bottom edges as your guide. In this picture, you can barely see the little red circles peeking over the folded edge.
Next, fold up the bottom and down the top folding just below the rows of hearts so that the whole strip of hearts shows like you can see here.
Then, open up the folds and place the pack of gum right in the center. Create second creases on each of the four sides to enclose the gum in your envelope. After the two sides and bottom edge are folded up, place a large heart sticker to hold the folds together. You can tuck in the fourth edge like an envelope or you can use the sticker to hold all four of the folds.
There you have it! You can child easily whip out enough of these homemade Valentine envelopes to pass out to all of their friends this Valentine's Day. Best of all, the kids will love the fruit candy flavor.
I really like Starbursts® so it was fun to try a gum with their flavors. It was a good mix of the candy flavor without feeling like I was just chomping away on a piece of candy as it still had the gum texture and bit of taste to it.
The Starburst® flavors were just released as part of the Juicy Fruit® line of sugar free gum. It is available in both Strawberry and Cherry varieties in both a single-pack with 15 sticks and a multi-pack with 3 of the individual single-packs. You can find this new flavorful gum at your local Target stores.