The trip planning began when my friend who lives in London mentioned she wanted to do one last trip through Europe before she moved back to the United States. Her main destination she had in mind was visiting Auschwitz. I was intrigued!
Eastern Europe had not been on the top of my vacation destinations list (I'm still eyeing South Africa and Thailand!) but who could pass on the opportunity to visit such an historic site. History around World War II has long fascinated me, so I was in! We roped in my best friend and the three of us set off on a 7 day, 5 country Eastern Europe vacation! With budget travel being a priority, we new a road trip was the way to go.
I had traveled across Western Europe through Paris to Switzerland on a road trip earlier with my husband, so I knew just how to plan the road trip.
Budapest to Auschwitz:
Eastern Europe Road Trip Itinerary
Day 1: Arrival in Budapest

All of our flights arrive late in the evening at the BUD Budapest Airport. It was a breeze making our way through customs with the surprisingly small lines and quick queues. If you're looking for a great international airport to start in, Budapest is one that won't hold you up for hours just weaving your way through customs, which was a welcome surprise! It also meant leaving the airport on our return flights was quick and easy as well.
Just outside of customs and baggage claim you can find the incoming flights and will be able to walk between the two terminals, if your traveling companions happen to be arriving at the other terminal with just a quick couple minute walk. Once we had all arrived, we met up with our car rental attendant who shuttled us over to the shop to sign paperwork and get our keys.
Be aware, if you're taking the car out of Hungary, you may have a maximum kilometer limit that will apply and you'll likely need to purchase vignette (road tax stickers) upon entering each new country.
From there, we were off to our first airbnb to check in and get some shut eye before our first big adventure day.
By the way, if you're packing for a road trip in December, don't forget to bring along sugar cookies! They'll get a good laugh out of your trip companions and make for a fun and memorable treat to share. We packed a bunch of good road trip snacks (nuts, craisins, jerky, Belvita breakfast biscuits, candy, crackers…) to keep us entertained on the road.
Day 2: Vienna & Prague
We started the morning in Budapest grabbing some simple groceries from a local small grocery store including fruit and pastries. We also had planned to grab a case of water bottles to help us stay hydrated on the road. We'd soon be surprised to find we loaded up on 6 huge water bottles of carbonated water (bleck!). A little hint, look for "no gas" or read the ingredients label for help!
Then, we hit the road on the way to Vienna, Austria – our first destination! It will take about 2 hours and 45 minutes on the road to reach Vienna, a perfect midway stop on our day's drive. In order to spend more time in Auschwitz, we opted to spend a few longer driving days up front.
Exploring Vienna, Austria
The city of Vienna is renowned for his musical roots and the home of famous composers including Beethoven and Mozart. With this rich history, you'll find art and statues in honor of the musicians as well as the Vienna State Opera House. There's a lot of history to see here in this town, and we opted to rent city bikes so we could see more of the city.
There are well established bike lanes throughout most of downtown Vienna which makes it a really fun and exciting way to see the city. Look for city bike rental kiosk near central Vienna or on the west side of Stadtpark to start your adventures. The bike rentals are only 1 euro/an hour so they really are a bargain!
We had about 3 hours to take in the city before heading off towards Prague. We started at Stadtpark and road the bikes to Naschmark to see the Christmas Market. We loved this marketplace full of good food and interesting stands and shops. We picked up some local spices to take home to try as well as candy from the locals.
We grabbed lunch in the market – a lamb wrap from a spit! It was delicious and the first time I've given lamb a fair shot. It was better than expected and was way too filling but helped warm us up before heading back with the bikes to the car.
All in all, biking gave us an incredible way to see the city, and it as fun! At the end of our loop, we spotted the Karlskirche Wien (St Charles Church) and a second Christmas market. The is so much incredible architecture and old buildings to view every direction you look!
Sites to see in Vienna:
Naschmark Christmas Market
Vienna State Opera House
Hofburg Palace
Burgtheater
Rathaus City Hall
Stadtpark
Karlskirche Wien (St Charles Church)
By around 3pm, we were headed off to finish our drive to Prague, Czech. It's just under 4 hours drive to Prague from Vienna. With our adventurous stop, we were ready to sit for a bit and talk about the sites we had just seen.
Prague Nightlife
We got to Prague and checked in at our next airbnb and then set off by food to check out the nightlife. We walked along the river front which was absolutely stunning and towards downtown Prague. We found a whole bunch of jazz clubs, so decided to head into one and caught the tail end of the show. The city was very beautiful at night and it was neat to see the evening side of Prague.
Day 3: Prague

The morning we were up and ready to walk to see the city of Prague! Our first destination was to head to Old Town Square and see some of the historic Jewish quarter. The first thing we stumbled across was the clock town which was quite the site to see! We even were around to time it right when the chimes went off including moving statues on the sides of the clock.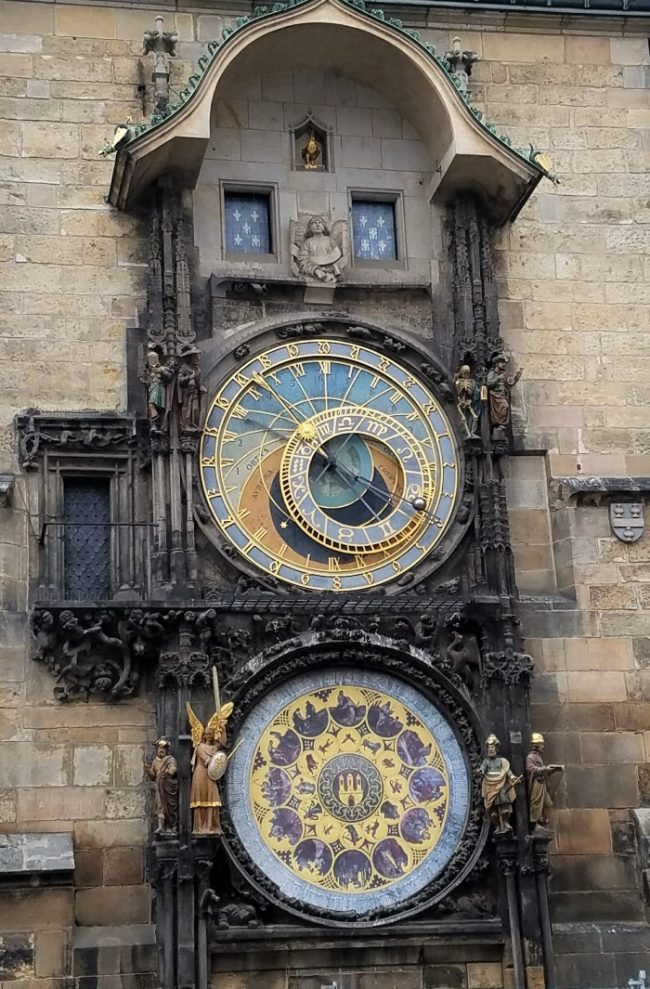 The clock tower is right in the heart of Old Town Square next to the Christmas Markets, so we spent some time poking around the market and of course had to try Chimney Cake, which was so yummy!
There was a ton to see all clustered around Old Town Market with a ton of varied architecture. The even had an extra large Christmas tree in the center of the square right out in front of Church of Our Lady before Tyn. With a raised platform, you could get a fun picture of the two.
The Jewish Quarter was just a few minutes walk from Old Town Market. All of the historic sites are part of an admission ticket and clustered together so it's easy to take in the whole area if that's at the top of your to-see list!
Sites to see in Prague:
Church of Our Lady before Tyn
Old Town Square & Christmas Market
Jewish Quarter:

Old Jewish Cemetery
The Old-New Synagogue
We got lunch at the market and then headed off to Poland to a city called Oswiecim, where Auschwitz is. It's about a 5 hour drive. If you happen to go during warmer months, look into Machocha Karst Abyss. It's en route (though a slightly different and little bit longer route) to Ocwiecim. It looked absolutely incredible, but it was closed during our visit. We stayed the night at an airbnb in Oswiecim within walking distance to Auschwitz.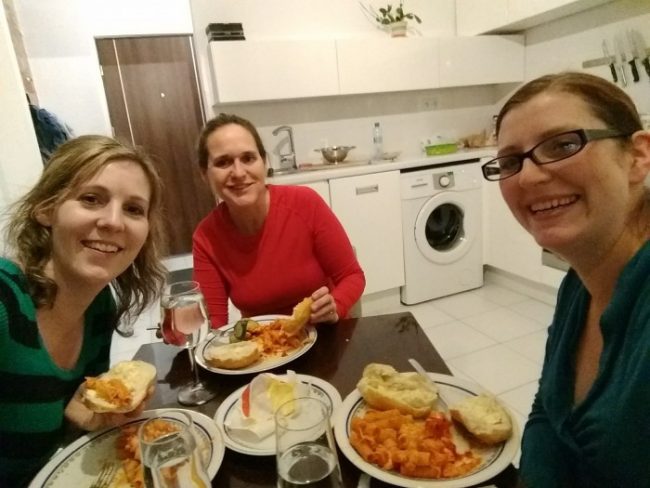 After a couple of days of street and on-the-road food, we stopped in at a grocery store and cooked a home cooked meal! It was nice to have a slower night in – complete with a movie!
Day 4:Auschwitz & Krakow
We started the day at Auschwitz I, which was just a few minutes walk from where we were staying. My experiences at Auschwitz I and Auschwitz II – Birkenau were so incredible that it's hard to even attempt to describe what I saw and experience while there. We wandered in and out of the different exhibits and it was impossible to grasp the gravity of these places. Because there is just so much I need to share about this single day, and the importance of this place, I've written a separate post detailing my experiences at the Auschwitz concentration camps. I felt the experience needed a different tone then the fun and playful experiences we would have the rest of our trip.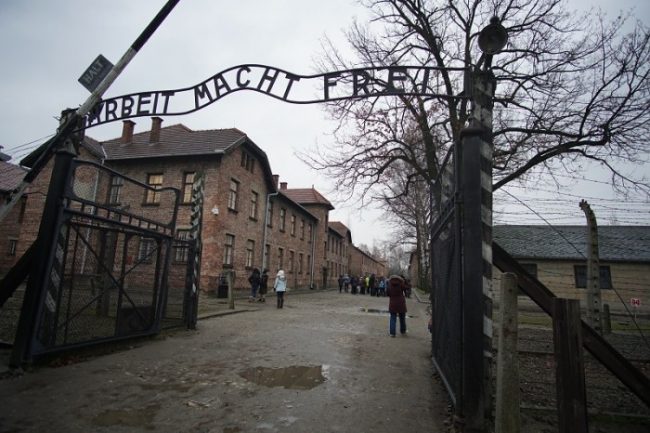 Be sure to give yourself at least a half a day to spend at the two Auschwitz camps. We spent about 6 hours and could have easily spent more time there.
Following our time at Auschwitz, we drove the quick hour and 15 minute drive to Krakow, Poland.
Visit to Krakow
When we got to Krakow and settled and checked into our airbnb, we needed to have a mellow evening just walking around the town after such an intense day. The Krakow Main Market Square was just perfect for that. It was a great place to check out the local scene with a thriving market with yummy food to try, including pierogis, and shopping the stalls for souvenirs for our family back home.
I had only one thing on my list to shop for while at the European Christmas markets – a thick and warm scarf! I've been disappointed with the thin mostly for looks scarves from the states, and was so thrilled to find this blush and comfy blanket scarf (I'm on the left).
It was so thick and warm, and just a little over $20 USD so definitely a reasonable price. After eating and a little shopping, we wandered around the town and through St Florian's Gate. We made our way back through Planty park and grabbed some hot chocolate before heading back to our airbnb for the night.
I was surprised by how much I really enjoyed Krakow! There was a ton to see in this town and we would have loved to have spent a little more time here to see the Rynek underground and Salt mines.
Sites to Visit in Krakow:
St Florian's Gate
St Mary's Basilica
Main Market Square and Christmas Market
Rynek Underground or Wieliczka Salt Mine
Day 5: Slovakia
There weren't any major cities to plan a stop in along our route from Krakow to Buadpest, so we planned the day to drive through the center of Slovakia stopping at some sites along the way. Our first stop was to Orava castle. This huge castle is set up on the top of a cliff that borders the river.
It's quite the castle, but having done castle in the past we opted to continue along on our journey as I had a hike in mind, and the group decided more time on the hike rather than time at the castle.
While I was really looking forward to the Janosikove Diery gorges, I was blown away by just how completely spectacular it was. It felt like we stepped into a winter wonderland, though I am confident this location would be stunning all times of the year.
You'll start in the parking lot of the Hotel Diery and walk up to the trail head, cross a bridge, and take a right at the end of the bridge. There's not a lot of signs here, but there will likely be travelers headed that way, or in our case footprints leading the way. In just a few minutes you'll reach the trail head and another bridge and you'll be on your way towards the gorges and a series of bridges and ladders that make this hike quiet an experience!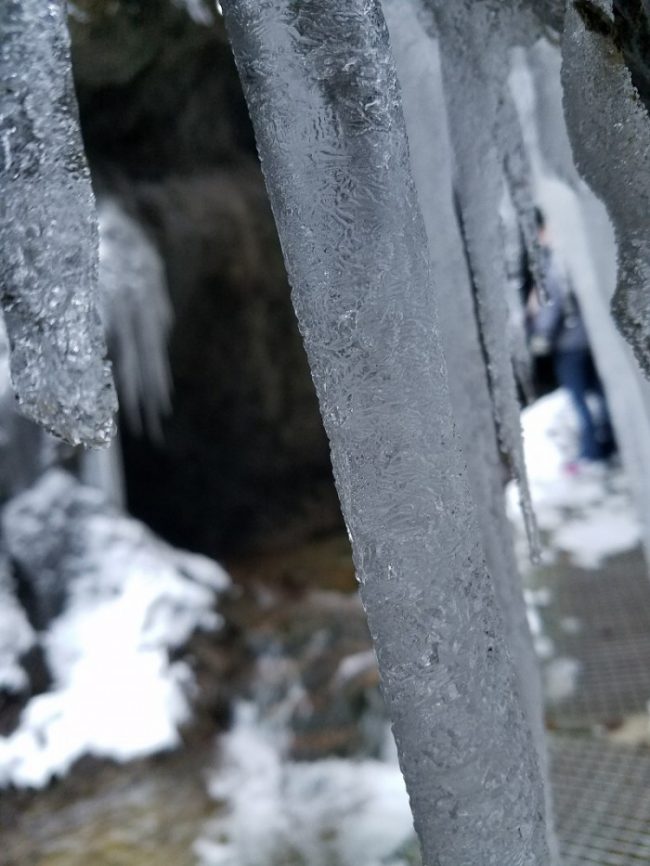 We were completely captivated by the beautiful surrounding with snow and ice and a trickling stream beside it all. The waterfalls were frozen, but that didn't impact the beauty of the trail.
Walking along the series of bridges and a few ladders really made for a fun trail to follow. It felt like an experience and really became my favorite part of the trip, outside our experience at Auschwitz. We hike for about 45 mins or an hour in, until the trail started to get a little difficult (think climbing up a couple of boulders and a bridge without handrails!)
At that point, we decided it would be better for us to turn around, as we came in just tennis shoes and no other equipment. The trail up to that point was very easy to walk along and would be accessible for most adults and families with grade school children.
We made one final stop at the Hronsek Wooden Church, which was closed by the time we got there but was so interesting to walk around the exterior of the building. There are a bunch of wooden churches to choose from throughout Slovakia, and another one along the route at the north end of Slovakia so if you enjoy seeing old churches, make sure to add that stop to your itinerary.
Things to See in Slovakia:
Orava Castle
Janosikove Diery Gorge Hike
Hronsek Wooden Church
Tvrdosin Wooden Church
We stopped and stayed in Krupina, as it seemed like a good stopping point en route for our trip. You could stay anywhere along the route. Staying in Krupina gave us a 4 hour drive through Slovakia and another 2 hours of driving the last day to end in Budapest.
Day 6: Budapest
The start of our last day included finishing the drive to Budapest, for us that was just 2 hours. Our first stop was to Memento park, a site where they had moved all the previous statues from while Hungary was under Soviet ruling. Rather than destroy the history, a committee was formed to come up with a plan to share the history of the statues at the site of the revolution from under Stalin's rule.
It was pretty interesting to see some of the different statues and we thought it was very neat that the people would save the statues and the history behind them, even if it wasn't in line with the current political power in the country.
Interestingly, they placed all the statues in a park beside where a large statue of Stalin once stood. The statue was pulled down with the overturning of the communist leadership, but you can still see the "Iron Fist" part of the statue upon the ground at the foot of the monument, very symbolic of the overturn that took place here. We were able to learn a lot about the history in the museum while there, as well.
From there, we went to check-in to drop off our car and luggage before setting out towards Gellert Thermal Baths. We were surprised to stumble across the Christmas markets on the way to the baths and stopped for some amazing food.
We then crossed the gorgeous Liberty bridge over to the Buda side of the town.
Once across the bridge, another surprise greeted us. Nestled into the hillside was an intricate area called Gellert Hill Caves tucked just below the Citadella and an impressive statue on the top of the hillside.
Finally, it was time to sneak in some relaxation! We checked into the Gellert thermal baths which has varying temperature baths and mineral baths from Gellert Hill's mineral hot springs. The water temperatures vary from 35-40°C (95-104°F). The spa was built in the early 1900's and was a beautiful facility.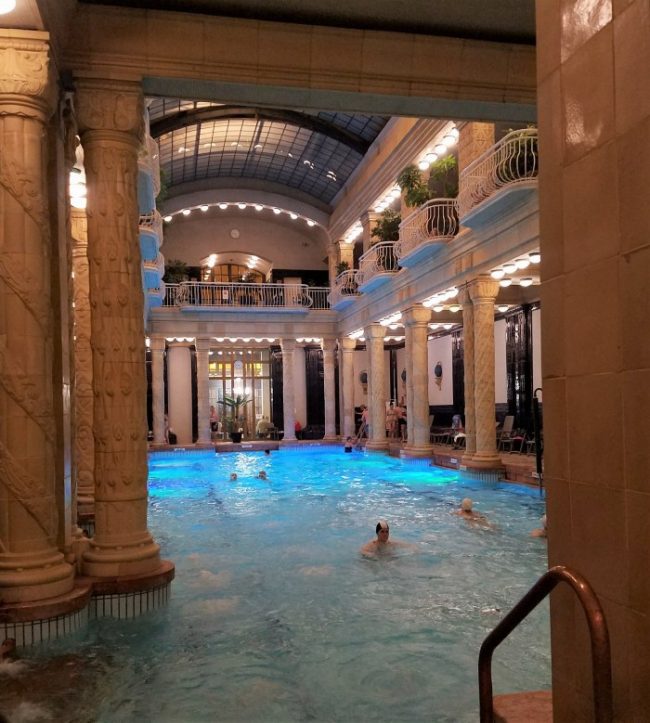 Gellert includes a traditional swimming pool (not heated water) and a warm pool directly across from the swimming pool. As you wind your way through the building, there are two additional thermal pools across from each other at 35°C and the other at 40°C.
After soaking in the wonderfully warm water for a little while, we wandered outside to find the outdoor pools. It was freezing cold outside so quite an experience to run across the freezing ground and hop into a hot thermal pool. We loved it outdoors though with the steam rising from the pool and a cool light rain drizzling down. It was heavenly.
When we could finally pull ourselves away from the baths, we finished souvenir shopping at the markets before heading back to the flat. That would have been the night, but when you're with your best friend and she's not ready for the fun vacation to end, you set off for one last adventure in Budapest.
Our airbnb host told us about a concert on a boat, which sounded fun so we set out to find the happening spot and discovered a loud and crazy techno concert with die hard fans. It was definitely fun to see their nightlife and their sense of music.
Budapest Sites to See:
Buda Castle
Fisherman's Bastion
Gellert Thermal Baths
Christmas Markets are near Gellert, just across the bridge
St Stephens Basilica
Szechenyi Thermal Baths
Hosok Tere
Memento Park
Day 7: Return Home
The final day sent us each home to our separate cities, dreaming about when our next girls trip adventure could be and thinking up all the possibilities of places in the world we still want to visit.
If you didn't head over to read our Auschwitz experience yet, do so now. They'll give you an experience you'll never forget.
By taking our cross Europe vacation by car, we were able to see five different countries all while sticking to an incredible budget – just $1,000 USD! To learn about our trip expenses and planning, plus a printable copy of our itinerary, head over to our planning a Europe vacation on a budget post.
Plus, see our Western Europe road trip itinerary next where we go from Paris to Switzerland with stops in Belgium and Luxembourg!