In my opinions, the best way to see eastern Europe is by car! Renting a car can be an inexpensive way to see several countries all during one trip to make the most out of your vacation time. Plus, it gives you a look of the country outside of the major cities and attractions.
My friends and I were planning a girls trip the first week of December set on exploring the Christmas markets, seeing the sites, and getting a feel for the countryside with our road trip itinerary. With two of us on a tight budget and one a frugalista, it meant we were going to make the trip as affordable as possible to stretch our dollars to what was most important to us – taking in as much of Europe as we could!
Road trips may not be for everyone, but they're perfect for the travelers that want to see as much as they can in their vacation, because relaxing can wait until you're back at home. If that sounds like you, then this itinerary might be your perfect next vacation! Either way, read on to see how to travel Europe on a budget!
By traveling as a group of three, we were able to make the trip more affordable – allowing us to split the airbnb's, car, and gas all three ways. Our goal and budget – stay under $1,000/each.
Eastern Europe: $1,000 Challenge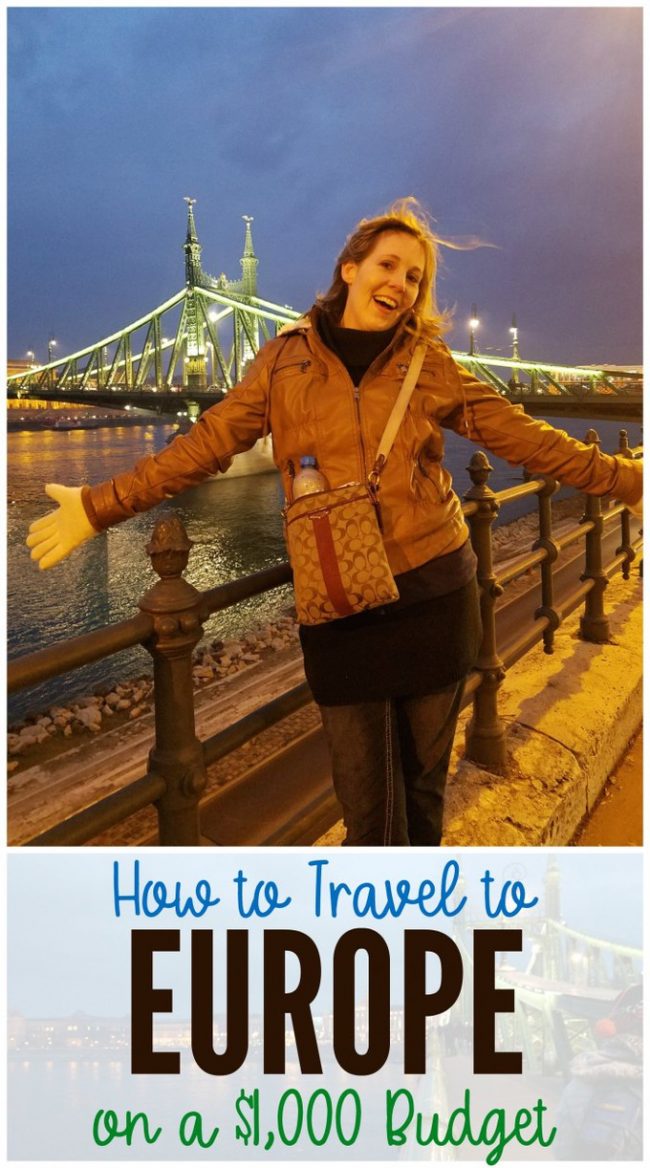 1. Plan a "Rough Draft" Route – Before we could start trip planning, we had to see if a road trip would be feasible and what a route might look like. We started by looking at what cities and sites where near our main destination – Auschwitz. We found several big cities and settled on Budapest, Vienna, Prague, and Krakow. The driving loop would take about 18 hours. Spread that across 6 days of driving and the itinerary seemed definitely doable! Roughly 3 hours of driving a day with time in each city would work! Now that we had a basic plan, we could start booking and turn the trip into a reality.
2. Finding Flights – The first step to staying on budget was finding low airfare that would work for all three of us, each flying from different locations around the globe. (Raleigh, NC; Phoenix, AZ, and London) To help with our search, we relied on flights.google.com that made it a cinch to compare flights and dates to find a match with our schedules.
Because we would driving through several different countries, we had our choice of several airports which also helped in comparing flight rates and making our trip as inexpensive as possible. The best flights we found were for the first week of December and had us all flying into Budapest, Hungary. (Flight from Los Angeles to Budapest was $581 we used airline points to hop from Phoenix to Los Angeles.)
Our booking was just a month away, and the warmest weather we would be able to find until Spring hit. At first, heading to Europe in December sounded crazy, but the Christmas markets and an amazing winter wonderland hike through Slovakia made the cold completely worth it!
3. Research & Fine Tuning the Route – With the flights now booked, I could dig in to start making plans in each of our desired locations including researching the cities and finding the attractions and sites we most wanted to see. The research step was vital for figuring out how much time to allot to each place en route and helped to firm up our road trip itinerary. You'll see our itinerary to follow, but for us that meant a couple longer driving days and a few days with minimal driving rather than a more even driving schedule.
4. Booking Accommodations – Once we had our driving plan and cities mapped out, it we turned to airbnb to find affordable accommodations that would be able to accommodate a group of 3 adults. We were very happy with every location we stayed in, and a few were off the charts fantastic! We were able to book all 6 nights for under $100 USD each (just under $300 USD total). You really can't beat what averaged out to $16/night for a private and comfortable place to stay.
5. Car & Other Expenses – With our 2 major expenses (flight and accommodations) out of the way, it was time to book the car we had priced out earlier and estimate gas and vignette (road taxes) expenses so we could set those funds aside. When all was said and done, we each still had $250 left in the budget for incidentals, food, shopping, gas and vignettes.
6. Skip Tours – Without the expense and schedule of tour guides, you'll be able to explore much more of the town either by foot, bike, or by using public transportation. Many of the admission fees you can skip, too, except for the sites you're most excited and passionate about seeing first hand. Since you can experience so much in a city without admissions you can save a ton of money simply by skipping admissions and the time involved with tours.
Now, let's move on to sharing our itinerary that you can use as a starting point and planning resource for your own Eastern Europe vacation.
Tips for the Road
Learn the Laws Ahead of Time – The key to a successful road trip is understanding the laws and regulations for different countries you'll be driving through. The countries we visited all drive on the right side of the road, so there wasn't any new challenge for us there, but there were a few things we needed to think about.

International Driver's License – All 5 Eastern Europe countries we traveled to required an International driver's license. They're not difficult to get, but will be something you need to think about a few weeks before your trip.
Vignette Road Fees – Rather than tolls, some countries opt for a daily use fee for the major highways. As soon as you cross over the country borders, plan to stop at the first gas station to buy a Vignette – a sticker that is placed on your windshield that indicates your payment for these highway usage fees. Be aware that if you don't specify the use period, you may be spending way more on these fees than is necessary. Ask for the shortest time frame, usually a 7-day pass.
Country Specific Speed Limits – Many European countries have a standard speed limit for their roads and won't post speed limits unless they vary from the typical speeds. Those speeds will be different for highways and surface streets and it will be important to know those speeds to state in compliance.

Pack Food – Bringing along road trip snacks or even supplies to make lunch on the road can save you time and help you multitask your driving time, plus save you money! We packed food from home and then left the snack foods in the car so we'd always have something to munch on between our adventures in each of the countries we visited.
Don't hesitate to detour en route – One of the keys to a successful road trip is to not be afraid to detour off to stop at that incredible sight you notice right along the route. The flexibility to make your trip your own while you're out in the countryside well make your trip extra memorable.
Don't bother to ask me where this church is in Europe, I don't have the slightest clue!
7 Day Eastern Europe Road Trip Itinerary
Day 1: Arrive in Budapest, Pick-up Rental Car, Stay in Budapest
Day 2: Drive to Vienna, Austria (2 hr 45 mins), Explore Vienna, continue on to Prague, Czech, stay in Prague.
Day 3: Explore Prague, drive to Oswiecim (Auschwitz), Poland (5 hrs), stay in Oswiecim.
Day 4: See Auschwitz and Auschwitz II – Birkenau (plan at least the first half of the day for these two sites), drive to Krakow (1 hr 15 mins), stay in Krakow and explore the city in the evening.
Day 5: Drive through Slovakia seeing sites en route and stop to stay somewhere in Slovakia. We stayed in Krupina (4 hrs driving time). I highly recommend stopping to hike through the Janosikove Diery Gorge, it was absolutely incredible and my favorite part of the trip outside of the harrowing visit to the Auschwitz sites.
Day 6: Finish the drive to Budapest (2 hrs from Krupina), explore Budapest and stay there overnight.
Day 7: Flights home and more time to see the city if the flights allow.
Get started planning and fine tuning your perfect European road trip with our this free printable that can be edited to suit your own needs! Just click the link below…
We will be sharing all the exciting adventures from our week long tour of Eastern Europe, including the unforgettable experience visiting Auschwitz, with a detailed post to come! In the meantime, share with us your favorite ways to save money while traveling!