As part of a week long trip to Eastern Europe, with our main destination set on visiting Auschwitz, I wasn't quite sure what to expect during the visit. I know no better word to describe my visit to the two Auschwitz concentration camp sites than the word harrowing (extremely disturbing or distressing; grievous).
My Experience Visiting Auschwitz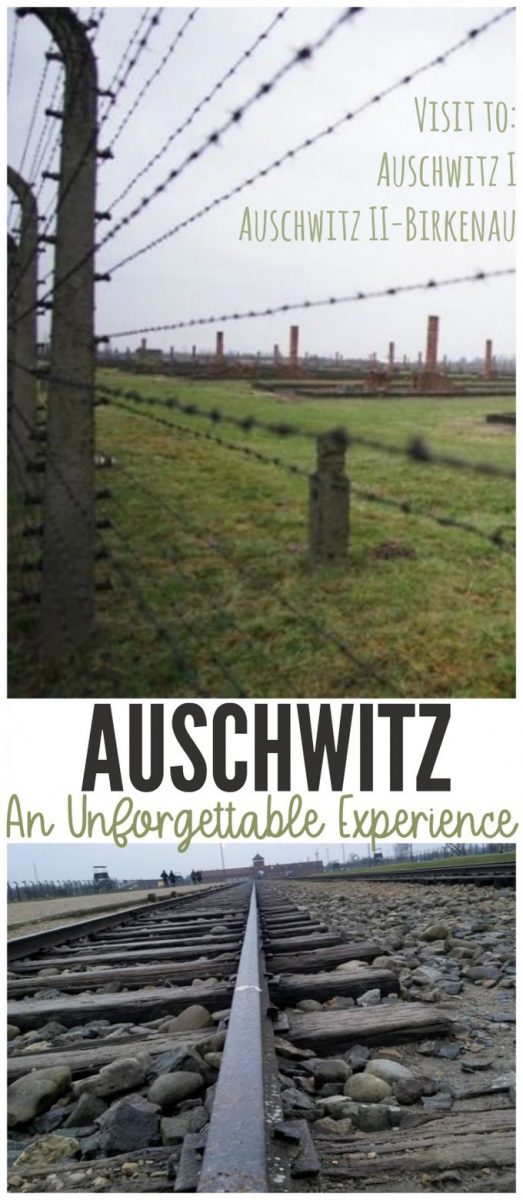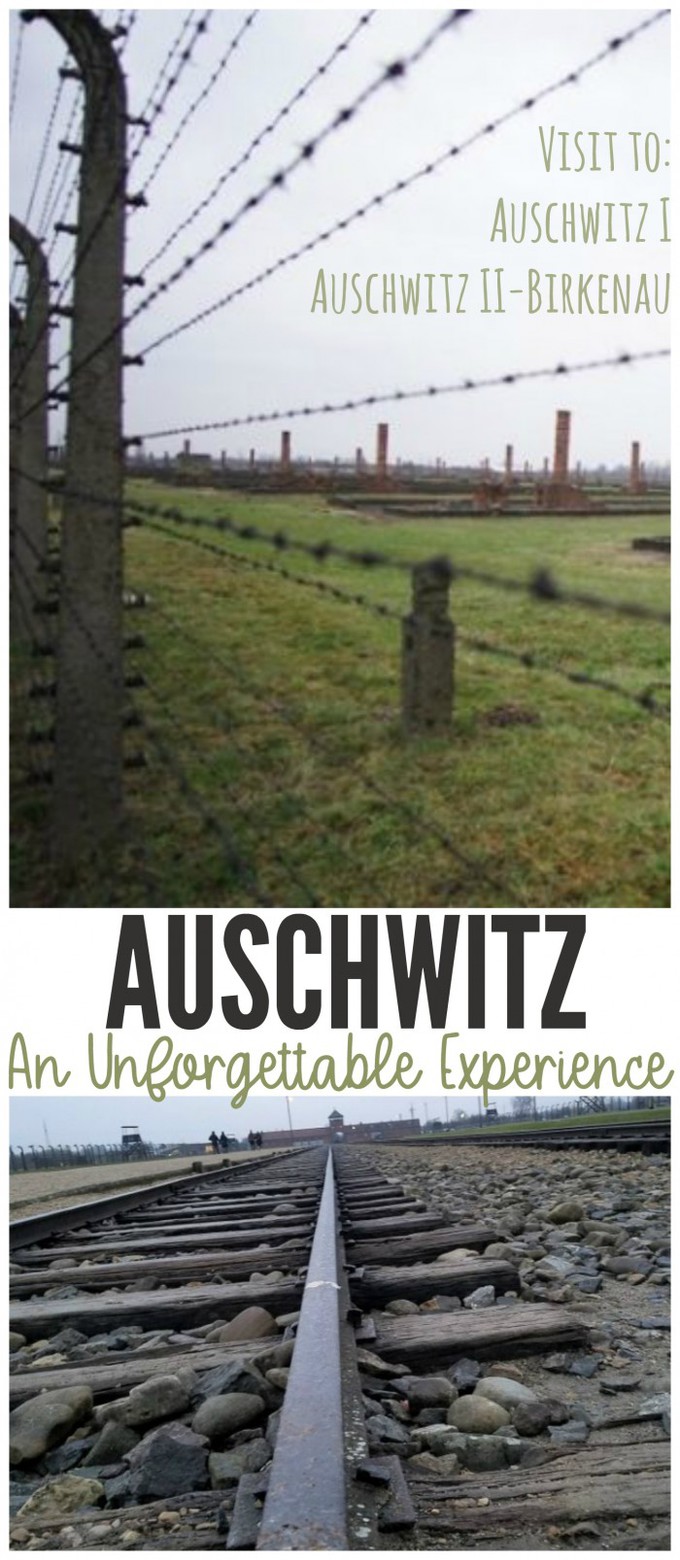 We spent about 6 hours between the two sites, and the visit is something that is nearly impossible to even describe. The best I can do is show you what I experience with a little bit of the history I learned while there and hope just a little piece of my experience can be carried over. This is a place everyone needs to visit when going to Eastern Europe. It is a place that just cannot be grasped without going there yourself.
Auschwitz I
Auschwitz, which had been a Polish barrack prior to World War II with the Germans took over Poland. The Nazi's then used the site as a concentration camp initially to house Polish prisoners. The camp was expanded and eventually was large enough to house 16,000 people.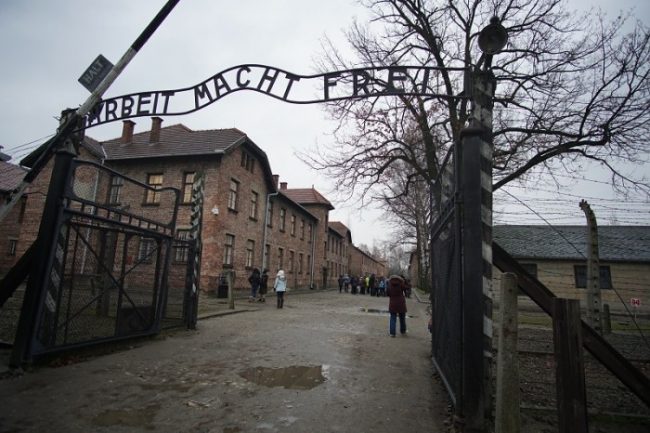 The entrance gate to Auschwitz was framed with the saying, "Arbeit macht frei" meaning "Work will set you free." It was intended to give a false hope to the people imprisoned there. As we walked through the gate to what felt like a very large site we tried to comprehend the number of people that would have been imprisoned here.The guidebook said that by the end of the camp, there were 16,000 people imprisoned here.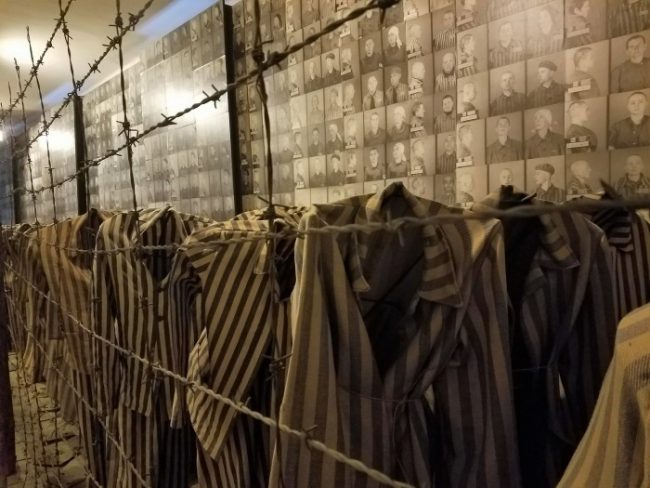 Many of the buildings held memorials and historical information about the events of the war and the things that happened here. It was hard to take in everything that we read and saw. One of the most moving exhibits was these rows of proped up striped uniforms behind barbed wire fencing. They looked as if marching to their death with a wall of actual photos of people from the camps in the background. It was a horrible thing that took place here, and it is so important that we learn about and remember what happened so that history is not repeated.
The heart wrenching memorials continued with exhibit rooms filled with belongings of the people from the Auschwitz camps – including their pottery, shoes, suitcases, even their hair which was crudely shaved from their heads before they were sent to work or to their death.
It was at Auschwitz I where they trialed the first crematory and gas chamber. Walking in through the gas chamber was something that is hard to put into words. You could just feel the impact of this place and see the claw prints on the walls from the innocent people who were locked in and poisoned by gas. The gas chamber lead to the crematorium where they would then dispose of the bodies by fire. This gas chamber was eventually put out of use as they expanded their extermination efforts with a series of gas chambers at the nearby Auschwitz II – Birkenau.
At Auschwitz I also experimented with mass sterilization, experimentation on twins, drug trials and more. These inhumane experiments left survivors permanently disabled and many were killed either for the experiments or during experimentation due to the effects. Many executions took place at Auschwitz as well.
It was a place of so much death that it was hard to be there and experience everything that this place once was, but so important to do so. We spent about 3 hours at this camp, then went back to the apartment for lunch and to head to the second site.
Auschwitz II – Birkenau
Just 2 miles from Auschwitz I, the Germans began to build a second camp, Auschwitz II – Birkenau that would become the largest Nazi concentration camp and a place of mass extermination of Jews and other captives. It was important that we had visited Auschwitz I first to learn of the history and see the exhibits so that we could come to this second site with more awareness.
But when we walked through the large entrance gates and onto the railway tracks that brought so many people here we were completely blown away by the sheer size and capacity of this second camp. We had thought the first camp was large. This second camp, was impossible to grasp the magnitude.
Most of the sites lay in ruins with just the brick fireplaces and foundation still in place, which makes it such a harrowing site to see cabin after cabin in ruins but as far as you could see in both directions. The camp was being built to hold 200,000 prisoners on 432 acres of land, but was only partially completed by the spring of 1944 with more than 300 buildings on the site and 11 miles of electrified barbed-wire fencing!
The tracks that ran right through the entrance of the camp to the very back of the camp brought in the prisoners who would then undergo a "selection" where the majority were deemed unfit to work. In most train loads brought in, 75% or more of the people were sent immediately to the gas chambers to be killed. We were able to see the ruins of these gas chambers, as they were destroyed towards the end of the war to hide evidence of their war crimes committed.
Those not immediately killed would be sent through an humiliating process at the "Sauna" house. The people would be filled through a series of rooms, sometimes taking hours between each of the rooms. Their belongings were taken from them including their clothing, their heads were crudely shaved, they were then showered en mass with often very hot or very cold water and disinfected. From there, they would be given a camp uniform and wooden clogs along with a camp number.
The people were then shuttled into one of the barracks. We were able to go into one of the wooden barracks that was designed to hold 400 people, with a total of 15 people per triple bunk. In practice, the bunk platforms would hold 10 people sleeping on simple straw mats with not enough room to even roll over.
There was an incredibly moving display of the prisoners photographs of their peaceful and happy lives up until this horrific war. To see these thriving people that lived lives very similar to my own was heartbreaking. I tried to grasp all that they were put through during these terrible years, but it was impossible to experience the gravity of the events that took place here.
In the Auschwitz camps, it is estimated that over 1.3 million people were brought including over a million Jews. Of those brought to the camp, over 1,100,000 people were killed the majority of which were gassed and cremated. About 90% of the victims were Jews.
For ever let this place be a cry of despair
and a warning to humanity,
where the Nazis murdered
about one and a half million
men, women, and children, mainly jews
from various countries of Europe.
Auschwitz – Birkenau
1940 – 1945
It is my hope that we will learn from the past and never let something like this ever happen again. In order to hold this resolve, we must try our best to grasp the cruelties that have happened at places like Auschwitz. By understanding them we will better be able to spot and fight against the cruelties of humanity and stand up against what is so clearly wrong.
I would absolutely recommend taking a trip to Auschwitz I and Auschwitz II – Birkenau, it is a place that everyone should visit as it is an experience you will never be able to forget.
To see how we set off on a 7-day vacation while sticking to a $1,000 budget, see our tips for budget-friendly travel.
Then, read about the rest of our journey through 5 different European countries. Auschwitz was just one of our stops, but needed it's own post to cover this incredible place. Read on to experience the rest of our vacation including an easy itinerary you can follow!