Now that you've settled on the main Christmas gifts for your partner, children, and loved ones, it's time to start thinking about stocking stuffer gifts! We've complied a list of our favorite stocking stuffers for adults and kids so you can find something for everyone on your list! Plus, grab the free printable stocking stuffers list to making planning and prep easy!
This post is sponsored by Energizer. All opinions are my own.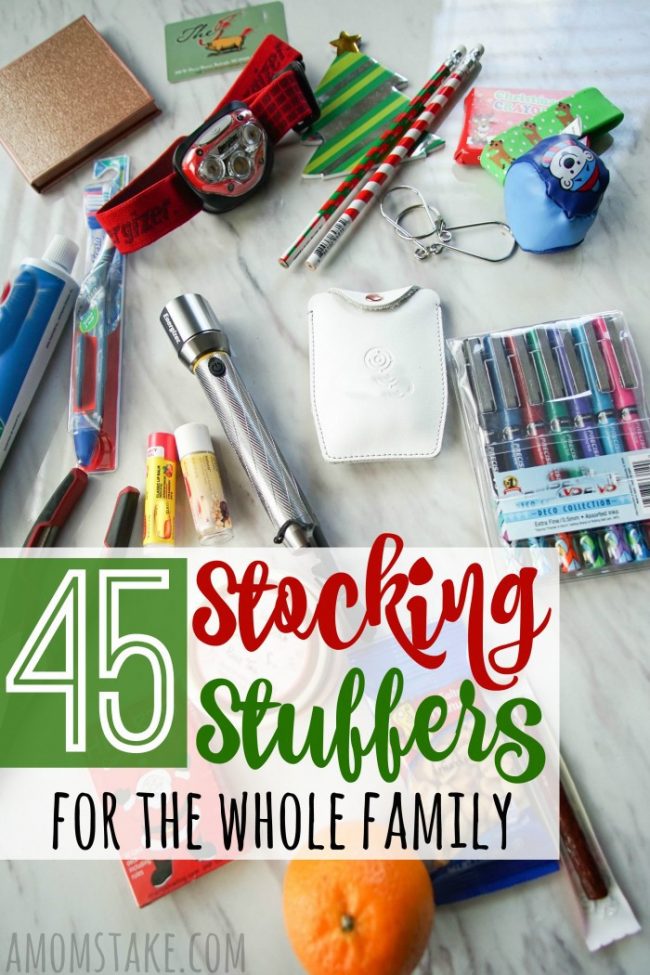 45 Creative Stocking Stuffers for Adults & Kids
Stocking Stuffers for Her
1. Card game
2. Sugar Scrub
3. Lotion
4. Makeup
5. Chapstick
6. Scrapbooking Supplies / Stamps
7. Jewelry
8. Hot Chocolate
9. Gum / Mints
10. Hair accessories
11. Pens
12. Journal
13. Day Planner / Calendar
14. Cooking tools
15. Gift card for a night out
Stocking Stuffer Ideas for Him
16. Tools
17. Headphones
18. Book
19. Hair care
20. Nuts & Jerky
21. Homemade coupon book
22. Razor or blade refills
23. Watch
24. Tie
25. Music gift card

26. Energizer® Vision HD Performance Metal Lights flashlight
27. Belt
28. Desk toys
29. Camping accessories
30. Golf balls / tee
Stocking Stuffer Gifts For the Kids
31. Socks
32. Underwear
33. Toothbrush and toothpaste
34. Small Toys
35. Puzzle
36. Stuffed animals
37. Pencils / notepad
38. Candy
39. Fruit
40. Fruit snacks
41. Energizer® Vision HD+ Focus LED Headlight
42. Batteries
43. Foam darts
44. Art supplies
45. Cash
Light Up the Holidays with Energizer
No matter what your loved ones are into, Energizer has great products that are perfect for adding to their stockings this year. For the DIY'er an Energizer® Vision HD+ Focus LED Headlight will give them the light they need to create something no matter the time of day.
With an impressive 180 lumens light output and 3 different light modes including a new dimming feature you'll have just the right setting for every task you manage. Pivot the light to shine right where you need it for your projects. Plus with the hands-free design you'll be able to focus on your task without using up one of your hands you might need for your other tasks.
Take along an Energizer® Vision HD Performance Metal Lights. It's slim and compact size doesn't sacrifice in light quantity. With an impressive 400 lumens it will be great for camping, shooting, paintball, flashlight tag, and other outdoor adventures. Or use one of these great lights to take care of evening tasks and improve safety on a late evening walk.
The light can easily transition from a spotlight to a flood light with a one-press digital focus giving you a variety of uses for every need. It's designed to be durable and long lasting so it can keep up with whatever you have planned.
You can find both of these Energizer lighting products available for under $30 at local retailers including Target, Lowes, and on Amazon.
Printable Stocking Stuffers for Adults & Kids List
Grab our free printable list of these 45 creative stocking stuffer ideas to help make it easier to plan and prepare for the holidays!
What's your favorite thing to add to stockings?