Do you struggle with a clean home or staying on top of the household duties and responsibilities?
It used to be a real pain point for me. My house always felt messy as a mom of a handful of little boys.
I was introduced to this idea of a "Weekly Home Blessing" and it really resonated with me. I don't want to have to do zone cleaning every day of the week, I'd much prefer to do the daily tasks needed (like dishes, wiping down counters, and picking up clutter) and leave all the "deep" cleaning for just one day a week.
Once I got into this habit, the "deep" cleaning wasn't hard at all! Since it became only maintenance cleaning it was much easier to stay on top of and faster to do.
Weekly Home Blessing – How Does it Work?
The idea behind this weekly cleaning checklist is you're able to stay on top of the cleaning tasks so it's not overwhelming to clean up each week. It's like being your own weekly cleaning lady.
When you first get started, it may be more time intensive if you have neglected some of the deep cleaning tasks. I know it was for me, but soon you'll be caught up.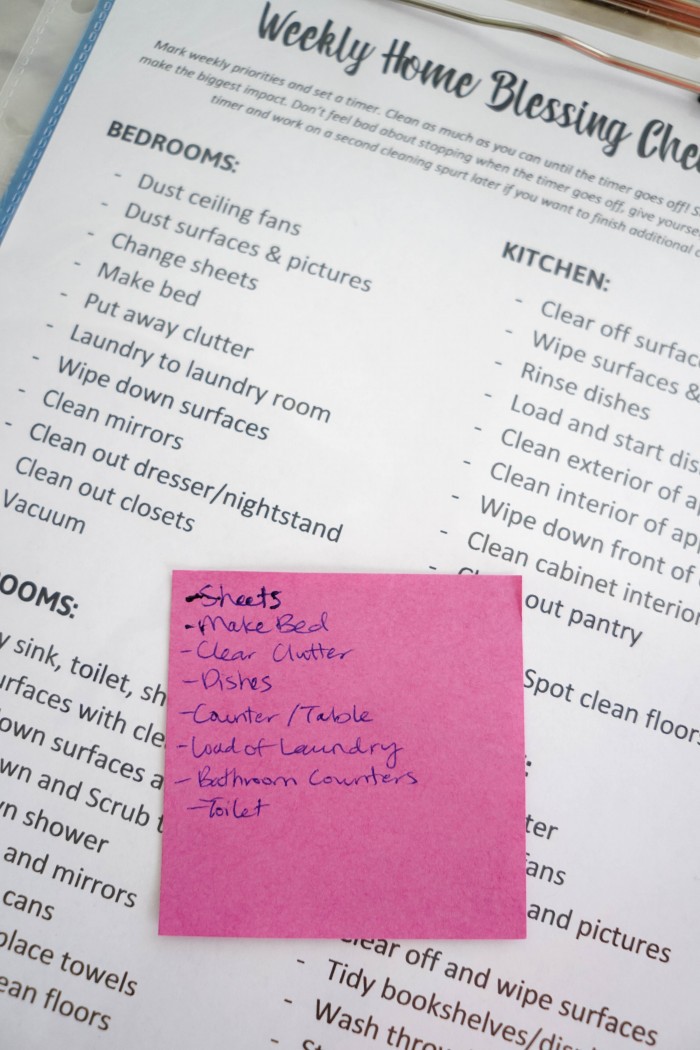 Start by going over our Weekly Home Blessing Checklist and marking what tasks you want to focus on. Decide on how much time you have to clean. I recommend 1 hour, but do what works for you and your schedule. Even 15 minutes is better than nothing at all.
Set a timer and hustle through your cleaning tasks, starting with those that are most important to you, or those that will make the most impact.
When the timer goes off, you can set another timer if you still have energy to clean and want to continue, or you can be content with what you've been able to accomplish and move on with your day.
I tend to find it is just the getting started that is difficult, and once I'm up and cleaning I usually will keep going until the job is done. The timer is still a really helpful tool, though, because it helps me stay on task and makes it feel like a challenge.
The timer also helps me to drop the guilt that might otherwise come with not a perfectly clean house. Usually, if I don't finish everything in my 1 hour timer, I'll finish up the one thing I'm working on, and then take a break for a while. I may come back to work on other jobs later in the day, if I have the time and energy, but I don't feel any pressure to do so.
Weekly Cleaning Tasks
For those that may not want to print our printable below, or need to just quickly see what's included on our checklist, this is the list of weekly cleaning tasks I go off of.
Some of these tasks I don't do every single week, but I do try to do most of these during each week and some of the ones like dusting may happen every other week or once a month, depending on how much time I have available.
BEDROOMS:
Dust ceiling fans
Dust surfaces & pictures
Change sheets
Make bed
Put away clutter
Laundry to laundry room
Wipe down surfaces
Clean mirrors
Clean out dresser/nightstand
Clean out closets
Vacuum
BATHROOMS:
Spray sink, toilet, shower, and surfaces with cleaner
Wipe down surfaces and sink
Wipe down and Scrub toilet
Wipe down shower
Clean glass and mirrors
Empty trash cans
Wash and Replace towels
Mop or spot clean floors
KITCHEN:
Clear off surfaces
Wipe surfaces & backsplash
Rinse dishes
Load and start dishwasher
Clean exterior of appliances
Clean interior of appliances
Wipe down front of cabinets
Clean cabinet interior
Clean out pantry
Sweep
Mop or Spot clean floors
LIVING AREAS:
Pick-up clutter
Dust ceiling fans
Dust surfaces and pictures
Clean TV
Clear off and wipe surfaces
Tidy bookshelves/displays
Wash throw blankets
Straighten cushions/pillows
Sweep and/or Vacuum
My Typical Weekly Home Cleaning Routine
I like to start in my master bedroom. I change and wash our sheets and towels on Monday's, so I like to get that started first thing in the morning so I know it's done. I just pull off the sheets as I'm getting up in the morning, and replace with a second sheet set. This way, I don't have to wait through the laundry process to make my bed back up again.
If I plan to dust the fan, I'll do that just before changing my sheets, but I tend to do that just once a month or so.
As soon as the sheets are off, I'm making the bed back up with the clean second set of sheets. Making the bed really makes the room feel so much cleaner.
Next, I'll quickly pick-up surfaces returning things to nightstands or picking up random clothes and taking them to the laundry basket.
From there, I move onto the connected bathroom clearing off my counter top and wiping as I go along. I put away all the random stuff that has lingered like makeup and hair straighteners and replace the towels.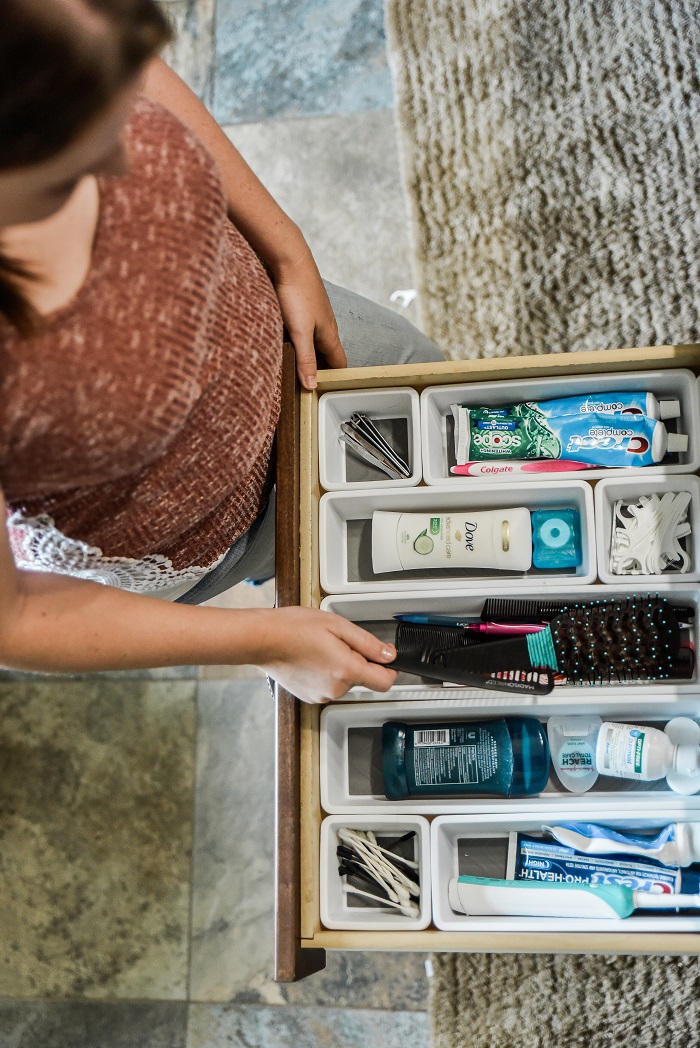 Next, is quickly cleaning the toilet and I'm done in this area. I clean the showers and baths when I get out of them (once a week or so) with just a quick wipe down, so they're not part of my typical Monday tasks.
After the master bedroom I work on the kitchen clearing off and wiping down surfaces, loading the dishwasher and getting that started. If the appliances are dirty, I'll wipe those down too.
Finally, I pickup any clutter in the living room and straighten it all up.
Then, I turn to the floors, sweeping, mopping, and vacuuming. I continue vacuuming into my master bedroom and living room.
This cleans most of my open and visible living areas and my personal bedroom and usually takes me about an hour and I'm done. My kids are responsible for cleaning their own rooms and bathroom, so I don't focus on those areas during my Monday cleaning.
Printable Weekly Cleaning Checklist
I made a printable cleaning checklist sheet you can use to reference typical cleaning tasks around the home. You can print this out and stick it in a sheet protector and then use a dry erase marker to cross off what you've finished.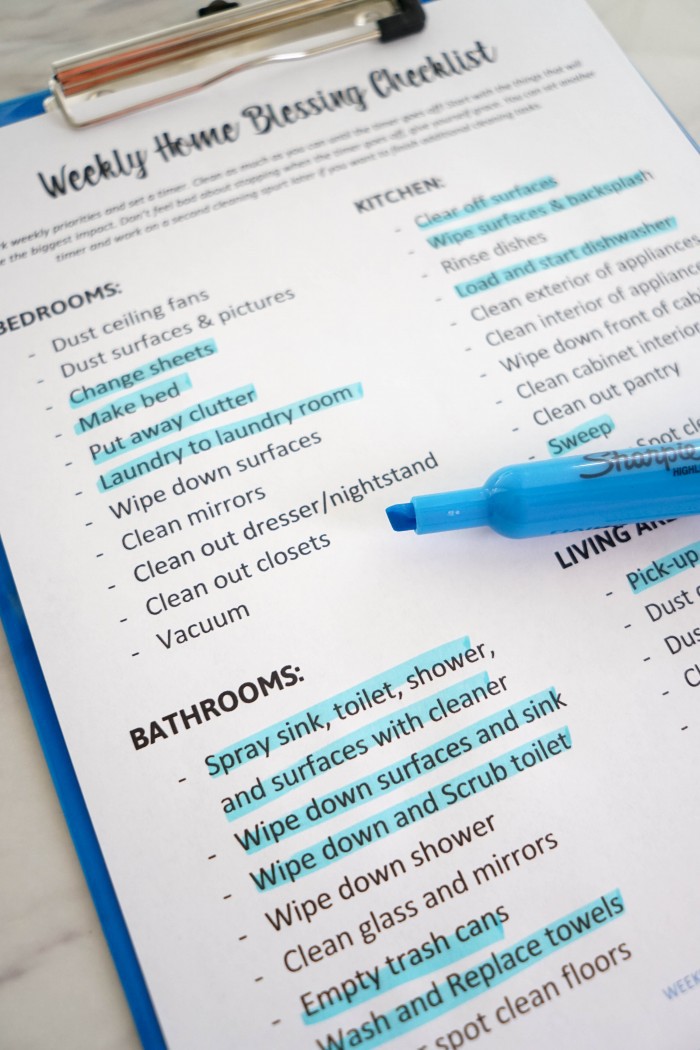 I highlighted my priority cleaning tasks. These are usually the most important tasks every week, as they are the ones that make the most impact on the home looking and feeling clean. You can slip this into a sheet protector then, and just follow down the list, adding extra jobs that you might also have time to sneak in.
Or, simply use this cleaning printable list as a reference guide to help you jot down what your cleaning priorities are for the week.
Just click the image or link below to print or save a copy of our Weekly Home Blessing Checklist!
How to you tackle your home cleaning tasks?
Even More Helpful Home & Cleaning Posts