Whether you are expecting a new baby, about to become a grandma, already have children, or have a little one coming over to visit you'll want to own a pack and play! This is one of the most helpful baby equipment you can own with the variety of pack and play uses and makes a great baby shower gift.
Affiliate links are used in this post. All opinions are our own.
Today, we'll share answers to common questions about pack and plays and then share some creative ways to use your pack and play to get even more use out of this essential baby gear.
How to Use a Pack and Play
What is a pack and play?
A pack 'n play, also called a playard, is a portable crib for infants and toddlers.
How to setup a pack and play?
Each pack 'n play can be a little different in the setup, but most will follow these basic steps. Raise the four top edges by pulling up sharply on the sides. Ensure they have clicked into place by pressing down slightly on the sides and making sure they do not collapse.
After your sides are up, then you will push down the bottom. The sides will not lock into place if the bottom is pressed down first. If you experience this problem, simply pull up sharply on the handle in the center of the playard's flat bottom surface on the inside of the pack 'n play. Return to step one to put up the sides before continuing to push down the center beams to form the flat bottom.
Finally, add the mattress pad to the bottom of the pack and play and it's ready to be used.
How do I collapse a pack and play?
You'll collapse a pack and play in reverse order of setup. Start by removing the bottom mattress pad and set it aside. Pull up sharply on the handle in the center of the inside bottom of the pack 'n play.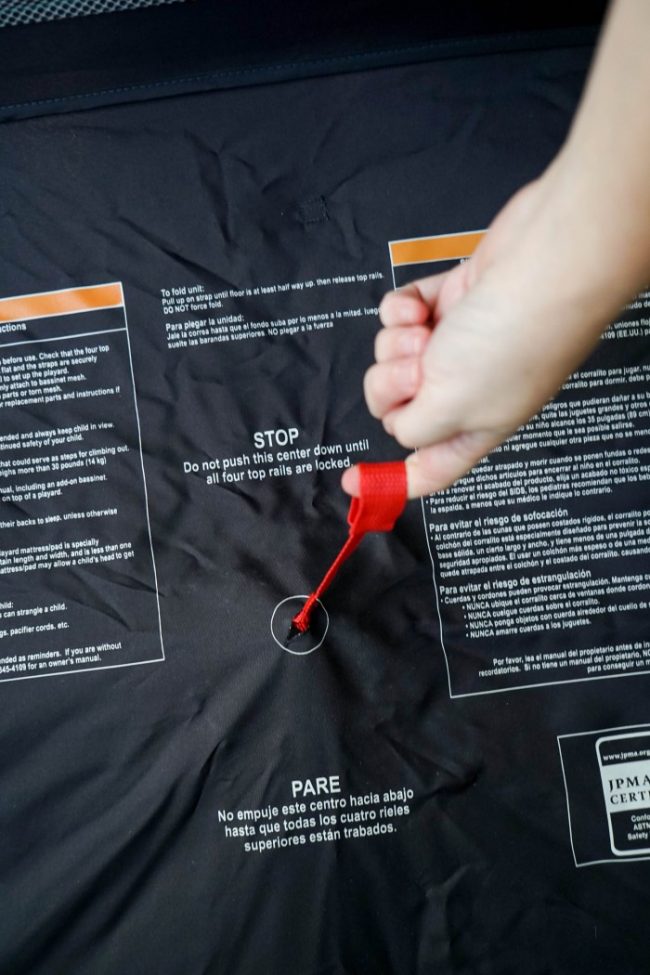 This will pull the bottom corners in towards each other. This step feels awkward, but must be completed first.
Next, collapse the pack and play sides by pinching one of the buttons on the outer side rails. Pull up slightly, and then push downward. You will not be able to collapse the pack 'n play if the bottom of the playard is still flat and in place.
When all the sides are collapsed, you can fold the mattress pad around the pack and play and velcro in place to help keep your playard neatly contained and easy to store until it is next needed.
What is a pack and play used for?
A pack 'n play is most frequently used to provide a place for infants and toddlers to sleep while traveling or out of the home. It folds down compact for storage when not in use. We're sharing some additional ways to use a pack and play.
You can also see our previous post on 5 Ways to Use a Pack 'n Play for five additional pack 'n play uses to get even more use out of your playard.
6 Creative Ways Pack and Play Uses
1. Toddler Safe Toy Box – Traditional toy boxes lead to the fun game of throwing every single toy they find out of the toy box, just to see what happens and the thrill of it.
You can instead easily stash toys into your Pack 'n Play and pull out just a few toys at a time or grab a tote of toys. Using a plastic tote makes it easy to grab the toys out in bulk or to transition the playard to a different use quickly.
2. Puppy Kennel – You can give brand new puppies safe boundaries for exploring their new world inside a pack 'n play. Lay down a cardboard box for lining then add blankets or newspaper to soften the space.
3. Impromptu Baby Gate – When you're traveling, you likely won't have a baby gate along with you. A pack 'n play can be very helpful for blocking off areas of the hotel room or family members home that you don't want your toddler exploring. You can even use it to block some stairways, depending on the opening width!
4. Protect Presents and the Christmas Tree – Set up your Christmas tree in the corner of a room, then place the Pack 'n Play in front of it blocking off access to the tree and ornaments.
You can pile up the presents inside and keep them safe, too. When your little one is in bed, you can easily wheel away the pack 'n play for a pretty view of your lights.
5. Baseball Game – On a slow Saturday afternoon at the park, everyone will be able to join the ball game if you bring a pack 'n play to let your youngest nap with you nearby.
6. Safe Storage – You can keep important items stashed and stored out of reach in your closet, garage, or other storage space by placing the items inside the Pack 'n Play. It will keep your pile of stuff from becoming a toppling hazard when you're toddler starts exploring and pulling up on anything they can reach.
Shop for Pack and Plays on Amazon to have one delivered right to your recipient or your own door step with ease!
What are some other ways you use a pack and play?