I recently went through my house, from top to bottom, and rounded up all of the toys. We had a pile of toys that filled the entire area of our large living room rug. Of all those toys, hardly any of them actually get quality time being played with during the year.
It was time for a major purge. We kept only 4 types of toys – blocks, trains, toy animals, and of course cars!
As a mom of only boys I can attest that cars are by far the ultimate toy for boys. Here's the top 5 reasons boys need toy cars in their life.
This post is sponsored by HOT WHEELS. All opinions are my own.
5 Reasons Boys Need Toy Cars
Builds Imagination – Toy cars help boys to build a whole imaginary world around them. I'm always fascinated to watch as my boys will create paths and roads out of anything from arms and legs to books and counters.
They come up with whole stories of the cars crashing and racing and escaping from the bad guys. I've see cars for boys be able to help build their imaginations in a similar way to how dolls can create whole worlds for little girls.
Teaches Cause & Effect – Rolling, racing, crashing, chasing – all of these actions and more help kids to learn reactions. As they push the car, they can watch as it rolls away from them. As they crash them into each other they can see the effect of an impact as one car flips over or rolls away on impact.
As my 3 year old was loading his new Mattel Monster Jam Trucks onto the truck carrier, he was first surprised, then thrilled, to see the cars roll off the back of the truck if the back ramp wasn't closed. He had to retry the action over and over just to see what would happen.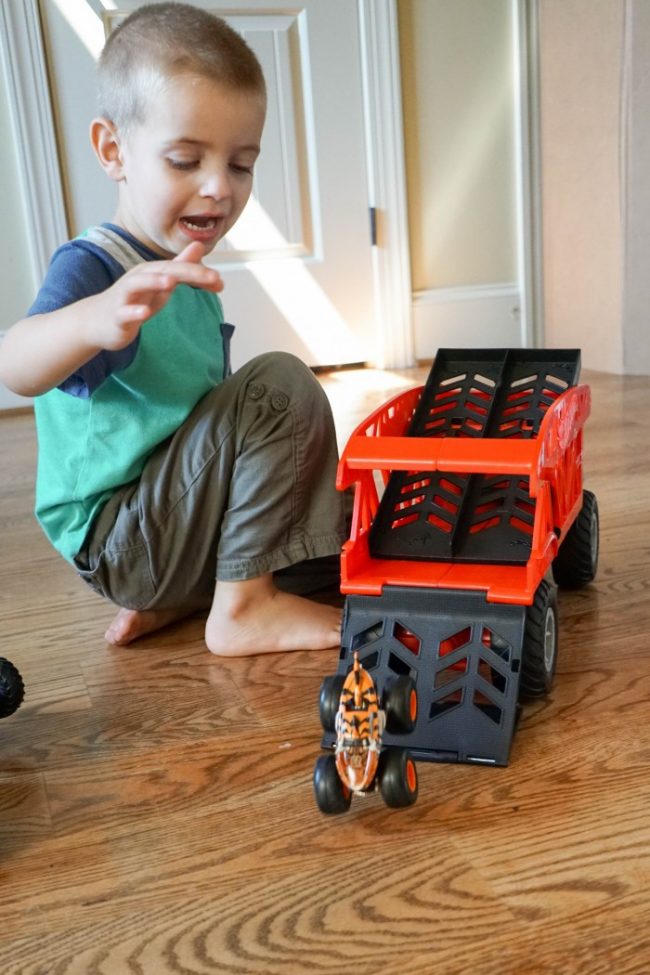 Cars Can Go Anywhere – We love how portable toy cars are. Their portable size (even monster trucks) make it easy to take a toy with us to a restaurant, appointments, and even shopping trips. A single toy car can keep my boys busy and happy to go along on errands and entertained in their car seats.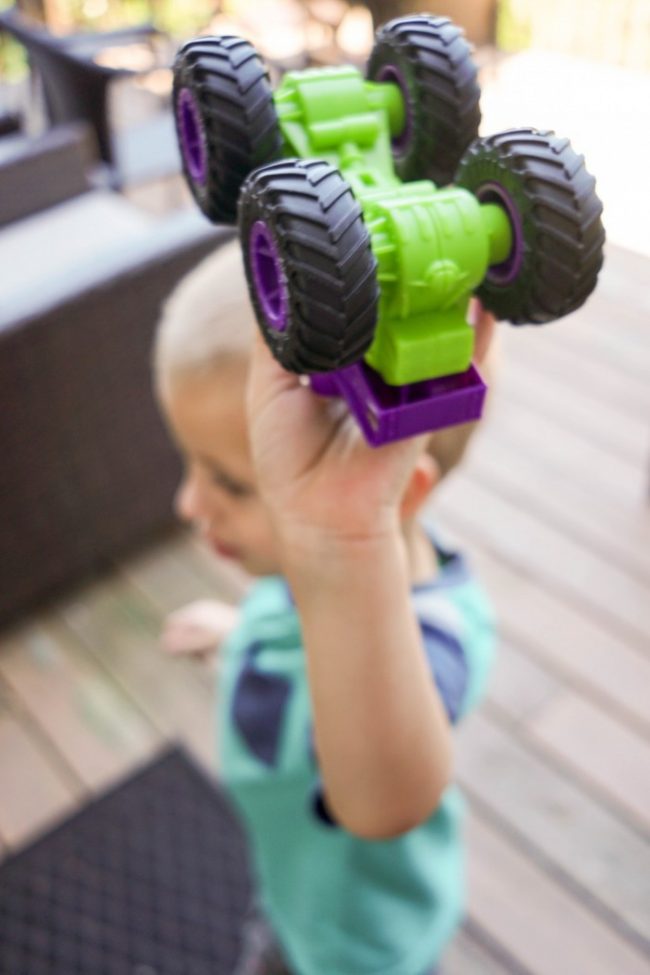 I also appreciate that they don't have lights and sounds so they're appropriate for most locations. Heck, we have even brought our toy cars to church for a quiet activity during services.
Grows With Your Child – Many of the toys we got rid of in our great toy purge were age-based toys that only served a purpose for a short time, 6-12 months in most cases. We certainly could have gone without most of those toys and still provided our boys with rich experiences and playtime.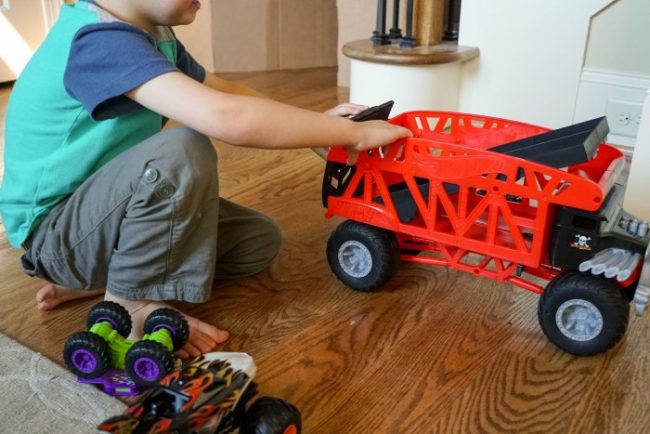 But toy cars are one of the very few toys that will grow with your child. Whether your little one is 3 or almost a tween, I've caught all 4 of my boys play with toy cars many, many times.
Fun indoors and out – Some toys just don't play well outside, but toy cars are an exception. It seems like toy cars may be even more fun outdoors than even inside! They're fun to race down the sidewalks, go along with us on walks around the neighborhood, and make their way through the grass and garden beds like they belong there.
Bonus Reason: Provide Endless Hours of Entertainment – I'm always amazed at how long and how thoroughly engaged my boys are when playing with their toy cars. They get lost in playtime and are easily entertained with even just a couple of toy cars. They are a very favorite toy around here, and one our family couldn't do without.
Monster Jam Trucks Take
Toy Cars to a Whole New Level
Boys will love any kind of toy cars, but we've been having so much fun with Mattel's Monster Jam trucks. They have big wheels and can pivot on their wheels which makes them really feel like a monster truck! The larger size is perfect for small hands.
My 3 year old has been taking his Monster Jam trucks around with him everywhere he goes. He loves to smash them, roll them, and even drive them up me as his "race track".
These toy trucks feel really durable and they've already been put to the test over and over again by crashing the trucks into each other and racing them down our patio railings. It's easy to see these toys will last for many years to come.
You can find the entire line of Mattel HOT WHEELS Monster Jam Trucks at your local Walmart. The product line includes smaller and larger trucks and even a truck loader/hauler that is seriously fun!
Watch our 1-minute video short to see these seriously fun Monster Jam Trucks in use!
What do you think, do boys need toy cars?