This post is in partnership with Graco. I am a #GenerationGraco brand ambassador. All opinions are my own.
There are so many different ways to use your pack 'n play, here's our favorite 5 ways! We've partnered with Graco in celebration of the 30th anniversary of the Pack 'n Play to share 5 ways to use a Pack 'n Play to get lots of use out of your investment.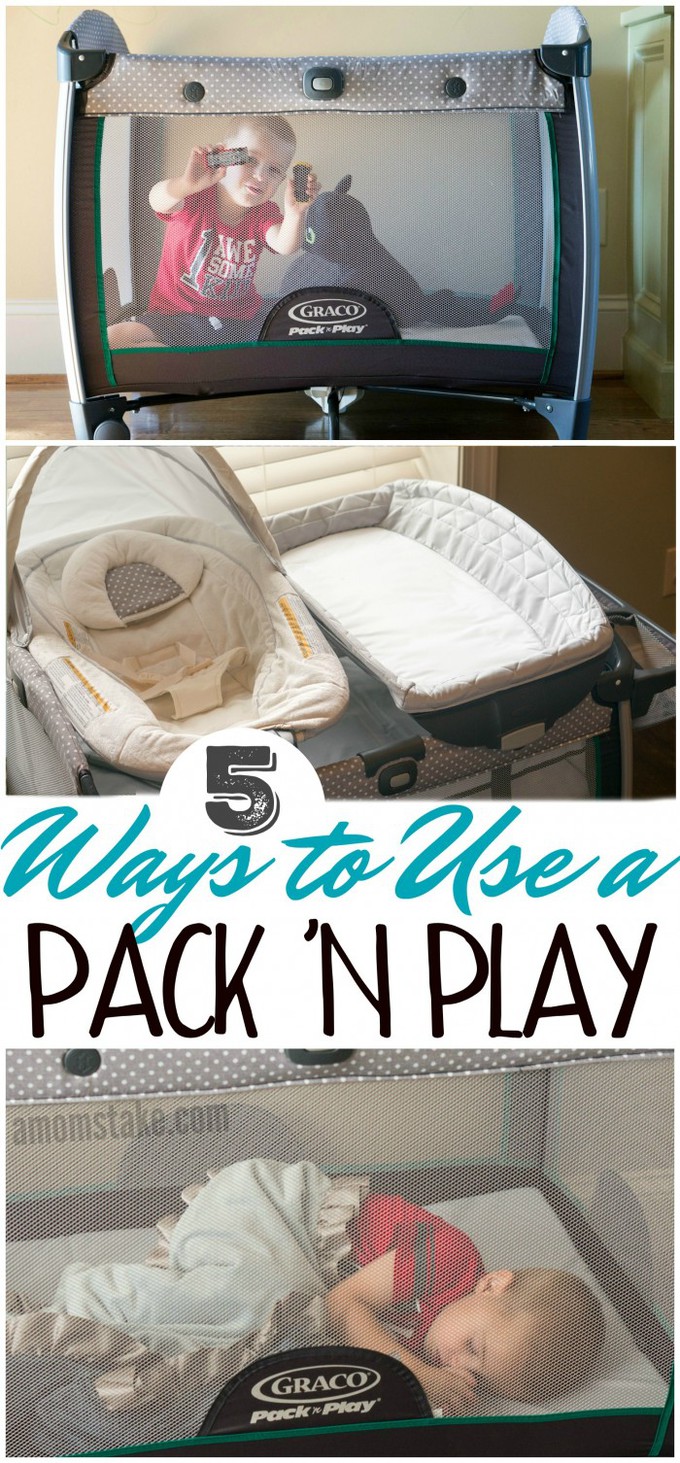 5 Ways to Use a Pack 'n Play
1. Beach Trip – A pack 'n play at the beach will give a safe place for your little ones to play and keep them safe. When you're ready for them to explore the sand and surf, you can then corral your belongings inside the pack 'n play to deter thieves. Toss a swaddle blanket over top or prop open an umbrella to provide shade.
2. Camping – Falling asleep on a camping trip can be tough. It's a whole new environment and can be both exciting and scary for young children. Having a pack 'n play on a camping trip is worth every square foot of the tent it takes up. In our double tent, we use the pack 'n play as a room divider with two queen air mattresses on either side. It adds a little privacy and lets your infant or toddler get a better night's sleep.
3. Play Space While You Clean – Use toy links to attach a variety of toys around the edge of the pack 'n play or stretching across the top. You'll have a little customized entertainer while you mop the floor or clean other areas that are hard to tackle with a little one under foot. For toddlers, just hand over their favorite toys.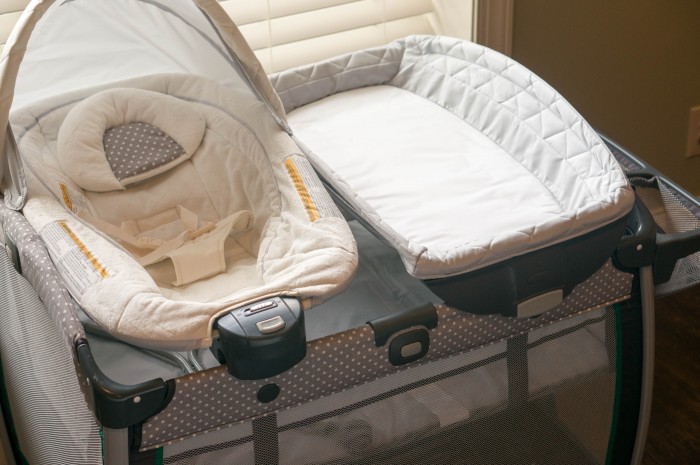 4. Newborn Bassinet – There's no need to purchase a separate bassinet to keep your newborn in your room those early weeks or months. Choose a pack 'n play with the bassinet attachments and diaper changing station and you will have the perfect setup for a newborn.
5. Portable Crib for Visiting Guests – Set-up a guest bedroom for incoming family of friends, and include a Pack 'n Play for their infant or toddler so they don't have to worry about a sleeping space for their little one.
Our Pack 'n Play is one of the baby essentials we'll keep even after our kids are too old for it because it's so useful for when company comes over – even just for a dinner party there's a chance of a fussy baby that's ready to go to sleep!
My Graco Experience
I have depended on Graco baby products to help me raise all of my children. With my first brand new baby boy, we set up a Pack 'n Play with the newborn station and changing table in our bedroom and didn't even bother with a crib for his first 2 months. It was so convenient to have him right in the room with us and a place to change him just as easy to access during those early sleepless nights.
The Graco Pack 'n Play Playard Quick Connect Portable Bouncer is really cool because it eliminates another baby product to save you money! The newborn sleeping area attaches securely to the Pack 'n Play or can be removed and used as a portable bouncer.
This is genius! It allows you to have your baby nearby and be able to easily move them to a quiet space when they fall asleep. We may be past the newborn stage and the need for this innovative feature, but I can still appreciate how much I would have loved that ability when raising my boys. There were countless times my baby would fall asleep in the family room with us and something loud would startle them awake. Plus, baby gear tends to overrun the home, so one less item to purchase and to store is fantastic!
We still use our Pack 'n Play when we travel – especially for camping or visits to grandma's house where boundaries can be really important for safety. There are just some places that aren't ready for a toddler to be without supervision so this allows a safe sleep environment, wherever we go.
Travel Sleep Tips from The Sleep Lady
Recently, I had a chance to talk with Kim West, also known as The Sleep Lady. She shared a few of her sleep tips to help your little one feel more comfortable while traveling.
Your travels will bring a new sleep arrangement for your infant or toddler, as they sleep in a Pack 'n Play instead of their crib or bed. There are a few little things can really help ease them to sleep even in a new environment.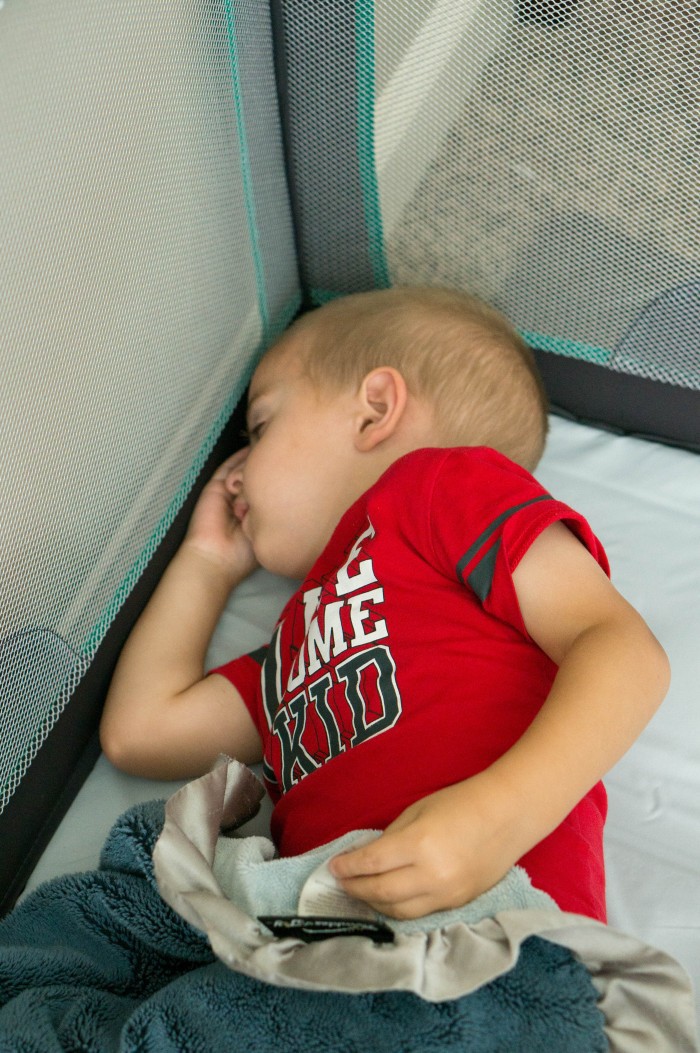 First, bring items along that smell like home. A crib sheet can be a great option to cover your pack and play, tucking it under to fit snug around the Pack 'n Play mattress, and help the space feel more like home. If your child has a lovey like a favorite stuffed animal or blanket, don't forget those items as well. You'll want to bring along a nightlight to create that same dim-light soothing environment.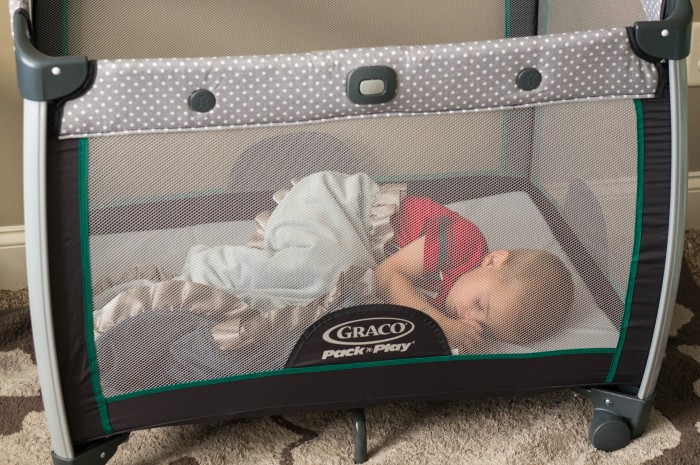 If you are especially nervous or worried about the sleep transition, you can practice by setting up the Pack 'n Play in your child's room and have a practice nap in their usual space by just changing where they are laid to sleep but keeping the rest of their surroundings the same to help them feel more comfortable in the Pack 'n Play while you're traveling and in new environments. In most cases, this extra steps isn't necessary, but can be helpful for parents that are worried about the upcoming trip.
What other ways have you use your Pack 'n Play?