Gunner, my chocolate lab, has been part of my family for almost 5 years. Because he is such a loyal family member, I want to make sure that he is well taken care of: both emotionally and physically. Part of maintaining that emotional health is spending quality time with him. Not to mention, I've noticed that the more entertained he is, the less trouble he causes. That's why, at my house, these 6 fun and easy activities are an absolute must.
This is a sponsored post. All opinions are my own.
6 Ways to Keep Your Dog Entertained
1. Swim. Whether you just fill up the backyard kiddie pool or take your dog to the lake, swimming is great way to keep your dog entertained for hours. Not to mention, swimming is GREAT exercise. One of Gunner's favorite activities is lying in our little pool on a hot summer day. It's a perfect way to keep your dog cool this summer!
2. Treat scavenger hunt. Hide treats around your home/yard. Start with treats hidden in obvious/open areas, and work your way up to more difficult hiding places.
3. Tug-of-war. Grab one end of your dog's favorite toys and have a tug-of-war competition.
4. Bubbles. I don't know what it is about bubbles, but my dog is absolutely fascinated with them! Gunner loves to chase them around the yard until they eventually pop. Not to mention, this activity keeps the kids pretty entertained as well. That's what I call a win-win! I have to laugh at this picture – it was taken right after both my son and Gunner went for the same bubble (that ended up popping on my son's head).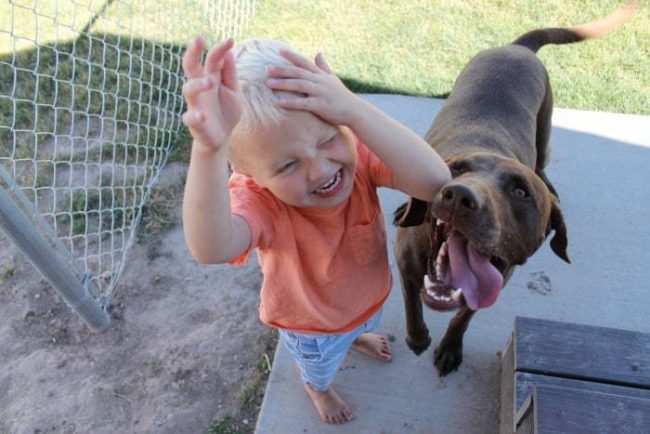 5. Fetch. Obviously, fetch is a great activity to play with every dog. However, instead of playing a traditional game of fetch, mix things up a little bit by throwing different objects: frisbees, different sized balls, ropes, etc.
6. Dog park. Dog parks are a great way to enhance your relationship with your dog as well as allow them to play in a safe environment. When my family lived in Arizona, we would take Gunner to weekly playdates at our local dog park. This helped teach him how to interact with other dogs as well as pet owners. He also loved getting exercise and running to his heart's content.
I'm excited to jump on board with Friends of Beneful for their newest campaign.For the past five years, Beneful has been helping build and upgrade dog parks across the country. Starting as a contest where Beneful would visit the winning community to complete a dog park renovation, this program has turned into so much more. This year, Beneful has teamed up with GoFundMe for dog owners to make a bigger difference in their communities. This year's goal is to support 12 parks through donations and service.
Want to get involved and make a difference in your community? Be sure to visit Beneful and learn how you can take part in the Dog Park Effect; there you will also find information on dog park renovation material, dog park etiquette, and pet safety.
What's your favorite way to keep your dog entertained?