Life always bring unexpected challenges – a flat tire, an emergency doctor visit, an unexpected bill. Whatever it might be, there are times when we need to earn some money – quickly – to help us stay afloat. I'm sharing my favorite easy ways to save $500 in a week to help you get back on track.
I received compensation for this post. All opinions are my own.
You can join in brightpeak financial's Savings Challenge for a whole week of tips, tricks, strategies and savings activities that will set you up for success! The reality is, emergencies and unexpected expenses are inevitable. These strategies can help you attain long-term money success so you'll have useful tools available no matter when the next bump in the road arises. Head over to join the $500 Savings Challenge, then read on for my own savings ideas to help kick start your first day of the challenge!
5 Ways to Save $500 in a Week
Use Your Talents – Can you play the piano? Try offering a 1-week piano workshop! Or are you a great decorator? Reach out to friends and offer to help redecorate a space for a flat designers fee. Maybe you're a talented musician? Reach out to local cafes and restaurants and see if you can secure a gig. Whatever your personal skills are – find a way to market and use your talents for a quick profit.
Have a Personal Bake Sale – I have a really good friend that always offers up batches of her amazing cinnamon rolls for sale whenever she has a car problem and needs quick cash. She reaches out to friends and family that might be interested and takes orders and then gets to work! Another friend of mine makes Navajo tacos when in a bind. I love it because I can help my friends AND get yummy food out of it! Find a killer family recipe that would be easy to share and get baking.
Sell Your Excess – Most of us have much more than we need around the home. Hold a de-junking party and then price your items to sell quickly! You can also take advantage of local swap and shop groups, resell sites, and consignment stores to help you turn those items you no longer need into cash!
Cash-in Gift Cards – You might have a stash of money right in your wallet already! Most people have several gift cards in their wallet. If they are for stores you likely won't be shopping at anytime soon, consider trading them in for cash! You can start by asking your family and friends and selling the cards at a discount to get a quick turnaround and offer your friends a great discount! Usually, if you offer 20-25% off the retail value of the card it's a win-win sale for both parties. There are also kiosks that will buy your gift cards and online sites to help, too.
Taxi Your Friends – When people need to travel for work, they're often reimbursed either for their mileage or paid directly for taxi/transportation. This can be a really easy way to make a quick buck. You can bill for the ride using an online payment processing tool and your friend seeking the ride can reimburse the expense. You can also offer personal transportation for traveling family members when they don't want to have to park their vehicle at expensive airport parking, though billing family/friends in this manner and using their car will usually not net as high of a rate for your time. It can still be easy money to add to your savings.
7-Day Savings Challenge
Need more ideas? Don't forget to head over and sign-up for a FREE 7-day email program that's designed to help push you each day during your Savings Challenge to get saving and start an emergency fund.
The $500 Savings Challenge includes:
Daily Challenges delivered right to your inbox
Insider tips on the best savings account features
Expert advice on how to make – and stick – to savings goals
Easy tricks to help you spend less and avoid common mistakes
It's everything you'll need to get starting saving, quickly. So what are you waiting for? Head over to brightpeak financial and join the $500 Savings Challenge.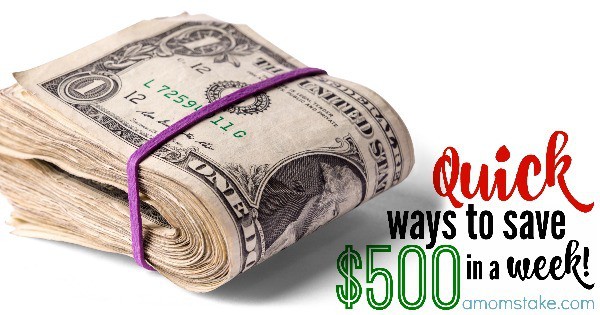 Did you find this post helpful? Share it with your friends! Looking for more ways to save money? Head over to grab our $1,000 emergency fund savings plan! What ideas do you have to save $500 in a week?