It's all our favorite time of year. That's right, it's back to school time! To make this year better and easier for your family, we have found some of this year's hottest products for back-to-school. Have your child doing and looking their best for the first day of school and all school year long. Productivity, organization or fun, we have something here for all of your back-to-school needs.
We received a variety of samples in exchange for this post. All opinions are our own.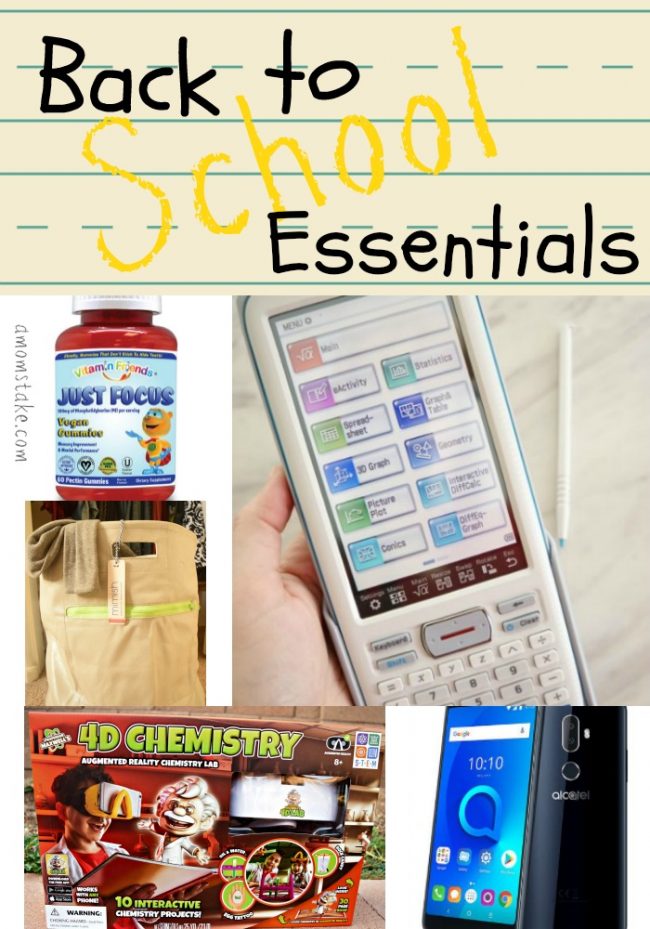 Back to School Essentials
Every little girl deserves to feel beautiful and confident for their first day of school. My little girl can't wait to start her first year of preschool dressed in her adorable Dapper + Crown Clothing. Classic, traditional, and quality made, Dapper + Crown clothing provides timeless basics that will last through the years. A few of my personal Dapper + Crown favorites include the Adaline (pictured above) and their Della Skirt. I love that this Adaline dress is super lightweight, perfect for twirling, and has pockets. I also love that it's a piece that my daughter can wear year-round. When fall hits, the Adaline will look fantastic paired with a cardigan and tights. So many layering options for such a classic piece of clothing. Be sure to visit Dapper + Crown and check out their variety of tops, skirts, dresses, and blazers.
With the new school year, it's time to get back into routines to keep your home in order. I'm in love with the products from H2O at Home that let me skip the chemicals and clean with just water. The H2O at Home kitchen towels are not only very effective, but they're beautiful and really just make me happy having them in my home. Get started with a Variety Kit with 3 essential cloths in one kit that give you a range of cleaning cloths to tackle kitchen, bathrooms, and other surfaces around the home. You can even wash your glass surfaces with just water with a Percision Glass Chiffonnette. I've made the switch to all H2O kitchen towels, I really love their color, function, and feel!
Whether your child is sharing a room or cramming into a dorm this school year, dealing with small spaces is always a challenge. Mimish understands this and has come up with creative ways to make small spaces work for you. Mimish turns functional, everyday items into space-saving storage solutions. Create seating in your kid's dorm room with a Storage Beanbag or Storage Lounger. These are comfy chairs to sit on, with space for storage inside. Mimish also has Storage pillows, bins and more. Check out Mimish for back-to-school functional storage solutions.
There's nothing more crucial for the school year than a good night's sleep for everyone in the family. Be prepared for the school year with clean and fresh sheets by California Design Den. They offer luxury sheet sets in a whole range of colors and prints. Choose from 400 thread count or 600 thread count sheet sets available in sizes Twin through King so you can update all the beds in your home. They are backed by a 100% satisfaction guarantee, so shop with confidence with their quality sheets that are great prices. You'll also be able to find comforter sets, quilts, and duvet covers to finish off the bedding. California Design Den products can be purchased through their Amazon storefront.
Keep Having Fun Through the School Year
Making time for your family to connect and come together is important all year round. We love planning family game nights and Ravensburger Games has a huge variety of games including new titles like Ya Blew It! In this risk-taking game, you'll try to push-your-luck while rolling dynamite dice. It plays with up to 8 players and is designed for ages 8+, making it a perfect choice for families! Or, try Villainous, a game where you take on a role of one of the famous Disney Villains (like Jafar, Captain Hook, or Queen of Hearts) and make your way through the game meddling with other players objectives along the way!
Bikes are the perfect way to encourage the kids to exercise, spend more time outdoors, and give them a mode of transportation for getting to school or riding to nearby friends homes. Islabikes offers high quality bikes that have all the feature they will need like 8-speed gears and a light frame that helps them ride with ease. All of their bikes are designed specifically for a growing child and their size. They also have safety in mind with the included bell, complimentary spare tire, and reflective sidewalls. It has been fun seeing my son's confidence grow and his desire to be outdoors with the help of his Beinn 26 bike by Islabikes. They have everything from beginner balance bikes up, starter bikes, and bikes designed specifically for mountain and road riding.
Get your child ready and excited to learn this year with a 4D Augmented Reality Chemistry Lab. Each kit has 10 interactive Chemistry projects for your child to have fun with. They will learn the fundamentals of science within each of the projects they do. The projects are made to foster a fundamental understanding of basic, core science concepts. Each Animated step comes to life and jumps off the page in Augmented Reality. Your child will have a blast learning about density, oxidization, magnetic forces, PH levels and more with a 4D Chemistry Augmented Reality Chemistry Lab from SpiceBox.
Keep the kids engaged after school and during school breaks with the help of the incredible Boredom Busters Kit by aGreatLife. It includes Rubix Cubes and Mazes to keep their brain active, kites to encourage outdoor play, even a musical instrument and puzzle saver to keep their creativity alive. This kit is all around a fun way to unlock family adventures. My husband and oldest son have been really enjoying the Speed Cube – a smooth and easy to twist Rubix Cube that makes it faster and easier to rotate. They've been racing each other to complete the puzzle against the clock.
Tech Products for the New School Year
Save all your important files and documents during the school year ahead with the help of Western Digital's sleek My Passport Ultra. It has a beautiful design but most importantly it has all the features you need to make your storage easy. Setup automatic backups to ensure your files are always there for you. You can even import files from cloud storage solutions and social media accounts. Then, protect your files with password protection. You can select up to 4TB storage capacity with the My Passport Ultra so you have all the storage space you need.
Help your middle or high school student make the most of their new school year with a Casio PRIZM fx-CG500 calculator. It features a large keyboard, easy to navigate drop-down menus, and a color touchscreen LCD display! It even has an included touchscreen pen to make it easier and more efficient to use. With the PRIZM fx-CG500 calculator your child can use functions for graphs, charts, spreadsheets, and more. This calculator is permitted for used on AP, SAT, PSAT, and other exams, so once they're comfortable using it for their math calculations, they'll be able to breeze through the tests with confidence.
Equip your family with the tech gear they need for the new school year ahead with Logitech. The Artemis Spectrum G933 Wireless Headset gives the flexibility to use a cord or wireless connection. They have a built in headset that tucks seamlessly into the side of the headphones to store out of the way. That gives you performance and options so you'll only ever need this one pair of quality headphones. They're comfortable and easy to use, with options to customize your sound, lighting, and quick G-Keys to control your media or gaming experience seamlessly.
Stay connected to your child this year with a new phone from Alcatel. Kids get busy during the school year. They want to hang out with their friends, need to stay after for sports or even get home before you. Staying connected and being able to contact your child is a necessity and gives any parent peace of mind. Alcatel has two different affordable Android smartphones for you to stay in touch with your child. The Alcatel 3V and the Alcatel 1X. Both phones are packed full of cool features, yet sell for under $200. Features of the Alctel 3V include dual rear cameras, advanced facial recognition and a fingerprint sensor. They're carrier unlocked to support GSM networks and are available to purchase on Amazon and Walmart.com.
Finding a Healthy Balance
Let's be real for a minute. School can be very boring and hard to sit through and pay attention all day. Kids get distracted and want to have fun instead. Some kids get more distracted then others do. For children that need an attention booster, there's Vitamin Friends' Just Focus Gummies. You can help your child get the most out of this school year by boosting their cognitive functions and focus in the classroom. Vitamin Friends' Just Focus has Phosphatidylserine (PS), which is a clinically proven nutrient that supports and improves mind and body performance. Grab some Just Focus supplements from Vitamin Friends and give your kid a boost this year.
Refresh the lunchbox with healthier snacks that are still delicious! PopCorners is revolutionizing chips with a better-for-you alternative. Their corn chips are made with non-GMO corn and aren't fried. They even avoid two common allergens – gluten and nuts. Drizzled in a sunflower oil and with just a pinch of salt added plus flavoring. They are available in seven yummy flavors including Kettle Corn, Cinema Style Butter, White Cheddar, and more! Search with their store locator to find a retailer that carries PopCorners near you!
School is stressful for teenagers. There's so much pressure to be cool, fit in, do well in school and keep everyone happy. Stress, cafeteria food, and other things can result in bad acne and even anxiety. To help out my daughter who suffers from both anxiety and acne, I found Terry Naturally Vitamins. Terry Naturally Vitamins has a myriad of natural vitamins and supplements including Acne Essentials and AnxioCalm. Acne Essentials has targeted nutrients to reduce breakouts and aid healthy detoxification while AnxioCalm helps to quiet nerves, jitters and occasional anxiety without the drowsiness. Give your teen a leg up this year and keep them healthy from the inside out with Terry Naturally Vitamins.
What's on your back to school list?