I received a dress in exchange for this post. All opinions are my own.
"HolyClothing is a family-owned business founded on the principles of strong relationships, high-quality workmanship, and excellent value. In this cookie-cutter world, we take great pride in bringing you exclusive, handmade Dresses,Tops, & Skirts in Renaissance, Gypsy, Boho & Peasant Styles."
Most of the time, I wear Dresses. I am always looking for something unique, well made, with a fun design. When I found the HolyClothing online store I was supper excited. They have several different styles of dresses to choose from, most of which are the look I love. They also offer a beautiful assortment of Jewel toned colors. I was very excited to see how their product held up under my few clothing questions:
Will the product actually look like the pictures, up close in person?
Is the Dress made from a high quality fabric and well made?
How does the Dress look after it has been wash according to the washing instructions?
These are the questions I am going to answer for you about the Riona Bustier Corset Empire Gypsy Peasant Boho Maxi Sun Dress HolyClothing review sample I received. The cost for this dress is $49.99, which I think is a really good price for a well made, high quality dress. So now to answer the questions.
Holy Clothing Review
When I opened the package to see the dress, I was very pleasantly surprised to see that it looked just like the picture on the website.
The fabric has a rich soft feel to it. It has a tight weave, and a heavy weight. The seams are sewn well, with a fold over finish on the inside. It looks and feels well made. This dress fits according to the sizing charts that they offer. The color is a vibrant, dark forest green with a slight sheen to it.
I love the way it fits and feels when I wear it.
Now for the number 3 question. When I washed it, I put it in on a small load setting, cold wash and rinse, along with an old white cotton dish towel that I have, so I could see if the dress was going to bleed its color. The dish towel came out a very light green, which tells me the color will bleed, so be careful what you wash your New outfit with the first time. Even though the color bled, the dress didn't look like it lost its own depth of color. They do suggest that you hang your dress to dry. Give your garment a few good shakes before hanging, this will help with the finished look.
Note: if you hang any of your cloths to dry, they will last longer and keep their new look longer also. I don't know about you, but I do not like to Iron. I find if I work with my fabric just a touch when hanging my clothes to dry they come out looking pressed. First off, these ribbons and panels will shrink in a bit. If you look in the picture below you can see that I have a firm grip on the left hand side of this dress panel. I then grabbed a hold of the right side of this same panel and pulled gently but firmly. I do this with all my hem lines and side seams also that might pull in a bit. This seems to be normal for most of the dresses I have.
After I have made sure all my seams are as smooth as I want them I just let the dress hang and the weight of the fabric usually pulls all the other wrinkles right out. For the ties or lacing, I finger smooth them before they dry and they also look pressed when finished.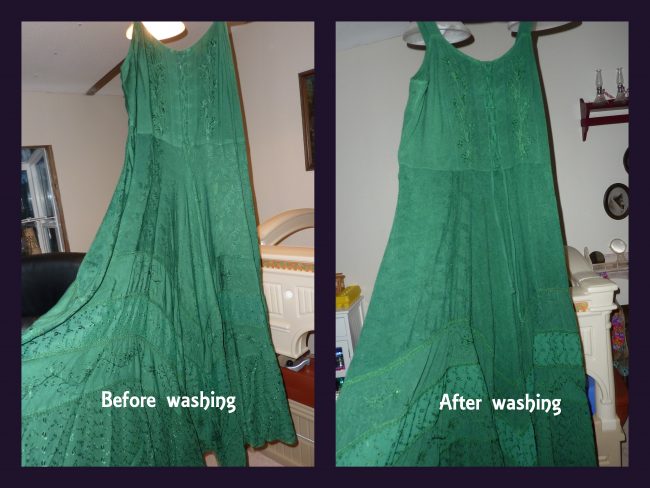 As you can see in the picture above, this dress held up really well through the washing and drying process. All the seams held together, there was miner shrinkage, and slight bleeding of color. Over all, I will be putting HolyClothing on my favorites list, so when I need another new dress, I will know where to find them.
These dresses are made white, then dyed the color that you order. Because of this Hand dying process there may be slight variations. These variations did show up a bit more after the washing and drying process. Where the seams are, and the dress is more fitted, you might see a lighter shading. This just seems to add to the Rustic Bohemian look that the dress style already has.
Conclusion: This dress passed all of the three questions that I require for a good product. I really feel pretty when wearing my new Riona Bustier Corset Empire Gypsy Peasant Boho Maxi Sun Dress from HolyClothing.
You can follow HolyClothing on their facebook page today and stay up on their latest specials and Giveaways.