When summer hits and you're kids start saying "I'm bored," this list of 60 things to do when you're bored will bail you out! Print off the list, hand it over to the bored kids, and let them get playing and creative this summer. Heck, many of these ideas are great for bored adults, too, so don't be afraid to poke around the list yourself, too.
Affiliate links are used in this post.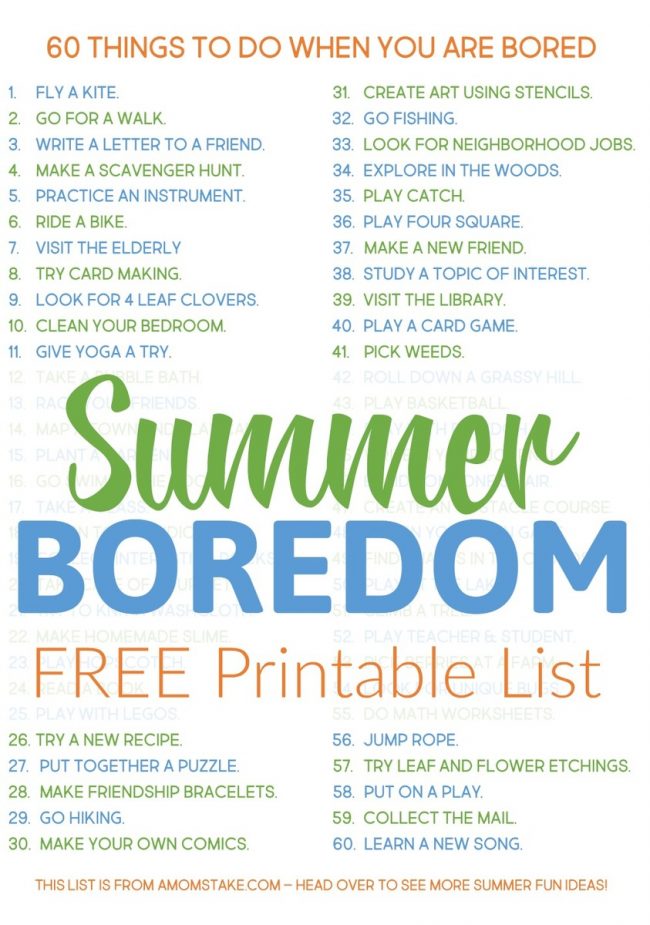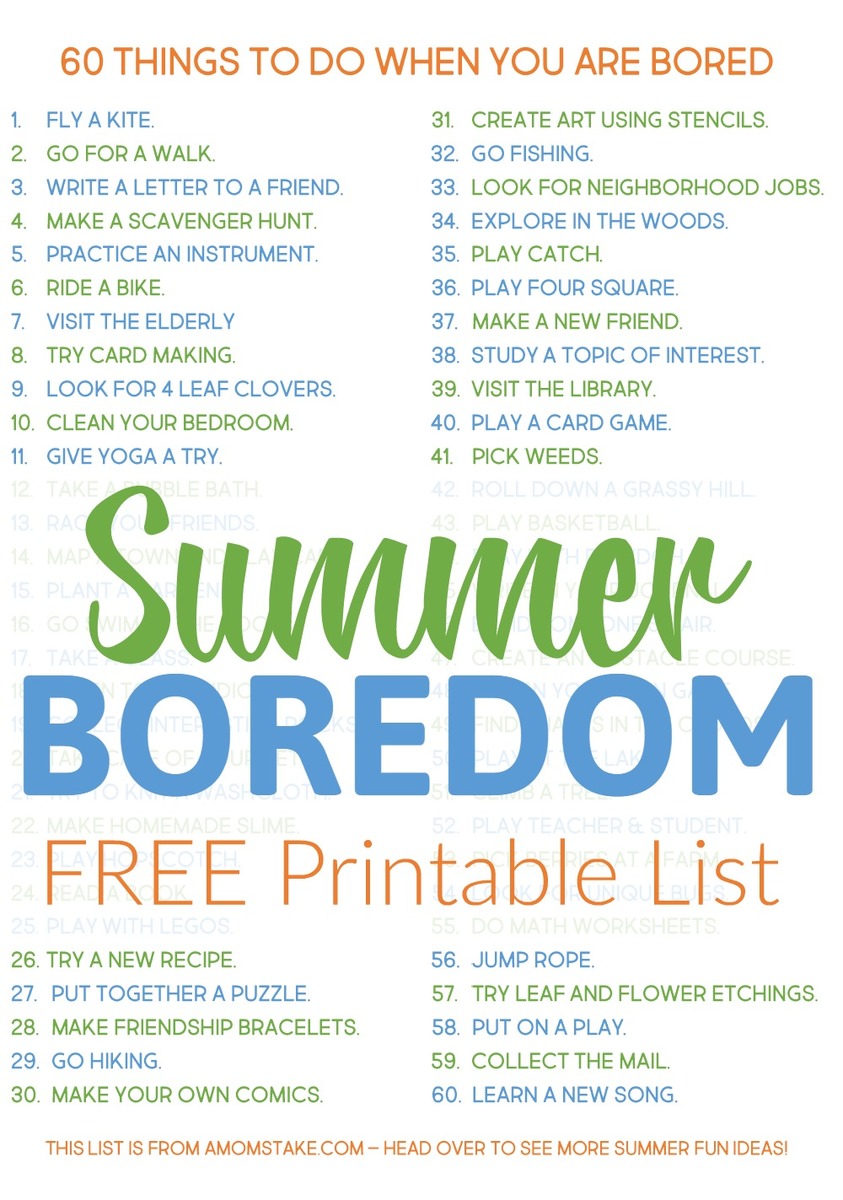 60 Things to do When You're Bored
Let's get started with this fun and engaging video to kick off our boredom busters list!
Fly a kite.
Go for a walk.
Write a letter to a friend.
Practice an instrument.
Ride a bike.
Visit the Elderly
Try card making.
Look for 4 leaf clovers.
Give Yoga a try.
Take a bubble bath.
Race your friends.
Map a town and play cars.
Plant a garden.
Go swim at the pool.
Take a class.
Collect interesting rocks.
Take care of your pets.
Try to knit a washcloth.
Play hopscotch.
Play with Legos.
Put together a puzzle.
Make Friendship Bracelets.
Make your own comics.
Create art using stencils.
Go fishing.
Look for neighborhood jobs.
Explore in the woods.
Play catch.
Play four square.
Make a new friend.
Study a topic of interest.
Visit the Library.
Pick weeds.
Roll down a grassy hill.
Play basketball.
Write in your journal.
Braid someone's hair.
Create an obstacle course.
Design your own game.
Find shapes in the clouds.
Play at the lake.
Climb a tree.
Play teacher & student.
Pick berries at a farm.
Do math worksheets.
Jump rope.
Try leaf and flower etchings.
Put on a play.
Collect the mail.
Learn a new song.
What to do When You're Bored
There are so many fun things you can do, both inside and out. We love being outdoors whenever the weather is nice like going on a hike with the kids or riding bikes together as a family. There are so many things to do when you're bored that are completely free!
Read this article next: 5 Secrets of Hiking with Kids & Toddlers
We often think of all the list of places we can go to seek out entertainment like bowling alleys and arcades, but you can get away with free and fun family activities. When you're wondering what to do when you're bored, just turn to our printable list and you'll have lots of ideas!
Print the Things to do When You're Bored Printable List!
The list is great, but a printable version is even better. Just print out this list of things to do when you're bored and hang it somewhere the kids can easily find and you can point them to the list whenever it's needed.
We've saved our summer boredom busters as a formatted PDF to make it easier to print and use all summer long. Just click on the image or link below to grab your copy!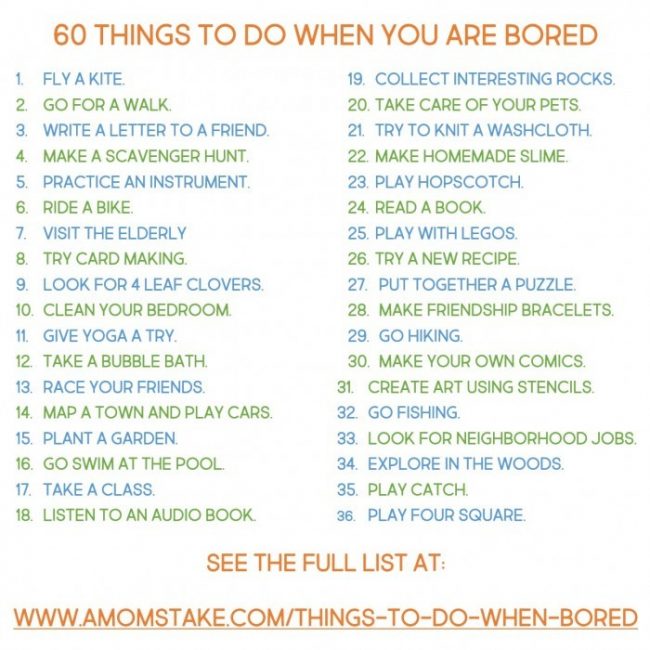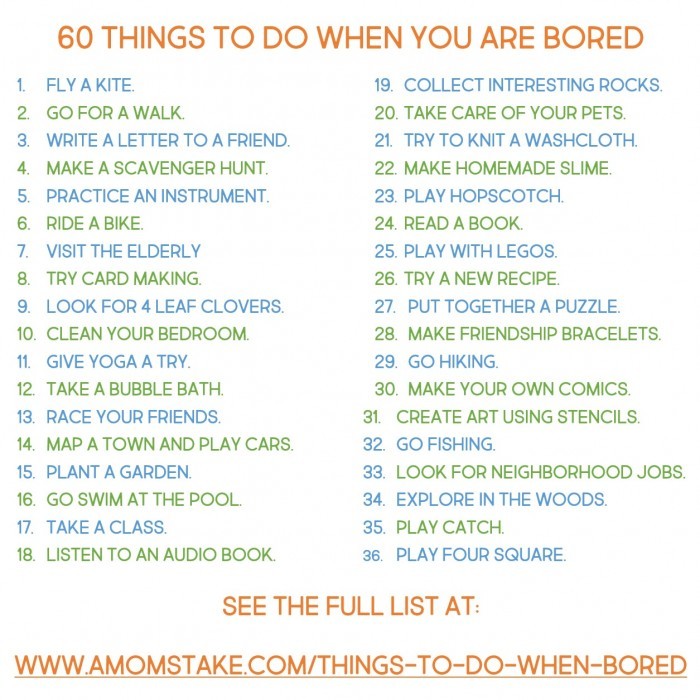 Click on this link to download —–> Printable Boredom Activities List
Our "Things to do When You're Bored" printable is free for your own personal use. It cannot be copied or duplicated. If you know someone who would love this list, just send them the link and they can grab their own free copy.
Love these ideas? Share this post on Facebook to bookmark it. Then, it will show up in your memories each year and be simple to grab the printable summer after summer to beat the boredom blues.
Have more great ideas of things to do when you're bored? Share them in the comments to add to this list!